Aries, Taurus, Gemini, Cancer, Leo, Virgo, Libra,
Scorpio, Sagittarius, Capricorn, Aquarius, Pisces

Overview of this week
The Center for the New Age is
pleased to present
your Free Weekly Horoscope
for January 19, 2013 — January 25, 2014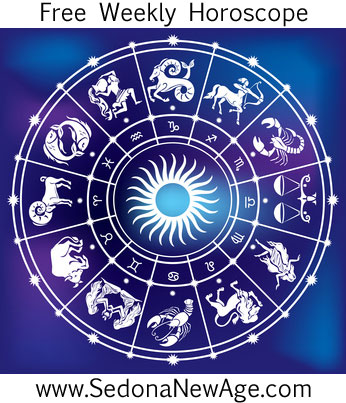 Aries, Taurus, Gemini, Cancer, Leo, Virgo, Libra,
Scorpio, Sagittarius, Capricorn, Aquarius, Pisces
Mercury in Aquarius trine Mars in Libra (Jan 24 –Jan 29) brings news, thought and communications into a most favorable position when it comes to taking action. Mercury trine Mars activates the world of communications with an energetic punch that often persuades people to take immediate action regarding whatever the subject matter requires. Thoughts, words and intuitive speech inspire activity and the messages coming across often give us the incentive to get into the action. The trine aspect acts like a gift and this is a superb time to communicate and receive positive and uplifting information which will inspire others to take affirmative action where needed.
Last Quarter Moon in Scorpio on January 24 focuses our attention on issues of passion and compassion. It is likely the dark secrets of our life will be touched on somehow. This Moon urges us to release stored up tension, and to find release for our emotions without imposing them on others. Safety consciousness of any kind is particularly important during Scorpio Moon. Don't forget to keep an eye out for suspicious activity –beware of thieves, smooth talkers and the potential for violent outbreaks.
Mercury in Aquarius square Saturn in Scorpio (January 25 –January 30) may be a difficult time to ask for favors, or to make requests of others in a way that they don't feel as if they're being used or taken advantage of. This aspect indicates that there are some especially complex issues being assessed and handled. It may be a challenging time to communicate instructions or to inform someone of the end of something. It may also be challenging to sell someone on a product, or to successfully request a raise or promotion. Whatever the desired effect may be, it is wise to use caution when attempting communications during Mercury square Saturn.
Aries, Taurus, Gemini, Cancer, Leo, Virgo, Libra,
Scorpio, Sagittarius, Capricorn, Aquarius, Pisces
For more information about your Horoscope and what the stars have in store for you, order one of our detailed


Astrology Reports!
Free Weekly Horoscope for your Sign
Aries: Don't let stress or conflict interfere with your bigger plans this week. Attend to whatever calls your attention close to home, but don't lose sight of what you're working toward. Also, beware of intrigue and power struggles. Avoid manipulation, but don't be afraid to make the most of whatever strengths you feel you have, especially if they will help you achieve a desired outcome.
Order your personalized Astrology Reports
---
Taurus: While the cosmos is posing challenges for many people, for you, it seems to be igniting your passion and enthusiasm, giving you something to aim for. That's great because having a mission or a passion for something is what keeps people alive, so draw back your bow, take aim and fire. You're almost sure to hit your target so long as you maintain your focus, belief and determination. As John Quincy Adams once said, "Courage and perseverance have a magical talisman, before which difficulties disappear and obstacles vanish into air."
Order your personalized Astrology Reports
---
Gemini: An area of your life looks a little bit complicated right now, and it won't help matters to get yourself further immersed in any sort of drama. Romantic or financial intrigues look like the hot topic. Once you've got a clearer sense of what's going on, you need to be courageous in facing the truth because it's the truth that will set you free.
Order your personalized Astrology Reports
---
Cancer: This week you are liable to feel somewhat emotional or a little on the stressed side. It may seem as though your head is full of too much to deal with. You may be asking for more than someone can give so bear that in mind and instead, adopt a patient approach. It might also feel as if you don't have much power in this situation; again, just be patient and see how things unfold. Ultimately, you need to consider that you are in a period of growth and expansion and if this isn't happening, you need to make some changes. It may be that events or other people force you into doing this.
Order your personalized Astrology Reports
---
Leo: The focus is on your physical and emotional well being this week. Is there room for improvement? Do you feel that you need answers or clarity? You may need to be aware of manipulation, power struggles and intrigues. Steer clear of these if you can and remember to draw on your connection to your higher self for your strength and answers, especially if you feel that people are being deceptive or abusing their power. Use this week to begin to let go of something or close the door on a phase of your life so that you can prepare for the new. In July, Jupiter will be coming home to your sign, signaling a brand new period of your life when you can start afresh, so before that, you need to prepare by creating space for all that you wish to manifest.
Order your personalized Astrology Reports
---
Virgo: If you've been feeling confused about the way forward with a particular situation, you should find events this week to be rather liberating. Once again, it won't do any harm to cultivate self-belief and a sense that you deserve what's on offer. There is a theme of success running throughout January, and if you can just keep focused on what you want along with a sense that you deserve it, you should end this week with something to feel good about.
Order your personalized Astrology Reports
---
Libra: Many people are of the belief that it's better to let sleeping dogs lie and to not open cans of worms. Some people are happy to keep sweeping the debris under the carpet to such an extent that they can hardly walk across the room. Out of sight is not really out of mind –well, not out of the unconscious mind anyway, and this is where life largely operates from. This week it will be almost impossible to avoid the demons in the cupboard, so prepare to roll up your sleeves. Whether it's confronting a difficult emotional situation or tackling an unpleasant job at home, you will feel so much better afterward, and it will take you one step closer to where you want to be, resulting in a greater sense of belonging.
Order your personalized Astrology Reports
---
Scorpio: It's probably fair to say that your perspective hasn't been the best lately. You might have found yourself looking through gray tinted glasses, tormenting yourself with dark thoughts, worry, doubt and fear. You may be prone to feelings of frustration and irritation, resulting in angry outbursts or feelings of sadness. Whatever has been going on within you, this week should bring you some clarity and a sense of liberation from these unhappy feelings. This would be a good time to look within and uncover the roots of any angst. A change of scenery could help you to do this, so whether you can escape for a week or a day, consider the possibility of breaking out of your regular routines.
Order your personalized Astrology Reports
---
Sagittarius: Is it possible that something hasn't been all that it should have been? If you're in any way responsible for this, then now is the time to be courageous and admit that you might have made a mistake. If whatever has been going on has been beyond your control, then you should soon find that you have reason to celebrate. Either way, it looks likely that you need to confront a situation (probably of a financial or material nature) and bring anything hidden, secret or manipulative out into the light.
Order your personalized Astrology Reports
---
Capricorn: Life is as serious as you perceive it to be. You can choose to celebrate the joy of being alive, or you can complain about whatever happens to be wrong. This week, the planets are giving more of an opportunity to adopt a lighthearted, playful spirit. Maybe life isn't quite a serious as you think. Even though Venus traveling backward through your sign might cast an illusion of drama, you can if you wish step outside of this and choose to say that whatever is going on in your world is an opportunity to be more lighthearted and carefree.
Order your personalized Astrology Reports
---
Aquarius: How balanced and integrated is your life right now? Is everything as it should be? Is there a nice balance among work, play, family, social interactions relaxation, health, creative pursuits and hobbies –or whatever else is important to you? Or is life a little lopsided? If there's room for improvement, you can make inroads into changing things. Take every opportunity to cut yourself free from anything that feels as if it's weighing you down or seems an unnecessary encumbrance on your life. In feng shui, the golden rule is if you don't find it beautiful or useful, let it go. Perhaps we should all be applying this principle wherever possible to life itself!
Order your personalized Astrology Reports
---
Pisces: Abraham Lincoln once said, "The best way to predict your future is to create it." This can be used as a reminder that you are allowed to be proactive. Many people just sit about hoping that life will magically change for the better or hope that someone else will come along and be the instrument of change. You, yourself, have to make creative changes so that your life will begin to take on a more pleasing shape, but remember, this doesn't have to be hard work. In fact, the more playful you are, the better, as your lightness of heart and an attitude for fun will make everything seem so much easier that the results will be pleasantly surprising. Sometimes, it helps to perceive life as a game, so if you make a wrong move, so what! You can always start again.
Order your personalized Astrology Reports
---
For more information about your Horoscope and what the stars have in store for you, order one of our detailed