Aries, Taurus, Gemini, Cancer, Leo, Virgo, Libra,
Scorpio, Sagittarius, Capricorn, Aquarius, Pisces

Overview of this week
The Center for the New Age is
pleased to present
your Free Weekly Horoscope
for January 26 — February 1, 2014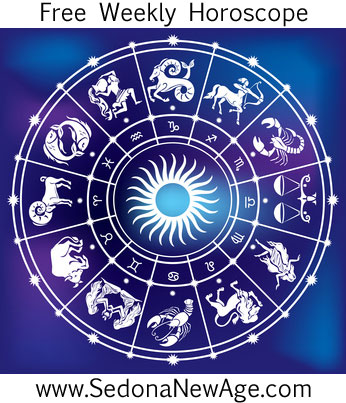 Aries, Taurus, Gemini, Cancer, Leo, Virgo, Libra,
Scorpio, Sagittarius, Capricorn, Aquarius, Pisces
On Tuesday, Mercury in Aquarius is sextile Uranus in Aries (January 28 –January 31). Mercury sextile Uranus gives us the opportunity to freely speak our minds and to address the turmoil that exists in our lives. Mercury focuses talk, information and news on the necessity for us to be united in a common cause for the sake of accomplishment versus the freedom and the rights of an individual. Meanwhile, Uranus is challenging us to act expediently and aggressively in the face of chaos and rapid change. Where logic does not prevail, chaos will.
New Moon in Aquarius on January 30 is a good time to begin social and philanthropic endeavors, and to gain fresh knowledge by learning something new about ourselves or our ever changing world. Moods created by this New Moon may be bold or daring, with a flair for experimenting with life. This is the time to open up to a greater comprehension of the science and technology of these changing times, adding to our power.
Venus has been retrograde since December 21, 2013. On Friday, Venus resumes a forward movement bringing a sense of faith and harmony in our relationships. It is not only our love lives or our affections and attractions that are affected by Venus; beauty, art and aesthetics are impacted as well. Expressions of affection and love matters move forward with much more clarity. However, Venus in Capricorn will certainly bring out a more serious approach to love matters in general. It is important to have respect and maturity in matters of love if we are to be taken seriously by loved ones while Venus is in Capricorn
Jan 31 Mercury enters Pisces until February 11. Mercury in Pisces brings out the mystic in all of us and adds quite a bit of color and flair to the imagination in relayed messages. This is a good time to immerse oneself in creative writing and music or to open up channels to the spirit world. Listen and learn from the guides of your choosing. Sometimes the voice of sense and reason needs to surrender to the simplicity of just listening in silence.
Aries, Taurus, Gemini, Cancer, Leo, Virgo, Libra,
Scorpio, Sagittarius, Capricorn, Aquarius, Pisces
For more information about your Horoscope and what the stars have in store for you, order one of our detailed


Astrology Reports!
Free Weekly Horoscope for your Sign
Aries: If only other people agreed with you all the time! If only they could always see your point of view, how much easier life would be! The chances are that right now life doesn't feel very easy because of others. It could be one person in particular, or it could be a certain person today and a different person tomorrow. How can you deal with all these frustrations? By applying patience and tolerance. Maybe there's a good reason why someone is behaving in a less than desirable way. Maybe they're not having an easy time, either. Maybe they're scared or insecure. Who knows, but with Mars in your opposite sign until July, you will have to find a way of dealing with anyone who ruffles your feathers because it looks as if there's going to be quite a bit of ruffling going on. The more patience, compassion and tolerance you can exhibit while still maintaining your boundaries and being assertive, the easier your relationships will become and the easier your life will get.
Order your personalized Astrology Reports
---
Taurus: The power of belief is capable of moving mountains. The more you believe that something is possible –improving your health through the power of your mind, winning someone over, manifesting a material desire, or achieving what may seem a far-fetched goal –if you firmly believe it will happen, then it most probably will. Start this week to work on transforming your beliefs. If there's any room for doubt, then there's room for failure, so surround yourself by inspirational and motivational people, books, CD's, post-it notes –anything that serves as a reminder that miracles can and do happen.
Order your personalized Astrology Reports
---
Gemini: After what could have been quite an intense few weeks, the planets are now assembling themselves in lighter areas of your chart, suggesting that the dramas of recent times are about to fade and be replaced by a more optimistic, sunnier state of affairs. You may, however, feel there's a way to go yet to get to a place where you feel things are on an even keel, but if you take it one step at a time for now, you will find yourself in a successful position sooner than you thought.
Order your personalized Astrology Reports
---
Cancer: Your relationships and personal life certainly look interesting right now, but do your best to make sure any emotional ups and downs don't dominate the other areas of your life. While much of your attention and energy might be focused on your home life and your family as well as the intricacies of your intimate relationships, there are other features of your life that are important for you to focus on. Namely, with Jupiter in your sign, you need to ask yourself what is important to you and whether you have been sacrificing those things. You also need to be keeping an eye on where you are heading. Much like the captain of a ship, you need to be watching the trajectory of your vessel, making adjustments every so often to make sure that you're on the right course. Or you may even decide to abandon ship as you realize that you're heading in the wrong direction, and this particular ship has no chance of being able to take you where you need to be. Only you know the truth, and you must be very honest with yourself about what you want from life now. Start embracing the possibilities that you might have previously overlooked.
Order your personalized Astrology Reports
---
Leo: If the last few weeks have felt rather frantic with lots that needed to be done, you can heave a sigh of relief as the Sun changes signs and puts the emphasis on people and relationships as opposed to work, duty, sorting and chores. Now is the time to catch up with friends, reconnect with people who matter to you and nurture your relationships. There are still matters that need to be sorted, but by the end of the week, things should feel as if they're moving and any sense of burden and busyness will give way to more pleasant times and opportunities to enjoy yourself with others. In fact, this is the week to cultivate an attitude of celebration. Look for any excuse to have a little fun, and celebrate the joy of being alive.
Order your personalized Astrology Reports
---
Virgo: The path of true love rarely runs smoothly. This certainly seems the case for many Virgos right now. From romantic intrigues and power struggles to manipulation and lack of honesty or transparency –and all manner of game playing –this could be a week of highs and lows in your personal life. You must remember not to compromise your integrity. Don't allow yourself to be diminished in some way. If someone isn't treating you so well, show them the door –at least temporarily. If the relationship is worth its salt, the door can be opened again with a new set of rules or principles to abide by. Safeguard your self-worth and direct your attention toward relationships that are worth your time.
Order your personalized Astrology Reports
---
Libra: The intensity of the last few weeks begins to be replaced by lighter times as the Sun moves into your friendly sign of Aquarius. Although there are still matters that need attending to regarding your home and personal life, these can at least be balanced by more enjoyable pursuits. What is important now is that you shake your inner self about a bit by allowing creative energy and joy to flow through you. This is especially important if the last few weeks have been heavy in an emotional or demanding sense. By engaging in creative activities or absorbing yourself in hobbies that you love, you will cleanse yourself of stuck, heavy or negative energy and bring about a clarity and positive change that will begin to attract great things to you.
Order your personalized Astrology Reports
---
Scorpio: With Mars settling into your zone of the past until July, you can be sure that there is something within that needs unearthing. Your job now is rather like a detective on a case. You need to piece together the clues in your external world to build a picture of your inner world and thus identify what needs healing or releasing. One of the following can help you in this process: keeping a journal, going to counseling, analyzing your dreams, working with a therapist/healer, or spending time in meditation or quiet contemplation. The more time and effort you can put into understanding yourself, the more richly you'll be rewarded.
Order your personalized Astrology Reports
---
Sagittarius: It's always easy to make judgments and less easy to imagine being in other people's shoes, wondering what sort of day they might be having or what sort of life they may have had. You can't always see the big picture or know the reasons why things are as they are or why people act as they do. If, however, you can aim not to view life in a black and white fashion, and not see things as either good or bad/right or wrong, you will keep yourself open to the flow of life seeing the good within everything. Make your attitude work for you, not against you, this week.
Order your personalized Astrology Reports
---
Capricorn: Venus has been traveling backward through your sign throughout January and has been highlighting the importance of love. As she meets with passionate Pluto this week, it looks likely that the truth will come out in one way or another. It might be the truth of your feelings –the depth of which may surprise you –that emerges. For a while, you might feel rather alone, but this is a necessary process that you need to go through so that you can better understand yourself, your feelings and your situation. Don't be afraid to go deep inside because having a heart to heart with yourself might be just what you need right now. The answers that emerge will give you a new compass with which to find your way.
Order your personalized Astrology Reports
---
Aquarius: This week it would be useful to contemplate what makes you happy and what, if anything, could be added to your life to make you feel more rounded. For example, it could be the simple realization that you love a particular pastime which then propels you to make what you love a regular feature of your life. Saturn sitting at the top of your chart has been putting the focus on responsibility and doing your duty which could at times feel rather burdensome and is all the more reason why you may benefit from injecting some color into your life.
Order your personalized Astrology Reports
---
Pisces: What does your soul long for right now –adventure, creativity, fun and play, meaningful involvement with others? Any of these could be calling to you. If so, don't ignore your soul's longings, but do what you can to invite these things into your life. It doesn't always have to be dramatic. For example, you don't have to give up your job to have more adventure. You could simply decide to take more days off. Or you could explore a subject that takes you to new places in your consciousness. Unless you're already able and willing to make huge changes to your life, just think about how you can take small steps to bring in themes that feel important to you.
Order your personalized Astrology Reports
---
For more information about your Horoscope and what the stars have in store for you, order one of our detailed