Aries, Taurus, Gemini, Cancer, Leo, Virgo, Libra,
Scorpio, Sagittarius, Capricorn, Aquarius, Pisces

Overview of this week
The Center for the New Age is pleased to present your Free Weekly Horoscope for February 2 — February 8, 2014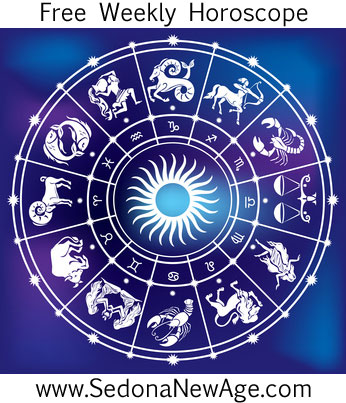 Aries, Taurus, Gemini, Cancer, Leo, Virgo, Libra,
Scorpio, Sagittarius, Capricorn, Aquarius, Pisces
February 6 Mercury in Pisces goes retrograde until the 28th of February when Mercury will go direct in Aquarius. Retro Mercury in Pisces is likely to disrupt communications with topics that cover our beliefs and religion, as well as with music and the arts. Despite strong instinctual impulses to articulate abstract or profound subjects, Mercury retrograde in Pisces will leave us stuttering and tongue tied. A real test of everyone's patience occurs; this leaves us susceptible to arguments and confusion regarding spiritual development. Expect to repeat yourself more than once or twice and to be persistent as well as patient during this time. Whatever you agree on, if it's very important, get it in writing!
On February 6, the First Quarter Moon in Taurus brings the pressure to take care of essential needs. Taurus is the fixed earth sign, and the nature of Taurus Moon leads many folks to watch their pocketbook, and make sure they're getting the most value possible out of all expenditures. There is also a need to let the beauty of our surroundings be accented and appreciated. Somewhere in between the processes of earning and reaping rewards, a happy medium is struck.
Aries, Taurus, Gemini, Cancer, Leo, Virgo, Libra,
Scorpio, Sagittarius, Capricorn, Aquarius, Pisces
For more information about your Horoscope and what the stars have in store for you, order one of our detailed


Astrology Reports!
Free Weekly Horoscope for your Sign
Aries: This week you're likely to have a stronger sense of what you want and where you want to go. In fact, this could be a week when you feel quite clear about what you want from life and start taking steps toward making it happen. Breakthroughs and developments can occur in just about any area, but particularly favorable for change right now are the areas of home, family, career and personal desires. However, do not forget the importance of friends and social life, as the Sun in this area of your chart will bring opportunities for merriment with others so although you might be all motivated in a particular direction, keep your eye open for opportunities for fun and socializing too.
Order your personalized Astrology Reports
---
Taurus: The focus is on your direction in life and your role in the outside world. However, it seems that this isn't as clear-cut or as straightforward as you would like, so instead of charging full steam ahead, it might be better to slow down and carefully contemplate where you're going and whether you're making the right decisions. The future may seem foggy right now, and that may be because you're not meant to focus too heavily on where you want to be but more on the stumbling blocks that keep appearing on your path. Pay attention to these blocks; see if they have their origins in the past (or a past life) and then listen to your inner voice about how to best navigate them.
Order your personalized Astrology Reports
---
Gemini: As your ruler Mercury slows down in the area of your life direction, it might be timely to ask yourself what you're putting off. What is there that you could do now instead of telling yourself "one day I'll start the business; one day I'll clear that cupboard; one day, I'll express my creative gifts; one day I'll buy the home of my dreams; one day I'll take steps to improve my relationships." Why not begin creating a new vision of your life now? You may be thinking about your dream for the future, but if you're really serious about it, you'll start today, even if it's just writing down what you intend to do.
Order your personalized Astrology Reports
---
Cancer: There is the potential for a successful out-come contained in this week's celestial alignments, so whatever it is that you're striving toward, the outlook is promising. Just be careful that you don't go over the top in your attempts to get ahead or overcome adversity. Be wary of misusing your power or allowing others to abuse their power over you. Really, there should be no need for any of this because the winds of change are now blowing in your favor and as long as you remain true to your heart, you won't go far wrong.
Order your personalized Astrology Reports
---
Leo: There are various themes at work in your life right now, and it might feel like a bit of a juggling act trying to give each one the necessary attention. There's your home, family and work; and your health and well-being could do with some care. Then, of course, there's a relationship that could take center stage for much of February. For this week, however, the spiritual side of life (or your inner world) holds the most potential for you so aim to take your foot off the gas a little so that you can nourish your inner self. Strangely, you might just find that the challenges in the other areas of your life become much easier to manage.
Order your personalized Astrology Reports
---
Virgo: As Mercury grinds to a halt in the area of your relationships, it may be time to stop and pay attention to your partnerships. Perhaps it's time to focus on someone what has been a bit neglected or to look honestly at a relationship problem. You can't stay in the past and this week's celestial alignments will be urging you to move on. It may also help to relinquish your control somewhat –not only will trying to stay in control become draining, but it may also alienate others. If you don't agree with someone else's choice, you have to remember that it's that person's life and the more fluid, flexible and philosophical you can be, the better this week will be.
Order your personalized Astrology Reports
---
Libra: Aside from sorting your day to day affairs and tending to little health matters, this is a good week for dropping your mask of social nicety and letting it be known how you really feel. The Sun in your house of fun and creativity is highlighting the importance of being true to yourself and following your own heartbeat while the heavenly aspects on the sensitive angles of your chart says it's time to make changes and reach for the stars. Sometimes in order to get to where you want to be, you have to tread on a few toes. Remember that with Mars in your sign and Jupiter in your success and achievement zone, you are meant to be pushing yourself forward, taking your place in the spotlight so remind yourself that your tendency to worry about what other people think of you is best put to one side for the time being.
Order your personalized Astrology Reports
---
Scorpio: A heavy heart and mind can quickly be lightened by adopting a playful attitude. If life isn't a barrel of laughs right now, then you will have to make the effort to invite fun and lightheartedness into your days. Sometimes life is tough. Sometimes you are tested. Sometimes it seems that the dark days will never end. All of this could be classed as character building, and you will look back on your trials with gratitude as you realize that they encouraged you to push beyond your limits and reveal hidden depths and strengths that you didn't realize you had. That's not to say that you're not allowed to laugh at your trials and tribulations. Sometimes, seeing the funny side of a serious situation can remind you that a little laughter is the best medicine.
Order your personalized Astrology Reports
---
Sagittarius: We all have a need to filter out that which doesn't fit our beliefs. For example, people who believe they are unlucky will never find the $10 bill on the floor. Conversely, people who see themselves as lucky will spot it straight away. Likewise, people who aren't confident at their jobs would take to heart a single criticism while ignoring ten compliments. This week you need to be vigilant for your weak spot: the area where you are likely to see the negative and dismiss the positive. As soon as you can make the mental switch to see things as they really are, you will find that the restrictive or negative situation vastly diminishes.
Order your personalized Astrology Reports
---
Capricorn: There is a power and magnetism about you right now that is able to influence people and situations more than normal. Be aware of this, and try to use it for the benefit of all. For example, it would be easy to manipulate someone into doing what you want or to bring about a change that you desire, but this may not be for everyone's long-term good. Try not to get embroiled in romantic or domestic intrigues. Rather, channel your energies into creating the best outcome for everyone. Your material life will soon –if it hasn't already –require your attention, so concentrating on your success and achievement while making sure that all financial matters are attended to may be the wisest and most productive use of your energies.
Order your personalized Astrology Reports
---
Aquarius: As Mercury slows down and prepares to head back to join the Sun in your sign, this month is all about you. You can therefore be forgiven for being just a little bit self-centered. If you need time to contemplate who you are and what you want, then give yourself time. If you're basically happy with your life, then you may simply decide it's time for a minor change – perhaps a change in your appearance, for example. However, if deeper changes need to be made, this is the point at which you'll begin to feel an element of discontent. Don't ignore it. Pay attention to any physical or psychological grumbles, and listen to what they're trying to tell you. By tuning into your inner needs, you'll be able to see what needs to be done.
Order your personalized Astrology Reports
---
Pisces: As the Sun journeys through the quiet and contemplative region of your chart, this isn't the time for pushing yourself forward in the external world. Your energies would be better spent in quiet contemplation and spiritual or creative pursuits –anything that is restorative for your spirit. It's also a good time to examine yourself psychologically and to put your point across to others. Your mind is likely to be more active now, so try to ensure that you make time to focus on consciousness-raising activities, and make sure you have plenty of time to rest.
Order your personalized Astrology Reports
---
For more information about your Horoscope and what the stars have in store for you, order one of our detailed