Aries, Taurus, Gemini, Cancer, Leo, Virgo, Libra,
Scorpio, Sagittarius, Capricorn, Aquarius, Pisces

Overview of this week
The Center for the New Age is pleased to present your Free Weekly Horoscope for February 9 — February 15, 2014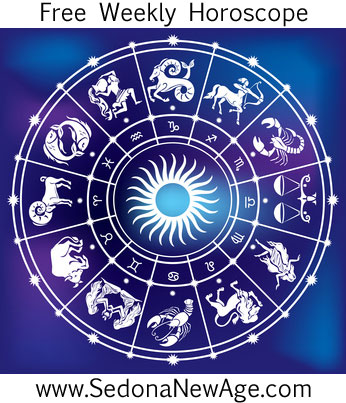 Aries, Taurus, Gemini, Cancer, Leo, Virgo, Libra,
Scorpio, Sagittarius, Capricorn, Aquarius, Pisces
On Wednesday, Retrograde Mercury enters Aquarius, the fixed air sign of the zodiac that represents humanity's knowledge. As the force of communication (Mercury) travels through the constellation of fixed thought and meditation (Aquarius), there are great opportunities for us to share and to empower each other through our knowledge. However, keep in mind the retrograde aspect so although this is a splendid time to communicate ideas and investigate the latest in technology, science and the world of invention, it is certainly a possibility that your communicative abilities may leave something to be desired. For sure, eccentric talk and unusual subjects will fill the airwaves while Mercury is retrograde in Aquarius.
The Full Moon in Leo on February 14 –Valentine's Day –captivates our moods with a wild and instinctual push. It is a day of playful, imaginative and creative expressions of mood. Most of us are easily drawn towards the need to find warmth and affection, or just plain attention. There may be an opportunity here to enhance and harmonize friendships and family situations in a fulfilling and enriching manner. Moon in Leo puts us in touch with those places, people and things to which we feel loyal. Many folks may find themselves feeling somewhat courageous and confident. As a general rule, warmth and vitality is generated in our moods, especially since the Leo Moon puts us in touch with the Sun. Leo is ruled by the Sun, and the Full Leo Moon reminds us of the much more noticeable light and the lengthening of days when the solar light uplifts our spirits in preparation for spring.
Aries, Taurus, Gemini, Cancer, Leo, Virgo, Libra,
Scorpio, Sagittarius, Capricorn, Aquarius, Pisces
For more information about your Horoscope and what the stars have in store for you, order one of our detailed


Astrology Reports!
Free Weekly Horoscope for your Sign
Aries: People like change when it's of their own making, but they don't like it so much when it takes them by surprise. It's difficult to say which way the winds of change will blow this week, but whether it's from your own direction or someone else's, your best attitude will be one of courage. Perhaps there's something you need to do that you know will be for the long-term good, but it's not any easy decision. Or maybe something happens, and you're not sure how to deal with it. Whether you're able to be courageous or not (you most probably will, being born under the sign of the warrior), any change occurring in your life at this time happens for good reason. Keep reminding yourself of that, even if it doesn't always seem that way.
Order your personalized Astrology Reports
---
Taurus: Before you can reach your destination, you first have to go through some sort of rebirth. Therefore, if you're wondering why you have all this energy and motivation but are finding it difficult to channel it into a constructive outlet or to attain your ambitions, maybe it's because you haven't yet completed your transformation. Sometimes we're not even aware that we're going through a transformation until we've made it to the other side. Go easy on yourself and trust that before long you will be moving in the right direction. In the meantime, be patient with family, home and career matters. You may feel unsure which way to turn, but again, if you allow yourself the gift of rebirth, the way ahead will present itself soon enough.
Order your personalized Astrology Reports
---
Gemini: When we cling to the past, it's impossible to see the opportunities contained in the present. Yet so many of us direct our energy to what has gone by, from relationships gone wrong and childhood traumas, to the unkind word that someone said last week. As time goes by, we accumulate more and more memories and more and more baggage. This is why old people spend so much time looking back. There's a lot to look back on! Having nice memories that you revisit from time to time is healthy, but keeping your attention in the past isn't. Because Mercury is retrograde right now, it's acceptable to turn your attention backward, but don't spend too long there. Instead of ruminating on things, try instead to find the lesson or meaning behind your nostalgia.
Order your personalized Astrology Reports
---
Cancer: The Full Moon on Friday could bring up a personal matter that you would rather not have to think about, but think about it you must, as retrograde Mercury joins the Sun in the deepest and most vulnerable area of your chart. You might not want to talk about what's emerging, as it's likely to be prodding a sensitive spot, but if you can bring it out into the light, it will lose its power over you, and you will find that what once seemed like a big issue quickly becomes something to forget.
Order your personalized Astrology Reports
---
Leo: This week's challenge under retrograde Mercury and a tense Full Moon in your own sign is to lift your consciousness beyond your normal responses. For example, say that a relationship issue crops up. Perhaps you are being forced to revisit a problem that hasn't been fully resolved. You won't solve it by reacting in the same way that you've always reacted or tackled it. You need to find a new approach, and you also need to acknowledge the reality of the situation. This is a tough-reality Full Moon in which we will all have to face the facts in some area of life. For you, the hard reality is most likely to be evident in a particular relationship, and the best way forward is through applying love and tolerance while listening to the guidance of your inner voice.
Order your personalized Astrology Reports
---
Virgo: Anything is possible, and this is what you need to remind yourself of as the Full Moon on Friday activates a certain amount of doubt. You can create what you're hoping for; it may just need a combination of effort and belief. First of all, you need to assess the reality of your situation, and then ask yourself what is feasible. Even if you feel limited, there are still possibilities. Your challenge this week is to adjust your perception so that you can believe positive change is possible.
Order your personalized Astrology Reports
---
Libra: When people who naturally consider others' needs first start to think about themselves and what they want, the result can be guilt. This week's planetary energies are quite harsh, and for you, the issue is doing what you want versus doing what you feel you ought to do. Finances and your material world may come into this dilemma too since Saturn seems to be drawing your attention toward your financial responsibilities. Try not to lose sight of your vision; it is attainable, and with a little bit of compromise, you can manifest your creative dreams while still fulfilling your responsibilities. Get clear about what you want, tell yourself it's possible, and then work steadily and determinedly toward your goal.
Order your personalized Astrology Reports
---
Scorpio: As retrograde Mercury joins the Sun in your home and family zone, it will be highly likely that your attention and energy will be directed toward your personal and domestic life. This will be even more likely around the 14th as the Full Moon intensifies this theme. It may seem rather heavy at times, and you may wonder why you ever agreed to the responsibility. So what to do? Resistance won't get you very far, but receptivity will. By being open and accepting of whatever is happening in your life, you will pass through it much easier than if you keep wishing it weren't happening. Use this Mercury retrograde transit to resolve domestic issues and repair any damaged relations. Use this transit to clear out your clutter (mental and physical) and to forgive others and the past.
Order your personalized Astrology Reports
---
Sagittarius: This week as your ruler Jupiter forms a tense T-square with Uranus and Pluto, it may well be that something has to give. If you have felt stretched lately, this week could see an event that liberates you, or at least brings about a change that will be positive in the long run. Be careful not to act rashly, though, as it could be tempting to throw the baby out with bathwater under this impulsive configuration. Take your time before reaching a decision, and consider the long-term consequences of your actions. You may be feeling driven right now with a desire to get moving, but Mercury retrograding to your communication zone strongly suggests the need to slow down and contemplate matters. Don't be in a rush. All good things come to those who wait.
Order your personalized Astrology Reports
---
Capricorn: It's time to face facts as the Full Moon on Friday illuminates and brings to a head a matter that you might not have been wanting to acknowledge. Try not to fight or resist anything that is happening, especially that which appears to be out of your control, because you are currently undergoing a long process of transformation. You don't yet know the higher plan behind the events in your life. Although there are days when it seems tough, remind yourself that it's happening for a reason and that you will emerge stronger, wiser and happier at the end of it all. Many of us resist change, but this is one time in your life when you have to roll with the changes to see where they take you. It will almost certainly be to a place of growth that your soul has probably been crying out for these last few years.
Order your personalized Astrology Reports
---
Aquarius: As the Moon grows full in your opposite sign and Mercury retrogrades through your own sign, you are likely to feel a sense of frustration, as what you want and what someone else wants are at odds. This is through a Moon of clarity. Even though it may not be particularly pleasant or easy, you will at least know what needs to be done. What you need to be aware of is the need to bring what is hidden out into the open. The more you hide or suppress your feelings or desires, the more likely your wellbeing is to suffer, so whatever comes to light under this Full Moon is probably very important and needs to be integrated into your daily life.
Order your personalized Astrology Reports
---
Pisces: This could be one of those weeks when you don't feel quite yourself. With Mercury backtracking to your zone of the past and hidden matters along with a Full Moon on Friday, there could be an uncomfortable matter that needs to be dealt with. Perhaps there is some unfinished business that needs your attention, or maybe there is something from the past that is reappearing because it wasn't dealt with successfully the first time. You might have to make a decision that will have an impact on your future, and if this decision enables you to feel less of an outsider or less alone, it is probably the right one. If your health isn't great at this point, try to get more rest. Look at any malaise as a symptom of something that needs resolving. Try to break free or face up to that which is draining your energies.
Order your personalized Astrology Reports
---
For more information about your Horoscope and what the stars have in store for you, order one of our detailed