Aries, Taurus, Gemini, Cancer, Leo, Virgo, Libra,
Scorpio, Sagittarius, Capricorn, Aquarius, Pisces

Overview of this week
The Center for the New Age is pleased to present your Free Weekly Horoscope for February 16 — February 22, 2014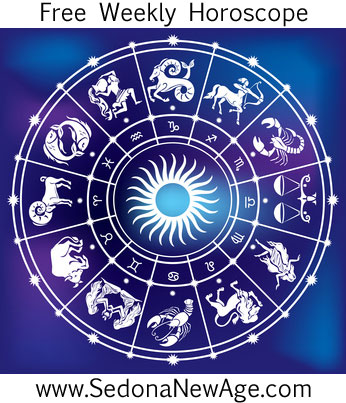 Aries, Taurus, Gemini, Cancer, Leo, Virgo, Libra,
Scorpio, Sagittarius, Capricorn, Aquarius, Pisces
Mercury in Aquarius trine Mars in Libra (February 16 –February 22) activates the world of communication with an energetic punch that often persuades people to take immediate action regarding whatever the subject matter requires. There is only one problem this week…..Mercury is in a retrograde state which may hinder the conditions of this generally very favorable aspect as communications tend to be challenging, emotionally charged and easily misinterpreted. Although thoughts, words and intuitive speech inspire activity, and the messages coming across often give us the incentive to get into the action, sometimes the messages produced with Mercury retrograde are not quite on the mark and can cause confusing issues and dramatic interludes when it comes to making demands for action.
Retrograde Mercury in Aquarius is square Saturn in Scorpio (February 19 –February 25). Under the influence of this aspect, the battle to maintain accurate or precise information may be strongly evident. There may also be a tendency for "foot-in-mouth disease as people may say the wrong things at the wrong time. It is wise to use caution when attempting communications during Mercury square Saturn, especially concerning matters of time and timing and more so with Mercury being retrograde. Beware of the tendency for people to make uninformed assumptions about the conclusion or outcome of important matters during this period of Mercury Retrograde square Saturn.
February 22nd Last Quarter Moon in Scorpio focuses our attention on issues of passion and compassion. It is likely that the dark secrets of our life will be touched on somehow. This Moon urges us to release stored up tension, and to find release for our emotions without imposing them on others. Physical workouts are excellent for this, provided safety consciousness is maintained. Safety consciousness of any kind is particularly important during Scorpio Moon and don't forget to keep an eye out for suspicious activity –beware of thieves, smooth talkers and the potential for violent outbreaks.
Aries, Taurus, Gemini, Cancer, Leo, Virgo, Libra,
Scorpio, Sagittarius, Capricorn, Aquarius, Pisces
For more information about your Horoscope and what the stars have in store for you, order one of our detailed


Astrology Reports!
Free Weekly Horoscope for your Sign
Aries: This week is about experiencing, not forcing and being, not doing. Mercury is backtracking through your zone of the future as if to say there's no rush; all will unfold in good time. Meanwhile, why not take your foot off the gas for a moment and enjoy the pleasure of good company. This is an ideal time to catch up with friends –especially those you've not seen or heard from in a while. Taking time out from the hectic pace of modern life in order to be with people you like could be the best prescription for whatever might be ailing you right now.
Order your personalized Astrology Reports
---
Taurus: There might be a reason for not getting what we want when we want it. Sometimes we have to wait until the time is right. Other times, there might be a good reason why or plans are being delayed. Perhaps something else is more important. Perhaps we're not in full possession of the facts. Perhaps we're being a little hasty. Or maybe there's something better further along the road. As Mars slows down in your house of work and health, it may be the case that you would benefit from slowing down and giving your body more of what it needs, probably more rest, so if all doesn't go according to plans this week, reassure yourself that it's probably not meant to and that there's something else you could be doing –or not doing –instead.
Order your personalized Astrology Reports
---
Gemini: This probably won't be the easiest week you've ever had, so you might want to be prepared. It may simply be that Mercury retrograde is up to his old tricks, causing stress through technological problems, travel delays, communication breakdowns, confusion and misunderstandings. It would be a good idea to double check your arrangements, make sure that everyone knows what they're doing, and allow yourself extra time for work and travel. If something still goes wrong, try to smile sweetly and not curse Mercury too loudly. It seems Mercury only gets up to his tricks when people need to slow down or take time out. If we remember that the purpose of Mercury retrograde is to give our minds a rest and to turn within to nurture ourselves through creative and soulful pursuits, we can't be too mad when the computer won't play ball or the cell phone cops out. Adopt a letting go philosophy this week, and try to see the funny side if it all goes belly up.
Order your personalized Astrology Reports
---
Cancer: If you're familiar with the story of Jason and the Argonauts, you will recall that Jason sets out to find the Golden Fleece but first has to do battle with the dragon in order to get it. It may feel a bit like that for you this week in the sense that what you need or want seems to require an epic journey containing much hardship. Why can't life just be simple? Well, one could say that situations like this are character building and the more we have to work for something, the more we appreciate it. When something is just handed to us on a platter, it seems to have less value than something we've invested a lot of time and effort in, so remind yourself that it will all be worth it in the end.
Order your personalized Astrology Reports
---
Leo: Your personal life comes under the spotlight and although there may be a sense of difficulty –perhaps things are not flowing as smoothly or as quickly as you would like – the potential for celebration at the end of it is a distinct possibility. You may be trying to move things forward, but for one reason or another, there are delays or problems. Maybe an issue presents itself in a relationship that you need to sort out before you can move forward. Or maybe there's a matter at home that needs your attention. Don't give up! Keep in mind a vision of how you want things to be rather than allow the fears of how things might become to take over. Remember, even though it doesn't feel like it, you can influence the outcome by constantly picturing the highest for all concerned.
Order your personalized Astrology Reports
---
Virgo: Sometimes there are no guarantees in life. We just have to trust that we're doing the right thing and that all will work out in the end. When we're young, we are more able to do this, whether it's due to the exuberance of youth or some other quality, but as we age, we tend to gradually become more fearful and more solidified, making it increasingly difficult to plunge into the unknown. Although we may stay safe, the price we pay is happiness. Make sure that you're not sacrificing your happiness for safety. You may wish that life was more certain, but by putting your faith in a higher power and just putting one foot in front of the other, you will be taken care of, and you will make it to the other side.
Order your personalized Astrology Reports
---
Libra: If you feel blocked, frustrated and fed up because things aren't moving in the way you'd like, you can do one of two things: ask for guidance, or try to shift the way you approach the matter. Trying to force your way to success isn't likely to work. Neither will being angry or irritable. The key to getting what you want is to join forces with others. Rather than seeing yourself as separate or trying to get something from another, look instead to see what you can give. When you turn things around 180 degrees to giving rather than getting, you may find that a miracle occurs.
Order your personalized Astrology Reports
---
Scorpio: Having Saturn in one's sign can at times feel like a bit of a trial. If it's not one thing, it's another. As Mercury takes a trip down memory lane, you may find your thoughts are rather weighty. Suddenly, it seems life isn't fun, and it's certainly not easy. What's needed, then, is a shift in consciousness. Perhaps looking at things from a different viewpoint will help. One way of shifting your perspective is to focus on the good points of your situation rather than what you don't like about it. Perhaps it will also help to tell yourself that you are going through some sort of transformation, and you will be stronger, wiser, and happier at the end of it all. For now, what's needed is courage. Nobody can match Scorpio for strength of will, determination to bounce back, and the power to emerge victorious. Before you know it, you will emerge from this dark tunnel into the light.
Order your personalized Astrology Reports
---
Sagittarius: Whether it's a baby growing in the womb or a cake baking in the oven, the process of transformation can never be rushed. Think of yourself as a caterpillar in the chrysalis state; so long as you just allow whatever is happening to happen –do not stress, rush, or push against it –all will be well, and in time, you will emerge as a beautiful butterfly. Even though this week may seem frustrating, remind yourself that sometimes the most valuable experiences are hidden from view.
Order your personalized Astrology Reports
---
Capricorn: The purpose of the Pluto-Uranus square has been to liberate you from a situation that was no longer working. Perhaps this involved setting yourself or someone else free. Many Capricorns have over the last few years, experienced a deep loss of some kind. It can help to know that the time was right for this to happen, and the gift that you've been given is either to rejoice in the changes that come from this loss or to profoundly explore and understand yourself in a way that you couldn't do before. Your personal and domestic life may have gone through some changes, and you may still feel a little shaky. Just make sure that you don't allow this shakiness to stop you from experiencing the lightness and adventure on offer.
Order your personalized Astrology Reports
---
Aquarius: Whatever is emerging as a result of the recent Full Moon might feel on the one hand quite exciting, but on the other quite unsettling. If it has emerged that a change needs to be made, then don't be in a hurry to put it back in the box that it came from; nor should you be in a hurry to act on your desires. Chances are that you're either being gripped by caution or impulsiveness, and neither is good for making decisions, so take your time, and draw on your courage. For example, it could be that you need the courage to admit that something isn't working or the courage to branch out in a new direction. It might be that you're beginning to see the world differently from those around you, and if that's the case, you need to honor that difference and be true to yourself.
Order your personalized Astrology Reports
---
Pisces: The Sun moves into your sign on Friday, which is good news for you, as you should at this point witness a lightening of mood and a renewal of energy. You still have a retrograding Mercury traveling deeper in your zone of the past, so it won't all be sweetness and light, but if you remind yourself that this transit is designed to help you come to terms with your past to heal it, then you may well have a lightness in your step even as you pay attention to the heavier stuff. In fact, this could be a time of celebration –not just because it's your birthday month, but also because you have a very real opportunity to resolve some matter that has pained you for a long time.
Order your personalized Astrology Reports
---
For more information about your Horoscope and what the stars have in store for you, order one of our detailed