Aries, Taurus, Gemini, Cancer, Leo, Virgo, Libra,
Scorpio, Sagittarius, Capricorn, Aquarius, Pisces

Overview of this week
The Center for the New Age is pleased to present your Free Weekly Horoscope for February 23 — March 1, 2014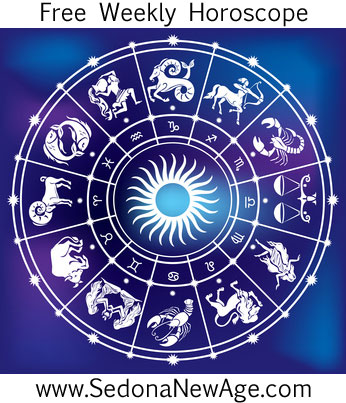 Aries, Taurus, Gemini, Cancer, Leo, Virgo, Libra,
Scorpio, Sagittarius, Capricorn, Aquarius, Pisces
Venus in Capricorn is sextile Saturn in Scorpio (February 25 –March 3). Venus emphasizes the vibrations of love, magnetism, beauty and also sensuality. This aspect often provides an opportunity to attain desired objects. Saturn's influence emphasizes the awareness of time, limitations and restrictions. It also harnesses our dedication to responsibility and discipline. There is a passionate drive during this aspect to protect loved ones and limit their exposure to whatever creates the protective one's concern. The sextile aspect allows for greater opportunity to stand on guard favorably and be protective in a way that will be easily understood. This is the time to take the opportunity to protect what we love with guidance and nurturing.
February 26 Jupiter in Cancer square Uranus in Aries is likely to focus our energies on radical economic difficulties and is bound to bring real economic trouble and disruption. Jupiter expands energies, while Uranus explodes and disrupts them. This is an aspect that may cause a notable, and no doubt radical, shift in the stock market. For some folks, this aspect stirs up a frightful threat to the existence of their livelihoods and investments. For the next month, this is certainly not a good time to take any chances experimenting with the market, or to try anything new or inventive with money matters and skill advancement. Businesses born under this aspect are not likely to be successful. This is a good time to keep careful records of financial events as they occur.
Since February 6, Mercury has been retrograde in the signs of Pisces and Aquarius, causing emotional communication mix-ups and confusion when relaying information (Pisces) and communication mix ups with regard to social engagements, charity efforts and technological events (Aquarius). On Friday, Mercury resumes direct course in the sign of Aquarius. We can breathe a greatly needed sign of relief as Mercury, the planet governing the realms of communication, becomes stationary and will soon begin to move forward. Our faculties and manner of communicating will definitely improve within the next few days. Maybe not on Friday, but very soon our communications will run more smoothly and this will be a good time to begin clearing up various misunderstandings that have occurred over the past few weeks.
March 1, Mars, the god of war, goes retrograde in the sign of Libra until May 19 urging us to face up to those heated events of the past, particularly regarding the actions of the past couple of months. Those who have overextended themselves may be due for a recreational healing period. Don't get impatient over projects that are slow to take off or hot emotions that might get out of hand. Also bear in mind, for some people this may be a time of vigilance and alarm with regard to emotional calamity. Beware of the tendency to act on dangerous impulses as Mars retrograde is not a good time to take risks which may lead to disruptive and sometimes fateful accidents.
New Moon in Pisces on Saturday focuses our attention on the need to get in touch with our own beliefs, and to inspire these beliefs with devotion and renewed faith. A good place to begin is with the self, believing in oneself and one's own capabilities and possibilities. The world of magic exists in the melding mutable water of the Piscean expression. Crisp new psychic and intuitive inclinations lead to a spark of inspiration that carries us through the dwindling days of winter toward s the renewed light of Spring Equinox.
Aries, Taurus, Gemini, Cancer, Leo, Virgo, Libra,
Scorpio, Sagittarius, Capricorn, Aquarius, Pisces
For more information about your Horoscope and what the stars have in store for you, order one of our detailed


Astrology Reports!
Free Weekly Horoscope for your Sign
Aries: It is helpful to periodically remind yourself that you are a creator. We are all divine offshoots and as such, we all have the creative spark within us. It is a strong human drive to create –from creating children to an artistic masterpiece, a business, a story or a product. Now is a good time to think about how you can bring form to you ideas. Mercury asks you to think about your future and to refine, revisit or rethink any plans or ideas that you may have had to give them the best chance of coming to fruition. All the while, remind yourself that as a creator, you have the power to manifest your ideas into concrete form.
Order your personalized Astrology Reports
---
Taurus: Your ruling planet, Venus, is now free from the powerful, intense and transformative rays of Pluto, which means that, among other things, you should be beginning to feel a bit lighter. You may even feel liberated from some powerful and oppressive influence. The downside (if there is one) is that you could, for a short while, feel a bit like a ship without a rudder. Mercury retrograde (until Friday) in your house of career and direction asks you to adjust your course and become definite about where you want to be heading. By the weekend, you'll find that your rudder kicks into action again and you're able to find your way.
Order your personalized Astrology Reports
---
Gemini: It may feel as though you can't have what you want right now. Then again, is what you think you want really what you need? It might be wise to remember that the ego has a long list of wants and desires, but they won't necessarily make you happy in the long run or fulfill a deeper need. Although you might feel a sense of frustration this week because your desires are thwarted or you have a sense of disappointment when results fall short of your hopes, the good news is that you will almost certainly get what you need, and that may well generate a surprising feeling of success and achievement.
Order your personalized Astrology Reports
---
Cancer: The more we hold on, the more we shrivel inside. This is an important lesson for Cancers, and if the past year hasn't been great, it may be because of a suppressed need for growth and change. As Jupiter continues his journey through your sign in combination with Pluto opposite and Uranus at the top of your chart beckoning you to new pastures, the fact is that change is unavoidable. If it seems that change is being thrust onto you, then try to embrace the positives contained within this. If you feel there aren't any positives, look a bit harder and ask yourself where you have been holding on too tightly. Perhaps it's time to let go a little. Maybe it's time to expand and break out of your normal, everyday life. Asking yourself what you would love to do if time, money and practicalities were no object can be a valuable exercise. Then see if there's any way you can give a bit more, since the more you allow love, warmth and generosity to flow back and forth between you and the world, the sooner you will find yourself on the path to happiness.
Order your personalized Astrology Reports
---
Leo: Heightened sensitivity to what is going on around and within you is likely to be a theme this week. How you allow this to express itself depends on whether you attune to the spiritual or creative dimensions or whether you allow fear and insecurity to get the better of you. The potential is strong for receiving messages from another source, whether it's angelic or your higher self. Of course, there is a danger that you could be sensitive to negative influences, so make this a week when you remember to protect yourself in a bubble of white light. This is also a week of possibilities, so keep your eyes, ears and mind open so that you can recognize and embrace any opportunity that comes your way. Try not to have any preconceived ideas about what these opportunities might be since it could be anything from an invitation to go out and have some fun to a work related event. Either way, if you keep your mind positive and expectant, you're more likely to receive a positive development.
Order your personalized Astrology Reports
---
Virgo: Sometimes there just isn't enough time to give attention to all the different demands on our energies. This may seem like one of those times. Mercury backtracking through your house of health and work (until Friday) has been urging you to sort yourself out, both in terms of your physical well-being and your day-to-day affairs. Then there's your personal life which has also been a theme, while your financial situation may have been demanding your time, thoughts and energy as well. It's enough to make you want to head for the hills and forget about the lot. Actually, a little quiet time on your own wouldn't hurt, and if you have something that works for you in terms of re-centering yourself, then this is a good week to do it. Mercury retrograde is calling you toward quiet contemplation and inner work. If you can make that your priority this week, you will end the month feeling better than when it started.
Order your personalized Astrology Reports
---
Libra: Dr. Edward Bach, creator of the original flower essences, noticed that people who were happy because they were being themselves didn't get ill. This is something to ponder as the Sun journeys through your house of health. Mercury going back through your creative zone asks you whether you are being true to yourself and living an authentic life or are you going through the motions to keep others happy. If you are not in the best of health right now, take a moment to ask yourself, "In what way am I playing it safe and not being true to myself?" Ask yourself if you are fulfilling your mission. Use the answers to facilitate the changes that will put you on a path that feels more right for you.
Order your personalized Astrology Reports
---
Scorpio: The Sun makes a welcome appearance in your house of fun this week, instantly bringing a little light relief to proceedings. If recent times have seemed a bit intense, then this is the week you should start to notice a lightening in your heart. This is, in fact, an ideal week to focus your energies on enjoyable pursuits, from romance and art to fun and games so make the effort to indulge your inner child. This is also a good time to enjoy a little excursion, as the change of scene will blow away the cobwebs, and spending time doing what you enjoy will be a great mood elevator. Immersing yourself in creative and fun pursuits will be very therapeutic for you now, so don't wait for an excuse to let your hair down and allow you free spirit to dance a little.
Order your personalized Astrology Reports
---
Sagittarius: Jupiter is exactly square to Uranus this week, implying that there is something you dearly need to change or break free from. It may be an actual situation, or it may be an inner state that you have become trapped in. Firstly, you need to ask yourself whether you have allowed yourself to become too contained. It doesn't do for a Sagittarian to be restricted. You need freedom and adventure and if life has become too staid and too safe, this is the week when you could feel a great desire to break out. It may also be that you have become too conditioned, perhaps by others or by society. Either way, you may not be acting as your true self, so this week it would be wise to ask yourself if money, time and responsibilities were not relevant, what would you do? It may not be practical or fair to turn things upside down, but you can allow your answers to guide you toward making improvements that will at least go some way toward enabling you to live more in tune with your real self.
Order your personalized Astrology Reports
---
Capricorn: As Mercury retrogrades through your money zone, it is the ideal time to turn your attention to the material world and resolve any financial matters. Remember that this isn't the best time for major purchases or signing contracts, but more a time for reflecting on and sorting what you already have. This is also a good time for slowing down so that you can enjoy the sensual side of life. It's perfect for baking a sumptuous chocolate cake, dining out with friends or your lover, and enjoying a massage or a visit to a health spa. Whatever you choose, it's time to remember that there's more to life than making and spending money so if things aren't going quite the way you would like, it could be a message from above telling you to slow down and smell the roses.
Order your personalized Astrology Reports
---
Aquarius: Something, it seems, is trying to emerge in your conscious mind. It may be something that has been lying dormant in your unconscious mind for a long time, but now it appears that it's time to become aware of this something that has great importance to you. It might be a revelation about your character, or it might be an insight about your life. Either way, it should feel like an enlightening time when your mind is acting as a clear and receptive channel for whatever you need to know. All that matters now is that you act on anything that comes to light that feels important. Do not suppress it. Whatever you try to suppress or deny now will have an impact on your health and your sanity so allow your thoughts and feelings to flow freely and share them with those you trust and who can act as positive, supportive influences. You are in a prime position now to integrate previously neglected factors into your life that will enable you to create a much happier and healthier situation.
Order your personalized Astrology Reports
---
Pisces: There are times in life when we don't know where we're going or what we should do next. Or we might have a general destination but are unsure about how to get there. From small, everyday uncertainties to big life changes, we are bound in this present moment, unable to see where we will end up or what we should do to get ourselves into the best position. All we can do in these times is just take each moment as it comes, trusting that the path will take us somewhere and that somewhere will be the place we need to be. Perhaps all you can do right now –aside from trusting that you are moving in the right direction –is resolve any matters that might have their roots in the past that will then put you in the bet positions to move forward.
Order your personalized Astrology Reports
---
For more information about your Horoscope and what the stars have in store for you, order one of our detailed