Aries, Taurus, Gemini, Cancer, Leo, Virgo, Libra,
Scorpio, Sagittarius, Capricorn, Aquarius, Pisces

Overview of this week
The Center for the New Age is pleased to present your Free Weekly Horoscope for March 16 — March 22, 2014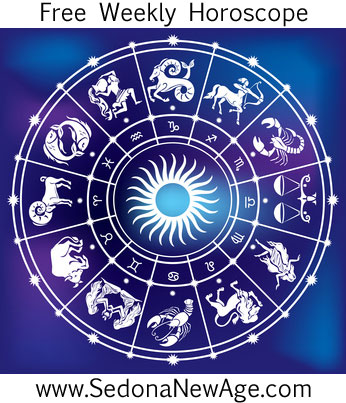 Aries, Taurus, Gemini, Cancer, Leo, Virgo, Libra,
Scorpio, Sagittarius, Capricorn, Aquarius, Pisces
March 16th, the Full Moon in Virgo reminds us of the need to organize, analyze and constructively criticize our health and cleanliness practices. Virgo also puts the focus on organization, filing, accounting, preparing taxes, and handling all of life's mundane necessities. Virgo Moon energy purges and purifies our surroundings with sound resourcefulness and simple logic. Virgo rules the intestines of the body and represents the process of elimination. Now is an excellent time to focus on eliminating toxins and purifying the body. This is also a good time to purge the useless, destructive or outmoded habits of our life. Celebrate your existing health and do something good for your body on Full Virgo Moon.
Mercury enters Pisces from March 17 –April 3 bringing out the mystic in all of us and adds quite a bit of color and flare to the imagination as we are relaying messages. This is a good time to immerse one's self in creative writing and music and to open up channels to the spirit world, allowing for messages from the other side to penetrate our psyches. This is a good time to listen, and learn from the spirit guides of our choosing. Sometimes the voice of sense and reason needs to surrender to the simplicity of just listening in silence.
Venus in Aquarius is sextile Uranus in Aries (March 18 –March 24). This is the time to work on pent up frustration with loved ones and to reconcile differences by loving and accepting variation, giving freedom and slack to our loved ones. Venus sextile Uranus can encourage us to break useless tendencies and habits and also may bring an opportunity for love related matters to transcend the restriction of unmet personal needs.
Mercury and Neptune are conjunct in Pisces (March 22 –March 27) focusing news, talk and discussion on our intuitive sensibilities as well as our understanding of religion and the necessity to be tolerant of and sensitive to the beliefs of others. Many people are deeply moved to speak about their convictions and their visions. This conjunction also presents a good time to learn from news and talk with regard to issues of belief, and to pray, meditate on and connect with that higher spirit that dwells within.
Aries, Taurus, Gemini, Cancer, Leo, Virgo, Libra,
Scorpio, Sagittarius, Capricorn, Aquarius, Pisces
For more information about your Horoscope and what the stars have in store for you, order one of our detailed


Astrology Reports!
Free Weekly Horoscope for your Sign
Aries: Sometimes we don't see the possibilities because we're looking the wrong way. Sometimes we're focused on what we want when actually the universe has something better in mind for us. Don't try to force something this week, as it may not be right for you. Instead, go where the current seems to be taking you, even if you can't see the sense in it. Try not to resist anything but allow things to fall away, especially those things connected with your work, your daily life and your health. The Full Moon in this area wishes you to see the greater possibilities that are around you but that you might have been blind to because you were too busy focusing on what you thought was right. Have no judgments this week, and don't be afraid to go through a door that will lead to new avenues.
Order your personalized Astrology Reports
---
Taurus: The path to an abundant life is sometimes more about a shift in attitude than striving to create external changes. Modern society programs us to be dissatisfied with what we've got by bombarding us with advertising and glossy magazines depicting perfection –from perfect homes and faces to pressure that says we can and should have it all. This week's Full Moon offer you the opportunity to free yourself from all that nonsense so that you can see the gifts and treasures that you already have. It also offers the chance to realize that true happiness is often found through being creative, enjoying simple pleasures and connecting with others at a heartfelt level. Instead of feeling like you've got to keep striving to keep up with the Joneses, take time out to enjoy a more creative and simple life.
Order your personalized Astrology Reports
---
Gemini: This week's Full Moon requires a balancing act. It could well be a balancing act between your personal and professional life –your home and your work. Or it may simply be that there's too much to do and not enough time to do it. What this Full Moon is asking of you is to face a particular reality, one that you might like to pretend isn't happening, and to begin to integrate it into your life. Sometimes in life we have to deal with things that we'd rather be free of, but this is one such time when your life will become easier when you've embraced all that your life contains –good and bad.
Order your personalized Astrology Reports
---
Cancer: "There is nothing either good or bad, but thinking makes it so." Shakespeare understood that how we think shapes our reality. As the Moon grows full in your zone of beliefs and mental power, you need to realize that you have more freedom than you might currently think and that you have more power to bring about change than you might believe. A shift in perspective is all that's needed this week for you to realize that you may have been a prisoner of your own thinking.
Order your personalized Astrology Reports
---
Leo: "Being deeply loved by someone gives you strength, while loving someone deeply gives you courage." Lao Tzu offers this great reminder that no matter what trials we face, having someone by our side to share them with makes life so much easier. This week, as Venus journeys through your relationship zone, it would be timely to reach out to a special person and show that person how much he or she means to you. Your appreciation will work wonders for the relationship and bring you closer together as well as reduce the scale of any hurdles to something you can easily navigate.
Order your personalized Astrology Reports
---
Virgo: The Full Moon in your sign on March 16 is likely to heighten your emotions and make it difficult for you to see the wood for the trees, especially in relationships. It may have the positive effect of bringing up matters or feelings that are important to you, as what you need for your well being suddenly becomes obvious. This is a prime time for reflection and inner contemplation so that you can access the answer to any current dilemma. The more you can tune into your inner self, the more likely the chance of a successful outcome.
Order your personalized Astrology Reports
---
Libra: All illness stems from an imbalance, a lack of harmony from within. Our conscious minds first create the lack of harmony by getting caught up in negative judgments. We compare ourselves or our lives unfavorably against others; we make judgments about people and feel angry, frustrated, upset or rejected; we project into the future and worry; or we journey back to the past and ruminate on what can't be changed. Rarely are we in the present moment feeling love, peace and contentment. It's hardly surprising, then, that so many of us are unwell or unhappy on a regular basis. As this week's Full Moon activates the healing angle of your chart, now is a good time to come back to your center and to the present moment. In doing so, you will find a peace that ripples out into your body, your home, your environment, your work and your relationships and that healing energy will have magical results whereby it becomes unnecessary to fix or change things, because everything is perfect as it is!
Order your personalized Astrology Reports
---
Scorpio: There's a successful theme to this week, from little achievements such as getting something done on time or feeling satisfied with a job well done to bigger achievements that could lead to something else. Scorpio, more than any other sign, needs a mission –something that can absorb your huge amounts of passion and energy –and it may be this that becomes your feel-good factor this week. Perhaps you feel like you're getting somewhere, that what you are doing is serving a purpose, or that the trials and tribulations you've experienced in the past year or so are starting to make sense. Perhaps they were preparing you for something else or showing you what you are capable of. Either way, you stand at an important juncture of life now, and all you need to do is carry on in the direction that is opening up to you.
Order your personalized Astrology Reports
---
Sagittarius: As the moon grows full at the top of your chart, you could be faced with a dilemma relating to your personal or professional life. It may be that you're not sure where you belong. You may not feel strongly rooted, which creates a sense of insecurity or restlessness. You may be wondering what your purpose is and what you should be doing or where you should be going next. The answer is unlikely to be found in external sources. What you need to do is trust your inner voice or your gut feelings. Sagittarians are very good at acting on impulse, and this is one of those times when, if you stop thinking and just allow your feelings to direct you, you will almost certainly make the right choice.
Order your personalized Astrology Reports
---
Capricorn: As the moon grows full in your zone of adventure and expansion, it's time to stretch your concept of what is possible. There may be something that you would like to do, but maybe it seems like a big project, one that will take much time and effort. In some ways, it would be easier to stay as you are, but in the long run, that wouldn't create the satisfaction and fulfillment you're seeking. With Mars at the top of your chart, this is a time when you can make a great deal of progress in your life, so tell yourself that you can do whatever it is you're thinking of, and then let patience be your guide.
Order your personalized Astrology Reports
---
Aquarius: A playful attitude does much to lighten the dark recesses of our lives. When viewed from a more childlike perspective, those things that might normally aggravate us become far less worrisome. As the moon grows full in your psychological zone, it will be easy to get caught up in emotional dramas and make mountains out of molehills. Life is rarely as serious as we think it is, and when we change our perspective from what's wrong to what's right, suddenly there is much to feel joyful about. Instead of tying yourself up in knots this week, ask yourself if what you're fretting about really matters in the great scheme of things. If you can see life as a game, then this week contains many opportunities for happiness.
Order your personalized Astrology Reports
---
Pisces: Almost everyone wears some kind of mask they present to others. Most people are only truly themselves behind closed doors and even then, we are not always truthful and authentic with our nearest and dearest. We may deny our true feelings or continue playing the nice guy when we're seething underneath. This week, as the Full Moon falls in your opposite sign, you have the opportunity to strip away a façade in a relationship and start taking steps toward greater authenticity. Much progress can be made once you're had an honest heart-to-heart, and as you relate with each other more honestly, you will be able to identify and work toward your mutual hopes and dreams.
Order your personalized Astrology Reports
---
For more information about your Horoscope and what the stars have in store for you, order one of our detailed