Aries, Taurus, Gemini, Cancer, Leo, Virgo, Libra,
Scorpio, Sagittarius, Capricorn, Aquarius, Pisces

Overview of this week
The Center for the New Age is pleased to present your Free Weekly Horoscope for March 30 — April 5, 2014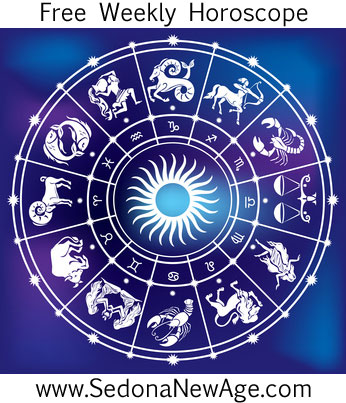 Aries, Taurus, Gemini, Cancer, Leo, Virgo, Libra,
Scorpio, Sagittarius, Capricorn, Aquarius, Pisces
New Moon in Aries on Sunday brings a classically superb time to start anew, not only because the Moon has reached the new mark and our moods are often geared in this way, but especially so because the Aries Moon invokes the powers of initiation and newness as an essential part of regenerative force. This is a time to generate and promote inspiration and happiness. Aries is the sign of the warrior. The fight to sustain love on planet Earth calls for many courageous battles, and now is an excellent time to actively initiate new projects and endeavors that will help to serve one's sense of well being.
Mercury in Pisces trine Saturn in Scorpio (occurring April 2 –April 13) brings favorable dialog concerning where to draw the lines. This is a good time to make an impression, to teach and to communicate to others those important matters that must be clarified. Timely information and news represents a gift or blessing. Important news comes with this aspect. News concerning the end of a long and arduous task brings relief.
Venus enters Pisces April 5 placing our desires and attention on Pisces related talents and practices until May 2. Music, poetry, the arts, psychic phenomena, spiritual and religious practices will all be endearing attractions and lively pursuits. Venus is the feminine planet of love and Pisces is an extremely feminine, dreamy and spiritual expression being animated by the love force of Venus. Love endeavors will emphasize passivity, tenderness, sensitivity and the need for a gentle approach towards love's expression.
Aries, Taurus, Gemini, Cancer, Leo, Virgo, Libra,
Scorpio, Sagittarius, Capricorn, Aquarius, Pisces
For more information about your Horoscope and what the stars have in store for you, order one of our detailed


Astrology Reports!
Free Weekly Horoscope for your Sign
Aries: Changes are definitely in the air this week as an exhilarating New Moon occurs in your sign on Sunday. Now is the time to take life by the horns and start moving things in the direction you would like. Even though there is likely to be a fair amount of stress and conflict during April, it is important that you make an effort to be very conscious of what is going on both in your life and within yourself as this week progresses.
Order your personalized Astrology Reports
---
Taurus: This week's New Moon on Sunday opens the door for an enlightening or spiritual experience. Since Uranus is involved, it could be something quite sudden and revelatory –an amazing dream, a mind-blowing encounter with a spiritual being, or a healing session that removes the veil of confusion from your mind. You will find that as the month of April progresses, your attitude is key to everything so begin the month by catching yourself when you slip into negative thinking –blaming, complaining, criticizing or judging and then watch how you think about yourself.
Order your personalized Astrology Reports
---
Gemini: Sunday's New Moon is good news for your future and your finances. Expect a change of some sort and it should be a change that feels liberating and exciting, but even a change that is at first unsettling will soon become something to feel positive about, as whatever happens this week is designed to set you on a new course. Life has every chance of getting better, but it needs your motivation. Of course you want life to be better and you can probably clearly identify the areas ripe for improvement so you need to think about how to do this.
Order your personalized Astrology Reports
---
Cancer: Sunday's New Moon offers you the chance to change direction and break from the past so if things haven't been brilliant or there's room for improvement, you can look forward to a positive turn of events. However, since this New Moon is part of a T-square, reaching this positive juncture may require a little effort on your part. You need to focus on where you are going in life, and you need to give yourself the freedom to move, change and adjust as necessary. Don't limit yourself or fence yourself in. This is supposed to be a time of much growth, change and transformation so even if life seems a bit crazy at times, just go with it, knowing that it is all for the good.
Order your personalized Astrology Reports
---
Leo: The New Moon on Sunday opens a portal of opportunity within which you can grow, expand and entertain new possibilities. Sometimes in order to find our place in the world, we have to journey to the underworld, a place where there is nothing and we have no answers to anything. Allowing ourselves to be in this void with the exclusion of all distractions allows the answers to form and new things to develop. When we emerge from this underworld, we are stronger, clearer and have a greater sense of who we are and what we want.
Order your personalized Astrology Reports
---
Virgo: This week's New Moon on Sunday brings a psychological spring cleaning which is great news if you have a little emotional debris to clear. Now is the time to adopt a new vision and a celebratory approach to life. So much of what we experience in our lives comes down to our attitude and what we unconsciously expect. The New Moon brings the chance to cast out any negative expectations and to break free from dark memories or grief so that you can begin to live in a more joyful fashion. The arrival of Venus in your relating zone will act as a soothing balm in many of your personal matters especially where there has been any conflict. This first week of April is the time to embrace a soft, gentle and forgiving attitude so that you and others in your life can move forward.
Order your personalized Astrology Reports
---
Libra: The Uranian New Moon in your partnership zone is a strong indicator of new beginnings in your personal life –the effects of which will ripple out to your home and family situation as well as your direction in life. There is a freshness about this New Moon, so you can expect a new person to appear who is instrumental in changing your life. As a matter of fact, your life is likely to be subject to change for most of April largely as a result of other people. You can do much to influence the outcome of these interactions by not reacting with anger, frustration or impatience but aiming to be kind, compassionate and tolerant.
Order your personalized Astrology Reports
---
Scorpio: The New Moon will help you to turn over a new leaf. Use the fresh new energies on March 30 to focus on what you would like to change, and follow this up with action and belief. It is very easy in modern society to use business and constant activity as a distraction from that which we really need to confront. Take care that a frantic pace of life with lots of demanding and hectic situations doesn't derail you from what's really important. This could be an unconscious form of procrastination that should be acknowledged and addressed.
Order your personalized Astrology Reports
---
Sagittarius: Sunday's New Moon should be a breath of fresh air after the heaviness of the past few weeks. This New Moon is ideal for positive and creative new beginnings, but how do we know when what we're attempting is actually what we should be doing? Will a risk pay off? If there's a lot at stake, it is particularly important to know whether a gamble will be worth the stress, the uncertainty, or the negative results that may occur. For this first week of the month Mercury continues to move through Pisces, the romance and creativity sector of your chart. Be sure to take full advantage of this by discussing your ideas and endeavors with others, particularly those who share your profession.
Order your personalized Astrology Reports
---
Capricorn: Sunday's New Moon brings change and new beginnings to your home and family situation. The adjustment could be exciting or unsettling, but whichever way it falls, it is meant to happen and will liberate you from a situation that has become tired, stagnant or simply isn't working for you. This modification taking place in your domestic life could be either refreshing or destabilizing, depending on how you view it. Remind yourself that things aren't meant to stay the same at this point in your life, so whatever is happening, try to embrace it with a positive expectancy.
Order your personalized Astrology Reports
---
Aquarius: A revitalizing New Moon occurs in the zone of your mind so if your thoughts have become jaded, if your attitude has become a little weary, or if you've lost your childlike glee, then this New Moon will do wonders for your optimism. As your ruling planet Uranus is involved in April's powerful grand cross, it is likely that you will be on the verge of some kind of change or development. There could be delays in projects, snafus if you're traveling and a slowdown in your social life. Use this time to delve within, examine if you might have some fear or resistance to what is happening and use this week to change your thinking.
Order your personalized Astrology Reports
---
Pisces: Sunday's New Moon is great news for your finances, especially if you're hoping for a positive change or liberation from difficult circumstances. Actually this New Moon is about changing your attitude toward not just money and material things, but your values and your talents as well. Of all the signs, yours is more likely to fare well under the volatile cosmic picture. It seems that the heavens are smiling favorably on you at present and even if there is stress in your world, the planets are granting you an escape route.
Order your personalized Astrology Reports
---
For more information about your Horoscope and what the stars have in store for you, order one of our detailed