Aries, Taurus, Gemini, Cancer, Leo, Virgo, Libra,
Scorpio, Sagittarius, Capricorn, Aquarius, Pisces

Overview of this week
The Center for the New Age is pleased to present your Free Weekly Horoscope for April 13 — April 19, 2014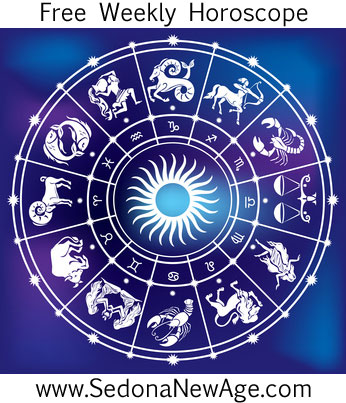 Aries, Taurus, Gemini, Cancer, Leo, Virgo, Libra,
Scorpio, Sagittarius, Capricorn, Aquarius, Pisces
Pluto tends to operate even more plutonian when it is retrograde (April 14 –September 23, 2014).
It is far more intense, it possesses a higher degree of concentration and it therefore gives greater insights into the subconscious. Because of this intensity, the individual can see much more than normally possible and it is easy to become suspicious of the motives of others. Under any Pluto transit, we feel pressured to eliminate and release the old, outworn, outdated and obsolete in our lives. When Pluto is transiting retrograde, we are urged to let go of attitudes, thinking or communication patterns, security drives, and rigid emotions. This is a time to undergo an internal form of house cleaning.
April 14 Mercury and Uranus are conjunct in Aries (April 14 –April 23), giving birth to radical, bright, enterprising and competitive ideas. This may raise some very interesting and unusual questions about who we are and what we choose to do with our need for freedom. Consciousness raising talk is prevalent. Mercury conjunct Uranus magnifies the volume of shocking or question-raising news, and stirs the minds and mouths of rebels and nonconformists who are inspired to speak out. Mercury and Uranus together will draw our attention wherever matters have grown out of control. In the sign of Aries, repeated discussions are likely to revolve around Aries related topics such as new enterprises and the upsets of war.
Full Moon in Libra is a very potent Full Moon, opening the gateway to harmony. Use this Full Libra Moon energy to empower your relationships. Diplomacy, peace and goodwill can be achieved among loved ones, but a definite effort is required. Friends will share their strengths as well as their weaknesses. It is wise to work towards creating a balance for the sake of harmony in friendships. Troubled times can strengthen even the weakest links in friendship, despite communication difficulties brought on by this week's aspect of Mercury in Aries square Pluto that will probably be a time to revisit important points about the difficult subjects that have come up in recent weeks.
The Total Lunar Eclipse April 15 will be visible throughout most of North America, South America and Australia. This is an energy of spiritual renaissance, a time for rebirth and calibration within the energy of the New Earth. This is a time do discover purpose and create harmony, to seed peace on earth.
Mercury in Aries is square Pluto in Capricorn (April 15 –April 22). Selfishness will make it difficult to communicate with those of another generation. This is a particularly challenging time to deal with burdensome issues and discuss them in a manner that relieves tension. This aspect often brings harsh and sometimes fatal news. This may be an especially perplexing time to discuss matters involving permanent change.
Aries, Taurus, Gemini, Cancer, Leo, Virgo, Libra,
Scorpio, Sagittarius, Capricorn, Aquarius, Pisces
For more information about your Horoscope and what the stars have in store for you, order one of our detailed


Astrology Reports!
Free Weekly Horoscope for your Sign
Aries: Changes within a relationship are almost inevitable this week as a lunar eclipse falls in your opposite sign, so now is the time to let your feelings be known and to air any grievances. Even if your courage and honesty are likely to create conflict, that will, in the long run, be better for everyone as a new understanding begins to take place. Others are likely to be volatile this week, but try not to let their emotions intimidate you. It is very important that you are able to be yourself, and breaking free from stultifying old patterns should be your goal during this present time. Your challenge is to find ways to generate more freedom in your life without destroying that which has value. Try to bear that in mind under this week's eclipse.
Order your personalized Astrology Reports
---
Taurus: No Matter how fast we want events to move, life won't be hurried. In fact, as a Taurean, you understand this need for not rushing, yet because you are caught up in this hectic modern world, even you might have days when you wish you had more hours or when you find yourself hurrying from one job to the next. Stop! Slow down. Otherwise you might find that your body makes you stop through illness, accident or injury. This is a great week to bear in mind this prescription for good health and longevity from James Freeman Clarke, an American theologian: "Never hurry. Take plenty of exercise. Always be cheerful. Take all the sleep you need. You may expect to be well." And remember that your best insurance against illness is a positive state of mind and a happy heart.
Order your personalized Astrology Reports
---
Gemini: The lunar eclipse in your creativity zone on April 15 brings to a head a matter that has been causing you problems. The problem is likely to be a clash between what others want and what you want. Or it could even be yourself who is split –with one half of you wanting to do one thing and the other half wanting to do something totally different. The first thing you need to do under this potentially stressful eclipse is slow down and take life one step at a time. Stop trying to see the final product, because that is a form of torture. Whether it's a baby, a book, a home, a business idea or some other project, start with what you can do today and bring your attention fully to this moment. You can't compress what takes many months or even years to create into one second of thinking. Whatever situation you're in, this eclipse signals a breakthrough, and the message is to do whatever you feel passionately about and express that to the world –one step at a time.
Order your personalized Astrology Reports
---
Cancer: The lunar eclipse at the base of your chart is likely to bring matters to a head connected with your home and family. It may also activate emotions that link to unresolved past events. Allow whatever feelings arise to be fully felt, as they will act as signposts for what you need to do. It may be that you need to let go of something or someone. It may be that your feelings direct you to make a change in your home or your professional life. Perhaps it is time for a change in your outside role. If you find yourself at a crossroads, choose the path that allows you to grow and experience more joy.
Order your personalized Astrology Reports
---
Leo: This week's lunar eclipse is a call for balance. If your life feels anything but balanced, then now is the time to pause for thought and consider what you can let go of to allow more time and space for the things that really matter. Although it may feel as though there are many demands on your time and energy, the truth is that our lives are the way we have created them based on the choices that we have made. You can now make a choice to at least change the way you view things so that your cup becomes half-full instead of half-empty. Or you could choose to confront the thought that says you should do X, Y and Z when you'd rather be doing A and B. Your daily life is up for transformation, so if you drop a day's work in order to be with your family, if you reduce the amount of housework you do to open up a space for creative activities, or if you decide to watch less TV so that you can make time for other things, the lunar eclipse advises you to change your approach to life. In return, your life will change for the better.
Order your personalized Astrology Reports
---
Virgo: This is not the week for operating at a fast pace nor is it the week to act without due care and attention. The more mindful and aware you can be, the better. Your ruling planet, Mercury, sits right in the middle of a very tense alignment including a lunar eclipse and this is a pattern that could play itself out in the life of many Virgos via a high degree of stress and anxiety. Try not to think too far ahead or worry about tomorrow. Ask yourself if you have a problem right now in this very moment. It may be that you're aware of things that are stressful, but when you bring your attention to this present moment and allow a space to form in your mind, you will no longer be caught up in your problems. The good news is that you should reach a turning point with a financial or material matter this week. At the very least, you will be able to understand what was previously a confusing or hidden issue, and this understanding will allow you to take action. Whatever is occurring in your life right now, the key to your success could lie in your willingness to participate, so don't take yourself out of the game.
Order your personalized Astrology Reports
---
Libra: The lunar eclipse in your sign is likely to pose one or two challenges that raise your emotional level and make it difficult to see the wood for the trees. Conflict and disagreements with others are likely to be an issue, and your challenge will be to act with consciousness so that you can step outside the fray and not allow your emotions to run the show or possibly add fuel to the fire. You have every right to assert yourself, and this is a period in your life when it's vitally important that you forge ahead on your path without worrying too much about how that will affect others. However, it's worth bearing in mind that you might not hold all the trump cards, and squaring up to others and trying to push them to where you want them is likely to backfire. It will seem as if you're at the mercy of other people's changeable or contrary whims. There may be little you can do about this other than pretend that those people are your teachers and if you look hard enough you might find the lessons so don't be hasty and do your best to see everyone as an extension of yourself, no matter how difficult that may seem at the time.
Order your personalized Astrology Reports
---
Scorpio: Your biggest challenge is to get your life how you want it. There may, for example, be a lack of balance –too much work and not enough play. That's understandable with Saturn in your sign, as this transit isn't known for its lighthearted, easygoing fun. There are times –and this is probably one of them –when you realize that, for your own health and sanity, you need to create a shift in how your life is weighted, so if your life feels topsy-turvy and you're not spending enough time doing what you want, then you may need to be firm with yourself and others and make some much needed changes. If, for whatever reason, you can't make changes to suit yourself, you will need to look after yourself through healthy nutrition and good quality sleep. Remind yourself that this too shall pass, and if you can just get through today, that is all anyone can ask of you.
Order your personalized Astrology Reports
---
Sagittarius: Life at present is likely to be a little hectic, to say the least. Your ruler, Jupiter is involved in the grand cross which means you're likely to feel pulled this way and that without much space to consider what you really want or need. The lunar eclipse is likely to bring this to a head where the needs of others and all that is expected of you will highlight the need for change. You may also find it helpful to question your beliefs about why you are doing certain things, as the eclipse is asking you to move toward a more heart centered way of living. If something in your life doesn't feel authentic and you're just doing it because you feel you ought to or because it's become a well ingrained habit, then it's time to reassess. Success awaits, but it may not be the kind of success you had in mind, and you need to be especially mindful of all matters connected with money, work and power.
Order your personalized Astrology Reports
---
Capricorn: The lunar eclipse on April 15 strongly activates the personal and professional areas of your life, bringing your home and family into focus as well as your role in the outside world. If there is tension between these two areas, you may need to channel your energy toward your home and your inner self before you can effect changes in the outside world. Perhaps it is more important to have the right foundations in place before you can direct your energies successfully in your ambitions and work. If you're not entirely comfortable with what is going on around you at home –something with family members, problems with your house or where you are living, or simply a sense of unease that you can't put your finger on –you may need to tune into your power center, the source within you, so that no matter what craziness is going on around you, you will be able to cope with it by being strong, centered, fully present and grounded from within.
Order your personalized Astrology Reports
---
Aquarius: The lunar eclipse on Tuesday is your call to break your routine. If you are feeling restless, bored, limited or restricted within your current situation, the eclipse will bring this feeling to a head. It may be that there's something you need to do that you're putting off for some reason. This could be causing a certain amount of inner frustration, so try to do what you need to do. Also, if you can, find something new to broaden your mind and excite your senses. This could be a trip somewhere or just a day out to somewhere new, but this desire for adventure could just as easily be satisfied by shifting the furniture around, sleeping on the other side of the bed, or taking an unfamiliar route to work. In short, you need to shake things up a bit, remembering that "the real voyage of discovery consists not in seeking new landscapes but in having new eyes." (Marcel Proust)
Order your personalized Astrology Reports
---
Pisces: The lunar eclipse is likely to generate some intense motions that could be caused by an imbalance in your private life and intimate relationships or with financial matters. Things look a little unstable here, but shocks or uncertainty involving money and possessions or other people's weird behavior need not unsettle you if you return to your spiritual center. Neptune, Venus and Chiron are all in your sign, bringing a soothing balm to any troubles in your world and suggesting that spiritual activities such as meditation, healing or creative pursuits through which you can express your feelings in color, words, dance or form will help enormously. In fact, the more you can focus on your spiritual and artistic abilities, the more likely you are to sail through the week whether there are irritations or not.
Order your personalized Astrology Reports
---
For more information about your Horoscope and what the stars have in store for you, order one of our detailed