Aries, Taurus, Gemini, Cancer, Leo, Virgo, Libra,
Scorpio, Sagittarius, Capricorn, Aquarius, Pisces

Overview of this week
The Center for the New Age is pleased to present your Free Weekly Horoscope for April 27 — May 3, 2014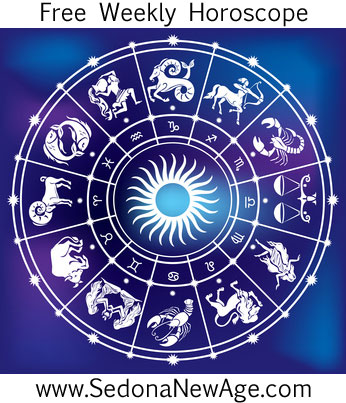 Aries, Taurus, Gemini, Cancer, Leo, Virgo, Libra,
Scorpio, Sagittarius, Capricorn, Aquarius, Pisces
The New Moon in Taurus on April 29 emphasizes either the acquisition of new possessions, or there is a need to restore, replenish and maintain the old ones. Either way, establishing a sense of personal contentment with possessions will bring positive feelings. Taurus is an exalted place for the Moon and the New Moon encourages us to bring newness into our physical surroundings. To emphasize this, an Annular (Partial) Solar Eclipse, an extraordinarily potent eclipse with an auspicious timing accompanies the New Moon. This type of eclipse occurs when the Moon is too far away from the Earth to completely cover the Sun and results in a ring of light around the darkened Moon.
Mercury in Taurus trine Pluto in Capricorn (April 29 –May 4) brings greater definition to the meaning of fate, and allows us to more easily communicate about the power struggles that are occurring collectively around the world. At the same time, Mercury sextile Jupiter in Cancer (April 30 –May 3) offers the potential for good news of growth and prosperity, especially for those who are open to broadening their awareness. This aspect brings joyful and mind expanding conversations.
As Venus enters Aries (May 2 –May 27) the expression of beauty, love and attraction assumes a fascination for the warrior spirit. Venus represents magnetic draw and attraction, and with this entre the planet of love and beauty focuses our attention on the force and fire of Aries related interests. Venus in Aries brings out the warrior and conqueror quality in people, and a new sense of life and vitality will be evident. This aspect emphasizes ardent, open and forthright expressions and proposals of love, but keep in mind that Aries rules the head and there are numerous ways you can use your head before plunging head first into love matters. Try not to be too impulsive, impatient or militant in the expression of true feelings, affection and love.
Aries, Taurus, Gemini, Cancer, Leo, Virgo, Libra,
Scorpio, Sagittarius, Capricorn, Aquarius, Pisces
For more information about your Horoscope and what the stars have in store for you, order one of our detailed


Astrology Reports!
Free Weekly Horoscope for your Sign
Aries: The solar eclipse on April 29 is an invitation to change your material situation. Now is a good time to consider how you can make improvements to your finances, to find more enjoyment in your work, or to contemplate your value. If you would like more satisfaction in your work, this is a great time for change. Actually, this could be the beginning of a new material chapter in your life, so be clear and positive about what you want, and then set about making it happen. At the end of the week, Venus begins a transit of your sign (until May 28) making this one of the most romantic and creative periods for you all year. In terms of love and romance, Aries, it doesn't get much better than this!
Order your personalized Astrology Reports
---
Taurus: The solar eclipse in your sign is your opportunity to begin afresh. This could even signal a new chapter of life, so be prepared to let go of your old ways and move on. Sometimes, eclipses can be dramatic, so if you're one of those Taureans who has been stubbornly holding on when you need to be changing, then you might get a nudge from the universe that jolts you out of your comfortable slumber. Whether you choose to change or it's forced on you, be aware that this is a very important point in your life, and whatever happens does so for a very good reason. Now is the time to create a new vision of your life while celebrating all that you have and all that is coming. Mercury is in your sign from May 1 to May 7 so you're in your element. Your communication skills are excellent, but you may be more stubborn this week than you usually are.
Order your personalized Astrology Reports
---
Gemini: The solar eclipse in your zone of soul and spirit is your cue to slow down and turn within. Your challenge is to find a balance between inner nourishment and participation in life. There is still much for you to do, but if you ignore your soul's cries for solitude and reflection, you may begin to lose your zest and enthusiasm for the things you have to do. This is also the time when you may need to acknowledge that a part of your life has ended and that it is now time to move on. Draw a line through that which is finished so that you can prepare for a fresh new chapter. Venus transits your house of friends and acquaintances as of Friday heating up your social life and bringing a kind of daringness to projects you take on, relationships in which you get involved and the ways in which you attempt to achieve your dreams. What an interesting beginning to a new month!
Order your personalized Astrology Reports
---
Cancer: The solar eclipse on April 29 is your cue to focus on the future. This is a suitable point at which to ask yourself how you want your future to be and if you're prepared to make the necessary changes. It is important to be very conscious about the choices that you are making (or not making) so that you can create the future that contains the highest possibilities. Be ruthless in eliminating the past so that you can put more of your attention in the here and now, which will become your future. The more you can eliminate, cleanse, change and transform, the more likely you will be able to find yourself in a position of celebration. With Venus transiting your career area at the end of the week, the possibility arises that a flirtation with someone you work with could escalate into a romantic relationship, but think twice before you leap in.
Order your personalized Astrology Reports
---
Leo: The solar eclipse at the top of your chart is an omen of success and new beginnings in your life, particularly in your professional life. At the very least, this eclipse offers you a fresh start in terms of where you're going or your vocation. This is a great opportunity to discover your true purpose and begin living it. This eclipse also marks a turning point in your life, so your journey to the underworld that we spoke of earlier in the month should be coming to an end now. This is the point at which you can begin to focus on the path ahead, liberated from the ties and problems of the past. All you need is a little patience, for your destination may take a while to reach, but there is no hurry, so all that's required is to simply enjoy the journey.
Order your personalized Astrology Reports
---
Virgo: This week's solar eclipse should be a breath of fresh air for you especially if the past few weeks haven't been easy. Your keyword is "adventure" and you'll be in alignment with the powerful solar energies if you can broaden your horizons by getting out into the world and stimulating your mind with new experiences. Aside from being a good time to travel (or to think about your next trip), the solar eclipse is ideal for study and for learning of all kinds, but most importantly, it's good for putting the spring back in your step and believing in your dreams and ideas. If there's something you'd love to do, now is the time to put it in motion. It makes no difference whether it's easily attainable or feels like an impossible task. Begin it now!
Order your personalized Astrology Reports
---
Libra: As the solar eclipse activates the psychological zone of your chart, it's time for you to move within and process all the changes and activity that has been recently occurring. Whether you have found the previous weeks stressful or exciting, you need to take your foot off the gas and put the emphasis on your own regeneration. This eclipse could coincide with an ending of some sort, so it may be appropriate to grieve. You have plenty of support as Saturn and Jupiter align harmoniously with Venus, enabling you to feel positive about matters while at the same time taking constructive action. Now is the time to gently heal yourself and to make the most of your talents. If you have experienced any sort of ending, of course you must process your feelings, but there is an underlying sense of positivity and optimism in your chart as a new month begins, so look to the future, taking it one step at a time.
Order your personalized Astrology Reports
---
Scorpio: This week sees new possibilities begin to open up for you and none more so than in the area of your relationships. The solar eclipse in your opposite sign is a great opportunity to turn over a new leaf with someone, to take your relationship to a new level, or to make changes that have long needed to happen. Communication is the theme so prepare to open your heart and let your thoughts and feelings be known. A turning point in your life –one that may signal the end of any sense of isolation you may previously have had – is taking place for you and to underline this point, on May 2 (until the 28th) Venus transits that area of your chart that rules your daily routine. During this period, work matters and relationships flow your way. You probably will be socializing more frequently with friends and coworkers and surprise, surprise, an office flirtation could turn into something more.
Order your personalized Astrology Reports
---
Sagittarius: This week's solar eclipse occurs in your zone of health and work, so these are both areas that could be ripe for change and positive new beginnings. Basically, it's time to make changes to your everyday life so that your existence feels more in line with what you need to be happy. This may mean you need to make changes at work or in how you function in a day-to-day way. It's also the perfect time to begin a new health regime that will support your desire to feel better physically. Be wary of putting these things off. You need to be positive in both your outlook and your physical being. As of Friday (until May 28), Venus moves through your solar fifth house concerned with self expression and creativity. This period is one of the most romantic and creative for you all year. Your muse shadows you constantly, urging you to get to work on whatever you're passionate about and for this to be a successful period, you need to be upbeat and optimistic.
Order your personalized Astrology Reports
---
Capricorn: This week's solar eclipse encourages you to break free from your chains and follow your own desires. This is an eclipse that asks you to march to your own drumbeat so that you can accomplish what you came here to do. This can require considerable amounts of courage, as breaking away from that which is safe or expected of you can unleash feelings of insecurity and fear, either in yourself or others. It would seem that you can't go on living any sort of a lie. All you need to do to have a safe and happy landing, is trust. May is a busy month –though not quite as frantic as March was. The month begins with Mercury continuing its transit through your romance sector so things in romance should hum along at a good pace for you. In addition, with Venus in your 4th house of the home and family as of Friday, things should be quite passionate between you and your partner and if you're not in a relationship, that fire and passion can be channeled into a home based business or some other creative endeavor in which you're involved to provide the satisfaction Venus encourages you to experience.
Order your personalized Astrology Reports
---
Aquarius: The solar eclipse this week shines the spotlight on your home and family. This could mean changes in these areas, and the important thing to remember is that an eclipse represents a new beginning so this is a perfect cosmic occurrence for moving to a new house or doing work on your home, welcoming or saying goodbye to a member of the family, and generally working toward creating a home and a domestic life that feels like it's moving in the right direction. On a deeper level, this eclipse could bring a revelation within you as a maturing process appears to be taking place. It would be timely to release any childhood hurts and forgive the past. Whatever is happening, this eclipse at the base of your chart represents a turning point as changes deep within you begin to ripple out into your world.
Order your personalized Astrology Reports
---
Pisces: The solar eclipse on April 29 is your invitation to create a new vision of your life. Whatever has happened in the past, however your life has been, remember that it doesn't have to stay that way. Things can change; people can change, and it all begins with the thoughts and beliefs we hold about ourselves and the world. Since the solar eclipse is strongly activating the "thoughts and beliefs" area of your chart, you can expect to have a "eureka" moment –a revelation or an insight that enables you to see life differently. There is no rush, though. Venus enters your financial are on May 2 until May 28. Your income should pick up. You might land a raise, get a tax break or refund, or perhaps someone repays a loan and at the same time you come up with innovative ways to increase your income as well. If you have a revelation about yourself and what you're capable of, the more you can express yourself, create from your heart, and dance to your own tune, the sooner this new vision will come about.
Order your personalized Astrology Reports
---
For more information about your Horoscope and what the stars have in store for you, order one of our detailed