Aries, Taurus, Gemini, Cancer, Leo, Virgo, Libra,
Scorpio, Sagittarius, Capricorn, Aquarius, Pisces

Overview of this week
The Center for the New Age is pleased to present your Free Weekly Horoscope for May 11 — May 17, 2014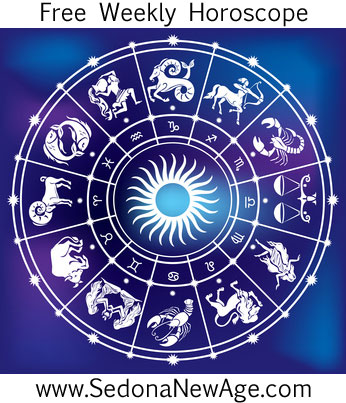 Aries, Taurus, Gemini, Cancer, Leo, Virgo, Libra,
Scorpio, Sagittarius, Capricorn, Aquarius, Pisces
This week, Venus in Aries is opposite Mars in Libra. Oppositions with these personal planets both attract and repel at the same time, and there is a constant need to give and take through the act of compromise. This may bring a particularly challenging time for loved ones to agree with each other. It is wisest to observe and learn as much as possible. By all means, go easy on yourself and your loved ones during this Venus opposite Mars period, but expect a few conflicts of interest along the way.
On Monday Mercury in Gemini is square Neptune in Pisces. This aspect commonly brings about difficulty with communications concerning the challenges and obstacles of the spirit world and human spirituality. Tuesday brings another aspect affecting communication (Mercury trine Mars) but this aspect activates the world of communications with an energetic punch that often persuades people to take immediate action regarding whatever the subject matter requires.
The Full Moon in Scorpio on Wednesday intensifies our moods. As this lunar fullness builds to a crescendo of emotional dramas, our emotional patterns are being played out in interesting ways. Intense desires and what provokes them reveal a lot about who we are and what we need to appease the satisfaction-hungry inner child. Entertaining fun, and off the cuff kinds of play and humor are good medicine and safe physical exercises and activities are excellent avenues of release.
May 15 Venus and Uranus conjunct in Aries for the next ten days. This aspect gives an added punch to the matters of love and affection. Often with this aspect there is a radical or explosive attraction that takes place, or a love of making mischief and experimentation. For some this may create genuine chaos and havoc in the love life arena.
Aries, Taurus, Gemini, Cancer, Leo, Virgo, Libra,
Scorpio, Sagittarius, Capricorn, Aquarius, Pisces
For more information about your Horoscope and what the stars have in store for you, order one of our detailed


Astrology Reports!
Free Weekly Horoscope for your Sign
Aries: This should be a lively week as Venus aligns with Uranus in your sign. Don't expect things to stay the same under this exciting and unpredictable combination, and the more open to change you can be, the better. Apart from a minor blip with the Full Moon on May 14 which could feel a little bit heavy for a day or so, you should find that events this week are invigorating and refreshing with the capacity to put a sparkle back in your eye. "Courage" is your keyword and the more you can push out of your comfort zone and embrace new possibilities, the better you will fare.
Order your personalized Astrology Reports
---
Taurus: A rather heavy and serious Full Moon in your opposite sign on May 14 may mean that this isn't the most fun week you've ever had. Problem areas are likely to be relationships and health. Perhaps the two are linked in such a way that a stressful situation with another person could be underlining your health, or vice versa. Use this Full Moon to concentrate on healing your mind, body and relationships. This would actually be a fine time to focus on creating a new vision in some aspect of your life, and since life only usually changes when our thoughts change, perhaps this would b a good time to readjust your thinking. Whatever ails you –your body, a person, or a situation –try viewing it with love and kindness, and see how quickly it begins to heal.
Order your personalized Astrology Reports
---
Gemini: Something has to give this week under a draining Full Moon, and if you haven't been looking after yourself or if you've been pushing yourself too hard and not getting the rest you need, this could well be the week when your body says, "Enough!" Perhaps it's time for you to let go of the need to be in charge, to oversee things less, and to examine whether you really need to do everything you say you do. Even if you manage to stay on top of things, there's probably little enjoyment to be had in that state of mind where anxiety is never far away, so make you own well being a priority, and you'll be better able to help others. This is also a good week to sort things out and become more organized and the more you can clear clutter and get your life working smoothly and efficiently, the less stressed you'll be.
Order your personalized Astrology Reports
---
Cancer: The Full Moon on May 14 highlights the necessity of ascertaining what's important to you. You may feel a sense of responsibility or duty, but that could be at odds with what you really want to be doing. One way around this would be to view what you have to do with a greater sense of mindfulness. As James Barrie said, "The secret to happiness is not in doing what one likes to do, but in liking what one has to do." In this vein, try adopting an attitude of celebration in even the smallest of things. By cultivating a fun, positive, almost childlike attitude, you can make even the grimmest of tasks fun.
Order your personalized Astrology Reports
---
Leo: The Full Moon on May 14 is likely to bring to a head matters concerning your home, family and domestic life. Work or your professional life could also be a feature, and you could find that matters from your past emerge, raising some uncomfortable emotions. This is a serious moon reflecting the need, perhaps, for you to get serious about the aforementioned areas. There may be a need for greater responsibility connected with a family member or a domestic issue. Or maybe you're tired or fearful of your responsibilities and would like greater freedom. What's needed to deal with these issues is courage, and since you were born under the most courageous sign of the zodiac, you shouldn't have a problem facing up to what needs to be said or done. And once you take action, you will find that you begin to make huge progress very quickly, and you'll soon wonder what you were worrying about.
Order your personalized Astrology Reports
---
Virgo: This week's Full Moon highlights communication, study and your beliefs, and it looks as if it's time to get serious about one of these areas. It could, for example, be time to knuckle down and take a subject of interest more seriously, or it could be time to become more responsible in how you communicate. Perhaps there's a serious conversation you need to have. Maybe you need to write something or get your message out there. Or perhaps you need to question a belief system that's been holding you back. You have plenty of supportive people around you this year, so ask them for some feedback if you need a pep talk.
Order your personalized Astrology Reports
---
Libra: As a serious Full Moon falls in your money zone, now is the time to knuckle down with financial and material matters. Perhaps it's time for you to lay down some foundations that will enable your financial situation to improve in the future. Maybe it's time to take greater responsibility or to face the facts of a material situation which may not initially be easy. By dealing with whatever needs to be done, you will empower yourself and enable changes to occur. It's not all serious this week, though, as Venus's connection to Uranus suggests a light and frivolous mood will overtake you May 13 –15 and this is the perfect opportunity to engage in some fun or stimulating activities with likeminded people. This is good news for all your relationships, as you're likely to be taking things less seriously and to be more inclined to play and have fun. You may also meet someone who could potentially alter your life and breathe new life into you.
Order your personalized Astrology Reports
---
Scorpio: The Full Moon on Wednesday is a sensitive spot for you, so it might be advisable to take yourself out of any challenging situation so that you can view it from a higher vantage point. You are likely to come to a conclusion of sorts, since this is a serious Full Moon that will enable you to be much clearer about what you want and what is and isn't acceptable from others. This is a good moment to draw a line or set some boundaries to protect yourself. This might mean saying "no" to someone to preserve your energy or to give yourself more time to do what is important to you and your well-being. Or it might mean getting serious about something that you would like to do. Either way, this moon sees you at a "no messing" point where you can begin to get much more constructive about any situations that have been too unstructured.
Order your personalized Astrology Reports
---
Sagittarius: As Jupiter aligns with Saturn, there could be a sense of accomplishment. From a big success to a feeling of relief that you finished something you set out to do you should soon have reason to feel quite pleased with yourself. Added to that is the alignment of Venus and Uranus in your house of fun, which is simply wonderful for injecting some color and excitement into your days. Perhaps there'll be an invitation to enjoy yourself; perhaps there'll be a romantic interlude, or maybe you'll have a wonderful idea for a creative project. Either way, you can expect to be pleasantly surprised this week.
Order your personalized Astrology Reports
---
Capricorn: This week's Full Moon is your cue to get serious about a matter that has been cause for concern. This is the point at which you can begin to take action or to resolve matters, especially if they revolve around friendship, groups or your vision for the future. Don't be afraid to take the uncharted path. It may be time to set boundaries where a friend or group is concerned, or it might be time to break free from restrictions imposed by friends or groups. Perhaps what's needed is a little adventure. This is also a good week to add a little spice to your home –perhaps a little redecorating or a spot of feng shui. Or maybe you could purchase something that livens up your surroundings. Be open to change, and this week could turn out to be quite interesting.
Order your personalized Astrology Reports
---
Aquarius: A rather serious and heavy Full Moon at the top of your chart could further activate any clash between your home and external life. Whether it's your professional life, your aims and goals, or you social obligations, it seems that something is weighing on you. While this is certainly a good time to consolidate your goals and ambitions, you might need to make sure that you're not being overly rigid about your work or an ambition or that you're taking your responsibilities too seriously. Either way, the antidote is to relax a little and take each day –or even each moment –as it comes. Remember that what is for you won't go by you, and if you're trying to create a new vision in your life, pushing, rushing, or forcing won't make it happen any quicker than if you allow it to unfold in its own time.
Order your personalized Astrology Reports
---
Pisces: Each and every day is ripe with possibilities. Some days are more ripe than others. The trick is in adjusting your mindset to realize that so you can make more of what's on offer. This week's Full Moon falls in your zone of possibility, making this the perfect week to see life from a higher vantage point. Your task now is to get serious about something that could be viable. Don't worry yet about all the whys and wherefores; for now, you just need to say to yourself, "Yes, that's possible. That could happen. I could do that." And allow a playful, positive attitude to attract the circumstances you need to make it happen.
Order your personalized Astrology Reports
---
For more information about your Horoscope and what the stars have in store for you, order one of our detailed