Aries, Taurus, Gemini, Cancer, Leo, Virgo, Libra,
Scorpio, Sagittarius, Capricorn, Aquarius, Pisces

Overview of this week
The Center for the New Age is pleased to present your Free Weekly Horoscope for May 18 — May 24, 2014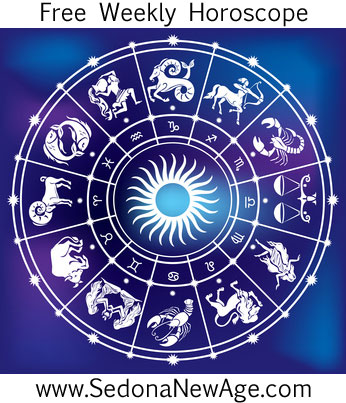 Aries, Taurus, Gemini, Cancer, Leo, Virgo, Libra,
Scorpio, Sagittarius, Capricorn, Aquarius, Pisces
Venus in Aries is square Jupiter in Cancer (May 18 –May 26). This aspect brings love and attractions (Venus) into difficulty or hard work (the square aspect) over the need for prosperity, growth and jubilation (Jupiter). Our experiences of beauty and affection may be tested by the difficulty of attracting or acquiring prosperity and joy. Some might say that the act of appreciating beauty is a form of prosperity in itself, but at times like this, a great deal more effort and support is required. This aspect may create an obstacle to acknowledging the expenses incurred by our attractions and love-needs. It reminds us that something more than love's blindness is required in order for us to fully realize our riches and the value of what we care about most.
Mars has been retrograde since March 2. As Mars goes direct on May 20, we will have to retrace some of our steps again and re-start or reconsider many of our options. Mars gives us what we need to sustain life; however, it can also destroy life. The masculine force and vitality of Mars holds the promise of action, and represents the principle of will. This shows us that energy can be directed anywhere we choose, and while Mars moves forward, the force of the will is less likely to backfire. Mars energy calls to our need for survival, motivates us to act in defense and awakens the urge to express rage at the apparent offenses of the world. Wisdom decrees it is best to maintain one's own masculine force with the greatest of dignity and integrity. To live is to serve the life force that lives inside each of us and it is easier to do with Mars moving forward.
On May 24, Jupiter in Cancer trines Saturn in Scorpio for the next six months. These planets are a natural pair complementing each other because one is visionary and the other one can commit and follow through. The fruits of our labor will be rewarded with the enthusiasm and determination created by this most pleasant aspect. Jupiter and Saturn are the two social planets of our solar system. Jupiter represents joy, attainment, expansion and the place where economic growth occurs. Saturn is the guard at the edge of time, and represents the work, discipline, timing and responsibility that comes with prosperous growth. They have a natural relationship as with each bountiful step of attainment, there is always the restriction required to maintain it and the duty of labor necessary to keep it growing or expanding in value and quality. The favorable trine aspect brings harmonious strength to these two planets boosting our economy with breakthroughs in enterprise and financial gifts. This is a good time for business and a good time to take positive steps towards the attainment of health, wealth and happiness.
Aries, Taurus, Gemini, Cancer, Leo, Virgo, Libra,
Scorpio, Sagittarius, Capricorn, Aquarius, Pisces
For more information about your Horoscope and what the stars have in store for you, order one of our detailed


Astrology Reports!
Free Weekly Horoscope for your Sign
Aries: Your outlook improves considerably this week. Not only do you have Venus dancing her way through your sign, giving you plenty to feel cheerful about, but on May 20, your ruler, Mars, resumes forward motion that will have a positive effect on your levels of motivation and desire to get moving. In addition, the Sun moving into Gemini on May 21 is a further boost to your frame of mind. In fact, there is such a lightening of mood that you should feel as if you can do anything, but before you race off, it may be worth it to channel some of that energy and happiness into your relationships since Mars in your opposite sign hasn't exactly been helping matters recently. If your personal life has been less than peaceful and pleasant, perhaps now would be a good moment to share your love and hold out the olive branch, remembering what C.S. Lewis wrote, "Affection is responsible for nine-tenths of whatever solid and durable happiness there is in our natural lives."
Order your personalized Astrology Reports
---
Taurus: Mars turning direct on May 20 is good news for your health if it has been cause for concern in the past few weeks. At the very least, you should notice an upturn in your energy levels and general well-being. And with your renewed vigor, you can set to work on whatever needs to be done. As the Sun moves into your "money and values" zone, now would be an opportune moment to assess your financial situation to see if there's room for improvement. It may simply be a case of valuing yourself and your talents more so that the world, in turn, begins to mirror this back to you through increasing abundance. One thing that you must watch out for, though, is guilt. Feeling bad about charging for services is what keeps many self-employed people in an impoverished state. Or maybe you feel guilty about something else. Either way, feeling bad about yourself won't help either your finances or your relationships, so forgive yourself for any mistakes and move on.
Order your personalized Astrology Reports
---
Gemini: The Sun's return to your sign on May 21 is good news for you, as it signifies a renewal in energy, motivation and positivity. Now you should feel a spring in your step and be stronger in mind, body and spirit. This is an opportune time to contemplate what you want and what is important to you. You may find some clues in your relationships, especially if in the past week or so you experienced some sort of change or development with a friend or acquaintance. Your social life may have been a little unsettled, and friends especially could have been a bit unpredictable, but there may be something for you to learn from this. It's good to remember as Uranus travels through the social region of your chart that friendships and group involvements are meant to stay the same. Be open to new friends and opportunities to be involved in different activities in which you will meet people who reflect your changing values.
Order your personalized Astrology Reports
---
Cancer: The conjunction of Uranus and Venus at the top of your chart is rather refreshing and potentially exciting, at least as far as your career or your direction in life is concerned. This invigorating alignment suggests that things don't have to stay the same and, actually, a change would do you good. Don't limit yourself when you think of your future or when you contemplate your ambitions, but adopt an experimental mindset that says anything is possible. Reach out for success, and it will be yours. In fact, this week could be rather exciting in terms of what happens regarding your aims and ambitions. Or there could be a positive turn of events that propels you down a different path. It would be advisable to embrace the opportunities that emerge this week, as they could lead to something quite wonderful.
Order your personalized Astrology Reports
---
Leo: Many Leos have been going through a process of transformation, which hasn't always been easy. There will have been times when life felt heavy and intense with your wondering if the light would ever return. Well, the Sun's entry into Gemini on Wednesday is good news for you, as this will shift the focus from responsibilities, work and other serious stuff to social enjoyment and optimism. This is also a good time for focusing on what you want your life to become, so you could say that your future starts here. Take every opportunity to enjoy yourself with friends, group activities and social events and you will soon find that the spring in your step returns.
Order your personalized Astrology Reports
---
Virgo: As the Sun reaches the highest part of your chart, the chances of success in some particular endeavor increase dramatically so from May 21 on would be a good time to push yourself forward into the spotlight, if you can, and let the world see what you have to offer. This is also an opportune time to think about where you're going in life and what you want next. Set one or two goals if you think it will help focus your mind on where you want to be. Who knows –before long, you could be celebrating a big achievement.
Order your personalized Astrology Reports
---
Libra: This is a good week to look at what you've been putting off and why. In what area are you stagnating? If you've recently been feeling stuck or if you've lost some of your motivation and enthusiasm, the good news is that Mars turns direct on Tuesday, effectively relighting your fire. Further good news is the arrival of the Sun in your fellow air sign, Gemini on May 21, which is bound to increase your optimism and desire to experience new things, places, people or activities. If you can plan a trip or take yourself off for a few days, you might find that the experience acts like a catalyst for a new, more inspired approach, so whatever you do toward the end of this week, try to make sure it's something you've not done before.
Order your personalized Astrology Reports
---
Scorpio: Mars turning direct on May 20 is good news for you, especially if you've been feeling stuck, lethargic, rundown, or just drifting. It could be that you're about to witness a change of direction which is great news if you feel you've been going nowhere or not getting where you wanted to be. However, with your increasing energy comes a mild warning: Be careful how you use that energy, and aim to channel it into constructive ventures rather than conflict, which is possible as Mars gears up to square Pluto. Try not to get drawn back into old problems and avoid new ones. Your best bet this week is to welcome refreshing change into your life, perhaps by a new way of working or by getting the different areas of your life to integrate with each other so that your life works better.
Order your personalized Astrology Reports
---
Sagittarius: After a busy few weeks the planetary picture is encouraging you to slow down and perhaps rest for a while and maybe enjoy the fruits of your labors. Now is a good time to recover, heal, and replenish your spirits. Every so often, we're reminded that it's the people in our lives who are what matter most, yet it's those very same people who often get neglected. This is especially likely to be the case for you, busy Sagittarians, so as the Sun enters your relationship zone, why not turn your spotlight on those quiet, loving people who often fall into the background. By nurturing your closest one-to-ones, you will in turn nurture yourself. Aside from anything else, there is a wonderful romantic alignment taking place in your chart, so why not take your partner out for a meal, send a friend some flowers or write a poem to someone you love. There are many pleasures available to you right now if you're willing to open your heart.
Order your personalized Astrology Reports
---
Capricorn: It's time to knuckle down and turn your energies toward work, your aims and ambitions, or your direction in life. If progress has seemed a bit slow in this area lately, you can look forward to an improvement as Mars resumes forward motion in the success region of your chart. But before you proceed, you might just want to check to see whether there's anything you're feeling guilty about, because if that's the case, you could hold yourself back or sabotage yourself as a form of punishment. Take a look within and liberate yourself from any guilt. If you're not sure how, the flower essence pine could be of great assistance.
Order your personalized Astrology Reports
---
Aquarius: The Sun's entry into your house of fun is great news if you're in need of a more relaxed and enjoyable outlook. If you've been working hard or life hasn't been a barrel of laughs lately, you have permission from the cosmos to go and enjoy yourself. Take a trip to the theater, go for a meal with friends, or head off for a short vacation. No one is putting limits on your enjoyment. However, you may need to give yourself permission, so remind yourself that "all work and no play makes Jack a dull boy." It certainly is a fact that you will be much more pleasant to be around if you go and please yourself for a bit.
Order your personalized Astrology Reports
---
Pisces: There are no guarantees in life. Everything we do carries a certain level of uncertainty. How do we know that if we take path B we will end up in a good place? Wouldn't path A be better? And who should we choose to accompany us? Right now, you may be wondering if you're doing the right thing. Don't let fear and uncertainty stop you. If it feels right, then it most probably is.
Order your personalized Astrology Reports
---
For more information about your Horoscope and what the stars have in store for you, order one of our detailed