Aries, Taurus, Gemini, Cancer, Leo, Virgo, Libra,
Scorpio, Sagittarius, Capricorn, Aquarius, Pisces

Overview of this week
The Center for the New Age is pleased to present your Free Weekly Horoscope for June 8 — June 14, 2014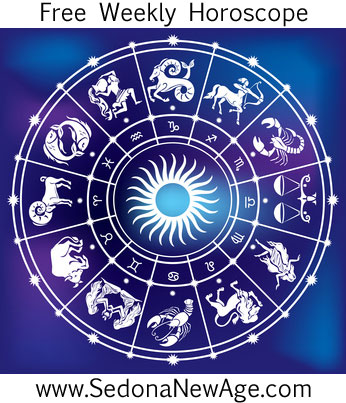 Aries, Taurus, Gemini, Cancer, Leo, Virgo, Libra,
Scorpio, Sagittarius, Capricorn, Aquarius, Pisces
Like clockwork, every year the planet Neptune goes retrograde for about five months. On June 9, it turns retrograde in the sign of Pisces until November 15. Neptune governs the spiritual dimensions and, when in Pisces, it inspires a special interest in the spiritual development of our beliefs. Neptune harmonizes spiritual vibrations and represents intuition and higher feminine wisdom. While retrograde, many of the spiritual issues that have come up in the last five to six months will reoccur. For the next five months, be aware of the frequency of escapist tendencies and of the inclination to internalize deep rooted spiritual matters. Being firm with your own spiritual center will allow for progressive spiritual growth. Be careful not to blindly disrupt the core of another's belief system, nor to become ensnared by someone else's blindness with regard to your own beliefs during Neptune's retrograde months.
Venus in Taurus (June 13 –June 23) is in opposition to Saturn in Scorpio. Love, beauty and magnetism are opposed to restrictive discipline. While there is a very strong need to attain a sense of beauty, there is a constantly compelling and obsessive compulsion to press on with work and vital responsibilities. Love matters are subjected to unavoidable trials and restrictions; however, love is opposed to and estranged by these limitations. There will be folks among us thrust into the challenge of facing jealousy, guilt, offensive outbreaks, anguish, oppression defeat or despair. We must be careful how our passions are stirred or handled. To stir up such passion at this time, one is likely to be all too quickly confronted by his or her own personal turmoil. Be careful not to bite off more than you can chew, especially with regard to irresistible attractions.
Full Moon in Sagittarius on Friday brings fulfilling insights about life, and emotional energy runs very high. For many, there is a tendency to go way out beyond the usual bounds and discover new territory as a matter of circumstance. How we chose to perceive and develop our understanding of this new territory has a lot to do with what stage in our life we have come to, and what kind of philosophy best suits our own individual needs.
On Saturday Mars in Libra squares Pluto in Capricorn. These two planets in the square position spell out the potential for trouble with regard to our actions. Strong disputes and war related action are likely to occur at this time. Actions against or conflicts with higher powers are likely to backfire. It is best not to bluff those of a higher or unanticipated authority at this time. This may be a particularly difficult time to fight addiction, disease and war related stress. It is also the most crucial time not to give up the fight.
Aries, Taurus, Gemini, Cancer, Leo, Virgo, Libra,
Scorpio, Sagittarius, Capricorn, Aquarius, Pisces
For more information about your Horoscope and what the stars have in store for you, order one of our detailed


Astrology Reports!
Free Weekly Horoscope for your Sign
Aries: With the backdrop of the Full Moon and Mercury retrograde, it would be easy to assume that this would be a challenging week, and that may be true, but the good news is that you should feel a sense of completion about a particular matter. Perhaps you'll realize that the end has come and it's time to move on. Or maybe you'll gain an understanding that you didn't have before that brings a sense of fulfillment. Either way, the last piece of the puzzle is about to be put into place so even if the cosmic weather is a bit chaotic, you should find yourself able to ride the waves and reach safe ground with a sense of relief.
Order your personalized Astrology Reports
---
Taurus: This week brings a choice: either muster the courage of your convictions to charge ahead to your goal or stay stuck in your comfort zone, clinging tightly to what you've already got. As the Full Moon activates your financial zone, it may help to cultivate an attitude of faith in abundance. Otherwise, you could be tempted to play it safe or feel frustrated at what you haven't got. Focus on what you've got, be grateful for that, and keep on giving, know that your needs will always be provided for.
Order your personalized Astrology Reports
---
Gemini: How often is the answer staring us in the face, but it's only afterward that we wonder how we could have been so blind? If you've been feeling unsure about something, you can expect this week's Full Moon combined with Mercury heading back to your sign to switch on the lights of illumination. Expect clarity and understanding to replace confusion and uncertainty. By the time you reach the end of this week, you're likely to be wondering how you couldn't see before something that was so glaringly obvious.
Order your personalized Astrology Reports
---
Cancer: If you get quiet, you might hear your soul whispering to you, but how can you get quiet when there's all this craziness going on around you? Other people in your work, home and domestic life all seem to be positing problems of one sort or another, and you'll be doing a good job if you can keep yourself well and sane this week. The Full Moon is likely to draw attention to your health, and it may be that you could use some quiet time to rest and recuperate. Whether you get that quiet time, though, is another matter. This is why it's important to eat well, get enough sleep, and not flunk your yoga or meditation class. If you do feel that you're running on empty, be firm in your intent to pause long enough to recharge your batteries.
Order your personalized Astrology Reports
---
Leo: Wherever you go, you take yourself with you. This is fine when you're happy with yourself, not so great when you're weighed down with problems. If you currently feel unhappy with where you are, whether it's where you're living or some other aspect of your life, bear in mind that it might simply be acting as a mirror for your inner conflict. Mercury retrograde suggests that the antidote is to go within, to access your deep inner self, and to locate the essence of your true self. As you find that divine part of yourself, very little will be able to bother you. Inner peace is available to you now if you can make the time to go within and get quiet.
Order your personalized Astrology Reports
---
Virgo: This is a good week to keep reminding yourself that anything is possible and for you, it most certainly is. The parameters of what is possible are changing and what might have seemed a far-fetched notion a year ago is now beginning to look more feasible. All you have to do is keep your sights fixed on your goal and not let distractions especially personal ones, knock you off course. If something is important to you but others don't understand, you can explain as best you can, but ultimately you need to remember that so long as you can fulfill your obligations to others, you're entitled to tend to your own needs.
Order your personalized Astrology Reports
---
Libra: The more we tell ourselves that something isn't going to happen, the more likely it is that we will be proven right. Sometimes, though, we're not even aware that there is a little voice deep within us casting doubts and aspersions, so we are perplexed when things keep popping up to block us. This week as Saturn opposes Venus and a Full Moon falls in your beliefs area, it would be wise to listen for any little negative voice that says, "I can't." It may leak out in conversation or in your body language. If you can challenge that doubt and uncertainty and tell yourself that what you're thinking of is definitely possible and keep taking steps in the right direction, you may yet find yourself in a celebratory mood by the end of the week.
Order your personalized Astrology Reports
---
Scorpio: There is a dynamic feel to this week despite the fact that your energy might be diverted toward various matters: money, relationships, work and your health being strong contenders, but it looks as if you'll be in a feisty and determined mood, enabling you to easily tackle whatever presents itself. Just be careful that this rebellious frame of mind doesn't result in angry outbursts that could be detrimental to your well-being. Of course, if you feel that someone has crossed the line, then you need to be assertive and let your feelings be known. If you're looking for a breakthrough with your work or your health, this should be an enlightening week.
Order your personalized Astrology Reports
---
Sagittarius: The Full Moon in your own sign on June 13 puts the spotlight squarely on your relationships. If all isn't well in a particular relationship, the full Moon offers a turning point. Your keyword is "courage" so it looks as though you need to be bold and confront whatever needs to be said or done. It looks as if there might be quite a bit of work to be done in this area of your life since Mercury is heading back to your relationship zone too, making this an important point at which to give more time and attention to the people in your life and to iron out any lingering problems.
Order your personalized Astrology Reports
---
Capricorn: Although Mercury retrograde is drawing your attention to your personal life –one relationship in particular –the Full Moon will be stepping into the limelight this week, making it known that you need to direct your attention to your health and well-being too. This is the optimum time for tending to your body, mind and spirit, so if life has been taking its toll lately, now is the time to focus on healing and determining what changes you might need to make to support your well-being. Taking time out is very important now, and if you can identify the root cause of any problems, it will be time well spent.
Order your personalized Astrology Reports
---
Aquarius: Success in life depends on a variety of things: determination, hard work, self-belief, and seizing opportunities, but there's another often-overlooked factor and that is the limitations of your beliefs. People who believe they can do pretty much anything have more chance of getting further than those who limit themselves by their own restrictive thoughts, doubt and beliefs. Perhaps your biggest challenge this week is to examine your mind for blockages to what you want. It won't take much to obliterate these blocks; in fact, all that's required is for you to say, "I can" rather than "I can't," and then see what happens.
Order your personalized Astrology Reports
---
Pisces: There could be tension in your financial/material world while the Full Moon highlights potential difficulties in your home/professional life. Perhaps there is a need to make changes or to find a balance between your home and working life, in order to allow you to focus on an ambition. Or maybe it's your ambitions that need to give way to your personal or home life. Either way, the Full Moon will bring clarity in these matters, and then you can move on to deal with whatever is most pressing. If it sounds as if there's a lot to do, it's because there is! It would seem that you need to integrate the different areas of your life into one full functioning whole, so it might be a good idea to write down which areas of your life need more or less of your attention and start from there.
Order your personalized Astrology Reports
---
For more information about your Horoscope and what the stars have in store for you, order one of our detailed