Aries, Taurus, Gemini, Cancer, Leo, Virgo, Libra,
Scorpio, Sagittarius, Capricorn, Aquarius, Pisces

Overview of this week
The Center for the New Age is pleased to present your Free Weekly Horoscope for June 15 — June 21, 2014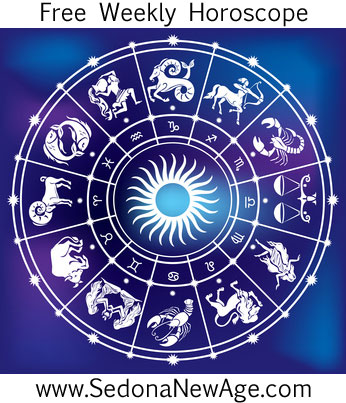 Aries, Taurus, Gemini, Cancer, Leo, Virgo, Libra,
Scorpio, Sagittarius, Capricorn, Aquarius, Pisces
Mercury is the ruling planet of two astrological signs: Virgo and Gemini which it enters on June 17 remaining there until July 12. When in Gemini, Mercury is known to increase our attention to detail and to cover a wide range of topics and subjects of interest. Mercury in Gemini directs and orchestrates information in an interesting and captivating fashion, but the thing to remember is that this information is not always well researched or even a correct and accurate representation of the truth so take all information with a grain of salt when Mercury is in Gemini.
Venus in Taurus sextile Jupiter in Cancer (June 18 –June 24) leads matters concerning love and attraction to a favorable opportunity allowing for advancement to more prosperous realms. This serves as an excellent time to shower loved ones with gifts and compliments; to allow expansion to occur in love matters; and to take the next step towards enlivening and enhancing a love relationship. A greater opportunity for advancement at work, or towards increasing your skills or enhancing your livelihood is also available during this aspect, especially if you focus on doing what you love.
Last Quarter Moon in Pisces on June 19 offers a dreamy sort of atmosphere. A mysterious and enchanting quality of reflection is occurring, allowing the imagination to roam with consistent accuracy and touching the core of our beliefs. Waning Pisces Moon tends to keep us entranced by those areas of our life that bring depth and meaning. This is a good time to cleanse the spiritual cobwebs from our own lives. Reinforce personal fortitude with the strength to overcome addictions by using sheer willpower and belief in oneself.
Aries, Taurus, Gemini, Cancer, Leo, Virgo, Libra,
Scorpio, Sagittarius, Capricorn, Aquarius, Pisces
For more information about your Horoscope and what the stars have in store for you, order one of our detailed


Astrology Reports!
Free Weekly Horoscope for your Sign
Aries: Mercury backpedals into your zone of communication this week, bringing the opportunity to express yourself and say what's on your mind. Since there is an aura of conflict around you at present, this might not be a bad thing. If you can clear the air or seek to make connections with others, you'll be making good progress. It's easy to blame the other person when a conflict arises, and it may well be that Mars in your opposite sign seems to be bringing its fair share of aggressive people for you to deal with, but you might need to look a little deeper, as there could be an imbalance of power that needs addressing. Clear and honest communication is what you need to be focusing on now, and difficult situations can be resolved if everyone involved –including you –is prepared to admit the error of their ways. Once that's done, forgiveness is only one step away.
Order your personalized Astrology Reports
---
Taurus: There's a theme of abundance in the planetary movements in your chart this week, and if you're not feeling as prosperous (in any area of your life) as you'd like, it may be worth sitting down and asking yourself one or two questions: do you feel deserving of the good things in life? How much do you feel your talents, time and services are worth? What's holding you back from being more, doing more, and having more of the good stuff? Whatever is going on in your life right now, whether it's financial, material or more personal in terms of your health or your relationships, the root cause probably comes down to self-worth. The more you value yourself, the more others will value you so make this the week when you start to appreciate yourself a bit more.
Order your personalized Astrology Reports
---
Gemini: As the Sun and Mercury trade places in the sky, for a short while you might not know whether you're coming or going! The answer, of course, as Mercury travels retrograde through your sign, is to slow down and make spaces in your life so that you can tune into what's really important. If you try to function at your normal busy pace, don't be surprised if Mercury trips you up with some sort of frustrating experience, such as a car or computer that misbehaves, a phone that won't work, a breakdown in communication, or something else that puts up a barrier to your progress. What's most important now is not how much you can get done in a day, but that you create a clear sense of your place in the world and make corresponding changes. For some Geminis, this might mean a change in appearance to reflect the changes taking place within. For others, it might mean becoming resolute about a goal, desire, or intention. Either way, this is the week to take time out to reacquaint yourself with the real you.
Order your personalized Astrology Reports
---
Cancer: This won't be the most quiet and restful week of your life; nor will it be the easiest, but there is great chance for creative change and positive breakthroughs. The astrological alignment affecting your chart is incredibly transformative, asking you to more successfully integrate the different areas of your life so that you can be more fulfilled. This might require you to balance your relationships with your home and family life alongside your career, goals and ambitions. Then there are the other components, such as time for you and your personal and creative interests, your health and well being, and your social life and friends. It might be worth your time to draw a pie chart using the different slices to represent the different areas of your life. Notice the really big slices taking up the most time and attention versus the really small slices. Are you happy with this pie chart for your life? If not, draw another one with the slices representing how you want your life to look. Then use the introspection of Mercury retrograde in your soulful zone to quietly plan how things can become different.
Order your personalized Astrology Reports
---
Leo: It seems that more and more people look as if they've got the weight of the world on their shoulders. Expressions are tight and serious, and people hurry like ants to their next appointments. Few of us are able to savor the moment, as joy and fun are becoming an endangered species. If you recognize yourself in any of the described, it's time to stop and remember what life is for. Is it for suffering or is it for joy? This week offers the chance for celebration, but in order to really enjoy the moment, you will have to drop one or two of your burdens or commitments. "Relax and enjoy" is the message for you this week.
Order your personalized Astrology Reports
---
Virgo: As Mercury begins to retrace his steps through your career zone, he begs the question: are you happy with where you are going in life? Are you fulfilled with your career? Are you living out your true purpose? Or do you have any goals or ambitions that need to be acknowledged? The keyword for you now is "participation." The more you join in with others and participate in this wonderful adventure called life, the sooner you'll find yourself in the right place at the right time. By getting yourself out there, making contacts, socializing and allowing people to see what you have to offer, the more likely you'll be to achieve your goal. This is a very important transit of Mercury and to get the most from it, you should make time to think about whether you're heading in the right direction.
Order your personalized Astrology Reports
---
Libra: Patience is a virtue –at least it is when Mercury is retrograde. If you find yourself feeling frustrated this week, it might be advisable to take some time out to contemplate the purpose of your life, or if that's not possible, count to ten before reacting. If the conflict is something that has been ongoing throughout the year, remind yourself that this period of trial is almost at an end. This is an ideal time to seek higher guidance and to find the meaning behind troubling events. When you've grasped the lesson, the challenges should fade. Use your creativity to explore your inner self and to help you access the answers to the questions you have.
Order your personalized Astrology Reports
---
Scorpio: Tensions could be high especially around June 20, but this could prove to be a turning point for you as you realize that changes need to be made. See this as an opportunity to create more balance in your daily life, especially if your health and well being are being affected. It may be, for example, that you need to carve out more time for your individual needs, and a particular relationship or your personal life in general could begin to blossom as you give it more of your attention. Try to determine where in your life there's an imbalance, and then be resolute in your determination to change it.
Order your personalized Astrology Reports
---
Sagittarius: Important conversations are the order of the week, so it might be an idea to make time to talk to people with whom you might not be seeing eye to eye. Sometimes relationships can just drift off our radars due to the busyness of life, but over time, these relationships can suffer if not given sufficient time and attention. Like plants, relationships need to be fed and watered for optimum growth. Fortunately, there is a playful aura in the sky –or at least there is where you're concerned so your best bet might be to focus on fun and enjoyment: laughter heals everything and brings people together.
Order your personalized Astrology Reports
---
Capricorn: If we view illness as a teacher, our ailments can act as signposts to where we need to be heading. Malaise of all kinds, especially recurring or chronic problems, are usually an indication that we've drifted off path. Identifying what that path is can be the tricky bit but can be done by connecting with your inner selves, perhaps through writing a daily journal, meditating, counseling, dream analysis or walking in nature. There are other ways, of course, and you might have your own methods for divining your own truth. As Mercury backtracks through your health and well being zone however, it would be foolish to ignore any symptoms that you might have. At the very least, make good use of this Mercury transit by striving to improve your health. Perhaps you could reduce unhealthy habits and bring in foods, exercises and philosophies that support your body, mind and soul.
Order your personalized Astrology Reports
---
Aquarius: It is important to choose our words carefully, as once they're said, they can't be taken back. The temptation may be to let rip and say exactly how you feel, but in the long run, this could be damaging. Another scenario is that you might feel hurt by the actions or words of another, so you pull up the drawbridge, gather up your resources and refuse to connect. There is no need for a battle; neither is there any need for you to hang in out of fear or insecurity. Although you may find this a stressful week, the antidote is courage, so the more you can step forward with positive belief and determination, the more quickly you will resolve any areas of tension and conflict.
Order your personalized Astrology Reports
---
Pisces: As Mercury begins to backtrack through your zone of home and family, it's highly likely that your attention will need to focus on matters close to home. It could be jobs that need doing, family members needy of your attention, or maybe it's time for a spring cleaning. Whatever the case, this is an ideal time for getting your house in order. There is also an emotional and psychological dynamic to this Mercury transit that could result in a transformation if you're able to direct some time and energy to releasing any emotional baggage, especially painful stuff from your past. Ultimately, the more you can release negative energies, the sooner everything will appear to be right in your world.
Order your personalized Astrology Reports
---
For more information about your Horoscope and what the stars have in store for you, order one of our detailed