Aries, Taurus, Gemini, Cancer, Leo, Virgo, Libra,
Scorpio, Sagittarius, Capricorn, Aquarius, Pisces

Overview of this week
The Center for the New Age is pleased to present your Free Weekly Horoscope for June 29 — July 5, 2014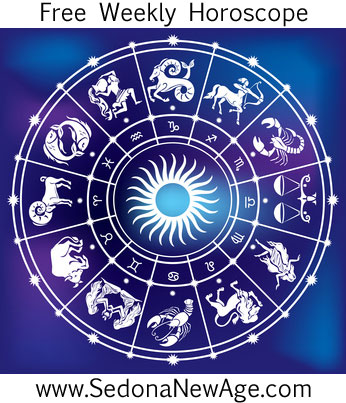 Aries, Taurus, Gemini, Cancer, Leo, Virgo, Libra,
Scorpio, Sagittarius, Capricorn, Aquarius, Pisces
Venus in Gemini square Neptune in Pisces (June 29 – July 8) brings diverse pleasures, love and expressions of beauty and femininity into a place where they run up against the obstacles represented by the higher more refined goddess image. A conflict of beliefs about womanhood is common with this aspect. The expectation and conditioning of others has created a false image of beauty and the person on whom it is imposed is likely to be suffocated by the beliefs of others. With Venus squaring Neptune, what we want is challenged by what we know is best for us. Beliefs concerning love matters may be tested. Despite the conflicts, this is a time to rise to the challenge of believing in love and loving your own choice of spiritual path. As for the art of love, the influences of this aspect are not as harsh for those who understand that true beauty is found in the core of feminine wisdom and that magnetic attraction goes beyond temporal beauty.
Since June 7, Mercury has been retrograde in the sign of Gemini, commonly causing problems and confusion when relaying information. On Tuesday, July 1, we can breathe a greatly needed sign of relief as Mercury, the planet governing the realms of communication, becomes stationary, commencing its forward movement on Wednesday. Our faculties and manner of communicating will definitely improve and our communications will run more smoothly. This will be a good time to begin clearing up various misunderstandings occurring over the past few weeks.
The First Quarter Moon in Libra on July 5 encourages us to harmonize with our partners and friends. This is the Moon that beckons us to create balance in various kinds of relationships, particularly those of a close nature. With the Moon in Libra, life is all about making adjustments and these adjustments must be made for your own benefit as well as for that of others.
Aries, Taurus, Gemini, Cancer, Leo, Virgo, Libra,
Scorpio, Sagittarius, Capricorn, Aquarius, Pisces
For more information about your Horoscope and what the stars have in store for you, order one of our detailed


Astrology Reports!
Free Weekly Horoscope for your Sign
Aries: Much of 2014 has focused on your personal life –your home and family, your relationships and your personal desires. This week sees a continuation of this theme with matters to resolve. Perhaps there is a relationship that could benefit from a little more love and a little less conflict. Maybe there is a domestic situation that could be smoother and more harmonious. Or could there be a family wrangle that needs to be resolved? See the events of this week as opportunities to mend bridges and heal hurts. The more you can join with others instead of feeling separate, the more you will be rising to the cosmic challenges and planting positive seeds for your future.
Order your personalized Astrology Reports
---
Taurus: If you want a successful outcome this week, your focus needs to be on communication. This isn't just what you say to others and how you say it, but it is what you say to yourself via the thoughts constantly running around in your head. Pluto is asking you to transform the way you approach life or the way in which you view yourself. Look at how you come across to others: could you make a better impression? Could you develop a more positive attitude, perhaps one that expects better results? The more you can hold a picture in your mind's eye of what you want and back that up with a positive, expectant attitude, the more likely you will be to create what you want.
Order your personalized Astrology Reports
---
Gemini: If the past few weeks have been a bit tricky, the good news is that Mercury turns direct in your sign on the first of July making this the point at which things get back to normal. You should feel as if you can begin to move forward again, as any previous impediments melt away. You can begin to put your ideas into action while Venus in your sign gives you permission to relax and enjoy yourself. The T-square (Uranus/Pluto/Jupiter/Mars) in the heavens may present a challenge drawing your attention toward your financial and material situation and as Jupiter spends his last two weeks in this area of your chart, it would be advisable to break free from the old, limiting patterns and embrace any opportunities for growth. Put your focus on abundance, and as you give thanks for how much you have, more will come.
Order your personalized Astrology Reports
---
Cancer: Your week gets off to a feisty start as the Sun in your sign forms hard angles to Pluto, Uranus and Jupiter. This could mean that the themes over the past seven months present themselves again, but since this is the last time that these planets will align like this in these particular signs, you can rest assured that what happens this week and for the next two weeks will signal the end or the completion of a challenging or changeable period. Perhaps the best use of these planetary alignments is to welcome change and focus on breaking free from the past so that you can create anew.
Order your personalized Astrology Reports
---
Leo: The waiting is almost over so if you've been wondering when you're going to turn a corner or you've been waiting for something to happen –a new development, an end to a difficult situation, or a new beginning –the good news is that by the end of July, you should have a sense that things are changing. In fact, we could say that July is a month that is gearing itself up to support and encourage you. Whatever happens this week is a reminder of how tough life has been for many Leos over the last couple of years, but it also shows you how far you've come, how much you've gone through, and how much you've learned. You have, in short, matured considerably and now you're ready to blossom.
Order your personalized Astrology Reports
---
Virgo: After what could have been a frustrating period, this week sees you getting back on track. If progress has been slow or you lost your direction for a while, Mercury turning direct will enable you to resume forward motion. This is a good time to think about where your life is going and how you can make things happen. On a different note, this week could bring challenges with friends, groups, children, creative projects and money. A clash of wills may be evident, but what's needed is a willingness to break free from the way things have been and to work toward a state of greater empowerment.
Order your personalized Astrology Reports
---
Libra: July is your last month of having Mars in your sign. In a way, this could be good news, especially if you feel like you could do with a rest, a quieter life, or less conflict. You may have struggled with the conflict side of things, as other people may not have appeared to have your best interests at heart, and it could have become tiring for you always playing the role of the nice, peaceful Libra. Events this week could bring such an issue to a head. The temptation could be to react with anger, especially if you've kept the lid on any frustration these past few months. However, this situation is almost at an end, and you need to be focusing on bigger and better things rather than petty problems and people who are best left alone. If you can focus on what you have rather than on what you don't have, you might find that this is the answer to your struggle. There is plenty of abundance in your world. The more you focus on that and the more you keep yourself in a high vibrational state, the sooner you will find more good things coming to you, along with an end to any situation of lack, struggle or conflict.
Order your personalized Astrology Reports
---
Scorpio: This week's planetary alignments challenge you to break free from a situation or a way of seeing life that has been limiting. This includes how you see yourself, so you may find that you're beginning to question some basic assumptions that you might have had about yourself. The key is to push out of your comfort zone or to broaden your horizons, to experiment and try something new. As Pluto squares Uranus and opposes the Sun, you are being called to something bigger. You may, for example, need to challenge your thinking, especially any thoughts that say, "I can't" or "That's not possible." You are more than you know, and this week is all about opening up to that truth.
Order your personalized Astrology Reports
---
Sagittarius: In today's uncertain and rather anxious climate, it may seem as though we don't have much to celebrate, or perhaps more to the point, we're too busy fretting about what might happen or too busy getting through the day to notice all the good things that we have. This week's T-square (Uranus, Pluto/Jupiter/Mars) affects the material zone of your chart and includes the creativity and children zone as well. This could be an opportunity for you to count your blessings and focus on all that you do have. Yes, you may need to make a change or allow something to go, but you can do so with a happy heart and expectancy for good things to come from the change.
Order your personalized Astrology Reports
---
Capricorn: Charisma is not so much getting people to like you as it is getting them to like themselves when they're around you. Being a charismatic people pleaser might be the last thing on your mind right now. In fact, you might not give two hoots whether people like you or not, but the Sun's journey through your opposite sign advises you to put your attention on your relationships with a view to bringing more light and love to proceedings. Is it important to make people feel good about themselves? If you make one person feel a little bit better, that person's increased joy and gratitude will ripple out into the world and thus positively affect others. Don't underestimate your power to make a difference in the world simply by being kind to others.
Order your personalized Astrology Reports
---
Aquarius: This is a good week to look at your daily life and routines to see if there's room for change and improvement. Your aim should be to harmoniously integrate all the different components of your life, perhaps enlarging those that you feel are important and reducing others that you feel are less so. Organizing and sorting are also good uses of your time at present, and you might feel it appropriate to remove all that no longer resonates with your new or current thinking. Allow the refreshing winds of change to blow through your life; even rearranging the furniture or taking a different route to work can have surprising effects on your perspective.
Order your personalized Astrology Reports
---
Pisces: As the Sun journeys through your authenticity zone but is challenged by Mars, Uranus, Jupiter and Pluto, you may need to be ready to stand up for yourself and to take the path that you feel is right for you. It is important that you do what resonates with your heart rather than doing what others think you should do. You may have to break ranks in order to go your own way. If this feels difficult, remind yourself that the more you can be true to yourself, the more likely you are to meet with success.
Order your personalized Astrology Reports
---
For more information about your Horoscope and what the stars have in store for you, order one of our detailed