Aries, Taurus, Gemini, Cancer, Leo, Virgo, Libra,
Scorpio, Sagittarius, Capricorn, Aquarius, Pisces

Overview of this week
The Center for the New Age is pleased to present your Free Weekly Horoscope for July 6 — July 12, 2014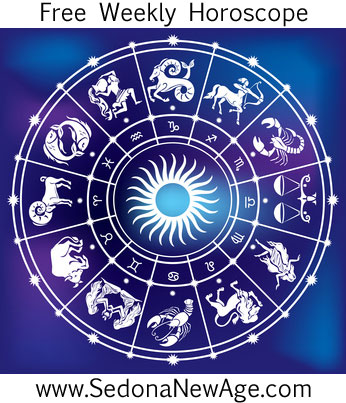 Aries, Taurus, Gemini, Cancer, Leo, Virgo, Libra,
Scorpio, Sagittarius, Capricorn, Aquarius, Pisces
This week, Venus in Gemini is sextile Uranus in Aries. Radically serious kinds of love and aesthetics can be very uplifting at this time, and eccentric love may erupt with this aspect. This is the time to work on pent up frustrations with loved one and to reconcile differences by loving and accepting variation, giving freedom and slack to those we love. Venus sextile Uranus can encourage us to break useless tendencies and habits, and also may bring an opportunity for love related matters to transcend the restriction of unmet personal needs.
On Saturday the Full Moon in Capricorn grips our attention in serious and demanding ways. Capricorn Full Moon focuses our energy on accomplishing goals and on taking work and career efforts seriously. Laborious tasks and great efforts bring deeply satisfying accomplishments with this Moon, and this is also a time when we tend to reflect on our achievements with an inspiration towards furthering our development.
Aries, Taurus, Gemini, Cancer, Leo, Virgo, Libra,
Scorpio, Sagittarius, Capricorn, Aquarius, Pisces
For more information about your Horoscope and what the stars have in store for you, order one of our detailed


Astrology Reports!
Free Weekly Horoscope for your Sign
Aries: As a dramatic Full Moon on July 12 illuminates the top of your chart, triggering a volatile grand cross (Pluto/Uranus/Mars/Jupiter) in the pivotal angles of your chart, this is likely to be a week when you will need to pull out all the stops to create or maintain harmony. Yet this is your big challenge: Can you take a deep breath and remain calm in the face of aggravation and conflict? Can you be the highest version of the warrior by displaying courage and bravery and only using force and strength in a constructive way to bring about good results? Can you stay true to your mission while being buffeted and battered from either side? Of course you can; you're an Aries! Let divine love be your guide, and you will be an inspiration to others.
Order your personalized Astrology Reports
---
Taurus: The Full Moon on July 12 highlights the beliefs angle of your chart, making this an important week for looking at your life as a mirror. Do you like what you see? Which areas would you like to improve? When you've identified the areas you'd like to improve, see if your beliefs mirror the situation. For example, if you'd like a more fulfilling job, what do you tell yourself about the world of work, and what do you say about your own gifts and talents? Do you say that you have to stay in a safe, secure job because a gamble might not pay off or you don't have what it takes to be successful in another area? The good thing about this Full Moon is that it offers the chance to transform any outdated beliefs, especially those that are holding you back from breaking free from the past and expanding your sense of what's possible.
Order your personalized Astrology Reports
---
Gemini: The Capricorn Full Moon on Saturday represents a turning point in your financial and material situation. Things can't go on as they have been, and now is the time to make changes. This may mean that you need to draw on your courage, utilize your creativity or break free from your peers and their opinions. You have to do things your way now, and your way means doing what feels right in your heart. It may be time to follow your passion, which probably means doing less of what you don't like and more of what you love. There is no need for struggle or conflict if you just allow yourself to gently march to your own drumbeat and not be swayed by fear, doubt or the opinions of others.
Order your personalized Astrology Reports
---
Cancer: You might not know whether you're coming or going this week as the Full Moon falls in your opposite sign and squares up to Mars and Uranus. Expect a bit of drama and possible conflict with your personal and domestic life versus your own wishes and desires. Life could be a little volatile at home and with people close to you, and your big challenge is to rise above it. Should you feel anger or be on the receiving end from others, try to take a step back and distance yourself from the emotions, remembering that what happens now is the end of a stressful period. It's okay to let off steam, and if you can allow others to release their emotional states without taking it personally, you'll be successfully riding the waves. You may also be feeling a little emotional because at some level, you know that a phase of life is over and it's time to move on.
Order your personalized Astrology Reports
---
Leo: This week's Full Moon on Saturday draws your attention toward your health or work. For many Leos, these have been strong themes in the past couple of years, and this Full Moon may well remind you of that. Although it may seem as if you're taking a step backward, there is no need to worry, because you will soon find yourself taking several steps forward again. Progress is rarely a straight line, but what we notice when we look back is that there is a definite and gradual improvement. You may feel alone and cut adrift for a short while this week, especially around the time of the Full Moon, but if you use this isolation constructively (by going within, preparing yourself inwardly, or perhaps by acknowledging that you're at the end of a phase and that new pastures lie around the corner), you will see the purpose in the way things are right now.
Order your personalized Astrology Reports
---
Virgo: A short lived grand cross (Mars/Uranus/Jupiter/Pluto) on July 12 along with the Full Moon could result in some tension in various areas of your life, but if you work toward creative change, you will successfully navigate the challenges and bring about a successful outcome. Perhaps the key is to listen to your heart and stay true to yourself. This may mean deviating from the wishes of another, but sometimes we have to march to our own drumbeat if we are to be happy, and this could be one of those times. Consequently, you could feel somewhat on your own as you stand your ground, but this will soon pass, and you will feel better in the long run for having done what you feel is right.
Order your personalized Astrology Reports
---
Libra: Try to rise above any domestic problems. Instead, focus on being a success in the outside world. This may not be easy, as a grand cross (Mars/Jupiter/Pluto/Uranus) combined with the Full Moon activates key areas of your life and brings challenges for you to deal with. However, your main point of focus needs to be what you can achieve in the outside world in your professional life, your vocation, or your personal aims and ambitions. This is Jupiter's last week in the success region of your chart, and with the Sun in the same sector, this could be your big opportunity to shine and have people sit up and take notice. So once again, don't let other people's petty behavior or the strife between others knock you off course. Tell yourself that you're bigger than all of that and that moving your life forward and what you have to offer the world right now, is of prime importance.
Order your personalized Astrology Reports
---
Scorpio: In order to bring something into being, you simply have to be able to see the result. If we can't imagine something, it will most likely never happen, but the more we can see that which we want, the more we can bring it to life in the mind's eye and the closer we become to materializing it. So what is it that you want? That's the big question for this week under a hugely powerful Full Moon. It may be that you realize what you thought you wanted was false and that, actually, something else is more appropriate. Don't limit yourself now, as the planets are realigning themselves into some very interesting and dynamic parts of your chart. The more honest you can be with yourself about who you are and what you want, the sooner you will witness a transformation.
Order your personalized Astrology Reports
---
Sagittarius: This week's dramatic Full Moon affects the material areas of your life and rather suggests a transformation of some kind is about to take place. In the event that this affects your financial situation, your security, or something else such as possessions or your job, if you dig a little deeper, you will find it all relates to the values that you hold. For example, if you felt that your job no longer reflected your values, changes might occur that could feel beyond your control, yet what's happening is simply mirroring your shift within. See whatever happens this week as a liberation and an important one at that. The more you can go with the changes that are taking place, the more likely you will be to find yourself on the receiving end of something much better.
Order your personalized Astrology Reports
---
Capricorn: The Full Moon in your sign sets off a grand cross (Jupiter/Pluto/Mars/Uranus) that although short-lived, could be a turning point for you. Certainly it seems that something quite big will be brought to culmination, and you should find that personal and professional matters –from your work and your home life to your relationships and family –are at a pivotal point of change or transformation. You can do much to influence how things will transpire by focusing on the best possible outcome and keeping your focus on breakthroughs in any difficult areas. It is important that you remain conscious this week. In other words, don't let emotional reactions run away with you. Be aware that you are feeling anger, irritation, fear or some other emotion. Then see how you can turn it into something positive. Success can be yours this week if you put your mind to it.
Order your personalized Astrology Reports
---
Aquarius: Something hidden may come to light under this week's Full Moon. You may also feel that you've come to the end of something: that it's time to move on, say goodbye, and tie up any loose ends before you begin a new phase. You may experience an awakening of some sort, and although your ruler is involved in the Full Moon and the grand cross (Jupiter/Uranus/Mars/Pluto), you should emerge from the fray feeling as if you have something to celebrate. Perhaps it's because the truth will have come to light, and if there's one thing you're a fan of, it's the truth.
Order your personalized Astrology Reports
---
Pisces: As a powerful Full Moon on July 12 illuminates your future zone, it is perhaps timely to start manifesting a new vision. This may mean that something has to be left behind. The energies are tense around this Full Moon, but all it means for you is that you have to break away from limitations and old ways of working and living so that you can manifest something new. Finances may come into this, but there's no need to worry, because the more you allow creativity to drive you forward –as opposed to fear and insecurity which keep you stuck –the more you will find yourself in a much happier and more prosperous situation.
Order your personalized Astrology Reports
---
For more information about your Horoscope and what the stars have in store for you, order one of our detailed