Aries, Taurus, Gemini, Cancer, Leo, Virgo, Libra,
Scorpio, Sagittarius, Capricorn, Aquarius, Pisces

Overview of this week
The Center for the New Age is pleased to present your Free Weekly Horoscope for July 13 — July 19, 2014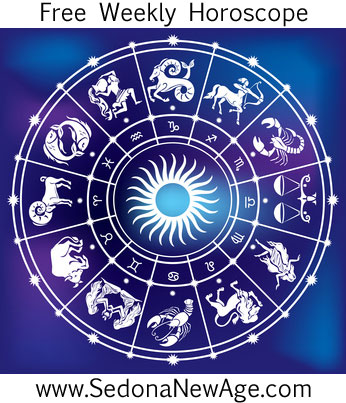 Aries, Taurus, Gemini, Cancer, Leo, Virgo, Libra,
Scorpio, Sagittarius, Capricorn, Aquarius, Pisces
Mercury enters Cancer (July 13 –July 31) turning our attention to a focus on feelings and senses. Thoughts may blend with mood as the emphasis on emotional expression takes the stage. As Mercury goes through the sign of Cancer, take special note of a tendency for people to talk more specifically about their feelings, defenses and the need to be nurtured. Mercury in Cancer makes some people more intuitive to the thoughts of others, and this may be an easier time to interpret people's thoughts by observing their emotional body language.
Venus in Gemini trine Mars in Libra (July 13 –July 25) is a terrific aspect for promoting harmony in the relations of feminine and masculine counterparts. There will be lots of excitement as well as clever, imaginative and thoughtful love at play. This is a good time to get to know your mate better, and to work towards obtaining gifts of understanding with regard to how the opposite sex (or alternative lifestyle) can share so much in common, even though this often seems to defy understanding. As a general rule, when Venus and Mars are well harmonized by this ideal aspect, there is a greater opportunity for peace and healing in relationships. It starts with the effort to make things better, concentrating on the positive, not the negative, and continues with the persistence to bring out the best in your partner, no matter how stubborn at first each may seem.
Jupiter enters Leo on Wednesday (July 16 –August 11, 2015). Jupiter in Leo will bring a certain amount of fun into our lives and people may be more interested in socializing. Energy will change substantially and becomes more about fire, passion, joy, creativity and opening our heart. Jupiter has not been in Leo for 12 years and this is going to be a year of passions and letting go of much of the fear based mentality and moving into action for many of us. What does your heart desire? Jupiter in Leo will say go for it right now!
July 18 Venus enters the sign of Cancer until August 12th bringing about a focus on feelings and intuitive understanding. Venus in Cancer generally represents pure love and the expression of deep affection. It invites those with rocky love relationships to patch things up, and to do so with more heart and less uncertainty. When attractions occur, they will have a lasting impression and will seem very strong and emotionally sound. There is an attraction to the home and the security of home's comforts while Venus is in Cancer, an appropriate place for a love of nurturing and the maternal expression of care and affection.
Last Quarter Moon in Taurus on Saturday focuses the general course of our mood on creating some sense of order in our financial situations. It also encourages the need for creature comforts and esthetically pleasing or luxurious surroundings. There is often a focus on cleaning up and/or selling various useful artifacts that have collected in our lives and the Last Quarter Taurus Moon is a perfect time to partake in yard sales, auctions and flea markets. Letting go of attachment to material things that have bogged one down with too much maintenance or disruptive costs may very well be the best move; if ever there is a time to do this, it is during the Last Quarter Moon of Taurus.
Aries, Taurus, Gemini, Cancer, Leo, Virgo, Libra,
Scorpio, Sagittarius, Capricorn, Aquarius, Pisces
For more information about your Horoscope and what the stars have in store for you, order one of our detailed


Astrology Reports!
Free Weekly Horoscope for your Sign
Aries: Of all the signs, yours is the most blessed by Jupiter's change of signs as he begins a twelve month journey through your house of fun. It's as if the planets have put their heads together and decided that because you've been the sign most affected by the grand cross, you deserve a break, so they've send Jupiter to lighten your load and put a twinkle back in your eye! Although he may not be a panacea for all your ills, Jupiter will at least bring more opportunities for fun and enjoyment and there will be a general lightening of the atmosphere in your life. Having Jupiter in your court is always a good thing and with this transit it will be easier for you to manifest your desires.
Order your personalized Astrology Reports
---
Taurus: Jupiter's change of signs bodes well for your home and domestic life, so if there is room for improvement here –maybe you're looking to move your home, improve family relations, or make other changes –Jupiter will do much to expand this area of life for you. On July 18 Venus enters Cancer and your solar third house where it will be until August 12. This transit could bring about a flirtation or romance with a neighbor or with someone you meet through a sibling. It also favors an ease in communication that could result in unexpected bonuses –a speaking engagement, for instance, or a book signing deal.
Order your personalized Astrology Reports
---
Gemini: This week, with Mercury transiting your financial area, money is uppermost in your conscious mind. You're eager to make and save more and to spend less. You may have to establish a realistic budget and forget paying with credit cards. It's possible that you make additional income through writing or public speaking. Or, with Venus continuing its journey through your sign until Friday, it is possible you may receive an unexpected check or the repayment of a loan and could meet a romantic interest whose beliefs are similar to yours and shares ideas that appeal to you. Your intuition is quite powerful during this Venus transit so listen to that inner voice and act on its guidance.
Order your personalized Astrology Reports
---
Cancer: Jupiter spends his last day in your sign on Tuesday, so it might be a good idea to look back over the past twelve months to see how you've grown and changed. Look at what you've learned in this period and use the lessons as pointers to your next step. Over the past twelve months, Jupiter has walked by your side, encouraging you to move toward that which would bring you growth and joy. Although Jupiter now leaves you, Venus enters your sign on Friday, where it stays until August 12. This period marks one of the most romantic and creative for you all year. Others are receptive to you and your ideas and find you enormously appealing. In romance you're in top form with your pick of partners. If you're already involved, your partner is attentive and caring.
Order your personalized Astrology Reports
---
Leo: "Joy and sorrow are inseparable. Together they come, and when one sits alone with you at your board, remember that the other is asleep upon your bed." These words were spoken by Kahlil Gibran and remind us that good times come and go, as do the bad times. The good news for you as Jupiter enters your sign on July 16 is that if sorrow has been a companion of yours in recent years, then it is about to be replaced by joy. To make the most of the opportunities that Jupiter is about to bring, you need to be willing to move toward growth, so seek out that which will challenge and inspire you. Learn something new, go on an adventure and expand your mind and spirit.
Order your personalized Astrology Reports
---
Virgo: As Jupiter changes signs, this week there will be a subtle shift in energy. For everyone, he brings a new gift. For you, Virgo, the gift is spiritual growth and a deeper connection with the invisible real. This will be priceless in the sense of inner richness and a growing contentment with yourself and the world. Although this transit will last a year, you may already be feeling the need to develop your inner world, perhaps through meditation, a psychic or spiritual development class, or some other form of inner enrichment. Alternatively, you may feel drawn to volunteering for a charity, as this too will bring a sense of inner happiness as you help others less fortunate. Whatever you do, you will find that the foreseeable future contains many gifts; namely, wisdom, inner peace, and a connection with everything and everyone.
Order your personalized Astrology Reports
---
Libra: Sometimes we have to take a stand and go against the grain. Sometimes we have to make a bit of a noise in order to be heard. Sometimes we need to have the courage of our convictions and be true to ourselves. The theme of success continues for you, and as Jupiter moves into your zone of hope and wishes, it seems that doors are about to open and opportunities will present themselves. In order to make the most of these new opportunities, though, you might need to be courageous. For example, you might need to push yourself out of your comfort zone. You might have to try something new. You could even have to leave the past behind. If you can do these things, your success is virtually guaranteed, for the planets are fully supportive in your moving forward right now. Go with where life seems to be taking you; watch for invitations, encouragement and doors opening, for this is the universe speaking to you, beckoning you, and inviting you toward the fulfillment of that which you came here to do and be.
Order your personalized Astrology Reports
---
Scorpio: It's time for a new adventure. Whatever your life has been to date, it is about to get bigger in some way. Jupiter's move to the highest point of your chart suggests that you're ready for something. This could be the fulfillment of a goal or ambition. It could be the discovery of your true path or vocation. It could be increasing success. It could be a brand new future. Or it could be a lucky opportunity that takes you to where you want to be. With Venus in your solar fifth house as of Friday –the house in astrology where we find our creative talents, the love we make, and the passion within ourselves –this period is one of the most creative and romantic for you all year. Your creative adrenaline will be pumping and your muse will shadow you 24/7. If you're not involved in a romantic relationship before the 18th when this transit begins, you probably will be by the time it ends, August 12th.
Order your personalized Astrology Reports
---
Sagittarius: Although this may seem like quite an intense time, Jupiter's move into Leo on Wednesday (until August 11th), will do much to lighten the load. This wonderful transit should expand many areas of your life, bring new opportunities and could result in your going to college or grad school or traveling more frequently abroad. From July 18 until August 12 Venus moves through your solar eighth house of assistance. This transit should facilitate obtaining a mortgage or loan or could bring a break in insurance or taxes. Another possibility is that your partner lands a nice raise or bonus which may also have a positive effect on you and your relationship.
Order your personalized Astrology Reports
---
Capricorn: As the planets align in your house of relationships, you have reached a point where the more time you can spend focusing on matters of the heart, the better. With Venus arriving on the scene on July 18, the soothing balm of love and forgiveness can be applied so that any relationship that hasn't been great can be taken to a place of grace. If, however, you are involved in a romantic relationship, during this period you and your romantic partner may deepen your commitment to each other in some way. You could move in together, get engaged or set a marriage date. At the very least, resources you share will expand. Your partner may very well land a plump raise or bonus that will have a positive effect on your togetherness.
Order your personalized Astrology Reports
---
Aquarius: Although there is a strong emphasis on your work and healing with the potential to make much progress in these areas, it is significant that Jupiter's change of signs brings you good news. You are about to enter a period of greater happiness in your personal life. Jupiter moves into your relationship zone on July 16, indicating a twelve month period of increasing fulfillment in the romantic side of life. Now is the time when you can develop a meaningful relationship with a new or existing person. Your relationships will be a source of fun and enjoyment, but the keyword this week is "growth."
Order your personalized Astrology Reports
---
Pisces: With the Sun, Mercury and Venus in your house of fun, this should be a week with a feel-good factor, and you are encouraged to put your heart into creative projects, enjoyable activities, hobbies and fun with others. Romance may even enter the equation for Pisceans looking for a little flutter in their hearts. The other piece of good news is that Jupiter moves into your zone of health and work this week, bringing positive benefits to both these areas of life. During the Jupiter transit until August 2015, your daily work routine will expand. You could assume greater responsibility for a job, might land a nice raise or bonus, and will have plenty of opportunities to show off your talents.
Order your personalized Astrology Reports
---
For more information about your Horoscope and what the stars have in store for you, order one of our detailed