Aries, Taurus, Gemini, Cancer, Leo, Virgo, Libra,
Scorpio, Sagittarius, Capricorn, Aquarius, Pisces

Overview of this week
The Center for the New Age is pleased to present your Free Weekly Horoscope for July 27 — August 2, 2014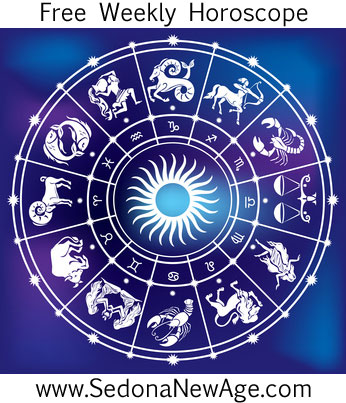 Aries, Taurus, Gemini, Cancer, Leo, Virgo, Libra,
Scorpio, Sagittarius, Capricorn, Aquarius, Pisces
Mercury in Leo (July 31 –August 15, 2014) is the time when many kids are turning to or away from family in an effort to find answers. They seek answers they can live with, answers with regard to determining self-identity as well as survival skills. This is a time when do it yourself themes and self-help information assists us to respond to our individual needs. This serves as a time when the mind establishes, reaffirms and maintains a self-created identity. Self-expression and soulful fortitude will be more evident in conversation and in communications while Mercury is in Leo.
Venus in Cancer is trine Saturn in Scorpio (August 1 –August 9). When Venue interacts with Saturn, it brings a very timely quality to relationships, and raises the questions of commitment and devotion with regard to our active love connections. Fortunately, the trine aspect brings probabilities that are more positive in nature when it comes to the law of attraction and implies that there is a good possibility for a happy ending.
Friday Mars in Scorpio is square Jupiter in Leo (August 1 –August 13). This aspect warns us that there will be trouble approaching the job market aggressively. Trying to make progress using headstrong attitudes and unwarranted self-confidence might impede progress. The square aspect of these two planets brings no-nonsense demands or increase in our workload and creates a challenging dynamic in the struggle to grow economically. Expect to work a lot harder and perhaps a lot longer in order to smooth the rough edges of the financial empire while Mars squares Jupiter.
Mercury and Jupiter are conjunct in Leo (August 2 –August 12) creating expansive talk which spreads quickly with news about the economic state of affairs. Thoughts and information (Mercury) with regard to a prosperous and visionary breakthrough (Jupiter) will be highlighted. This is a great time to boost the morale of others by complimenting them on their skills and this could be a prosperous aspect for communicating the need for a job or financial loan.
Mercury in Leo is square Mars in Scorpio (August 2 – August 9). Under the influence of this aspect, it is not a good time to lose one's temper. Be especially careful to watch what you say, preferably thinking before you speak; words can be easily taken the wrong way. This aspect stimulates arguments and mental blocks concerning the actions of others. Mercury square Mars makes it difficult for some to justify their actions or explain why they take a certain stand in life. Refrain from making risky comments, and be careful not to misinterpret information as being hostile or personal. Remember, during this complex time of Mercury square Mars, not to shoot the messenger.
Aries, Taurus, Gemini, Cancer, Leo, Virgo, Libra,
Scorpio, Sagittarius, Capricorn, Aquarius, Pisces
For more information about your Horoscope and what the stars have in store for you, order one of our detailed


Astrology Reports!
Free Weekly Horoscope for your Sign
Aries: Even if it's something as simple as making sure you have time for a hobby or interest, you have to honor what feels right and important. We all have a right to enjoy life and this is what you need to tell yourself now especially with Jupiter in your fifth house of self expression and creativity. To give yourself the best chance of success, follow your intuition and pay attention to your hunches. The planets are activating the deep, soulful areas of your chart, granting you the wisdom to know what needs to be done, so trust your inner self.
Order your personalized Astrology Reports
---
Taurus: This week is a perfect opportunity to get to know yourself better and to move beyond the limitations that you may have inherited from your childhood and ancestors. As of July 31, Mercury is in Leo, your solar fourth house –your domestic environment. This transit may bring an element of drama into your home life, particularly if you have children. That said, it also triggers a lot of discussion and conversation. Perhaps you or someone at home is writing a book or has a speaking engagement of some kind. Some conversations revolve around that. Whatever the case, a new chapter of life begins now, so make sure you're ready to embrace it.
Order your personalized Astrology Reports
---
Gemini: Geminis are naturally good communicators, but the next twelve months will be especially favorable for getting your point across. As Mercury begins its transit of Leo on Thursday, your gift of gab is powerful and you're eager to show off your communication skills. If you are a writer, teacher, speaker or if your job or your hobbies rely on communication, you should find that whatever you present has favorable results. This is also a great time for learning something new or taking yourself into education, for the purpose of Jupiter's transit is to expand your mind and realize that far more is possible than what you previously thought. You and your siblings may be spending more time together than you usually do this week. You could also be checking out new neighborhoods in anticipation of a move.
Order your personalized Astrology Reports
---
Cancer: Mercury and Jupiter are in your financial area. With these two planets traveling together, your focus is on finances. You talk about money, think about money, and are trying to figure out how to earn more of it and spend less. The trick here is to not obsess, to go with the flow and take your cue from synchronicities –meaningful coincidences. After all the bumps, challenges and ups and downs that this year has brought, no one could blame you if you just feel that you want to enjoy life this week. All that's important is the courage to be true to yourself and march to your own drumbeat.
Order your personalized Astrology Reports
---
Leo: This week, make a list of all that you would like to do and be –from the adventures you would like to experience to the ways in which you can broaden your horizons. How can you make more of yourself? With Mercury in your sign as of Thursday, just create a collage of how you envisage your life and yourself and you will be harnessing the power of Mercury's potential for positive change. With Jupiter in your sign as well, you are more upbeat, optimistic, cheerful and generous. You may even decide to launch a business, write a book, move, get married or start a family. No telling exactly how Jupiter's expansiveness touches your life, and when its paired with Mercury, your consciousness is like a sponge, absorbing everything.
Order your personalized Astrology Reports
---
Virgo: Virgos often feel the pressures of time, not to mention responsibilities and jobs to be done. However, as things begin to shift within, you might get a sense that everything will happen when it's ready, and the less you struggle and strain, the easier things will be. Perhaps this is the week when you begin to take life a lot less seriously. To ensure that you're in prime position to make the most of this, make time to meditate and answer your soul's need for silence. A quiet and peaceful mind will increase your chances of being in the right place at the right time as you'll be more in tune with the Tao.
Order your personalized Astrology Reports
---
Libra: Jupiter's move into Leo on Thursday is good news for you, because it represents a time of increasing synchronicity, enabling you to manifest your dreams without trying so hard. The universe will make the connections you need and see to it that you're in the right place at the right time with the right people. All you have to do is trust in the intelligence of the universe, embrace the opportunities that come your way, and shift your approach from doing to being. With Venus shining brightly at the top of your chart, this is a suitable point at which to welcome the limelight and embrace success.
Order your personalized Astrology Reports
---
Scorpio: Here's your special quote for this week: "Whatever you can do, or dream you can, begin it. Boldness has genius, power and magic in it. Begin it now." As of Thursday, Mercury enters Leo, your professional area. This transit is excellent for professional communication. If you're sending out resumes, be sure your resume shines. Don't hesitate to toot your own horn, Scorpio. Communicate with employees, bosses and coworkers in a succinct, clear way. Focus on your own work and gathering support for your endeavors. A Dazzling array of planets at the top of your chart is strongly suggestive of a new direction taking shape, and the path to success and achievement should be easier than it's been in a very long time.
Order your personalized Astrology Reports
---
Sagittarius: What is calling to your spirit? What would you love to do? Sagittarius is a sign that loves travel, so you might be feeling the urge to spread your wings and experience new places, people and cultures. The more studious Sagittarians, though, might feel the need to take an intellectual or spiritual journey, so a course of study would also be appropriate at this time. If, however, you find yourself moralizing, taking a black and white stance, take this as a warning sign that your natural Sagittarian energy is being held back. Falling into the trap of judging others is never a healthy place to be, as it squeezes all the juice out of life, so instead of focusing on what is right and wrong, turn your attention this week toward what is right for you and then make it your mission to honor that.
Order your personalized Astrology Reports
---
Capricorn: This is a perfect time to think about starting a project with someone, and there's no need to feel daunted by the scale of what you might be taking on. With Mercury entering Leo on Friday, the universe is asking you to be big and bold in your ambitions with others. All that's needed from you is courage to take care of your personal wants and needs. And the more you can trust the process that needs to happen now, the easier you will find it, so let go, and enjoy the ride!
Order your personalized Astrology Reports
---
Aquarius: Whatever your relationships status, if you focus on growth and adventure, you won't go far wrong. Use the buoyant and expansive energies of Jupiter to be clear about what you want in this area of your life, and allow yourself to move toward the most growth inducing pathway, but make sure that the direction you're moving in is one that will allow your entire life to expand and grow, a direction in which your work or business can benefit from new challenges as well. And finally, make sure that any decisions or changes that you make have your health and well-being at the center.
Order your personalized Astrology Reports
---
Pisces: As the month ends, the main problem that you have to watch out for is feeling like an outsider. This could, in some way, hold you back, as you might feel excluded or not good enough. Do your best to overcome this misconception, and focus on how you can make your life bigger than it is now. To create a life that has more value for you, take a moment to consider what gives you meaning and make it your mission to make these things a bigger part of your everyday existence. Mercury's ingress into Leo on the 31st will be of significance and will encourage you to formulate your own positive identity.
Order your personalized Astrology Reports
---
For more information about your Horoscope and what the stars have in store for you, order one of our detailed