Aries, Taurus, Gemini, Cancer, Leo, Virgo, Libra,
Scorpio, Sagittarius, Capricorn, Aquarius, Pisces

Overview of this week
The Center for the New Age is pleased to present your Free Weekly Horoscope for August 10 — August 16, 2014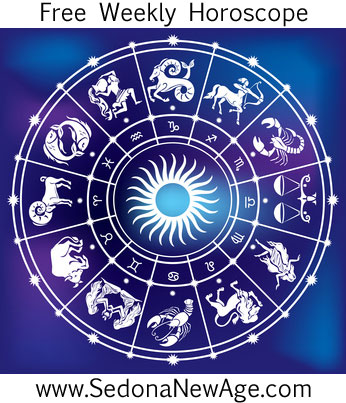 Aries, Taurus, Gemini, Cancer, Leo, Virgo, Libra,
Scorpio, Sagittarius, Capricorn, Aquarius, Pisces
The week begins with the Full Moon in Aquarius on Sunday. This is the closest and largest full moon of the year and it enlivens our senses, inspires brilliance and instills the need to apply clarity and definition. Sunday is likely to be blanketed by bizarre and unusual occurrences as the Moon reaches fullness in the evening. Quite often, the Full Aquarius Moon brings social gatherings, as well as charity events. People may seem idealistic and generous in some respects, and out of control or downright unrealistic, in other regards .
Venus enters Leo on Tuesday (August 12 –September 4) bringing out the more playful side of love. Venus represents the expression of love and affection; it is the influence of magnetism, beauty and of feminine refinement. In the sign of Leo, Venus brings out desires and needs for personal attention. Wild lust will abound and the love of fantasies will be enhanced. Love affairs may be torrid and dramatic, while affection, when first initiated, can seem very ardent and sincere. One might be hesitant to believe that a too-good-to-be-true relationship is actually occurring. On the other hand, if it doesn't feel harmonious, it may be because the love affair is more focused on the demands and needs of just one person. Leo demands a lot of affection and, when Venus comes into play, the need for attention sometimes outweighs the need to reciprocate that attention. It is always wise not to have expectations in love matters and to be sure that the joys of exchanging love are balanced.
Friday (August 9 –August 24) Mars in Scorpio is sextile Pluto in Capricorn bringing the opportunity for powerful and swift action. This is potentially a good time to reconcile differences. Those who are not in accordance with others at this time are likely to stand out quite obviously. Mars represents the masculine push of our personal lives, the area where we activate our will, strength, and vitality; this brings opportunity, optimism, and the added boost to face otherwise tense situations and predicaments. The activities of Mars sextile Pluto will teach us about hardships and what we can learn from other generations.
Virgo is a most advantageous place for Mercury –the place where it both rules and is exalted. From August 15th until September 1st, Mercury in Virgo brings clarity to our plans for coming events of Autumn. It brings out the skeptical and analytical side of every argument and topic of discussion, keeping us on our toes. Overall, this is a great time for communicating, research and strategic planning.
Aries, Taurus, Gemini, Cancer, Leo, Virgo, Libra,
Scorpio, Sagittarius, Capricorn, Aquarius, Pisces
For more information about your Horoscope and what the stars have in store for you, order one of our detailed


Astrology Reports!
Free Weekly Horoscope for your Sign
Aries: Is it time for a new vision of your Life? The Full Moon in your future zone would suggest that it is, but that may not be without its challenges. Perhaps there is something you need to move on from before you can manifest this new vision. Perhaps there is something you need to heal –a part of yourself that has been wounded. Or maybe the challenge lies in finding a creative outlet for your talents. Perhaps it's time to stop hiding your light under a bushel and make more of yourself. If you're ready to step out into the world, you should find that the path is smoother than you might have anticipated.
Order your personalized Astrology Reports
---
Taurus: The Full Moon on August 10 asks you to channel what you have to offer to others. This could be in the form of work, a goal, a project or an idea. At the most extreme, it could even be a new vision of your life. This is especially likely to be the case if you feel you are having big internal shifts that could propel you forward in a whole new way. If you're not sure which direction to head in or how you should approach something, make time to go within, for there you will find your answers.
Order your personalized Astrology Reports
---
Gemini: Much of the outcome to a particular situation depends on your capacity to believe, so what messages are you currently telling yourself? Do you tell yourself that you can or you can't? That there will be a happy ending or that there won't? The current planetary alignment suggests that you need to apply a little effort. Maybe you need to be a bit more organized, or maybe you need to finish what you start. Perhaps discipline and perseverance will be your allies now. If you want a particular outcome, you first need to believe it's possible and then you need to apply one or more of the aforementioned characteristics to bring about the desired result. Your current outlook is bright, so just a little bit of effort will go a long way.
Order your personalized Astrology Reports
---
Cancer: Books do not write themselves. Pictures don't paint themselves. Musical masterpieces aren't manifested out of thin air. Businesses do not assemble themselves. This is, of course, stating the obvious, but it's amazing how many people give up at the first hurdle. Many people, it seems, have become conditioned to expect instant results and overnight success. In real life, though, this rarely happens, and the successful ones are those who put huge amounts of effort into their ideas, carrying on believing in what they're doing when others have given up. You have the potential now to create something of lasting value, but it will require effort, determination and persistence. Once you've agreed to those terms, you can get cracking and start to gain your reward for your gifts and talents.
Order your personalized Astrology Reports
---
Leo: The Full Moon in your opposite sign is an indication that it's time to get serious about something. Your personal desires, your home and family situation and your relationships are all contenders for what needs your attention right now. Because Saturn is involved in this Full Moon, it's likely that you have reached a turning point and need to make a decision. Make sure the decision is the one that has your best interests at heart. It is vitally important when Jupiter arrives in your sign that your own personal needs are honored; if not, the universe is likely to force you into doing what is needed for your soul's growth, so listen to your heart and let courage be your guide.
Order your personalized Astrology Reports
---
Virgo: As the Full Moon occurs in your zone of health, this is a good week to focus on your well-being and to observe how your mind affects your body. Virgos often have a lot of nervous energy that easily becomes worry and anxiety. Any weakness in your health right now is most likely to have a connection with your mind, so it might be worth monitoring your thoughts and reactions. It's not enough to be positive on the surface; the subconscious mind and our deepest beliefs are the areas that need examining, as these are running the show. The more time you can spend in quiet contemplation, perhaps examining your dreams or writing in a journal, the more insights you're likely to gain in the pursuit of wellness and contentment.
Order your personalized Astrology Reports
---
Libra: The Full Moon on August 10 is your cue to get serious about something that's close to your heart. It may require a bit of effort or persistence, but with the Sun, Jupiter and Mercury on your side, you should be rather blessed in the outcome. Perhaps all that's required is a clear intention and a willingness on your part to make a change. If finances or your material life are an issue, this is a good time to begin to turn things into a more positive state of affairs. Don't allow lack to prevent you from doing something that would be good for you. Instead, trust that whatever you need will be provided and by listening to your inner voice, you will know when and how to act.
Order your personalized Astrology Reports
---
Scorpio: Sunday's Full Moon may bring you to a turning point in the areas relating to your home and domestic situation, your future and direction in life, your vocation and your personal needs. For example, what you want may be at odds with what someone who shares your home wants, or a family member may be a drain on your energy. If a new direction is beckoning, you may be frustrated, as your attention is taken up with matters closer to home. It's important now to try to get the balance right between your life in the external world and your inner world and home life. When you get the balance right, your own well-being will begin to improve.
Order your personalized Astrology Reports
---
Sagittarius: Rebirths can be large or small. They can take years or moments to occur. They can be caused by a major life event, or they could be something quite apparently insignificant, but they all have the same result of changing a person. The current astrological alignment suggests that you're being reborn, and it should feel empowering, revitalizing and inspiring. If you have been in a dark place, this period should feel especially good as you emerge into a new life. All you have to do now to ensure your forward movement is allow the past to go. Release all that has gone and all that is no longer appropriate for you. This may require some courage, but the rewards will be well worth the effort.
Order your personalized Astrology Reports
---
Capricorn: This week's Full Moon on Sunday can be a stressful one, so it might just be a case of battening down the hatches and getting through it. At least it'll only last a day or so. The challenge could involve your self-worth, your talents and resources, your joint finances or your work or professional life. Any of these could be a feature, but the key theme that they all have in common is pressure and responsibility. At least the Full Moon is likely to bring a turning point or a sense of clarity with these matters so that you can start to make changes.
Order your personalized Astrology Reports
---
Aquarius: Sunday's Full Moon asks you to focus your attention like a laser beam to do what needs to be done. It may require a delicate balancing act to consider the needs of others while pressing ahead with your own requirements, but this is an important moment in your solar year when you have to take stock of where you are and where you go from here. Once you're clear about these things, you can begin to cut through unnecessary impediments and channel your energy constructively.
Order your personalized Astrology Reports
---
Pisces: The Full Moon on August 10 brings a turning point with your health or your work. Now is a good time to begin making one or two changes that will benefit your well-being, as well as take steps to be more organized and efficient either in your daily life or your work. This will help you to feel more streamlined and on top of things. Saturn's influence suggests that you need to be patient and allow the results to gently take shape, so be like a gardener and do the groundwork: plant and prune, then allow nature to do the rest.
Order your personalized Astrology Reports
---
For more information about your Horoscope and what the stars have in store for you, order one of our detailed