Aries, Taurus, Gemini, Cancer, Leo, Virgo, Libra,
Scorpio, Sagittarius, Capricorn, Aquarius, Pisces

Overview of this week
The Center for the New Age is pleased to present your Free Weekly Horoscope for August 24 — August 30, 2014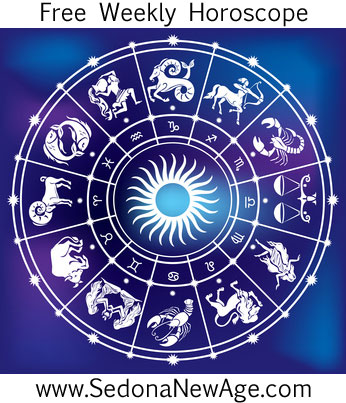 Aries, Taurus, Gemini, Cancer, Leo, Virgo, Libra,
Scorpio, Sagittarius, Capricorn, Aquarius, Pisces
New Moon in Virgo on Monday invites us to start all over again with the development process of our feelings. This Moon calls to us to apply enthused methods of discernment, a new way of analyzing, and to apply caution. How about a new way of accounting or applying health practices? Finding fresh resources is often a common practice during the New Virgo Moon. This is the time to organize and prepare for the autumn, a time when making adjustments is essential. New Virgo Moon assists us to prepare for the changes that occur in the physical world. This is the time of the harvest, and this Moon will help us make the most of this fruitful time with thrifty ingenuity.
Mars and Saturn are conjunct in Scorpio (August 25 –September 12) uniting the forces of action itself (Mars) with the diligence to take this action to the limit (Saturn). This is the perfect time to apply discipline. Remember the potential for accidents and keep the fire extinguisher on hand. Mars is the fire of our actions being precisely contained and preserved by the crucible Saturn. Saturn is there to teach us about our limitations and our sense of control is exercised through applying discipline. This may be just the right starting point to get the lazy rear in gear, so to speak.
Venus in Leo square Saturn and Mars in Scorpio (August 27 –September 3) emphasizes the difficulties we may encounter (square aspect) engaging in pleasures, romance or adequately protecting the ones we love, particularly when complex obligations and responsibilities are involved. This scenario suggests that there may be crimes of passion as Venus square Mars creates tension and obstacles between the forces of love and the forces of defense. It may seem as if something is always getting in the way of basic pleasures (Venus square Saturn). With this dual square aspect, keep singing the praises of love and applying the law of attraction, but expect some challenges and high demands for discipline nonetheless.
Aries, Taurus, Gemini, Cancer, Leo, Virgo, Libra,
Scorpio, Sagittarius, Capricorn, Aquarius, Pisces
For more information about your Horoscope and what the stars have in store for you, order one of our detailed


Astrology Reports!
Free Weekly Horoscope for your Sign
Aries: The New Moon on Monday is the opportune moment to consciously invite positive change or new beginning into your daily life, work and health. Choose whichever one of these could benefit from change, and write down how you would like things to be. If you would like the refreshing winds of change to blow through your everyday life, write down how you would love your days to be, and then see what steps you could take to make it happen. If you would like your health to be better, imagine yourself fully well and bursting with vitality. Make a pledge to reduce or eliminate those things you suspect might not be doing you any favors and step forward with courage and determination to be the best that you possibly can be.
Order your personalized Astrology Reports
---
Taurus: It seems that there is a fork in the road this week: one path is serious, judgmental and seems to tell you why you can't or shouldn't do certain things. The other path leads toward joy, fun, creativity and light heartedness. Which will you choose? The New Moon on August 25 is a reminder to you to focus on what you enjoy and make that the cornerstone of your life. Whether you want more fun and frivolity or you wish to be more creative, the time to make changes toward being more authentic and joyful is now, so if you have any ideas as to how you can make your life more fun, enjoyable or more of what you would love it to be, write down your intentions and see them coming to fruition. Then be mindful in choosing the lighter path.
Order your personalized Astrology Reports
---
Gemini: The New Moon on August 25 brings the opportunity of a breakthrough, so if you've been feeling stuck, this could be a week in which things start to move and change. You can help the process greatly by letting go of the past. Whatever you've been carrying around with you, whatever you've been clinging on to –memories, lost hopes, regret, anger, pain, sadness or guilt –now is the time to let it go, knowing that the future will be better than what you have left behind.
Order your personalized Astrology Reports
---
Cancer: It is time to take constructive action in something that is close to your heart. Whether it's a creative project, a relationship, or living a more authentic life, now is the time to really apply yourself with determination and intent. The New Moon on Monday will help to eliminate the old doubts, encouraging you to realize that all the possibilities for what you want are contained in your mind. This quote is significant: "A great attitude does much more than turn on the lights in our worlds; it seems to magically connect us to all sorts of serendipitous opportunities that were somehow absent before the change." The more you cultivate a great attitude, the more you will find yourself transforming an unsatisfactory situation into one of happiness and contentment.
Order your personalized Astrology Reports
---
Leo: The New Moon in your money zone brings a successful feel to proceedings, and if you wanted to make the most of this cosmic occurrence, you should turn your thoughts toward prosperity and abundance, focusing on all that you have and giving thanks for it. Whether you're financially well off or not, everyone can feel abundant by noticing these rich moments that may or may not have anything to do with money. The richer you feel inside (by noticing what you have), the more content you'll be and the more likely you are to find yourself on the receiving end of the universe's generosity. You can overcome any feelings of alienation by reaching out to others and celebrating what you have in common.
Order your personalized Astrology Reports
---
Virgo: The Sun entered your sign on August 23 and is joined by the Moon on August 25, making these great days for focusing on the new. If you wish to turn over a new leaf, then August 25 is a great day to begin while new ideas and the initiation of new projects are also auspicious at this time. However, don't be in a rush to get off the starting blocks and zoom back into life after what could have been a slow or frustrating few weeks. Your inner voice is still trying to communicate with you. To make the most of your current situation, embrace the new while being soft and slow enough to hear the whispers of your soul.
Order your personalized Astrology Reports
---
Libra: You are still blessed by the auspicious alignment of Venus and Jupiter this week. These two will continue to guide you and illuminate the way forward, removing all obstacles and bringing help and assistance should you need it. Since there should be no need to worry about the overall path of your life, you can turn your concerns to other matters. Mars and Saturn in your money zone are impressing on you the need to resolve a financial issue or to put your efforts into improving your material situation, whether that's your work, your income, your possessions, or some other aspect of your material world. A combination of effort, passion, determination and long term planning will reap positive results that last a long time. Finally, the New Moon falls in your quiet zone of contemplation, so for you, time spent in meditation, quiet thought, or simply resting will be beneficial. Anxiety and stress are modern epidemics, but as you turn your attention to the stillness within, the peace and serenity that develop as a result will bring about a poise that not only makes you feel wonderful, but could also bring about magical changes to your life.
Order your personalized Astrology Reports
---
Scorpio: We can't always make something happen by ourselves. Sometimes we need a little assistance. Although you have Mars and Saturn in your sign bringing about much determination and strength, the New Moon in your helpful friends area reminds you that you don't have to go it alone. You don't have to shoulder the burden by yourself. Whether you accept help from a friend or ask for divine guidance, it would be silly not to accept help when you need it. With the auspicious alignment of Jupiter and Venus at the top of your chart, this too suggests a benevolent universe wanting to make your path easier, so if you just adjust your thinking slightly from "I'm strong; I can handle this" to "I don't always need to choose the arduous path," then miracles might well alight upon your situation.
Order your personalized Astrology Reports
---
Sagittarius: The New Moon at the top of your chart brings the opportunity to complete something in progress and then begin something new. There is a strong emphasis on letting go of the past or resolving something connected to your past, whether it's a person or a situation. The more headway you can make in resolving this matter, the sooner you will be able to push forward with your goals and ambitions. The New Moon will help to smooth out the path ahead of you, bringing greater opportunities for success, recognition, achievement, or a new direction –but only when you have closed a door on the past. Your future is bright, and you need to turn your attention to what might be rather than what has been.
Order your personalized Astrology Reports
---
Capricorn: The New Moon on August 25 brings with it the promise of adventure, so this is the perfect time to take yourself off somewhere and broaden your horizons through a little travel. Aside from physical travel, this New Moon asks you to expand your sense of what's possible, to push out of your comfort zone and try something new: a new place, a new situation, a new role, or a new way of looking at life. Sometimes just picking up a book that you wouldn't normally read can be an interesting experience, as your mind is taken to somewhere different. Don't fence yourself in this week. The more adventurous you can be in your daily life, the better.
Order your personalized Astrology Reports
---
Aquarius: Monday's New Moon is a healing one and brings the opportunity for renewal. Sometimes we can become tired and bogged down because of our fears, phobias, inhibitions, and the complexities that we grew up with. This New Moon, however, will help to wash away a little bit of the shadow, leaving you feeling lighter and more positive than before. It is a suitable moment to think about what you would like to be cleansed of: a way of being, thinking, reacting, or a painful situation –past or present. By setting the intention to move on from pain and suffering and then taking it one step at a time, you should end the month feeling refreshed and transformed.
Order your personalized Astrology Reports
---
Pisces: As the New Moon occurs in your relationship zone on August 25, you may benefit from focusing your attention on your important one to one interactions with a view to turning over a new leaf. This may mean letting go of someone or welcoming a new person into your life. It could mean wiping the slate clean in a particular relationship so that you can begin again. Whatever the current state of your personal life, this New Moon will help you to move things forward in a way that is healthy for both of you. Since Mercury is in there too, make your communications heartfelt and authentic; in doing so, you will help the relationship become whatever it needs to be. Meanwhile, Mars and Saturn in your travel and adventure zone are suggesting that you need to be disciplined in your efforts to create a more adventurous life. Do whatever you feel is necessary to enable you to break out of your comfort zone and broaden your horizons.
Order your personalized Astrology Reports
---
For more information about your Horoscope and what the stars have in store for you, order one of our detailed