Aries, Taurus, Gemini, Cancer, Leo, Virgo, Libra,
Scorpio, Sagittarius, Capricorn, Aquarius, Pisces

Overview of this week
The Center for the New Age is pleased to present your Free Weekly Horoscope for August 31 — September 6, 2014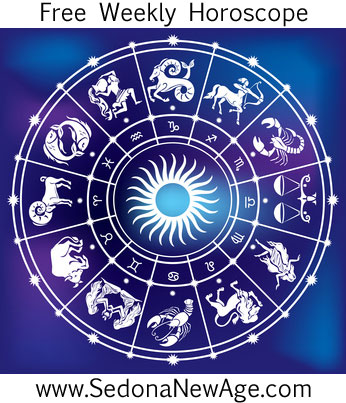 Aries, Taurus, Gemini, Cancer, Leo, Virgo, Libra,
Scorpio, Sagittarius, Capricorn, Aquarius, Pisces
First Quarter Moon in Sagittarius on September 2 allows our moods to be adaptable and responsive to the situations that arise. The Sagittarius Moon reminds us to reach out there while the brilliant beauty of summer is still occurring. Adventure and hope abound. Sagittarius says, "I see" –make use of the vision and take the time to see beyond.
Mercury enters Libra on Tuesday (September 2 –September 27) aligning us towards diplomacy, tact and the need to connect with friends and loved ones. Libra is the autumn sign that emphasizes balance and adjustment. Through September 27, Mercury in Libra will bring a focus on harmonizing and adjusting to the changing season. This is a good time for people to converse by gathering important information as our decision making process kicks into high gear.
September 5 Venus enters Virgo until September 29. Gentle, subtle expressions of love come out with Venus in Virgo, and affections tend to be shy, modest and somewhat reserved. Since Virgo symbolizes the virgin, this may be a time when attraction to virginal purity and newness in love is highlighted. Venus in Virgo is referred to as "the fall," a less ideal position for Venus and a time when disappointment in love matters may be felt by some folks. Keep the faith in your affections, despite the cooling of affection.
Aries, Taurus, Gemini, Cancer, Leo, Virgo, Libra,
Scorpio, Sagittarius, Capricorn, Aquarius, Pisces
For more information about your Horoscope and what the stars have in store for you, order one of our detailed


Astrology Reports!
Free Weekly Horoscope for your Sign
Aries: Transforming one's inner self is never an easy business, and if you feel that the past few weeks have been hard going, then you can heave a sigh of relief as the planets begin to shift their positions from struggle to fun and relaxation. If you feel you've been pushed to your limits recently, first congratulate yourself on your strength and endurance, and then make it your mission to indulge yourself in more enjoyable activities for which there should soon be opportunities. This is a great time to be creative and any emotional problems could ideally be worked through in a creative way, perhaps via art therapy, writing, music, dance or some other expressive medium.
Order your personalized Astrology Reports
---
Taurus: As the Sun dances merrily through your house of fun, it's time to connect with what brings about a sense of joy. It could be recreational activities or creative hobbies, or if you're in the position to invite romance into your heart, why not? Your focus needs to be on that which makes you feel good, which in turn allows you to express that which you truly are. At this point in the year, it can be beneficial to examine your life and see whether it's an authentic reflection of your true self. If you were in charge, how would you create things differently? Are you compromising yourself in any way? This is your time to shine and allow your unique self to radiate out into the world, so if you're not currently doing that, take some time to ask yourself why.
Order your personalized Astrology Reports
---
Gemini: George Moore once said, "A man travels the world over in search of what he needs and returns home to find it." In a way, this is reflective of where we find you now: coming to the end of a search and realizing that what you need is right in front of you. There should be little need for you to look further than your own four walls and the people who matter most to you, though you may feel a desire to look within yourself or to reflect on the past and all that has led you to where you stand now. What matters most at this point, though, is that you're happy where you are and with what you've got, so if that isn't currently true for you, you either need to change your external circumstances so that they better reflect who you are, or you need to change your attitude so that all that you have is enough.
Order your personalized Astrology Reports
---
Cancer: The more absorbed we are in a task, the more enjoyable it becomes. We only need to think of a child engaged in something that to the adult mind might seem rather mundane: watching a ladybug climb up and down the stem of a flower, for example, to see how being completely absorbed in something is far healthier than doing something while our minds are elsewhere. This week, try to keep your attention –and your love –on whatever it is that you're doing. You may find that such focused presence unleashes a wonderful vitality and creativity in everything that you do.
Order your personalized Astrology Reports
---
Leo: As Venus joins the Sun in your house of money and resources, this is the beginning of a phase in which it would be conducive to focus on abundance and to enjoy what you have. There are always two ways of looking at our material and financial situations: We can either feel that we don't have enough or be grateful for all that we do have. Perhaps it would be helpful to imagine yourself with nothing –no home, no money, no people to love, no possessions, no car –and then contrast that with the life you actually do have. That might inspire you to enjoy more of what you've got. Since this is also a time to focus on your body, why not book yourself a massage or spa treatment? Spend more time enjoying the sensual pleasures of life from a walk in the woods with all the sights and sounds to the feel of the Sun on your skin.
Order your personalized Astrology Reports
---
Virgo: You may feel a little like a ship without a rudder this week, so instead of going around in circles or struggling to get somewhere and ending up back where you started, why not switch off your engine, put your feet up, and enjoy the sights and sounds of wherever you are? We don't always have to be going somewhere, and as Venus eases her way into your sign, joining the Sun, you have full permission from the universe to slow right down and engage in simple, enjoyable pleasures, so stop trying so hard and just relax. You may find that after a few days of fun, enjoyment and pleasure you're ready to steer your ship in a new direction.
Order your personalized Astrology Reports
---
Libra: As the Sun enters your zone of repose and endings, it would be beneficial if you were able to slow down a little and get more rest if you need it. This is your time of the year to reflect or to take some time out so that you can prepare for the new cycle that's just around the corner. Although this may not be the best time to charge full speed ahead and expend lots of energy, Mercury in your sign makes it a good time for all forms of communication, and it's certainly a good time to negotiate. This is a pertinent quote: "In life, you don't get what you deserve, you get what you negotiate," so put your most charming foot forward and don't allow guilt to stop you from claiming your reward.
Order your personalized Astrology Reports
---
Scorpio: "Success is not the key to happiness. Happiness is the key to success. If you love what you are doing, you will be successful." Albert Schweitzer's quote reflects the position of Venus and Jupiter at the top of your chart. This is an extremely lucky and benevolent combination to have in the vocation and success region of your chart, but to unlock its bounty, you must follow your heart and choose the path that brings joy, growth and adventure. The safe option is not really your best bet right now, but if you can follow the path that resonates with you, if you can choose the thing that you love and make that your mission, then success and happiness are virtually guaranteed.
Order your personalized Astrology Reports
---
Sagittarius: Although the bulk of the planets are encouraging you to expand, explore, work, play, socialize and generally live at a busy pace, you will definitely benefit from being mindful in all that you do. Mars and Saturn hidden away in your private zone suggest that there is work to do in terms of becoming more aware of what's going on within you at a deeper level. If you find yourself feeling angry, irritable or frustrated, you can be sure that it's because there's something that needs to be dealt with or because some part of you has been suppressed. Take some time to identify what the aggressive feelings are really about, and if you should find yourself on the receiving end of another person's aggression, it may help to view that person as a mirror in that what's going on with them reflects something that's going on with you.
Order your personalized Astrology Reports
---
Capricorn: So often in life, we hold ourselves back because of what we've been taught to believe about ourselves. For those people who were told by teachers that they wouldn't amount to much, creating a successful life is an uphill struggle. Whereas those people for whom good things were expected often find it more comfortable to reach out for success and go for their dreams. Even in day-to-day life, the way we have been conditioned has a big impact. As the Sun journeys through your adventurous zone, it is time to question a few assumptions, break some rules, broaden your horizons, and push yourself out of your comfort zone. Playing it safe is not the answer, so be bold, be daring and take a risk if it enables you to express who you are.
Order your personalized Astrology Reports
---
Aquarius: With Venus and Jupiter in your partnership zone, this is a very positive time for your relationships. Problems can be quickly smoothed over, harmony can be restored, and love between you and another can develop. Opportunities should be forthcoming for enjoyable times with other people, and if you're open and willing to stretch yourself a little, there could be plenty of growth, fun, and adventure to be experienced. It would be easy to coast along and simply enjoy life and your relationships, but the Sun in Virgo is currently asking you to look at how deep, meaningful and intimate your relationships are –one relationship in particular. If things are a little intense or if things are becoming more committed, that's good. It means that you are changing and growing and perhaps becoming a little more mature in your relationship.
Order your personalized Astrology Reports
---
Pisces: People who achieve their dreams know that they have to apply certain characteristics to make it happen. They need to be patient because dreams don't happen overnight. They need to persevere and keep going when the going gets tough. They need courage to face obstacles and tests, and they need self-belief. We could also throw realism and practical effort into the mix as well. Do you think you can do it? Well, Mars and Saturn suggest you can. Their current positions in the sky appear to be a reflection of your determination to achieve an end end result that's very import to you. Keep going, because the challenges you face now could be your final test. Before long, the path will get easier and you'll be on the home stretch.
Order your personalized Astrology Reports
---
For more information about your Horoscope and what the stars have in store for you, order one of our detailed