Aries, Taurus, Gemini, Cancer, Leo, Virgo, Libra,
Scorpio, Sagittarius, Capricorn, Aquarius, Pisces

Overview of this week
The Center for the New Age is pleased to present your Free Weekly Horoscope for September 7 — September 13, 2014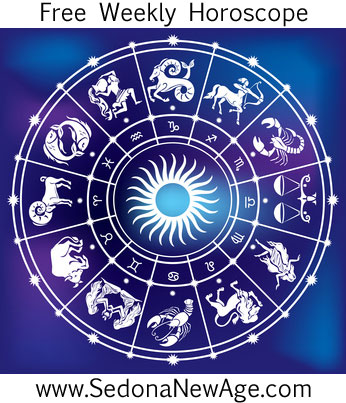 Aries, Taurus, Gemini, Cancer, Leo, Virgo, Libra,
Scorpio, Sagittarius, Capricorn, Aquarius, Pisces
Full Moon in Pisces on September 9 brings out the psychic in everyone. You don't have to be a psychic to know that this will be a full day with many strong aspects at work. Sensitivity runs very high on a Full Pisces Moon and people express themselves in very artistic or perhaps nonsensical ways. Imaginations run wild with this Full Moon and anything is possible. Pisces says: "I believe" and while the Moon is full in Pisces, it is vitally important to carry our beliefs wisely, as destructive tendencies may bring us down if we're not careful. This will also be a time to watch out for low self-esteem or substance abuse.
Venus in Virgo is opposite Neptune in Pisces (Sept 10 –September 23) bringing rapid change with regard to the feminine spirit on a universal level. Venus is the attraction magnet in all of us; Neptune represents our deepest instincts and spiritual understanding of life. What we are attracted to may be opposed to what we or others believe in. Subtle and altruistic expressions of love and beauty are strongly influenced by, and often greatly opposed to, universal beliefs. This aspect brings and awareness of the dichotomy between fashion's feminine archetypes versus a natural or spiritual expression of femininity. The feminine spirit needs to be free and connect with a more divine image of womanhood; however, the goddess that lives within may seem distant or hard to reach. Nonetheless, the feminine parts of the spirit (Venus) are being made acutely aware of the divine parts of the spirit (Neptune) in one way or another. The opposition of Venus to Neptune may seem like an overwhelming time to try to make a spiritual connection with large groups of people, but there may be a desire to create a spiritual refuge or retreat –an attractive, sensual and aesthetically pleasing sanctuary.
Mercury in Libra is sextile Jupiter in Leo (September 10 –September 14). Mercury influences news and talk, while Jupiter influences commerce, wealth and prosperous advancement. This would be an excellent time to inquire about opportunities as this aspect is an advantageous time to ask for a job or a loan. This aspect is a good time to share information and promote your capabilities and for some folks, this may even be a good time to start a new enterprise..
Mars enters Sagittarius September 13 remaining there until October 26. When in Sagittarius, Mars stirs our view of areas where the god of war has stepped beyond the usual bounds. Mars forces us to take some course of action, even if the course of action is the choice of inaction, at which point new vistas of understanding will evolve, and the warrior within will begin to take shape. Mars, the king of action, does not have to apply to war-like activity all the time, as it simply represents the energy and strength necessary to take action. Sagittarius says "I see." Perhaps we can actively take hold of a vision, a picture or a philosophy that can be manifested through our actions towards a positive, more balanced approach to what we hope to create for ourselves in the future. Mars means business in Sagittarius and this is not the time to close our eyes, but rather is the time to open our eyes to the activities taking place around us.
Aries, Taurus, Gemini, Cancer, Leo, Virgo, Libra,
Scorpio, Sagittarius, Capricorn, Aquarius, Pisces
For more information about your Horoscope and what the stars have in store for you, order one of our detailed


Astrology Reports!
Free Weekly Horoscope for your Sign
Aries: The Full Moon on Tuesday suggests it's time to get your life working for you in a better way. For example, you could benefit from improving your health through diet, exercise or lifestyle changes. Or it may be appropriate to become more organized so that your days are more efficient. Perhaps it's time to look at your work and see how you can be more organized. Or it may be a question of seeing how you can bring more love and joy into your work or your daily affairs. The Full Moon may also bring a sense of completion, so if things have been confusing or uncertain or if loose ends have needed to be tied, then this week could see everything coming together. In that case, it may be time to draw a line under something, to close a door and prepare for new beginnings. This in itself may be cause for celebration.
Order your personalized Astrology Reports
---
Taurus: As Venus joins the Sun in your fun zone, it really is time to let your hair down and slip into a more relaxed mode of being. Perhaps you don't really need to do everything on your to-do list but could instead take some time out to simply enjoy life. It's important to give priority to that which makes your heart sing and brings you pleasure. However, as the Full Moon illuminates the creativity and social angle of your chart, you may need to deal with some sadness about being unable to express yourself completely in the world. Perhaps you feel you can't be who you want to be or do the things you would love to do. Few people can, so maybe it's a case of compromise and balance as you strive to find ways to allow yourself a certain amount of freedom and creative expression while still honoring your commitments and responsibilities. Grieve for that which can't be while making every effort to manifest that which can.
Order your personalized Astrology Reports
---
Gemini: Sometimes just being grateful for what we have is the key to unlocking a positive shift. Although much of your energy is currently being taken up with simply getting through the day and attending to everything that needs doing, there is great potential to find much happiness and joy with your home and your family. While it's natural to take things for granted, especially when the dishes are piling up along with the laundry and a deadline looms at work while the dog looks expectantly at you for its walk, try not to let the joy drain out of what could be a very nourishing time in your life. It doesn't matter if everything doesn't get done today; what matters is that you're mindful enough and present enough to take pleasure in all that you have. The more you can relax and allow things to be as they are, the more you will enjoy the life that you have.
Order your personalized Astrology Reports
---
Cancer: 'The real voyage of discovery consists not in seeking new landscapes but in having new eyes." Marcel Proust highlights your main issue this week as a restless Full Moon activates a certain amount of discontent. Perhaps what once seemed right no longer does, but maybe because the answer is not outside of yourself in the sense of finding the right place, person, vocation, or situation, but more in that you need to rediscover your initial curiosity and interest. When we skate on the surface of things or when something or someone has been in our lives for so long that we stop seeing them, it can be helpful to look at the situation with new eyes. If you can slow right down and take the time to really look at whatever is around you, you may begin to experience new depths, which in turn brings passion, enthusiasm, and joy for what you have.
Order your personalized Astrology Reports
---
Leo: This week's Full Moon on September 9 brings with it the opportunity for cleansing so if you feel psychologically heavy, perhaps via negative emotions such as fear, anger, jealousy, pain, old wounds, and so on, you can look forward to a sense of renewal and a lighter frame of mind. This is a Full Moon that could liberate you from a heavy or oppressive situation –anything from emotional angst to financial insecurity. Work with the energies by being willing to set yourself free and letting go of anything that is no longer useful or appropriate. Be especially mindful of releasing negative emotions and stuck situations; that way, you'll be able to embrace new possibilities.
Order your personalized Astrology Reports
---
Virgo: As the Sun and Venus dance their merry way through your sign, you should have reasons to be cheerful, especially if you keep your attention on fun, pleasure and relaxation. This is the time to recharge your batteries by plugging yourself in to that which gives you energy and enthusiasm. There is a deeper aspect to this planetary connection in your sign, and that is to think about what you want from life. It could be something quite minor, such as more time to do the things you love, more time to spend with your family or more time to be creative. Or it could be something more profound. Either way, you should reach a point of realization around the Full Moon on Tuesday which will be a good time to consider how you can be more of a part of the life you want to be living and less of an outsider. Perhaps all that's needed is a shift in attitude, which instead of excluding or judging becomes embracing and inclusive. As you include life, it in turn will include you.
Order your personalized Astrology Reports
---
Libra: There is likely to be some source of confusion or uncertainty in your life early in the week, but this should begin to clear just after the Full Moon on Tuesday. The antidote is probably a blend of courage and acceptance: "God, grant me the serenity to accept the things I cannot change, the courage to change the things I can, and wisdom to know the difference." It might be a good idea to keep these words of wisdom close at hand as you negotiate the ups and downs of life. Your health and your work are likely to be the trouble spots, but as the Moon begins to diminish, so too should your troubles.
Order your personalized Astrology Reports
---
Scorpio: Much of our success in life is down to how much we made of the opportunities that were presented to us. Some people turn away from opportunities –perhaps because they are too scared, because of circumstances or because they don't feel good enough. We have probably all met someone who had an opportunity to do something but let it pass by for whatever reason. Sometimes it is the right choice to pass on a possibility, but quite often that can lead to regret further down the line. As the door of your life begins to open wider, be careful of what you turn down or walk away from. Even something as innocuous as turning down a social invitation could close a door that might have been beneficial in the long run. If it feels joyful or scary but exciting, it's probably a good option.
Order your personalized Astrology Reports
---
Sagittarius: The Sun and Venus at the top of your chart suggest that this is a great time to push yourself forward and allow yourself to shine. This is a period of opportunity and success, so make hay while the sun shines. However, this reaching out for possibilities needs to be balanced with some inner reflection as the Moon grows full in your home, family and inner self areas. If you charge full steam ahead with work, your ambitions, and general business, then your family could protest or you could find yourself feeling a sense of discontent. All will be well if you pay attention to your feelings, spend quality time with your family and remember that your home is there to nourish your spirit.
Order your personalized Astrology Reports
---
Capricorn: Although you are the sign of the realist and not prone to flights of fancy, it wouldn't hurt to believe that something or things that are seemingly impossible might just come to fruition. As the Moon grows full in your zone of beliefs, it is healthy at this moment to question your beliefs and contemplate what is achievable.. Don't stay shackled to your old beliefs, but ask yourself instead: What if this were doable? In reality, anything that you can imagine has a potential and it's only your doubts that keep you stuck. Open your mind and entertain new possibilities this week. You might be surprised at the results.
Order your personalized Astrology Reports
---
Aquarius: As Jupiter aligns closer with Uranus, a lucky break or opportunity is waiting in the wings, so keep your eyes open and be ready to embrace what comes your way. Your best opportunities are likely to come from your own ideas and other people –most probably a combination of the two, such as an idea that leads you to team up with another person who could be helpful for you. With Saturn and Mars at the top of your chart, you're also in a position that success and achievement could result from your hard work. Either way, it looks as if some good news is heading your way and all you have to do is be in the right mindset to notice and receive it.
Order your personalized Astrology Reports
---
Pisces: The Full Moon falls in your sign on Tuesday and is your cue to pause for thought and take stock of where you're going. At this point, you need to have a look at your life to make sure that it's heading in the right direction. If you have drifted off course slightly or if there's something that is cause for concern, now is the time to adjust matters. Other people may figure in your adjustments, but the omens are good for a happy outcome. So long as you can keep pouring love into what could be a tricky situation, you will perhaps liberate not just yourself but the other person too. Your own healing is a priority now, and you need to make choices that will support that.
Order your personalized Astrology Reports
---
For more information about your Horoscope and what the stars have in store for you, order one of our detailed