Aries, Taurus, Gemini, Cancer, Leo, Virgo, Libra,
Scorpio, Sagittarius, Capricorn, Aquarius, Pisces

Overview of this week
The Center for the New Age is pleased to present your Free Weekly Horoscope for September 14 — September 20, 2014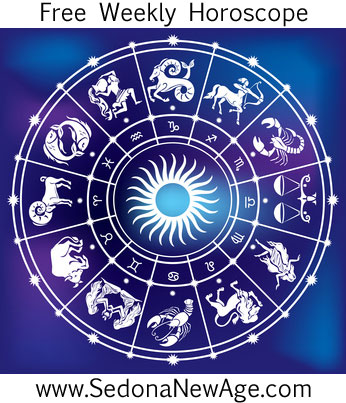 Aries, Taurus, Gemini, Cancer, Leo, Virgo, Libra,
Scorpio, Sagittarius, Capricorn, Aquarius, Pisces
Venus in Virgo trine Pluto in Capricorn (September 14 –September 22) is certainly exciting –with fate, power, love and intensity at work. This aspect represents a love or fascination occurring with regard to the work of fate as well as power. Venus in Virgo emphasizes our love for cleanliness, purification and good health practices, and while Venus is trine to Pluto, there is a strong appeal among the various generations and among influential powers to apply more care and effort to organize and implement greater health practices. Venus trine Pluto allows a breakthrough to occur for those who have trouble accepting the work of fate. This aspect allows loving energy to flow more easily between generations. Love triumphs over all, especially with Venus trine Pluto. This is a great time to let love cure the pain.
On Tuesday, the Last Quarter Moon in Gemini brings talkative moods and informative interaction. People will have a lot on their minds and intellectual pursuits are emphasized. This is the time to enjoy games, puzzles and social conversations. Waning Gemini Moon is a good time to release frustrating and confusing mixed emotions. Ease the mind by not using it so much to stir those emotions!
Aries, Taurus, Gemini, Cancer, Leo, Virgo, Libra,
Scorpio, Sagittarius, Capricorn, Aquarius, Pisces
For more information about your Horoscope and what the stars have in store for you, order one of our detailed


Astrology Reports!
Free Weekly Horoscope for your Sign
Aries: Mars moving into Sagittarius at the end of last week is good news for you as it signifies an end to any emotional heaviness and challenges that have tested your psychological strength. It's also good news if money has been an issue, especially debts, loans, legal issues, joint finances and general problems in the fiscal area. In fact, Mars changing signs should feel like a breath of fresh air as he urges you to focus on more enjoyable pursuits like travel, adventure and raising your consciousness. The movement of Mars is also great if you need some help achieving a dream or something that seems unfeasible. With courage, determination and faith, anything is possible and this is what you need to remind yourself of now.
Order your personalized Astrology Reports
---
Taurus: With Mars in your zone of psychological exploration, it's time to take a journey down into the underworld. Perhaps there's some golden nugget of truth waiting to be unearthed that will enable you to move forward in some way. Many people shy away from taking time to plumb their own depths –largely because they're afraid of what they might find. However, ignoring demons and monsters doesn't make them go away, and what you're likely to find as you look at yourself is not so much a monster, but a frightened or misguided child. By embracing that child and loving it, a magical healing will take place.
Order your personalized Astrology Reports
---
Gemini: With Mars in Sagittarius now, you can heave a sigh of relief as the pace of your life slows to a more manageable tempo. You should find that there are fewer demands on your time, leaving you with some spaces in your days to do other things. One of the benefits of Mars changing signs is that you will be able to direct more energy into your relationships –probably one relationship in particular. Watch, though, that irritation and anger don't get the better of the relationship, as Mars is nothing if not feisty! A healthy use of Mars in your partnership area would be to get things done together and to allow passion and enthusiasm to drive the relationship forward. Air your grievances so that any anger bubbling under the surface doesn't get a chance to erupt. This is your opportunity to be assertive rather than passive or aggressive so that your relationships can be healthier and energized with love.
Order your personalized Astrology Reports
---
Cancer: Mars brings a surge of energy this week, and you should find that you are able to set about jobs that you previously would have left on the backburner. As you become more productive, you may need to remember that others may not wish or be able to go as fast as you. Allow others to go at their own pace while you give thanks for your increasing energy, motivation and enthusiasm, that enable you to not just get things done, but also to bring changes to your life that will have long-term benefits. If these changes relate to your work, your health or your daily life, then you will be making the most of the Martian energies.
Order your personalized Astrology Reports
---
Leo: Mars in Sagittarius is good news for you, as it signals the end of a heavy weight or a feeling of being unable to move forward. It will also lighten your mood considerably as the past begins to wane and you find that you are ready to stop looking back and digging deep within. Instead, you are keen to explore yourself through creative ventures or new or renewed hobbies or interests. You're basically marching much more to your own drumbeat. This is essentially a self-centered transit, which gives you permission to follow your own interests and do what feels right for you. This is important because if we spend too long denying our own priorities, then depression, frustration or ill health can set in, so celebrate Mar's arrival in your house of fun by making a list of things that you would love to do, and arrange to do at least one of them this week.
Order your personalized Astrology Reports
---
Virgo: Mars recently moving into Sagittarius brings about a shift in direction and energy for you. If the past six weeks have felt busy or mentally stressful, the Mars change will be good news for you in the sense that you can now begin to enjoy a more relaxed outlook. You may begin to feel less stressed or as if you have more time. Or you may feel that your mind is less volatile, irritable, impatient and busy. Mars at the base of your chart will help you sort through jobs that need doing at home –from de-cluttering to redecorating –and much progress can be made over the next few weeks. Another benefit of Mars in Sagittarius is that you will feel more inclined to rummage around in your psychological basement to unearth and release anything from the past that isn't healthy. The only thing you have to watch out for is conflict at home, but if you make a conscious effort to create harmony, there should be little to worry about.
Order your personalized Astrology Reports
---
Libra: As Mars settles into Sagittarius, he brings a new area of life into focus. The past six weeks have probably seen you having to put a lot of energy into your material situation –perhaps to improve your finances or to plow more energy into your job. Or perhaps you found yourself questioning the nature of deserving and whether you're entitled to be prosperous. Hopefully, Mars and Saturn have helped you readjust your material situation so that now you're ready to focus on the next thing: communication and adventure. The next few weeks will be busy, so you need to pace yourself and ideally find a space in the day in which to slow down and meditate. Now is a good time to begin practicing mindfulness so that you don't get swept away by everything that needs to be done.
Order your personalized Astrology Reports
---
Scorpio: As the Sun and Venus dance their merry way through your social zone, it's time to focus on getting out there and enjoying yourself with like-minded people. And since Mars is no longer in your sign, you have permission to heave a sigh of relief and enjoy a slower pace of life. This would be a good time to develop new friends and catch up with old ones and generally get yourself seen. It would also be appropriate to consider how you can generate more income if that is applicable to you now. You will have the energy, enthusiasm, and motivation to go for what you want, and this could lead to a definite improvement in your financial or material world. Just don't get too hung up on the whys and the wherefores; keep instead a soft attitude of acceptance and patience as you go after your desires.
Order your personalized Astrology Reports
---
Sagittarius: "Whatever you can do, or dream you can, begin it. Boldness has genius, power and magic in it. Begin it now." Goethe's well known quote is particularly applicable for you now with Mars in your sign making this the time to go for your hopes and dreams, from the smallest to the largest. Mars in Sagittarius will bring a boost in energy, motivation, and enthusiasm, so you should find that you have enough zest to accomplish all that needs doing –plus a bit more. Use this time to get things done but to also go for those desires, ambitions and projects that have been lying dormant at the back of your mind: those things about which you say to yourself, "One day…." Decide what you want to do and go for it.
Order your personalized Astrology Reports
---
Capricorn: In life, we all start out full of joy. As children and young adults, we naturally embrace life, but as we age and take on more responsibilities, we become more serious, more restrictive and more rigid and repressed. Such a tight state of mind is rarely healthy, and it has a tendency to squeeze all the juice out of life. If you're wondering where all the fun and joy went, perhaps now would be a good time to adopt a more lighthearted approach to life and throw all the shoulds and shouldn'ts out the window. Mars in Sagittarius means that for you there is a need to become aware of your inner inhibitions; to observe how you restrict yourself (and possibly others too)); and to see if you can ease up, relax and allow things to be as they are. If you find yourself feeling uptight, irritable, impatient or angry, or if you find that any other kind of repressed passion is making its way to the surface, don't stuff it back down. Instead, welcome it and see what it wants to show you.
Order your personalized Astrology Reports
---
Aquarius: Celebration is a state of mind. Some people don't feel as if they can celebrate because as soon as they get one thing, they put themselves under pressure to succeed with something else. With Mars in your eleventh house of friends, your social life should certainly be more active. You may be networking more than usual, so have your business cards on hand. In addition, Mars relieves you of some of the pressure you've been under recently and that in itself might be reason enough to celebrate. It may also be that you have some success to celebrate, so whether it's reaching the end of an arduous project or being on the receiving end of a lucky opportunity, remember to give thanks and raise your glass to the universe.
Order your personalized Astrology Reports
---
Pisces: As Mars settles into Sagittarius, he puts the focus on your direction in life. Where are you going? What do you want to achieve? Do you have an ambition or a project that you would like to accomplish? What steps can you take to move you further into alignment with whatever success means to you? All of these could be relevant questions as Mars moves into your success and achievement sector. It would be advisable at this stage to just contemplate what you want to do as opposed to taking action because you might find yourself either heading off in the wrong direction or finding it difficult to get anywhere. Wait a while until you're sure you know what you want to do next. There is no need to rush, and the more still and alert you can be, the more likely you will be to spot the opportunities that will make it so much easier to get where you want to be.
Order your personalized Astrology Reports
---
For more information about your Horoscope and what the stars have in store for you, order one of our detailed