Aries, Taurus, Gemini, Cancer, Leo, Virgo, Libra,
Scorpio, Sagittarius, Capricorn, Aquarius, Pisces

Overview of this week
The Center for the New Age is pleased to present your Free Weekly Horoscope for September 21 — September 27, 2014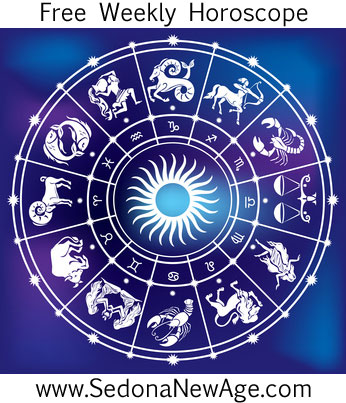 Aries, Taurus, Gemini, Cancer, Leo, Virgo, Libra,
Scorpio, Sagittarius, Capricorn, Aquarius, Pisces
Summer is officially over on Monday when the Sun moves into Libra to mark the first day of fall, or the autumnal equinox. The fall equinox marks the halfway point in the Sun's yearly journey around the zodiac. Monday, September 22 is one of the two days a year (the other is the spring equinox on March 20) when the hours of day and night are equal. This is a signal that it's time to push the pause button and see if your life is in a state of balance.
Venus in Virgo is sextile Saturn in Scorpio this entire week. Venus emphasizes the vibrations of love, magnetism, beauty and also sensuality. This aspect often provides an opportunity to attain desired objects. Saturn's influence emphasizes the awareness of time, limitations and restrictions. It also harnesses our dedication to responsibility and discipline. There is a passionate drive at this time to protect loved ones and limit their exposure to whatever creates the protective one's concern. The sextile aspect allows for greater opportunity to stand on guard favorably and be protective in a way that will be easily understood. While hot and heavy aspects stir up activities this month, this is the time to take the opportunity to protect what we love with guidance and nurturing.
Mars squares Neptune from September 22 until October 4. Heated activities run into obstacles concerning the work of Great Spirit and the fulfillment of spiritual harmony. Mars is in Sagittarius and there may be some philosophically agitating disruptions that intrude on or impede our spiritual level of experience. Martial forces are bursting through temples, belief systems and holy moments. Active aggression occurs around spiritual groups and religious institutions, often targeting the belief systems of others. This aspect also brings the potential for accidents and temper tantrums, especially with regard to opinions about substance abuse and sacred matters. It is important not to get so wrapped up in the spiritual side of things that physical world realities, such as fire, are overlooked. While Mars square Neptune occurs, it is best to anticipate confrontations concerning moral or spiritual issues. As this aspect passes, it will be easier to put spiritual beliefs and practices back on course without too much conflict or interference. Meanwhile, stay aware and ready to deal with whatever comes along.
Pluto, the muckraking planet that reveals deep desires and hidden secrets, has been retrograde for the past five months, turning our focus inward, forcing us to face up to our own buried truths. On September 22 when Pluto goes direct in the sign of Capricorn, suppressed desires will return to the surface, permitting us to see our innermost secrets in the light of day. Think of Pluto as the planet of epiphany: It brings truth to the surface, showing us what needs improvement on a personal and planetary level. When it turns direct, it's important to be honest but kind with ourselves and others, which will earn trust and renew passion for pursuing our goals. During Pluto Retrograde, you may have noticed yourself reassessing the relationships in your life to figure out which interpersonal connections no longer benefited you. When Pluto goes direct, it'll throw these truths into the spotlight.
The New Moon in Libra on Wednesday is a time of reaffirming and harmonizing our relationships with friends and partners, as well as initiating friendships while autumn activities create a fresh working environment for many people. New rules also set the standard for how to create a more harmonious environment and in order to begin anew, the New Libra Moon reminds us to seek peace within.
Aries, Taurus, Gemini, Cancer, Leo, Virgo, Libra,
Scorpio, Sagittarius, Capricorn, Aquarius, Pisces
For more information about your Horoscope and what the stars have in store for you, order one of our detailed


Astrology Reports!
Free Weekly Horoscope for your Sign
Aries: "Be open to adventure" is the message for this week while the New Moon on Wednesday bodes well for your personal life, bringing opportunities for new relationships or to improve existing partnerships. Again, "receptivity" is your keyword, and by being open to what others have to say, you increase your chances of moving your relationships forward. The square from Neptune to Mars implies that it will be difficult to get your own way, and progress is likely to come from being compassionate, tolerant, loving and open.
Order your personalized Astrology Reports
---
Taurus: Venus and the Sun are highlighting your fun zone. Any inner work that you do this week will never stray too far away from the light so enjoy your inner journey and look forward to a transformation. The New Moon in your daily life zone on Wednesday makes this an ideal time to turn over a new leaf in the area of work and health. It is therefore an ideal time to start a new health regime, take up a form of exercise, or decide to eat more healthfully. Also favorable is any new line of work, project or activity connected with your job. Making the decision to get your life in order is also promising.
Order your personalized Astrology Reports
---
Gemini: The New Moon in your house of fun on September 24 brings the opportunity for a positive new phase of life to begin. All you need to do is assert your right in doing what feels best for you. It might be a good idea to examine your life and ask some questions: Is my job an authentic expression of who I am? Do my relationships and friendships feel right in my heart? Could I be making better use of my creative gifts? Could I be enjoying life more? What would enhance my enjoyment of life right now? As the answers come, the energies of the New Moon will help you take a step forward in the direction that contains the most joy for you.
Order your personalized Astrology Reports
---
Cancer: Sometimes we have to have the courage to go it alone, and sometimes we have to be courageous in diving into our own depths to find the source of our truth. As the New Moon falls at the lowest point in your chart, you can't expect this to be a sociable time when you feel like being the life and soul of the party. You could do that, of course, but you might miss out on a valuable opportunity to learn something important about yourself and what you need. Instead, why not honor the quiet, private energy of the New Moon and spend some time alone so that you can divine your own answers. If you can do this, your questions about where you belong –with whom and doing what –will be swiftly answered.
Order your personalized Astrology Reports
---
Leo: The planets continue to move into supportive areas of your chart, so if the last few years haven't been great, you should soon notice a change in your futures. Not only do you have Jupiter in your sign bringing a new chapter of life when you have the opportunity to grow, expand and live a life that feels more authentic, but Mars too is encouraging you to follow the path of joy. This could mean taking up a new hobby, it could mean exploring your creative talents, it could mean putting more emphasis on enjoying life, or it could mean refusing to put up with situations that aren't in your best interests. Aside from these two planets giving you the thumbs up for going for what you want and bringing opportunities for celebration, you also have a New Moon this week in the communications area of your chart making it easier to get your message across, whether it's the spoken or written word. The New Moon also directs you toward becoming a master of your mind and impresses on you the importance of a good attitude.
Order your personalized Astrology Reports
---
Virgo: If you find yourself in the middle of a conflict this week, it could act as a mirror to show you that there's something that needs to change. Since Venus is still in your sign, maybe you should indulge yourself as Venus reminds you that there's nothing wrong with celebrating your body and your attractiveness. The New Moon on Wednesday invites you to put your focus on abundance and prosperity and to see whether you can liberate yourself from any old, limiting situations. September 24 is a good day to turn over a new leaf where your finances and material life are concerned, and the best way to do that is to invite a new set of beliefs to help you generate more of what you need and accept more of what you deserve.
Order your personalized Astrology Reports
---
Libra: The Sun and Moon both enter your sign on September 24, making this a very powerful day for you in terms of new beginnings. You would benefit enormously by taking time to consider what you wish to manifest and how you would like your life to be. Throw out the rule book and eliminate restrictions, doubts and "what ifs." It doesn't have to stay the same, as the New Moon testifies, so whatever has been going on for you, it's time to move on now to a brighter future. Write a list or compile a collage of what you would like your life to be. Throw out the rule book and eliminate restrictions, doubts and "what ifs." It doesn't have to stay the same, as the new Moon testifies, so whatever has been going on for you, it's time to move on now to a brighter future. Write a list or compile a collage of what you want along with the qualities that you wish to acquire and believe in your own ability to make magic happen. This New moon signifies a turning point in your destiny and whatever direction your life appears to be heading in, is probably right where you need to be going.
Order your personalized Astrology Reports
---
Scorpio: As the planets pile up in your zone of spiritual contemplation, this will be a good time to detach somewhat from the hectic pace of modern life and allow yourself some quiet time. The New Moon in this sector of your chart on Wednesday is perfect for strengthening your connection with the divine, so this is an ideal week to begin a meditation class, a yoga retreat, a mind-body-spirit group, or a psychic/spiritual development workshop. Taking time out from normal life is important now so that you can recharge your batteries and focus on the soulful side of you that currently needs some nourishment.
Order your personalized Astrology Reports
---
Sagittarius: The New Moon combined with Mars in your sign makes this the most auspicious time to set sail for new horizons and invite new opportunities into your life. If you wish to create a new vision of your life, now is the time to start. If you want to say yes to more opportunities, September 24 is the day to become resolute in your desire. If you wish to achieve a personal goal or ambition, now is the time to begin. There is a huge and very positive influence in the adventure, success and future area of your chart, making this the perfect time to get out there and really go for what you want. The New Moon waves a magic wand over your future, so begin now to envisage the sort of life you would love to live and take a step toward it. The universe will do the rest.
Order your personalized Astrology Reports
---
Capricorn: The New Moon at the top of your chart is a good omen as far as your direction in life is concerned, especially if you want to start afresh in some way or head in a new direction. This is a good New Moon as far as your vocation and professional life is concerned too with the focus on new beginnings and the chance to do things differently. To really make the most of the auspicious energies, you will need to eliminate any tendency to hold yourself back, and beliefs that you don't fit in. There is no reason for you to feel like an outsider –unless, of course, you have set things up that way. Now, though, you have the chance to do things differently, to live your life in a new way, so start as you mean to go on by loving yourself, cherishing others and believing in your capacity to do whatever is closest to your heart.
Order your personalized Astrology Reports
---
Aquarius: The New Moon in Libra brings opportunities for new beginnings in the areas of travel, adventure, study, higher education and spiritual knowledge. It's also ideal for pushing out of your comfort zone and broadening your horizons, so make this the end of thinking small. Instead, see how big you can think, because this New Moon is all about believing in your dream and freeing yourself from your old constraints. Don't expect Rome to be built in a day, though; whatever you're planning will probably take time, so remember to practice patience and take small steps toward your goal, knowing that if you keep taking one step after another and have faith in your heart, you will get there.
Order your personalized Astrology Reports
---
Pisces: There are times when it works to travel the path with others, and there are times when we need to travel alone. As the New Moon falls in your psychological area, you will benefit from spending a little time on your own in order to discover the answers that you need. All wise men in the past have taken time out from the busy world to be on their own, rejoining life refreshed and enlightened in some way. It may be that you need to spend a little time healing your mind, body, or soul, as this moon bodes well for healing and cleansing –especially emotional cleansing. Releasing toxic emotions will be beneficial right now and will result in a lighter, brighter, happier you.
Order your personalized Astrology Reports
---
For more information about your Horoscope and what the stars have in store for you, order one of our detailed