Aries, Taurus, Gemini, Cancer, Leo, Virgo, Libra,
Scorpio, Sagittarius, Capricorn, Aquarius, Pisces

Overview of this week
The Center for the New Age is pleased to present your Free Weekly Horoscope for September 28 — October 4, 2014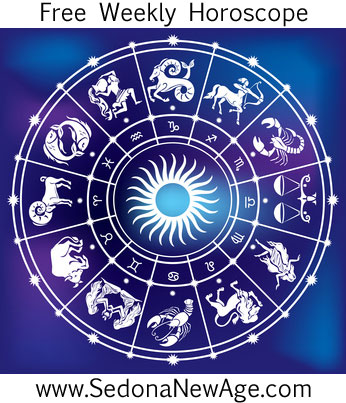 Aries, Taurus, Gemini, Cancer, Leo, Virgo, Libra,
Scorpio, Sagittarius, Capricorn, Aquarius, Pisces
Venus enters Libra on Monday (September 29 – October 29) encouraging the course of magnetism, affection and feminine perception to focus on harmonizing and balancing relationships, marriages and friendships. Venus is at home in Libra and emphasizes a love and desire for balance wherever possible. Through dealing, compromising and attempting more sensitivity to others, living with and showing affection to those with whom we have chosen to be, becomes the focus of this time.
First Quarter Moon in Capricorn on October 1st brings a strong emphasis on the need for serious labor. Some staunch determination is required. There is a steadily mounting concern to achieve a notable level of accomplishment or completion of projects. The need to hunt for a steady job, a marketing edge, or a secure investment keeps us vigilant and focused. Punctuality in business matters is stressed. Some may feel isolated by constant work and no play. No one likes feeling rushed, particularly when high standards must be met.
Mercury retrograde in the sign of Scorpio from October 4th to October 10th is likely to cause costly misunderstandings, particularly over dramatic or passionate subjects such as birth, death, sex, secrecy or jealousy. Expect to repeat yourself more than once or twice and to be persistent as well as patient during this time. Although challenging and despite the fact that it will often leave us dissatisfied and tongue tied, it's not impossible to keep up with Mercury related setbacks. Establishing a clear understanding will be the most important part of engaging in various kinds of agreements.
Aries, Taurus, Gemini, Cancer, Leo, Virgo, Libra,
Scorpio, Sagittarius, Capricorn, Aquarius, Pisces
For more information about your Horoscope and what the stars have in store for you, order one of our detailed


Astrology Reports!
Free Weekly Horoscope for your Sign
Aries: This is a good week to either make a break for freedom so that you can discover yourself or bring more love and harmony into your relationships. Perhaps both freedom and harmony would be the ideal. Either way, you need to make choices that are refreshing, stimulating and motivating in ways that break you from the past or your old ways of doing things. The last Mercury retro of the year begins October 4 in Scorpio and ends on October 25 in Libra. Since this retro occurs in your solar eighth house (assistance), it's wise not to apply for mortgages or loans and some financial stuff you thought was resolved may be revisited. Do not make travel plans during this period and be sure to back up all your computer files before the retrograde begins.
Order your personalized Astrology Reports
---
Taurus: Fresh new energies are zinging their way into your life this week so you will benefit enormously from considering how you could make your days better and how you could get yourself and your life in better shape. Try to be aware of judgmental, restrictive or fearful thoughts and reactions, and try to replace these with a more open minded, fluid an accepting state of mind. For the first four days of the month, Mercury is moving in direct motion through Scorpio, your opposite sign. You and your business and romantic partners share excellent communication and may be dealing with the absolute bottom lines in your discussions.
Order your personalized Astrology Reports
---
Gemini: Venus entering Libra and your solar fifth house on Monday marks one of the most romantic and creative periods for you all year. If you're not involved when the transit begins, you probably will be by the time it ends in late October. If you are involved, things between you and your partner go extremely well as you're on the same page on all levels. Being yourself will be a theme this week, and you will need to apply honesty and courage in order to allow that to happen.
Order your personalized Astrology Reports
---
Cancer: On Monday, Venus enters Libra, a sign that it rules, so the planet is quite happy there. This transit brings a greater harmony to your domestic life and could spur a more active social life. If you can be aware of and release any beliefs or attitudes that hold you back either in your personal life or in general, you will be in a much better and productive place. Perhaps it's time to throw out the rule book and open yourself up to new ways of living.
Order your personalized Astrology Reports
---
Leo: Venus enters your financial area at the end of September and continues there until October 23rd. This transit should be increasing your income and clarifying what you value. For the first four days of October, Mercury continues its journey through Scorpio, your domestic area, but on the 4th it moves retrograde impacting your domestic environment. What does this mean? It translates into difficulties in communicating with those who share your space. In terms of romance, you may meet someone whose values are similar to yours, particularly with Mars still in fellow fire sign Sagittarius. If the relationship takes off, it should be romantic and fun so throw caution to the wind and enjoy whatever transpires.
Order your personalized Astrology Reports
---
Virgo: The month ends in a similar way to how it began – with you possibly feeling once again as if you're not sure where you're going. You may be feeling somewhat frazzled, so be sure to get plenty of rest, eat well, and maintain your exercise program. With Venus in your financial area, your income and perhaps your spending may increase, as well as your social life and artistic endeavors. However, as of October 4th Mercury is retrograde in this same financial area, which mitigates some of the Venus transit benefits. If a romantic relationship starts this week, be sure to communicate clearly and take nothing for granted.
Order your personalized Astrology Reports
---
Libra: Mars continues to encourage you to spread your wings a little, broaden your horizons and question old rigid beliefs so that you can do and be more. All in all, this week is the beginning of a period of opportunity when you will benefit enormously by embracing life and saying yes to as much as you can. You may be traveling more than usual and you could have contact with individuals you don't normally share time and space with. Mars is always your booster rocket, the planet that makes stuff happen. Take advantage of the opportunities that Mars provides.
Order your personalized Astrology Reports
---
Scorpio: Mercury is in your sign, and until Saturday, you will enjoy a pleasant week in which you are in complete synch. Your mind is sharp, your research skills are impeccable, and your intuition is greatly heightened. However, the retrograde Mercury on Saturday may cause you to revisit old issues in your personal life and something you researched or investigated in the past may resurface. As Mercury heads back through your sign, it would be wise to consider what you need for your well-being. Don't be afraid to make changes that will support your well-being, and when it comes to the issue of work, it could be a case of less is more, or a change is as good as a rest.
Order your personalized Astrology Reports
---
Sagittarius: The fulfillment of your dreams is a definite possibility in the last few days of September, and by applying a little faith and belief, you could soon have cause to celebrate. It would be beneficial to nurture your friends and social life but this may also be a week in which you may be feeling the need to break free from something oppressive in order to be more yourself. Changes having to do with children, creative projects and freedom could emerge, and this could be a successful time so long as you don't give up at the first hurdle. On October 4 Mercury turns retro in Scorpio, your solar twelfth house. While Mercury is retro in Scorpio, people from the past may resurface in your life –former lovers, spouses. You may be revisiting issues you thought were resolved long ago and will have the opportunity to deal with and resolve them now.
Order your personalized Astrology Reports
---
Capricorn: On Monday Venus enters Libra, your career area where it will be until October 23. Ordinarily, the Venus influence would assist you with professional matters but Mercury's retrograde on Saturday may prevent you from benefiting fully from the Venus transit through your career area. You may face difficulties that you would ordinarily approach with ease, but Mercury's influence may force a transformation of some kind that may relate to a letting go process. Your best approach would be to listen to your inner voice and welcome its intuitive ability to help you assess situations and come to logical conclusions.
Order your personalized Astrology Reports
---
Aquarius: Venus enters Libra on the 29th with ensuing positive aspects regarding emotional situations, but it's unfortunate that as of Saturday Mercury will be retro and will mitigate some of the benefits. That said though, we can't live our lives according to what each planet is doing or not, so if you meet someone special, Aquarius, go with your gut! As the saying goes, "you can if you think you can." Coupled with an emphasis on the way you use your mind is a focus on adventure and pushing out of your comfort zone; therefore, take every opportunity to see what is presented with new eyes. Much pleasure and enjoyment can be gained from stepping beyond your everyday world so make "adventure" your keyword for this week.
Order your personalized Astrology Reports
---
Pisces: Venus enters your solar eighth house of assistance on Monday, bringing increased energy and motivation to manage your own finances. During this Venus transit, a financial boost is possible, or you may gain financially through your partner. Changing your old financial patterns is your key to abundance now. Be receptive to new ways of doing things and act on any ideas or inspirations you may have. If you need to break with your past, then do so. As Mercury retrogrades back to the financial areas of your chart, it will be time to really sort things out once and for all.
Order your personalized Astrology Reports
---
For more information about your Horoscope and what the stars have in store for you, order one of our detailed