Aries, Taurus, Gemini, Cancer, Leo, Virgo, Libra,
Scorpio, Sagittarius, Capricorn, Aquarius, Pisces

Overview of this week
The Center for the New Age is pleased to present your Free Weekly Horoscope for October 19 — October 25, 2014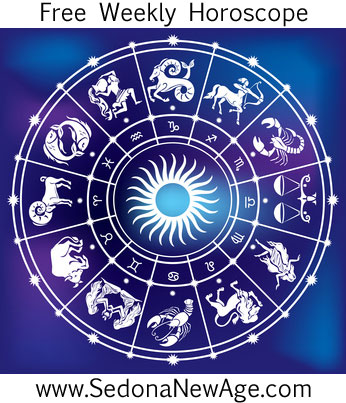 Aries, Taurus, Gemini, Cancer, Leo, Virgo, Libra,
Scorpio, Sagittarius, Capricorn, Aquarius, Pisces
Venus sextile Mars occurs on Monday (October 20 –October 30). Venus emphasizes the vibrations of love, magnetism and also sensuality. The Mars influence emphasizes the awareness and application of action, movement, involvement and also harnesses uplifting kinds of strength and vitality. Through simple acts of love and caring, our morale is heartily boosted. Venus reminds us to draw towards ourselves the pleasures we desire while Mars is reminding us to apply effort, and to generate energy for ourselves and our loved ones. All of this Venus and Mars energy is a blend of opportunistic harmony contributing to the beauty and aesthetic pleasure of the Autumnal season.
Mercury is sextile Jupiter on October 20. This is a most favorable, although short lived (October 20 –October 24) aspect that brings the potential to receive good news of expansion and prosperity to those who are open to broadening their awareness. Mercury brings news while Jupiter brings wealth and prosperous advancement. For some folks this serves as an advantageous time to ask for a job or a loan. This is an especially good time to look openly for opportunity when sharing information, and to promote oneself and one's actions. For some folks this may even be a good time to start a new enterprise.
Venus, the planet of love, beauty, art and attraction enters Scorpio bringing out deep and passionate levels of care and concern on Thursday (October 23 –November 16). Venus in Scorpio brings out a love for and attraction to the more passionate experiences of life. Magnetism runs strong and love affairs are often torrid and well hidden. Sometimes the dark side of our love and our hidden fears surface with regard to loved ones while Venus is in Scorpio, forcing us to come clear on what's haunting us and to take strong measures to ensure a functional harmony with those whom we love. Venus is considered to be in "detriment" in Scorpio. This may be a time to work our anxiety, fear and emotional stress concerning love. Sexual love is a strong outlet for many folks at this time. Love with passion is an empowering thing, but it is always wise to be sure that the experience does not hinder the well being of those who are close to us. The nature of Scorpio love can sometimes drag a loved one down with its intensity. Love shines best when it is mutually expressed. In this there is great passion.
October 23rd New Moon in Libra is a time of reaffirming and harmonizing our relationships with friends and partners. It is also a time of new friendships as the shift to autumn activities creates a new working environment for many people. New rules, when diplomatically agreed upon, set the standard for how to create a more harmonious environment in the autumn days to come. A partial solar eclipse in Scorpio on Thursday covers only part of the Moon resembling a bite taken out of a cookie; however, the influence of this phenomena is wholly positive in every sense of the word!
Mercury direct on October 25 will be a better time to settle any misunderstandings or disputes that have cropped up since its going retro. Unsettled contracts can be corrected and negotiated more clearly and swiftly now, and there is likely to be much less difficulty interpreting and translating. Mercury is the planet that carries the message and for the past few weeks (since October 4) this retrograde planet has been leaving us clueless as to how communications have been so mixed up. Now the majority of us that are so strongly affected by Mercury retrograde can move forward in our thinking and our way of presenting our thoughts, and get on with business.
Aries, Taurus, Gemini, Cancer, Leo, Virgo, Libra,
Scorpio, Sagittarius, Capricorn, Aquarius, Pisces
For more information about your Horoscope and what the stars have in store for you, order one of our detailed


Astrology Reports!
Free Weekly Horoscope for your Sign
Aries: The solar eclipse on Thursday brings opportunities for positive changes or a new start in the areas of joint finances, wealth and intimate, deeply personal matters. Therefore, if you have felt wounded or emotionally upset, this eclipse offers the chance to move on. It also opens the door to a deeper level of intimacy in an important relationship; that relationship could even be with yourself, since a good use of these powerful energies in the transformative region of your chart would be to delve deep into your psyche, root out toxic beliefs and cleanse and heal old pain. This is a very healing eclipse, and once you've dealt with any immediate stresses and strains, you should find yourself emerging like the phoenix from the ashes.
Order your personalized Astrology Reports
---
Taurus: Your love life takes center stage as a beautiful solar eclipse highlights the personal side of life and makes this week the perfect time to turn over a new leaf and start afresh. Perhaps there is an existing relationship in which you can wipe the slate clean, or maybe you will meet someone who will be influential in your life. Perhaps this isi the time when you'll feel a surge of love and want to make a commitment, or maybe you'll just be feeling a whole lot more playful and want to share that with others. Life is serious enough, and we could all benefit from a more lighthearted approach. If you can demonstrate this playfulness, others will find you a breath of fresh air and, in turn, will feel light and more joyful from having been in your presence. Ultimately, though, this eclipse signifies new beginnings or turning points in your relationships, and much love and happiness can be found, if you're able to open your heart and reach out to others.
Order your personalized Astrology Reports
---
Gemini: The solar eclipse casts a rosy glow over your health and work, so if either of these have room for improvement, you can harness the powerful planetary energies by turning over a new leaf or welcoming opportunities for new beginnings. The eclipse could actually affect your whole life, but since the changes are likely to be to your benefit (with a greater feeling of harmony), you have every reason to be optimistic. Make the most of the eclipse by being clear about what you want in your daily life, your health and your work. Write these things down if necessary, as the act of writing takes it from your head into reality. Then see what the universe seems to be saying to you. Watch your dreams for clues and observe which doors appear to be opening and which stay closed. Since Venus is involved, any changes should be pretty effortless and rather pleasant. If something feels right, then it most probably is.
Order your personalized Astrology Reports
---
Cancer: The solar eclipse on the 23rd suggests that the time is ripe for new beginnings in terms of creative projects, children and love affairs and the focus is on what you need to be happy. This is an extremely auspicious time for any creative venture and even if the intention is to simply enjoy the process, you're likely to gain enormous benefit from it. Perhaps it's time to integrate more creative activities into your life or to decide to have more fun and enjoyment. This is a very romantic eclipse for you, so consider what the word "romance" means to you, and bring those qualities into your everyday life. For some, romance means living the arts, especially poetry and paintings in which the imagination can soar and feelings are explored. For others, it is hearts and flowers. This eclipse asks you to explore your deepest longings and find a way to give form to them.
Order your personalized Astrology Reports
---
Leo: This week's solar eclipse brings the opportunity for new beginnings in your home and domestic life, so this is an ideal time to move house, make changes to your home, redecorate or incorporate the principles of feng shui into your life. This eclipse will also be helpful if you want to see positive changes in your family life or if you need to turn over a new leaf with a relative. Whatever happens is precisely what needs to happen, regardless of how you might feel about it at the time. Solar eclipses have a habit of opening and closing doors, so observe which doors are opening and which are closing, and move forward with acceptance and anticipation.
Order your personalized Astrology Reports
---
Virgo: The solar eclipse offers you the opportunity to break free from mental stress and patterns that limit you. This is the time to set yourself free, especially from the restrictions of your mind. Since our thoughts create our reality, this eclipse is a wonderful omen for you. It shows you that you are now in the position to change your thoughts and alter your patterns. What was before doesn't have to stay the same. This eclipse, therefore, could trigger a more positive state of mind in which you will see opportunities instead of problems and potential instead of limits. As Albert Einstein said, "The world as we have created it is a process of our thinking. It cannot be changed without changing our thinking."
Order your personalized Astrology Reports
---
Libra: A solar eclipse in you zone of money and resources brings new beginnings to your material life, and with Venus involved, they should be beautiful new beginnings! Use the solar energies to start afresh and to be clear about what you would like to manifest in your financial and material world. With the added power of Venus, direct your focus on abundance and generating more beauty in your material world, whether that's your home, clothes, work or possessions. A good exercise now would be to clear out anything that you don't love or find beautiful. Then make it your intention to welcome new things that you do love or find beautiful. This would be an auspicious time to begin a new job, make a purchase, and turn over a new leaf in your material life.
Order your personalized Astrology Reports
---
Scorpio: New beginnings are coming to you (which is why it was so important for you to rest and reflect so that you could hear the whispers of your soul), and as the solar eclipse occurs in your sign, you need to be mindful of allowing the past to make way for the future. Since Venus accompanies this eclipse and is also in your sign, we can expect any new beginnings to be particularly auspicious for you, even if they don't first appear that way. It is time to ask yourself what you love, and make necessary changes in alignment with your answers. For some Scorpios, you don't need to make any effort. Life will simply be unfolding in a wonderful way, and all you have to do is flow with it. Ultimately, though, this is a very important week, and the more you can make a move toward beautiful changes, the better.
Order your personalized Astrology Reports
---
Sagittarius: The solar eclipse on Thursday in your zone of endings is likely to bring closure of some sort. Maybe you will find a door closing, but remember that as one door closes, another one opens. Either way, it is time to say goodbye to the past. This eclipse could also bring about a spiritual awakening or a profound inner change. This is a wonderful time to start a new spiritual venture, perhaps with a course, workshop or project. As Mars prepares to leave your sign, now would be a really good time to slow the pace of your life down so that you can relax, rest and recuperate. What you discover on the inner planes will be more valuable than almost anything that you could achieve in the outside world, so if you're thinking of success and achievement, make it thoughts of the spiritual growth kind.
Order your personalized Astrology Reports
---
Capricorn: A solar eclipse brings possibilities over the horizon on Thursday, and this should be an auspicious date for you. This eclipse brightens up your future and sets the scene for positive developments. By now you've hopefully gotten a little more clarity about where you're going and what you want from this phase in your life. By writing down your wishes or finding some other creative medium to give form to your ideas and intentions, you will successfully harness the power of this eclipse. Keep your thoughts on your future and make your vision as beautiful as possible. Under this configuration, there's no reason why it can't materialize with a little faith and a step in the right direction.
Order your personalized Astrology Reports
---
Aquarius: The solar eclipse at the top of your chart is great news for your vocation, direction in life and new beginnings in general. This eclipse is like a door opening to new pastures. All you have to do is step through it. Watch out for synchronistic events, as whatever is right for you now should be fairly effortless. It may be a case of one door closing and another one opening, so be alert now for where the universe seems to be directing you. Go with the flow of life, see where it wants to take you, and don't resist the process. All will be well if you go with the tide rather than against it.
Order your personalized Astrology Reports
---
Pisces: The solar eclipse on Thursday carries the theme of adventure as it falls in your zone of travel. This is a hugely positive eclipse bringing possibilities and a sense of new horizons. If life has felt a bit heavy lately, this eclipse should do much to put the spring back in your step and a twinkle in your eye. Now is the time to nourish your big idea, to believe that anything is possible, and to push out of your comfort zone. Since your ruling planet aligns with this beautiful and auspicious eclipse, it is probable that this is a once-in-a lifetime opportunity to make your dreams come true.
Order your personalized Astrology Reports
---
For more information about your Horoscope and what the stars have in store for you, order one of our detailed