Aries, Taurus, Gemini, Cancer, Leo, Virgo, Libra,
Scorpio, Sagittarius, Capricorn, Aquarius, Pisces

Overview of this week
The Center for the New Age is pleased to present your Free Weekly Horoscope for October 26 — November 1, 2014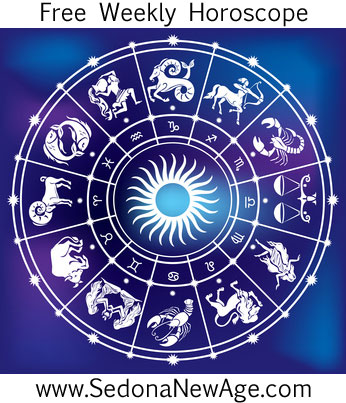 Aries, Taurus, Gemini, Cancer, Leo, Virgo, Libra,
Scorpio, Sagittarius, Capricorn, Aquarius, Pisces
October 26 Mars enters the sign of Capricorn (October 26 –December 4) suggesting the main thrust of activities to be inspired by the diligent push of Capricornian persistence. . With Mars in Capricorn, a sense of duty is instilled. Activities, if successfully managed, will produce long lasting results. Take note: this is not a good time to create enemies; attitudes created now will produce long lasting results, and long standing enemies are not a good thing to have when trying to create a sense of forward moving progress. Mars in Capricorn brings on a very serious and strong force of energy that is exceptionally relentless. This is a wise time to be on guard.
Trick or treat! October 31 is Halloween and First Quarter Moon in Aquarius that puts the spotlight on eccentric and unusual breakthroughs of humankind. Controversial subjects are strongly at work. At this time we are often aware of great shifts of energy, and the Aquarius Moon will assist our moods to meet and formally address humanity's newest challenges.
Venus sextile Pluto ( November 1 –November 10) may bring exceptional breakthroughs in relationships. Sometimes this aspect helps us to recognize the devotion of our loved ones, to see the acceptance of the difficulty and hardship that comes with their devotion. This is a good time to recognize and acknowledge their efforts. This aspect may also allow someone to find true love by virtue of an unexpected twist of fate which is not always exciting, but is always satisfying.
Mars sextile Neptune (November 1 –November 9) is a splendid time to act on our beliefs. This aspect brings the vitality of Mars' energy into a favorable position with the spirit awakening influence of Neptune. This is a place where we can safely dump our anger and can potentially make a connection with a spiritual healing process. Those who act on their visions and on the ceremonies of their particular belief systems will have an opportunity to connect with a very profound spiritual experience.
Aries, Taurus, Gemini, Cancer, Leo, Virgo, Libra,
Scorpio, Sagittarius, Capricorn, Aquarius, Pisces
For more information about your Horoscope and what the stars have in store for you, order one of our detailed


Astrology Reports!
Free Weekly Horoscope for your Sign
Aries: If you have found that a lot of your time and attention has been taken up by others –whether it's been your own problems or issues or people needing your help –then Mercury's change of direction signifies an end of the relationship focus, and you can now begin to concentrate on other things. Mars moving into your success area suggests that your direction in your work and/or life in the outside world will begin to take greater precedence, and you can start to make great strides forward now. In fact, this is a good time to follow your ambitions, to work on projects, and to generally forge ahead in the world. There is still an emphasis on your personal life although much enjoyment can be found here with the right intention, but this should now begin to be balanced with other more worldly concerns. If you play your cards right, you could find yourself in a position of success, victory and achievement.
Order your personalized Astrology Reports
---
Taurus: Mercury turning direct is good news for any niggling work or health issues. You should find that matters in these areas are either resolved or soon will be. And as your mind is freed to wander to other areas of your life, you may feel a surge of adventure as Mars changes signs and moves into the travel zone of your chart. Now is the time to do whatever you can to break free from restrictions, whether they're self-imposed or external; actually, they probably boil down to the same thing since the external is a mirror of what's going on inside. Focus now on liberating yourself so that you can experience more growth and greater freedom in your life. This in turn will open up a range of possibilities that you have previously been unaware of. In the words of Andre Gide, "Man cannot discover new oceans unless he has the courage to lose sight of the shore."
Order your personalized Astrology Reports
---
Gemini: A beautiful conjunction of Venus and the Sun brings a healing vibe to proceedings this week, so whether it's a situation in your life or your health that could do with a boost, these two planets should do much to improve things. This would be a good time therefore, to investigate a healing modality and either book yourself in for a therapy session or explore your own healing potential. Work can also be healed and made much more pleasurable now simply by the right attitude. The more love you can direct toward your body and your work, the sooner you're likely to see improvements. Perhaps the main issue underlying all of this has been your uncertainty about yourself. Mercury retrograding through the area of your chart governing identity may have raised a few questions. Most of us compromise ourselves to a certain extent by conforming to the expectations, beliefs and values of others. Now is the time to take back a little bit of what you might have sacrificed in order to conform, and in doing so, you'll discover a greater joy and passion, because you'll be living the life that feels right for you.
Order your personalized Astrology Reports
---
Cancer: In recent weeks, there could have been challenges or annoyances for you to sort out as well as a general lack of progress connected to matters of the home or family. There also could have been some sorrow, since this position may have raked up memories and sadness from the past. There may still be a residue of this to work through, but with the lovely combination of Venus and the Sun in your zone of fun, you're unlikely to be down for very long. In fact, the best way forward right now would be to find a way to creatively express your sorrow, perhaps through writing, dancing, painting or singing. Sometimes just singing along to a song that encapsulates how you're feeling is all you need to get out the angst. Finally, be mindful of your relationship with others as Mars moves into your opposite sign. Power struggles could emerge, as could anger, irritation and frustration –either from you or from another. All signs say that it's time to clear the air and work toward being assertive instead of passive or aggressive.
Order your personalized Astrology Reports
---
Leo: As Jupiter journeys through your sign, be vigilant for opportunities and possibilities. Your world is beginning to open up, and you need to reach out and accept the opportunities that are beginning to appear. You may have created these opportunities yourself, or they may seem to have appeared from nowhere. How they have manifested doesn't really matter; what matters is that you are courageous enough to embrace the changes, because Jupiter wants you to grow and expand and to experience a more adventurous life. Ask yourself what you need to do for your own growth, and know that if you make choices that support your growth –whether personal or professional or both –you will find yourself on the right track.
Order your personalized Astrology Reports
---
Virgo: Mercury direct in your money zone is good news in that any annoying financial matters should be easy to resolve or complete now. If something has been dragging on or if you've simply had to turn your attention to tedious financial affairs, you can look forward to turning your attention to other things, especially fun things as Mars moves into your zone of enjoyment. This change of signs is great news for you, because it gives you permission to focus on what you want to do –nor on what you feel you have to do- so whatever it is that you enjoy, set to it! Creative projects can be started now in a blaze of enthusiasm, or you may choose to enjoy sports, games or fun events with others. All that matters is that you put energy into doing whatever makes your heart sing and makes you glad to be alive.
Order your personalized Astrology Reports
---
Libra: There's been so much going on in your sign these last few weeks. Since October 10, Mercury has been journeying backward through your sign. It's likely that your life now is in some way different to how it was a month ago. For some Libras, the changes will have been huge; for others, they were more subtle, but all Libras will in some way have gone through a shift, recalibration or realization. October is likely to have been a month of considerable stress or excitement, but now, with Mercury direct and the aftereffects of the eclipses begin to settle, you too can begin to relax. It's not all over yet, but at least you're getting there. What's needed now in this final push toward positive change is courage, and perhaps a little patience. Finally, try to be mindful of the lovely emergence of Venus and the Sun in your money zone. This could prove to be a most welcome boost to your finances, and the more you give thanks for what you have, the more likely the universe will be to reward you with a greater sense of abundance.
Order your personalized Astrology Reports
---
Scorpio: Any sense of being lost or confused will begin to ease now that Mercury is direct. You can begin to regain a sense of direction, but really, there is no rush to get anywhere, as a beautiful conjunction of the Sun and Venus suggests the best use of this week is to relax, enjoy, and focus on what you find beautiful. No matter what your current state of finances and resources is, you will benefit from sharing –both of yourself and what you have –so this is a good time to invite friends around for a social gathering, to give your love and affection, and to be open to receiving the same.
Order your personalized Astrology Reports
---
Sagittarius: For much of the month, it may seem as though you've been blocked or thwarted in your desires to move forward. Perhaps there was a purpose to this: to see if you're really serious about your intentions. Sometimes the universe tests us to see whether we're worthy of our goal, so think of yourself as a hero in a story, and with each adversity or challenge that you overcome, you take another step toward your goal. Something else to bear in mind is the possibility that you are in some way clinging to the past. Although this isn't normally a Sagittarian trait, the planetary build up in the zone of your past would suggest that there is something or someone that you need to let go of. It could be a fear, a belief, a situation, a place, or a wound from some past event or loss, but really, it serves you no purpose to keep hauling it around with you. Let go. Align your thoughts with the future.
Order your personalized Astrology Reports
---
Capricorn: Life takes a turn for the better this week, as changes in planetary activity should be very beneficial for you. If you've been feeling sluggish, lacking motivation or simply finding it hard to get going, Mars moving into your sign on October 26 is wonderful news, as you can expect a burst of enthusiasm and motivation. Mars returning to your sign only happens once every two years and last for about six weeks. During this time, you can expect to have more energy at your disposal to do whatever needs to be done. You'll also be more inclined to initiate new things, such as a project, an idea, or some other new beginning. Not only that, but Mercury having turned direct at the top of your chart will also be another arrow for your bow, and you should find that it becomes much easier to progress, as any previous confusion or obstacles should now dissolve, leaving the path ahead clear. All in all, the month ends with a sense of possibility coupled with some delightful social opportunities, so the message for this week is to enjoy yourself and reach out for those possibilities.
Order your personalized Astrology Reports
---
Aquarius: Although there is much to feel positive about in your life at present (as depicted by a lovely Venus-Sun conjunction at the top of your chart suggesting that your path ahead –especially your professional path –is lined with fairy dust), there is a deeper process going on behind the scenes that would be prudent to be aware of. As Mars enters your zone of the unconscious and Uranus gets closer to perfecting its square to Pluto, feathers could begin to be ruffled. Basically you're experiencing a rebirth, and although you're in the final stages of what has been a several year process, it will be another nine months or so before the process is complete. This week, you may experience rumblings in the form of suppressed emotions bursting forth or being on the receiving end of other people's anger and irritation. See whatever happens this week as a mirror for something within you. The more conscious you can be about what you're feeling, the more swift you will move through the process and the more enlightened you will be as a result.
Order your personalized Astrology Reports
---
Pisces: Mercury turning direct on October 25 is good news for any financial matters, enabling you to turn your attention to other, more enjoyable affairs. With the Sun and Venus in your zone of adventure, now is the time to forget your day-to-day affairs and explore higher matters. This would be the perfect time for an excursion, especially to somewhere that you find beautiful; even an art gallery or something similar would be a good use of these energies. Studying a subject that you find beautiful or brings peace and harmony to your soul would also be good, as would relaxation and enjoyment in general as part of a trip or vacation. Basically, you have permission to put the mundane world aside for a while and concentrate instead on what brings you a sense of adventure, expansion and joy.
Order your personalized Astrology Reports
---
For more information about your Horoscope and what the stars have in store for you, order one of our detailed