Aries, Taurus, Gemini, Cancer, Leo, Virgo, Libra,
Scorpio, Sagittarius, Capricorn, Aquarius, Pisces

Overview of this week
The Center for the New Age is pleased to present your Free Weekly Horoscope for November 2 — November 8, 2014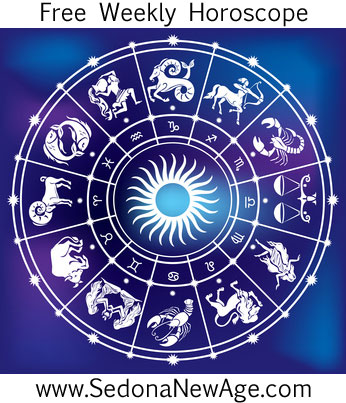 Aries, Taurus, Gemini, Cancer, Leo, Virgo, Libra,
Scorpio, Sagittarius, Capricorn, Aquarius, Pisces
Full Moon in Taurus on November 6 invites us to celebrate beauty and the perfection of the valuable elements of the earth, and brings us an appreciation for the beauty in nature. This Full Moon reminds us to take the time to enjoy and create beauty around us, and indulge ourselves a little in some luxurious pleasures or leisure time
Mercury enters Scorpio on November 8 until November 27. Mercury in Scorpio is often a time when communications are veiled in secrecy and talk revolves around matters of intensity and sensitivity. Passionate issues are communicated in a wide range of depth, creativity and intuition. This is a time to take caution with regard to matters of secrecy. It is also a time to be aware that a sharp tongue may easily cause a violent or challenging reaction. It is through this medium of Mercury in the sign of Scorpio that the expression of communications is seemingly fearless, obstinate, reckless and passionate deep down. From the wide range of indecent babble to the subtle perfection of clear articulation, discussion frequently delivers a powerful punch while Mercury occupies Scorpio.
Aries, Taurus, Gemini, Cancer, Leo, Virgo, Libra,
Scorpio, Sagittarius, Capricorn, Aquarius, Pisces
For more information about your Horoscope and what the stars have in store for you, order one of our detailed
Free Weekly Horoscope for your Sign
Aries: The Full Moon on Thursday is likely to bring to a head matters relating to money and your material life. Therefore, it might be time to make a decision or to bring about a change. Full Moons often bring clarity after a period of tension and uncertainty, so at least by the end of the week, you should be clearer about what needs to be done. It's also important that you don't fall into the trap of comparison. Many people suffer from a sense of discontent, as there are always people with bigger houses, fatter bank balances and newer cars, all of which, if we're not careful, can lead us onto the material treadmill on which we work harder and longer to maintain our standard of living. Meanwhile, we can't enjoy what we have because we're straining for more. Perhaps the best solution would be to ask ourselves what really matters and work from there.
Order your personalized Astrology Reports
---
Taurus: The Full Moon in your sign is your cue to pause, take stock of your life, and make any necessary adjustments. Relationships are likely to be a theme, and it could be time to show commitment to an important partnership or make changes that will improve matters. As Saturn and Venus connect in your relationship area, it may be that this is a serious matter for you. If so, you're likely to reach an important conclusion. This is an opportune moment to give serious consideration not just to your important one-on-one relationships, but also in how you relate to others generally.
Order your personalized Astrology Reports
---
Gemini: If you find yourself feeling lost, alienated, or as though no one understands you or what you're going through and feel as if you don't know what to do for the best, try to sit tight for a few days, as there are likely to be developments around the Full Moon on Thursday. This is when you're likely to see things more clearly, and by the end of the week, you should be feeling more like your normal self. In the meantime, you may benefit from taking better care of yourself and getting more rest. If your health is under strain, you may need to put yourself first for a while, as you can't be much use to others if you're not firing on all cylinders. Work could also be a source of concern. Right now, the planets are urging you to consider what is most important and to make your well-being your priority.
Order your personalized Astrology Reports
---
Cancer: The Full Moon highlights the creative and social areas of your chart making this the time to resolve matters relating to friends, groups, creative projects and children. Perhaps all of this could be summarized by the need to be true to yourself –be authentic and follow your heart –so anything that no longer feels right needs to be reassessed and either improved or released. The conjunction of Mars and Pluto in your opposite sign (Capricorn) is also a clear indication that you need to be more authentic in your relationships –or at least one relationship in particular. Therefore, this would be an appropriate time to express your feelings honestly, to air grievances and to become aware of imbalances of power, and if you feel passionately about someone, it's a good time to let them know as well.
Order your personalized Astrology Reports
---
Leo: The Full Moon activates the work and home areas of your chart, bringing potential conflict or dilemmas connected with your role in the outside world and the demands closer to home. For a while, you could feel as if you're not where you want or need to be. How do you get from where you are to where you want to be? Actually, you shouldn't need to struggle too much because with Jupiter in your sign, doors should effortlessly open for you. The trick is to be willing to wait and see what happens as opposed to always taking control and trying to push things in the direction you want them. Sometimes the universe knows what is best for us, so ask for guidance and then watch what happens.
Order your personalized Astrology Reports
---
Virgo: Much of our success in life depends on our attitudes. If we complain, find fault or turn away from opportunities because they seem like too much effort, we can't be surprised when life is less than joyous. As Venus, the Sun, and Saturn align in the zone of your mind, it might we worth taking a look at your attitude. Is it as positive as it could be? Do you meet challenges head on without complaining? Do you look for the good in yourself, others and situations? In what way could you develop a more positive attitude? Could your approach to work and ambitions, your relationships, your home and your family be better? Time spent contemplating these questions may prove to be life changing to the degree that you make changes.
Order your personalized Astrology Reports
---
Libra: Perhaps it's unrealistic to expect to have all the answers. Sometimes you have to wait for things to unfold before you can know the way forward. Perhaps the most important thing you can do right now is let go. Mars and Pluto at the base of your chart may be bringing things up for you to deal with. Although this might be uncomfortable, it is actually good news because whatever has been holding you back can now begin to be healed and released. In fact, the more you let go – of the past, of fear and insecurity, of the need to be in control, of the need to have all the answers –the sooner you will find yourself in a much more empowered position. In the meantime, warn your family that you may not be your usual self and that you may need time out to be with yourself this week.
Order your personalized Astrology Reports
---
Scorpio: With the Full Moon in your opposite sign (Taurus) and a passionate "no holds barred" combination of Pluto and Mars in your communication zone, you may wish to be really mindful of what comes out of your mouth this week. Scorpio is a truthful sign, but you also need to realize that the truth can hurt, and once said, it can never be taken back. Instead, use your words to build up, support and encourage others to bring the best out of them. The more mindful we are of what we say and the more care we take to not say negative things (no complaining, criticizing or judging), the more we can subtly, but powerfully, begin to transform our lives.
Order your personalized Astrology Reports
---
Sagittarius: There's a time to work, a time to play and a time to rest. Sagittarians are great at the first two, but not so great at the resting bit. There comes a time when even the fiery Archer runs out of steam, and this could be it. As the planets align across the health and work angle of your chart, you most probably need to take a little time to recuperate and rejuvenate. This may mean more play, since fun in itself is very energizing, but you may also benefit from more sleep, some gentle exercise and a little time out to contemplate whatever's on your mind. So long as you can give your body what it needs to function effectively, you will be capable of being a dynamic force in the area of work and money. You may find yourself fueled by a passion to change an unsatisfactory situation, and this is a great opportunity to make the most of your gifts and talents.
Order your personalized Astrology Reports
---
Capricorn: Be vigilant of being taken over by passionate emotions as Mars and Pluto join forces in your sign. Under this powerful and primitive combination, you could easily lose your grip and find yourself behaving in unpredictable or surprising ways. Not channeled correctly, the effects of this planetary combination could be destructive so be mindful of anger, rage, jealousy or uncontrollable desires bubbling away under the surface. On the positive side, suppressed feelings could make themselves known, which has to be healthier than keeping things bottled up. If you choose to use this powerful energy constructively, you could move mountains, so think about the results you'd like to achieve this week, and focus on that.
Order your personalized Astrology Reports
---
Aquarius: Stepping into the unknown is a frightening prospect for most people, and if you're one of them, you may need to give yourself a pep talk or a reassuring hug as really you can't stay in the same situation for much longer. The Full Moon in your domestic zone brings home or family matters to a head, but could also relate to issues from the past or aspects within yourself that are ripe for change. The ongoing square from Uranus to Pluto suggest that you are in a long period of gradual change and awakening, and in order to stay in harmony with the planetary energies, you need to periodically embrace change. This will ensure that change isn't suddenly thrust on you –far better to be the instigator of change than the unwilling recipient, so for this week at least, be willing to step into the unknown, especially where home, family and domestic issues are concerned. Be willing to examine your own depths and confront your inner demons.
Order your personalized Astrology Reports
---
Pisces: The winds of change are blowing this week, so if you have a change of scene, a change of heart, or a change of mind, know that whatever you feel drawn to do is most probably the right thing. The Full Moon suggests that movement and adventure are themes, and this is why it would be beneficial to go wherever or do whatever seems to be calling you. It is very important that you don't rest on your laurels now; instead, make the effort to keep pressing on, to keep changing and growing. You can be a great force for the good of others and society at the moment if you choose to channel your energies in that direction. Step boldly forward, and don't be afraid to change your patterns and break free from restrictions.
Order your personalized Astrology Reports
---
For more information about your Horoscope and what the stars have in store for you, order one of our detailed