Aries, Taurus, Gemini, Cancer, Leo, Virgo, Libra,
Scorpio, Sagittarius, Capricorn, Aquarius, Pisces

Overview of this week
The Center for the New Age is pleased to present your Free Weekly Horoscope for November 9 — November 15, 2014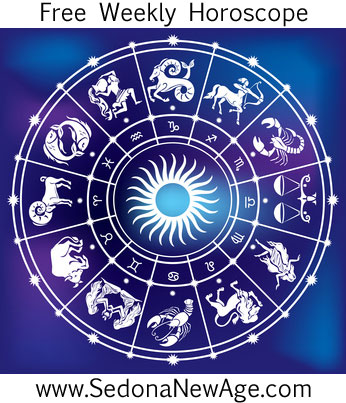 Aries, Taurus, Gemini, Cancer, Leo, Virgo, Libra,
Scorpio, Sagittarius, Capricorn, Aquarius, Pisces
Venus in Scorpio squares Jupiter in Leo (November 9 –November 17). Some folks may be experiencing challenges with their senses of appreciation, enjoyment or fulfillment. Our experiences of beauty and affection may be tested by the difficulty of attracting or acquiring prosperity and joy. Some might say that the act of appreciating beauty is a form of prosperity in itself, but at times, a great deal more effort and support is required. This aspect may create an obstacle to acknowledging the expenses incurred by our attractions and love needs. It reminds us that something more than love's blindness is required in order for us to fully realize our riches and the value of what we are about most.
On Monday (November 10 –November 22) Mars and Pluto are conjunct in Capricorn. This conjunction is not terribly uncommon, as it is likely to occur at least once every couple of years. However, while these two planets are aligning in the sign of Capricorn, we may expect to see a higher than average level of conflict occurring on the planet.
November 11 Mercury in Scorpio trine Neptune in Pisces (November 11 –November 18) presents a superb aspect for discussing personal philosophies and metaphysical subjects, and a good time to communicate with the spirit world. Those who are open to communication and prayer will have a spiritual channel now open to their hearts and minds, to find peace where it is desired. Communicate about spiritual needs with helpful counsel and make breakthroughs; receive gifts of renewed faith in your own beliefs. Accept that some messages are there to uplift you spiritually, despite the clamor of this busy time.
Wednesday Venus and Saturn are conjunct in Scorpio (November 12 –November 20) creating extremely passionate, deeply rooted and serious bonding between loved ones. This conjunction brings a favorable time to apply discipline in the arts and in love related matters. Venus conjunct Saturn represents our commitment and responsibility to the people and things we love and care about. It may also indicate there is a strong, timely quality about love matters taking place, or that love matters are undergoing a restriction, or possibly even closure of some kind. This conjunction of Venus and Saturn can go either way on the positive-negative scale, since the loving attraction of Venus can be either encouraged or thwarted by the responsible, serious and limiting discipline of Saturn's energy.
November 14 Last Quarter Moon in Leo urges us to take special care of ourselves as well as the children in our life. Projects of interest are sometimes considered children too. If there is a hobby of special interest to you, take the time to brighten and enliven this work which represents your own talent and self-reflection. Throughout the working or playing day, jokes will fly, toys will be admired and moods will reflect childlike frolic and revel. If you're serious about not being distracted by such playfulness, perhaps a quiet workspace is the key. If you must work with others, allow the frivolity to flow; the work will get done, but the child in everyone has to play every now and then.
Aries, Taurus, Gemini, Cancer, Leo, Virgo, Libra,
Scorpio, Sagittarius, Capricorn, Aquarius, Pisces
For more information about your Horoscope and what the stars have in store for you, order one of our detailed


Astrology Reports!
Free Weekly Horoscope for your Sign
Aries: You have the power to change your life, so don't feel that you need to stay stuck in an unhappy situation. Mars and Pluto together at the top of your chart suggest that you can play a greater role in shaping your future, so get moving. This is a great opportunity for any Rams who have ambitions to fulfill. You can make much headway on the road to success if you're willing to direct your energy constructively. It may be helpful –especially if you're feeling stuck or fearful –to confront your inner anxieties and insecurities. There is no need to wear a mask and pretend that everything is okay when it isn't. Be honest with yourself and others. Once the pretense is gone, you will have a clean slate to work from.
Order your personalized Astrology Reports
---
Taurus: Much of the focus this week is likely to be on other people, and now is a very good time to communicate honestly and openly with people. Whether you want to get your point across, air a grievance, or discuss how things can be improved, the current planetary alignment will help enormously to enhance your personal encounters, whether it's with your life partner or people you meet at work. In fact, the more attention you can direct toward others, especially in terms of what you can do for them, the more likely you will be to experience a sense of success, contentment and connectedness.
Order your personalized Astrology Reports
---
Gemini: Laughter has the power to heal, yet you may feel like anything but laughing right now. In fact, you may be doing your best impression of a volcano smoldering and ready to erupt at any minute. Perhaps the best way to proceed would be to acknowledge what is grumbling within you. Once you have released the buried angst, you can get on with the business of laughing. At the same time, you can do much to transform the way you see your work or daily chores by putting love into everything you do. Whatever your source of discontent, try blessing it. Doing this really does work miracles.
Order your personalized Astrology Reports
---
Cancer: Beware of feisty outbursts as the Mars-Pluto conjunction could be raising the temperature and shortening fuses somewhat. Should you be on the receiving end of another's anger or abuse of power, you may need to withdraw and contemplate whether they have a point or whether you need to be more assertive. If you find yourself doing the shouting, try to determine whether you're angry about the thing in question or whether you're reacting to a trigger for something else that needs confronting. Perhaps the most important thing you can do as far as your relationships are concerned is to ascertain whether the balance of power is right, and if it isn't, consider what you need to do about it.
Order your personalized Astrology Reports
---
Leo: Home is where the heart is, and this is certainly a good week to focus your love, time and attention on your abode, perhaps striving to make it more beautiful or to enjoy time spent with your loved ones. It is also a good time to look within and maybe keep a journal or talk with a counselor. By healing the past or letting go of what's no longer necessary, you can begin to enjoy a rebirth. You may find that your emotional state has a link to your physical well being, and any problems with your health can probably be improved by being conscious of suppressed anger or other destructive, hidden emotions that could be having a detrimental effect on your health. Release your inner pain, and you should find that any physical pain goes with it.
Order your personalized Astrology Reports
---
Virgo: As Mercury joins the cluster of planets in the communications area of your chart, it becomes even more important to be aware of the power of your mind and to see whether you're in control of it or it's in control of you. Now would be a good time to see what pictures you regularly hold in your mind: are they pictures of happiness and successful outcomes or fear, failure and disaster? For many people, the latter is more common. There are endless ways in which we create negative scenarios in our minds, so this week, every time you have a worrying thought or an anxious feeling, stop and replace it with a positive image. Your mind has great creative power right now –even more than normal. If you can channel that power into a constructive outlet (rather than worrying), you can achieve great success in the way that you feel, act and believe.
Order your personalized Astrology Reports
---
Libra: Money and material matters are a big theme in your life at present, and there's much you can do to improve things. One of the biggest favors you can do for yourself is to connect more with others. It could be that you're going through an insecure phase in which you feel isolated or disconnected from the world or that you're feeling a bit different or that no one really understands you. Perhaps you feel that you can't join in or get to where you need to be. You need to be tender with yourself since Mars and Pluto are dredging up some deep emotions that may be difficult for you, and you need to give yourself time to heal. Understanding that any sense of loneliness or isolation is most probably a product of inner pain, will help you to not take things personally or worry that aspects of your life are wrong. It's a temporary phase during which you just need to allow yourself to feel whatever you're feeling and perhaps to have some help or guidance in the form of counseling or therapy to help make sense of it all. Financially and materially, you are in a position to make great progress now via a combination of effort and positive belief –not just in what is possible, but also in what you're capable of and what you're worth.
Order your personalized Astrology Reports
---
Scorpio: With no less than four planets in your sign, this is a time when the focus is very much on you and your needs. A lot can be accomplished now, as your strong points are communication, charm, and diplomacy, along with an ability to see things through. By getting your point across in a way that puts your ideas in the best possible light while simultaneously considering how the other person can benefit, you will find yourself in a win-win situation. With the Sun, Venus and Saturn all closely conjunct in your sign, this is an opportunity to look at yourself, decide what you need to be happy, and then be constructive in bringing it about. Ultimately, though, this week is about participating, and since you hold such a powerful set of cards right now, you are in a great position to bring about positive change.
Order your personalized Astrology Reports
---
Sagittarius: Periodically, it's beneficial to have time out to discover your own answers. All the wise sages and mystics occasionally take themselves off into the mountains to discover answers to their questions, and this is perhaps what you need to do now. Well, maybe not taking yourself off into the mountains for weeks on end, but certainly, carving out some quiet time for yourself would be beneficial. Many people look outside themselves for the answers, but as you well know, the truth can only be found within.
Order your personalized Astrology Reports
---
Capricorn: As the Mars-Pluto conjunction reaches its peak on Monday, the same warning from last week still applies, only perhaps more so, because if you allow stress, tension and untamed passions get the better of you, this could be a dramatic week. Fortunately, Venus is on hand to act as a soothing balm, so things should blow over pretty quickly, and harmony is likely to be restored by the end of the week. However, if you wish to make the most of the planetary alignments, you would direct your energies into social activities and humanitarian interests. Now is a good time to channel your energies into making a difference to the lives of others while enjoying the company of friends and likeminded people. Just try not to take on too much, and be mindful of how anger and resentment can have a negative impact on your health and well-being.
Order your personalized Astrology Reports
---
Aquarius: We all know what it's like to be chased in a nightmare by some terrifying figure, but if we stopped running and turned to face our foe, we might find that it's not so scary after all. The current conjunction of Mars and Pluto in your unconscious zone could be bringing up some uncomfortable psychological or emotional issues to be dealt with: fear, anxiety, anger, depression or suppressed desires. These may surface in your daily life or in your dreams. Or other people might act out the hidden emotions for you by being angry toward you or abusing their power. While the temptation might be to lose yourself and your concerns in a busy whirlwind of social activities, you would actually benefit much more from taking some time to explore your inner drives. If you can face your fears and meet your monsters, much healing can take place now.
Order your personalized Astrology Reports
---
Pisces: The planets are lining up in your zone of travel and adventure, making this the perfect time to go explore something or visit somewhere outside of your normal existence. Let's not forget that we can travel in our mind as well, and many forms of study –especially the ones relating to the higher mind such as philosophy, astrology, religion, quantum physics and so on –can take us on a journey of sorts. The important thing is that you stretch your mind, broaden your horizons, or experience new places, sights and sounds. In so doing, you will perhaps find the answers that enable you to reach some sort of conclusion.
Order your personalized Astrology Reports
---
For more information about your Horoscope and what the stars have in store for you, order one of our detailed