Aries, Taurus, Gemini, Cancer, Leo, Virgo, Libra,
Scorpio, Sagittarius, Capricorn, Aquarius, Pisces

Overview of this week
The Center for the New Age is pleased to present your Free Weekly Horoscope for November 16 — November 22, 2014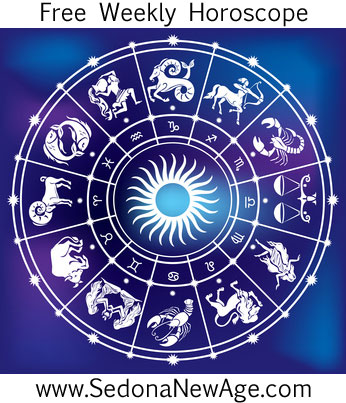 Aries, Taurus, Gemini, Cancer, Leo, Virgo, Libra,
Scorpio, Sagittarius, Capricorn, Aquarius, Pisces
Venus enters Sagittarius on Sunday (November 16 –December 10) bringing an outgoing spirit of camaraderie among people in general, and the effort to take affections beyond the usual bounds is certainly present. Philosophical theories justify love matters. Venus in Sagittarius will help to boost the love life and affections of our Sagittarius friends.
Neptune resumes a direct-moving course on November 16 after five months (since June 9) of being retrograde. This will regenerate our spiritual and intuitive work and facilitate our development. Neptune's calming and forgiving nature will help us to let go of malicious and non-productive thoughts, and will melt away cold heartedness. A good meditation, when sincerely applied, helps to discharge our emotional baggage. Frequently invoke the spiritually uplifting meditations that work for you. This practice will lead you to a positive and regenerative place in your own spiritual evolution. Neptune moving direct allows us to move freely forward, using divine wisdom and our spiritual aspirations as guides.
Venus in Sagittarius square Neptune in Pisces (November 20 –November 27) brings expansive pleasures, love and expressions of beauty and femininity into a place where they run up against the obstacles represented by the higher, more refined goddess image. A conflict of beliefs about womanhood is common with this aspect, and sometimes women, artists and very attractive people are placed on high pedestals. It is here that beauty suffers a spiritual conflict. The expectation and conditioning of others has created a false image of beauty, and the person on whom it is imposed is likely to be suffocated by the beliefs of others. With Venus square Neptune, what we want is challenged by what we intuitively know is best for us. Consequently, it may be difficult for some people to make a personal connection with spiritual attractions. Beliefs concerning love matters may be tested. Despite the conflicts, this is a time to rise to the challenge of believing in love and loving your own choice of spiritual partners.
New Moon in Sagittarius on November 22 focuses on a rebirthing process for our emotional body, and this is the time when we are sure to address the proverbial skeletons in our emotional closet. New Moon in Sagittarius encourages us to regenerate our hopes while transforming our fears into a courageous and renewed outlook for ourselves. This is the time to take bold steps to defeat undesirable emotional patterns and fear mechanisms. New Sagittarius Moon casts new light on our ability to overcome pain and suffering.
Aries, Taurus, Gemini, Cancer, Leo, Virgo, Libra,
Scorpio, Sagittarius, Capricorn, Aquarius, Pisces
For more information about your Horoscope and what the stars have in store for you, order one of our detailed
Astrology Reports!
Free Weekly Horoscope for your Sign
Aries: After what could have been quite an intense couple of weeks, the Nee Moon comes along on Saturday to revive your spirits and put a spring in your step. This is a light and optimistic New Moon, helping you to regain your love of life and believe once again that anything is possible. Before you can begin to manifest your dreams, plans and ideas, though, you may just need to spend a little time on healing the wounded bits of yourself –physical, psychological, or emotional. Perhaps there is a little grieving to be done or a letting go that needs to occur before you can really move on into lighter times.
New Age Natal Report is designed as a guide for
your growth and personal evolution in the New Age.
---
Taurus: Speaking the truth is sometimes not easy, especially if it's an uncomfortable truth. However, this is something you may need to do this week if you are to make progress. By facing up to the facts, you will at least be able to start dealing with the issue, and with a New Moon in your psychological zone, here is an opportunity to be courageous and deal with something uncomfortable. Actually, as soon as you face what needs to be faced and bring it out into the light, it won't seem half as frightening. This new Moon is a great opportunity for a psychological cleansing; release and let go of old patterns and painful wounds. If you have the courage to do this, a transformation will begin to take place.
Merlin Report could be beneficial in self-help and self-transformation.
---
Gemini: The New Moon in your opposite sign on November 22 is an opportune moment to start afresh or turn over a new leaf in your personal life. It's important to remind yourself that the past has gone, and the future starts today. Relationships worth their salt can be revitalized with hope and optimism while single Geminis may find new love around this New Moon. Much healing can take place too, and the best way to bring about healing is by offering your love and forgiveness. Whatever the state of play in your relationships, it is probable that you've reached a point at which you also need to direct your love and attention toward yourself, especially if you're run down, fatigued or generally feeling under par.
Indra Report creates a psychological mirror of your life.
---
Cancer: The New Moon on Saturday is a good opportunity to move toward new beginnings in either your health or your work, maybe both. If there is room for improvement in either of these areas, write down what you would like to see and begin to focus on it coming to pass. One of the best ways to do this is to visualize, especially where the body is concerned. So many studies have documented the power of the mind to influence the body and overcome disease, and so by holding an image of wellness in your mind and thanking your body for all that it can do, you begin to set up a different vibration: one of health. The same applies to your work and daily life: if you can find a way to love what you do (perhaps by being appreciative of your job, your office equipment, your colleagues and so forth), you will raise the vibration around you and find that things begin to change –ironically changing at the point when you don't need it to change any more because you're loving what you're doing!
Child Astrology Report is been designed as a guide for parents, to help with
the child's growth and alerting the parents to problems that the child could face in their life.
---
Leo: If you're looking for lighter times, the New Moon on Saturday is a welcome occurrence, as it brings the potential for fun, creativity, romantic interludes and general enjoyment. It is a great antidote to any heaviness you might previously have experienced and is likely to instill in you a much more lighthearted and carefree approach to life –which is probably just what you need. The best use of this joyful New Moon, however, would be to give a moment or two's thought to what you really want and need for your happiness, since this New Moon gives you permission to follow your heart and do what feels right. In short, it's time to march to your own drumbeat.
Astrological Solar Return Report offers you a practical guide that
helps you analyze this year's prospects and to learn from them.
---
Virgo: The New Moon on November 22 is auspicious for new beginnings in general but especially for new starts or positive changes relating to your home and family. This is a good time to relocate, redecorate, or make changes to your abode, especially along the lines of making your space more beautiful and harmonious. Family relations can also be improved as the willingness to wipe the slate clean becomes more likely. In fact, this is a great time to focus on your family and enjoy spending time with them, but this New Moon also relates to your inner self, which is why you are likely to experience some kind of new beginning since changes are likely to be occurring deep within. This could feel like the start of a new chapter in some aspect of life, and as such, it should feel fresh and rich with potential. To make the most of this, you would leave the past behind and step forward into the unknown.
Astro Forecast Report gives you actual dates when
the energies influence your life in a given time period.
---
Libra: The New Moon in the zone of your mind is likely to provide a great lift to your mental outlook. In fact, this is a time when you're likely to feel more buoyant and optimistic than you have for quite a while. As your playful spirit reemerges, you mind is likely to open up to new possibilities with the result that you're more likely to embrace opportunities. At the very least, the New Moon will put a spring in your step and a twinkle in your eye. This is also a great time to get your thoughts or message out to the world, especially if that message is a loving or beautiful one, so writing, teaching and speaking are all favorable now, especially for new projects or ideas connected to these. Even if you're not alight with new ideas, this is still a great time to tell others how much you love them, generally lifting the vibration around you by allowing your love to flow out to all with whom you come into contact.
Cards of Destiny Report is a one year forecast based on Robert Camps
book and age-old "cards of destiny" our ancestors gave us.
---
Scorpio: A New Moon in your zone of money and resources is a great opportunity to bring about positive developments to your finances and material world in general. Perhaps it's time for a new start. Perhaps since Venus is in there too, it's appropriate to focus on abundance and prosperity. With Mercury aligned with Saturn in your own sign and Mars and Pluto in your zone of the mind, you are in a wonderful position to use the power of your mind to bring forth your desires. You should find it easier than normal this week to focus and concentrate on a specific goal and make it real. In short, this is a great week to raise your consciousness by being mindful of your thoughts and emotional responses. The more aware you become of your own hidden needs, desires, blocks and programs, the easier you will find it to rise above limitations and start manifesting miracles.
Relocation Information Report (3 locations) can
be of great assistance if you are contemplating a move.
---
Sagittarius: To change direction, to step out into a new beginning, and to leave the past behind and start fresh all takes courage, which is where we find you right now. The New Moon in your sign with Saturn fast approaching is a clear sign that change is coming. The New Moon is a good omen for turning over a new leaf and leaving the past behind. If you can be courageous in doing what you know you need to do –speaking your truth, changing a situation, heading in a different direction, or confronting a habit that keeps you stuck –now is the time to act and plant positive seeds for the future.
Cayce Past Life Report describes your character traits,
relationship potentials and challenges as well as career
potentials and even more based on Edgar Casey Readings.
---
Capricorn: Good things come to those who wait, and as a New Moon forms in your zone of endings, you can be assured that something is reaching a conclusion and some sort of outcome is imminent. You can't rush the process, though, so try to be patient as you wait to see what unfolds. This is a good time to take a Taoist philosophy, neither rushing nor forcing things, and simply allow life to unfold as it will. At the same time, though, you have a lot of energy at your disposal to bring about your desires. This may seem paradoxical, but really, it's about channeling your energy into constructive goals and then waiting to see what happens. We can't guarantee the outcome, but we do know that if we give something our best shot, the odds of success are much higher than if we sit waiting for something to happen.
Karmic Past Life Report examines possible past life connections using astrological methods.
---
Aquarius: This week's New Moon is auspicious as far as your future is concerned –making new friends and helpful contacts, joining a new group that would be good for you, or starting to manifest your vision for the future. You are in a wonderful position to benefit from the universe's benevolence. The more you can bless your current situation, especially that which is a source of tension, the more rapidly you will find things begin to change in the most pleasantly surprising manner.
Karmic Insight Report comes from an esoteric point of view your
birth chart is a portrait of your soul's intention for this lifetime,
the lessons to be learned, qualities to develop,
problems to be resolved, services to be rendered.
---
Pisces: The New Moon on November 22 occurs in the career and success area of your chart, indicating new beginnings and positive developments in your work, goals and ambitions. If there's something you want to do, now is the time to begin while new directions will be smiled on favorably by this New Moon. If you're starting something new or hoping to bring about positive changes in your life direction, purpose or vocation, now is the time to become more conscious of your desires and give them physical form by either writing them down or creating a visual image of what you wish to achieve. Then visualize your desires coming to pass while simultaneously taking action to help the magical process.
Numerology Report is a personal profile and one year forecast
based on advanced calculations of your name and birth date.
---
For more information about your Horoscope and what the stars have in store for you, order one of our detailed
Astrology Reports for Couples!
Compatibility Report compares your temperaments and personalities.
This information is powerful if you are married or living together.
Love Cards Report will reveal as much information about you
and your partner as possible, using an ancient and
highly accuratesystem called "The Book of Destiny".