Aries, Taurus, Gemini, Cancer, Leo, Virgo, Libra,
Scorpio, Sagittarius, Capricorn, Aquarius, Pisces

Overview of this week
The Center for the New Age is pleased to present your Free Weekly Horoscope for November 23 — November 29, 2014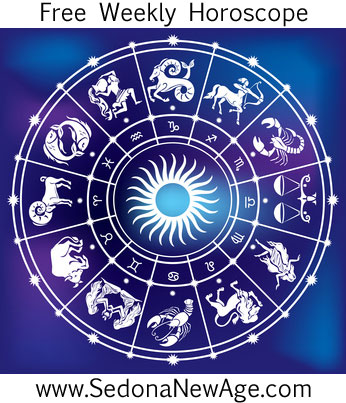 Aries, Taurus, Gemini, Cancer, Leo, Virgo, Libra,
Scorpio, Sagittarius, Capricorn, Aquarius, Pisces
November 23 Mercury in Scorpio square Jupiter in Leo (November 23 –November 30) creates a difficult block between the media, or communications industry, and the sponsors and producers of consumer goods. This is a time to be particularly cautious when looking for a job or changing jobs, asking for a raise, or signing any binding contracts concerning long term investment and payment schedules. This aspect has a tendency to create expensive misunderstandings concerning real estate and other large-scale investments. Bank loans are most likely a large hassle at this time. Dig harder to clarify the details of investing a long term investment.
Mercury and Saturn conjunct in Scorpio (November 26 –December 3) brings talk about putting an end to the unwanted components of our lives. It will focus our thoughts on the areas of life that have reached limitations, or where timely new beginnings –or endings –are occurring. This aspect also sets a tone of discipline and limitation on our speech and attempts at communication. There is a discerning quality of strategy at work, and there is a strong drive to sustain and act on new forms of thoughts, making this aspect a very good one for speakers and writers to inspire, initiate and capture vital thoughts.
November 27 Mercury enters Sagittarius until December 16th. New perspectives are bound to come up. New is always more philosophical and visionary when Mercury is in this sign. Word travels fast and further than expected. Sagittarius is the challenging "detrimental" place for Mercury and this is a time when Mercury's greatest weapon –words –are best communicated with carefully considered diplomacy. People will be increasingly curious to know what is happening in the world, and to be more aware of global perspectives. Mercury in Sagittarius offers an opportunity to share your vision of a better world with others, and also brings adventure to the world of communications.
First Quarter Moon in Pisces (Saturday, November 29) often brings our hearts and minds to a peaceful place. A spacey, dreamy sort of consciousness leads to strong psychic awareness. While the First Quarter Moon is in Pisces, calming music, art and poetry will fill us with inspiration, intuition and hope. Unhappy people are likely to turn to intoxicants to escape their troubles. Deep meditation and spiritual practices will empower the imagination.
Aries, Taurus, Gemini, Cancer, Leo, Virgo, Libra,
Scorpio, Sagittarius, Capricorn, Aquarius, Pisces
For more information about your Horoscope and what the stars have in store for you, order one of our detailed
Astrology Reports!
Free Weekly Horoscope for your Sign
Aries: As the planets shuffle into Sagittarius, it's fair to say that you are moving into lighter times, so if recent weeks, month or even years haven't been easy, you can begin now to look forward to less struggle, strife and angst. Consequently, this is a suitable point at which to contemplate the ways I which you would like to expand and grow. Now is the time to broaden your horizons, to start believing in your big idea, to make plans, and to journey to the far reaches of your mind or to travel to places that are new to you. Prepare to move out of your comfort zone, face your fears, embrace change, and become excited for what the future holds.
New Age Natal Report is designed as a guide for
your growth and personal evolution in the New Age.
---
Taurus: It may be a challenge to keep your spirits light and cheerful, as the natural inclination will be to confront some quite serious issues. Whether it's finances or other snares such as death, sex, power, or painful wounds from the past, there is likely to be something that you need to explore, try, or talk honestly about. Once something is no longer hidden or secretive, it loses its power, and this is what you need to remind yourself of this week. This is a good week to create greater intimacy and to strengthen relationship bonds; one of the best ways to do this is by removing your mask and sharing your deepest feelings.
Merlin Report could be beneficial in self-help and self-transformation.
---
Gemini: Sometimes all you can do is trust. Oftentimes, we don't know whether we're doing the right thing, but the more we dither on the sidelines, the more likely we are to miss opportunities and watch life pass us by. At least if you take the plunge or move in a particular direction, you'll soon find out whether it's the right choice or not. One thing seems certain, though, and that is that you can't carry on as you are. Something needs to happen, and a commitment of some sort needs to be made. As long as you are under no illusions about what you're doing and you are not kidding yourself or buying into a flowery fantasy, you're free to take action, so take a leap forward, and commit to your decision.
Indra Report creates a psychological mirror of your life.
---
Cancer: "The secret of your future is hidden in your daily routine." This quote at first might not seem like the most inspiring thing you've read, yet if we ponder it for a moment, we begin to see its truth. Our thoughts create habits, our habits or routines create character, and character creates destiny. Or viewed slightly differently, that which we do repeatedly becomes our lives. So the question is, what do you do repeatedly, and are those things likely to bring you the results you want? Do your habits and routines work for you, or could you make better choices? From something as simple as the time of day you choose to get up, the foods you choose to eat, the company you keep, and the thoughts you entertain, see whether they match your desired outcome. Sometimes just changing a routine can be life changing.
Child Astrology Report is been designed as a guide for parents, to help with
the child's growth and alerting the parents to problems that the child could face in their life.
---
Leo: With Jupiter in your sign and a cluster of planets in your house of fun, this is a time when the good times can roll so long as you decide to not take life so seriously. You have complete permission from the universe to let your hair down and pursue your passions. Explore your creativity, take up a new hobby, take yourself on an enjoyable adventure, or hang out with friends who make you laugh. Be open to exploring what makes you happy and how you can bring more of it into your life. This is a time when you need to be growing and expanding in your personal life, making changes that bring a sense of expansion. Welcome any new beginnings, embrace change, and allow yourself to be excited about how amazing life can be if you are brave enough to step into the unknown.
Astrological Solar Return Report offers you a practical guide that
helps you analyze this year's prospects and to learn from them.
---
Virgo: As the planets gather in your domestic area, the emphasis is likely to be on your family, your home, and what's going on at an emotional level. This is certainly a good time to concentrate on your home and make changes that will support and nourish you and your family while communication between you and your family is likely to be heightened, making this a very good time to tell people how you feel or to discuss and sort out what needs to be discussed and reconciled. Catching up with relatives through letters or phone calls would be time well spent now, as would finding ways to show or tell people how much you love them. As Robert Brault once said, "If I could do it over again, there would be a hand I'd take…and a silence I'd break."
Astro Forecast Report gives you actual dates when
the energies influence your life in a given time period.
---
Libra: For the foreseeable future, there is going to be a big emphasis on communication and how you become more mindful of your attitude and your approach to life. As Albert Einstein said, "The world as we have created it is a process of our thinking. It cannot be changed without changing our thinking." So in what way do you need to change your thoughts? Any area of your life that is less than rosy could be the result of less than positive views. Since the planets are by and large lining up in a way that is likely to help you feel very buoyant, it may be a good idea to observe how this increasing positive state of mind leads you to experience positive outcomes or lucky events. Be open to ideas and motivation, see yourself as a creative channel for divine inspiration, and notice what thoughts pop into your head as well as any repeating daydreams. These thoughts and daydreams are likely to be signposts, so follow them to see where they take you. Chances are it will be somewhere good.
Cards of Destiny Report is a one year forecast based on Robert Camps
book and age-old "cards of destiny" our ancestors gave us.
---
Scorpio: As the planets begin to line up in your zone of resources, the opportunity is there for you to develop and improve your financial situation, perhaps by generating more income, changing your beliefs around money, or simply deciding that you deserve to be well paid for your gifts and talents. This is all about valuing yourself. Thus, the more you appreciate what you have to offer, the more others will value you. It's a simple equation but one that most of us are blind to, so it can be helpful to ascertain how much value you place on your gifts and talents. This can easily be seen by how much people pay you for what you do. If it feels less than you're worth, you'll tend to feel niggled or resentful, in which case it's time to see yourself in a different light. Like a fruit ripening on the vine, you're approaching a state of fullness that is about to be mirrored back to you via a greater sense of abundance and contentment.
Relocation Information Report (3 locations) can
be of great assistance if you are contemplating a move.
---
Sagittarius: As Mercury joins the Sun and Venus in your sign with Saturn's arrival imminent, this is an import time for you, and you need to give careful thought to the issues and questions that you're dealing with. You're in a good position to make changes, and by following your gut feelings, you won't go far wrong. What you need to watch out for is feeling like an outsider, as it may seem that others aren't on your side and that you're fighting a single battle or that no one really understands you. This probably isn't true. It just seems that way, and the feelings will soon pass. However, you'd be wise not to take action or make decisions while feeling any sense of discontent or alienation, as you won't be coming from a place of strength and serenity. Wait until the confusion abates, probably by the end of the week, when you'll be in a much better place to think, plan and act.
Cayce Past Life Report describes your character traits,
relationship potentials and challenges as well as career
potentials and even more based on Edgar Casey Readings.
---
Capricorn: While Mars is in your sign, you have the capacity to get a lot done and make much progress, as well as potentially bringing a desire or ambition to fruition, so make the most of this last week of his stay in your sign. Once Mars has left, you may find that your energy begins to wane as the planets take up residence in your zone of endings, rest and repose. The time is coming when you will need to go at a slower pace, when you will benefit from tuning into your inner self and taking time to be alone. Currently, you may be prone to gentle fantasies and longings; the thoughts that pop into your mind, the daydreams that you find yourself having, or the nighttime dreams that you remember could have much significance right now. Begin to pay attention to what's going on within you. If you have a private dream or a longing to experience something richer and more profound, you may need to be honest with yourself so that you can make appropriate changes.
Karmic Past Life Report examines possible past life connections using astrological methods.
---
Aquarius: Instead of suffering from guilt, regret or remorse, why not turn these feelings around into courage? By taking constructive action, facing and dealing with whatever needs dealing with, and focusing on what you can do rather than on what you can't do, you step into a position of power and become present in the now. The planets are lining up to bless you and your future. By taking a courageous step forward, you will be able to receive the blessing that are currently making their way toward you.
Karmic Insight Report comes from an esoteric point of view your
birth chart is a portrait of your soul's intention for this lifetime,
the lessons to be learned, qualities to develop,
problems to be resolved, services to be rendered.
---
Pisces: As the planets align at the top of your chart, this is your time to step into the spotlight. Although Pisces aren't always comfortable as the center of attention, there are times when you need to get out there and show the world what you're capable of. Therefore, this is not the time to hide your light under a bushel. If at all possible, it is time to be tooting your own horn, proud of what you've achieved. If you need a little courage to enable you to take a bold step forward, keep in mind the words of David Lloyd George: "Don't be afraid to take a big step if one is indicated. You can't cross a chasm in two small jumps."
Numerology Report is a personal profile and one year forecast
based on advanced calculations of your name and birth date.
---
For more information about your Horoscope and what the stars have in store for you, order one of our detailed
Astrology Reports for Couples!
Compatibility Report compares your temperaments and personalities.
This information is powerful if you are married or living together.
Love Cards Report will reveal as much information about you
and your partner as possible, using an ancient and
highly accuratesystem called "The Book of Destiny".