Aries, Taurus, Gemini, Cancer, Leo, Virgo, Libra,
Scorpio, Sagittarius, Capricorn, Aquarius, Pisces

Overview of this week
The Center for the New Age is pleased to present your Free Weekly Horoscope for November 30 — December 6, 2014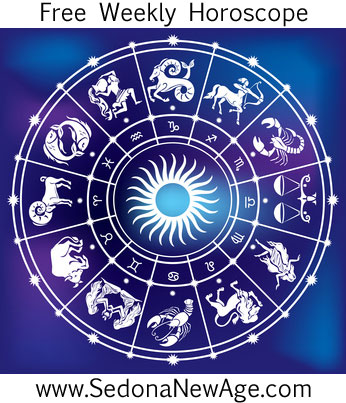 Aries, Taurus, Gemini, Cancer, Leo, Virgo, Libra,
Scorpio, Sagittarius, Capricorn, Aquarius, Pisces
Mars in Capricorn sextile Saturn in Scorpio (December 1 –December 10) is an active time for establishing personal strengths in the realm of careers. During this aspect, actions create opportunities, provided there is an application of discipline and timing. Those who are affected by this aspect may feel noticed now. The application of energy (Mars), plus responsibility and awareness of limitation (Saturn) allow the timely qualities of completion and new beginnings to occur. This would be the time to end a bad habit or to work to accomplish a goal.
Venus in Sagittarius trine Jupiter in Leo (December4 –14) is a favored and prized aspect that allows for greater potential to receive and expand gifts of love. Love (Venus) is harmoniously placed with prosperity and opportunity (Jupiter). This is a great time to use love to expand your outlook on life. Commonly, this translates to the act of adorning beauty with riches, so it's not a bad time to adorn your loved ones with jewelry or trinkets. In those cases where people are not feeling so prosperous, at least this aspect allows for the hope of getting through those tight financial situations by appreciating beauty. Creating the illusion of wealth can be a very powerful way to uplift one towards a sense of persistent fortune and a lot of this has to do with simple aesthetics and quality moments. Innovative gifts of love have a strong effect on loved ones at this time.
December 4 Mars enters Aquarius remaining there until January 12, 2015. As Mars moves through Aquarius, a surge of energy and vitality takes place in the lives of Aquarius people. Aquarians, no matter how hot it gets for you, energy and strength are there to be claimed. Now the fixed signs of the zodiac go into an activity mode, for as Mars goes through Aquarius, Scorpio and Taurus people will experience Mars squaring with their natal sun signs, causing their lives to be more prone towards accidents, fights, fevers and unyielding activities of great challenge. Mars in Aquarius will be opposing the fixed sign Leo, making our Leo friends realize that the activities in their lives are a challenge to keep up with; occasional bouts of exhaustion may occur. Leos, you may be good at handling the heat, but don't punish yourself. Mars in the air sign of Aquarius shows that activities will emphasize science, technology and computer data banks, as well as humanitarian endeavors. Watch out for the potential for electrical equipment to overheat and fry during this time of Mars in Aquarius.
On Saturday the Full Moon in Gemini brings moods that may seem overwhelmed by mutable thoughts just when we are trying to make decisions. Gemini Moon, in all of its glorious fullness, brings amazing talk, speeches, mind games and intellectual pursuits. People may tend to senselessly babble, and very few are able to keep their minds on what they're doing, thinking or feeling for very long. It may also be a time when our minds are relentlessly active and difficult to calm or ease. Full Moon in Gemini goes straight to charging our nervous systems, and we quickly discover that quieting down or easing an overworked nervous system take some extra time after it has been running at to speed. Take it easy on the caffeine and keep a vigilant eye out for important and vital details during Full Gemini Moon.
Aries, Taurus, Gemini, Cancer, Leo, Virgo, Libra,
Scorpio, Sagittarius, Capricorn, Aquarius, Pisces
For more information about your Horoscope and what the stars
have in store for you, order one of our detailed
Astrology Reports!
Free Weekly Horoscope for your Sign
Aries: Mars dives into your social zone just in time for the run up to Christmas, effectively adding stimulation to your social life and setting the scene for an exciting time ahead. You're likely to be busy –not least with social activities and spending time with friends. With the Full Moon in your communication zone, this is a good time to connect with others and focus on shared goals with like-minded people. What you can achieve alone pales in comparison to what you can achieve with others, so choose the right people and get moving.
New Age Natal Report is designed as a guide for
your growth and personal evolution in the New Age.
---
Taurus: The Full Moon on December 6 is likely to bring financial matters to your attention and there may be some tension here. Perhaps the best way to dissolve the problem is to look at how you can redress any imbalances of power. For instance, have you given your power away? Alternatively, have you distanced yourself in some way? Maybe you're not giving as much as you can? In order for money to flow in an abundant fashion, there needs to be a healthy exchange between giving and receiving. If you're struggling or there's some conflict regarding money or a material matter, perhaps you need to unblock the energy flow. Don't think about lack; instead, turn your attention to what you do have and to what you have to offer. The more you get out there and give of yourself, the more likely you are for tricky financial matters to resolve themselves.
Merlin Report could be beneficial in self-help and self-transformation.
---
Gemini: The Full Moon in your sign on Saturday is a good moment to pause and take stock of your life. Are you on the right track? Do you need to adjust your course? Have you allowed yourself to believe in a fantasy, and do you now need to take off the blinders to see a situation as it really is? This Full Moon could be viewed as a meeting with reality, but that doesn't have to be unpleasant. Living in a fantasy doesn't really get you anywhere, whereas facing facts will enable you to start making productive changes. Relationships could be a key theme at present and the way forward is effective communication. Now is a good time to clear the air and let your feelings be known.
Indra Report creates a psychological mirror of your life.
---
Cancer: The Full Moon on December 6 indicates the need to bring something to a close. This could require an element of courage as you liberate yourself from something that has probably become restrictive. You could find that as you move on from something, your health and state of well-being improves. It's also important this week to consider how creative you are in your daily life. This isn't just about making time for artistic endeavors; it's also about being creative in your everyday tasks. Life only becomes dull and uninspiring when we've lost our imagination, so maybe you could create an altar in your home or a magical spot in your garden or have fun baking and making things with your family in the run up to Christmas festivities. All that's needed for a more inspiring life is to reconnect with your imagination, and this could mean being ruthless in eliminating those situations that pull your spirit and energies down.
Child Astrology Report is been designed as a guide for parents, to help with
the child's growth and alerting the parents to problems that the child could face in their life.
---
Leo: The planets are lining up in your zone of fun, so this really is the week to focus on enjoyable activities and to follow your heart a little bit more. The Full Moon on Saturday may bring about a realization of how you can create a new vision in your life. It looks as though it's time to make more of yourself and liberate yourself from limiting beliefs or situations that hold you back. The time has come to participate more, whether that means channeling more of your gifts and creativity out into the world, connecting more with others, or seeing how you can be of greater benefit to society or your community.
Astrological Solar Return Report offers you a practical guide that
helps you analyze this year's prospects and to learn from them.
---
Virgo: The focus is on your home and family, so if all you want to do is snuggle up with your loved ones and enjoy domestic bliss, don't let anyone talk you out of it. As Thomas Jefferson said, "The happiest moments of my life have been the few which I have passed at home in the bosom of my family." The Full Moon on Saturday may bring this theme into focus as you might have to decide where you're going to prioritize your time and energy. It may be difficult to hide how you feel, so public displays of emotion which aren't normally your thing, could escape. Try to see the funny side since a playful, lighthearted attitude will carry you through any difficult moments and make everything seem less serious than you may have been inclined to believe.
Astro Forecast Report gives you actual dates when
the energies influence your life in a given time period.
---
Libra: Staying stuck in your comfort zone isn't really living, and although events this week will keep you pleasantly distracted in a whirlwind of activity, there are deeper issues that need addressing. Are you really going for what matters most to you, or are you playing safe? Allow your increasing optimism to propel you forward so that you can experience some of the excitement that you crave.
Cards of Destiny Report is a one year forecast based on Robert Camps
book and age-old "cards of destiny" our ancestors gave us.
---
Scorpio: The Full Moon on Saturday is likely to bring a financial matter to a head. This could be a point of realization, but the good news is that you have within your power the ability to turn things in your favor. This is also a good week to think about money in general, from how you can improve matters to considering how much you're worth and whether you have any beliefs around money that could be sabotaging your progress. You may also benefit from having a clear out. Most of us accumulate too much stuff, which can then lead to stress ad a sense of being overwhelmed. The calm and simplicity that can arise from letting go of a few possessions and clearing out clutter could be just what you need now.
Relocation Information Report (3 locations) can
be of great assistance if you are contemplating a move.
---
Sagittarius: The planets are gearing up to help make the festive period an enjoyable time, and with Venus in your sign, you can look forward to a blend of social merriment, a dash of romance, and a fair amount of pleasure. Mars is also ensuring that this will be a busy time. In fact, there might be so much going on that you meet yourself coming back! In and among all the busyness, try to keep in your awareness that you're going through some kind of transformation, and if you can find a moment or two to acknowledge that a chapter is coming to a close, you can be better prepared for the new beginnings that are around the corner.
Cayce Past Life Report describes your character traits,
relationship potentials and challenges as well as career
potentials and even more based on Edgar Casey Readings.
---
Capricorn: Venus is heading your way to ensure that this Xmas is filled with fun, love, romance and harmony, but before we get to that point with all the busyness and social engagements, perhaps it would be helpful to rest while you can, to contemplate your dreams, and to make hay while the sun shines in terms of work and business. Mars in your money zone makes this a suitable time to make the most of the opportunities that come your way, to enlarge your income, and to go for what you want. If you can balance the desire to go after your ambitions with an understanding that what's for you won't go by you, then you're likely to experience this and the coming weeks as rather successful.
Karmic Past Life Report examines possible past life connections using astrological methods.
---
Aquarius: Mars entering your sign is good news for you, as it signifies an abundance of energy to do all that needs doing. You should also find that your motivation and enthusiasm peaks as well. This is great if you want to achieve something, whether it's completing a project, attaining a goal, or simply crossing off everything on your to-do list. Meanwhile, your social life is enhanced by the presence of Mercury, Venus, and the Sun. This is good news for your friendships and anything connected with groups and organizations. It enhances the likelihood of making new contacts, friends or acquaintances. All social events are very favorable now, so even if you don't feel like it, making the effort to get out and about meeting people could prove to be either enjoyable or useful.
Karmic Insight Report comes from an esoteric point of view your
birth chart is a portrait of your soul's intention for this lifetime,
the lessons to be learned, qualities to develop,
problems to be resolved, services to be rendered.
---
Pisces: Life is complicated enough, so why add to it with stretching yourself too thinly or taking on too much? The Full Moon at the base of your chart says its okay to take time out to enjoy simple everyday pursuits. Perhaps your family needs to see more of you despite the pressures you may feel to work and get things done. Mar's entry into your zone of the soul reiterates the message of this Full Moon: It's time to slow down, engage and simplify your life. As fellow Piscean Albert Einstein once said, "Possessions, outward success, publicity, luxury –to me these have always been contemptible. I believe that a simple and unassuming manner of life is best for everyone, best for both the body and the mind"
Numerology Report is a personal profile and one year forecast
based on advanced calculations of your name and birth date.
---
For more information about your Horoscope and what the stars have in store for you, order one of our detailed
Astrology Reports for Couples!
Compatibility Report compares your temperaments and personalities.
This information is powerful if you are married or living together.
Love Cards Report will reveal as much information about you
and your partner as possible, using an ancient and
highly accuratesystem called "The Book of Destiny".