Aries, Taurus, Gemini, Cancer, Leo, Virgo, Libra,
Scorpio, Sagittarius, Capricorn, Aquarius, Pisces

Overview of this week
The Center for the New Age is pleased to present your Free Weekly Horoscope for December 14 — December 20, 2014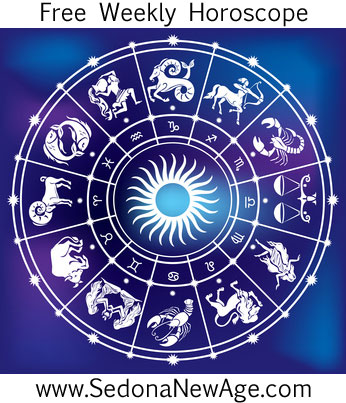 Aries, Taurus, Gemini, Cancer, Leo, Virgo, Libra,
Scorpio, Sagittarius, Capricorn, Aquarius, Pisces
The Last Quarter Moon in Virgo on Sunday calls for the release of emotional currents which are often caused by our doubts. This release or expression can sometimes come in disruptive ways. Virgo Moon affects the general course of moods with the need to create protective defenses, often causing skeptical, analytical or even cynical interactions with others. This is a time to be aware, for what one is protecting may quite possibly be an ill of some kind that may actually need to be banished and released. Let the doubts and fears of your life be flushed away at this time, so that through clarity you may achieve the benefits of your visionary picture of health, wealth and well being.
Mercury enters Capricorn December 16 until January 5, 2015. While Mercury travels through Capricorn, communications tend to be more serious and to the point, although not necessarily less complex. Mercury affects our role as negotiators and while this versatile planet goes through Capricorn, our realms of communications have a determined and persistent quality of expression, like a demanding voice waiting to be heard and receive with hospitality. This fits with the solar days of Capricorn, when the harsh realities of winter demand clarity of purpose in our communications. Communication is one of the tools of survival, and this is an important time to use those skills wisely and sensibly.
On Saturday Venus and Pluto become conjunct in Capricorn for only one day. This is a time when all your relationships will increase in intimacy. In romantic relationships, you should watch a tendency from either you or your partner to become jealous or possessive. If you're not romantically involved, you may be strongly attracted to someone else, or someone else may be strongly attracted to you. Occasionally this combination can even represent stalking. Love that comes now may not always be reciprocated and can suddenly revert to hate. Sometimes this combination represents "fatal attractions".
Aries, Taurus, Gemini, Cancer, Leo, Virgo, Libra,
Scorpio, Sagittarius, Capricorn, Aquarius, Pisces
For more information about your Horoscope and what the stars
have in store for you, order one of our detailed
Astrology Reports!
Free Weekly Horoscope for your Sign
Aries: This week Mercury begins its transit of Capricorn, your career area. Your communication skills turn toward your career and you pitch ideas and explain your current projects and what you would like to tackle next. Your strategy is sound, your goals are clear and you gather the support of coworkers and bosses. Along with Mercury, Venus is also transiting Capricorn. This duo is instrumental in gaining the professional support you need that might very well contribute to a raise or a bonus for you. It is a good idea to have business cards with all your contact data available as Mars will be heating up your social life that may very well provide optimum net working opportunities for you.
New Age Natal Report is designed as a guide for
your growth and personal evolution in the New Age.
---
Taurus: Now that we're in the middle of the last month of December, you might want to take some time to reflect on the year behind you. Have you achieved what you set out to do this year? Focus on the positive highlights and bring that energy into the New Year with you! Mercury's transit of Capricorn favors professional discussions and strategy sessions and is a good one for you and beneficial for welcoming the new year. You and your partner or a close friend may be discussing spending the holidays abroad and will take steps this week to investigate making that dream a reality. If you're not involved right now, then you may meet a romantic interest while traveling. Your muse is up close and personal during this Venus transit so take advantage of it by diving into your creative endeavors.
Merlin Report could be beneficial in self-help and self-transformation.
---
Gemini: Venus and Mercury traveling together may be influencing your personal life this week. Romance may find you through a career-related event, in a seminar or workshop on an esoteric subject, or through some type of writing or public speaking in which you're involved. With Mars in air sign Aquarius stimulating your worldview, spirituality and publishing and higher education, you may be hanging out with really unusual people who are idiosyncratic in their professions and who could have a significant influence in any direction in which you are headed.
Indra Report creates a psychological mirror of your life.
---
Cancer: Mercury is moving through Capricorn, your partnership area and you are thinking about and maybe discussing partnership options in business and your personal life. With Venus also in your partnership area, your love life should be humming along at a pace that suits you. You and your partner may decide to deepen your commitment to each other and this may include hammering together ideas about launching your own business. This week, a lot of your energy goes into resources you share with others –a partner, a child or a sibling –as the Mars transit suggests you may be applying for a loan or mortgage or dealing with questions regarding insurance and tax issues.
Child Astrology Report is been designed as a guide for parents, to help with
the child's growth and alerting the parents to problems that the child could face in their life.
---
Leo: As a Leo you love the social side of life. You also are gregarious, have a great sense of humor, and tend to be well read, and that makes you a great conversationalist. It's easy to see that you would be an asset at any gathering which may be particularly relevant as Mercury and Venus are travelling together in Capricorn and it looks as if there's a possibility that an office flirtation is heating up. Mars will motivate you to crystallize that special relationship. Your very best day this month for surprise and fun will be on Saturday, December 20, when Mars will send a perfect beam to the universe. All sorts of unexpected developments will keep you alert and laughing – this is as close to ideal as it gets.
Astrological Solar Return Report offers you a practical guide that
helps you analyze this year's prospects and to learn from them.
---
Virgo: It's hard to believe it's the middle of December already, right? Each year seems to fly by, which underscores the importance of living in the now and appreciating everything and everyone in your life. Mercury enters Capricorn on Tuesday maintaining your conscious focus on pleasurable pursuits, romance and creativity. However, because Capricorn is involved, you could also be spinning possible strategies related to your career. Even if you cannot implement these strategies until next year, this is a good time to get ready. Mars will assist you prompting you to really reach outside the box in your daily work. You may be distracted by parties and social gatherings, but you'll deftly gather your ideas and supporters so that as soon as the new year rolls around, you can start implementing your plans.
Astro Forecast Report gives you actual dates when
the energies influence your life in a given time period.
---
Libra: Mercury began the year in Capricorn where it now transits your solar fourth house so there's a sense of things coming full circle. While Mercury is in this sign, your home is a hub of activity and lively discussions that portend well for a new year's celebration at your place. Perhaps you might consider such a venture and put things into the works this week. The combination of Mercury and Venus suggests that your creative endeavors will go well and if you are seeking romance, Mars is anxious for your to be involved in creative undertakings of this nature.
Cards of Destiny Report is a one year forecast based on Robert Camps
book and age-old "cards of destiny" our ancestors gave us.
---
Scorpio: Until Tuesday, Mercury remains in your financial area, so your conscious focus is on money. When you're out and about, buying gifts for the holidays, be sure to pay cash so that you don't go into credit card shock when the bills come due. After Tuesday, Mercury travels with powerful Pluto, your ruler. This transit favors travel and communication resulting in more contact than usual with neighbors, siblings and other relatives. This week would be a good time to prepare for an active holiday season with your home as the hub of parties and celebrations in keeping with Mars' transit through your fourth house of the home.
Relocation Information Report (3 locations) can
be of great assistance if you are contemplating a move.
---
Sagittarius: This week your conscious focus will be on money, thinking about and discussing money or maybe writing about it too. This ties in with your professional ambition. What do you need to complete by the end of the year or by the holidays? You may be spending more money right now, perhaps as a result of the forthcoming holidays, but Mercury and Venus are teamed up in Capricorn, a nice combination that facilities your earnings and provides the sustenance for your activities. You may be spending more time with siblings and other relatives in the next couple of weeks and you may be checking out a new neighborhood as well, perhaps in anticipation of a move, but this move is certainly not a probability right now.
Cayce Past Life Report describes your character traits,
relationship potentials and challenges as well as career
potentials and even more based on Edgar Casey Readings.
---
Capricorn: Take a few minutes to reflect on where you're been this year, what you have achieved, and where you feel you have fallen short. Start your new year's resolution list this week; it's never too early for that! Mercury enters your sign on Tuesday and for part of its transit, it will be traveling with Venus. With Mars in your financial area, and all the other stuff going on in your chart, you'll be working hard to bring in more money, but you've got a lot of astrological energy on your side. Use it well –remain focused and directed. Tie up loose ends so that you can greet the new year with a smile in your heart.
Karmic Past Life Report examines possible past life connections using astrological methods.
---
Aquarius: Venus will bring a sudden event into your life this week. This is especially relevant to those who are preparing to meet the New Years alone. If you see something appealing or curious, do not be afraid of approaching closer and paying better attention. Do not be shy to attain new acquaintances, even if it seems that reaching your goal is impossible. Let go of your doubts and step towards new adventures. Some of your friends may be disparaging of your intentions, but do not worry. You are on a right path, which is the most important thing. Your emotions are your first and main light that should guide your way.
Karmic Insight Report comes from an esoteric point of view your
birth chart is a portrait of your soul's intention for this lifetime,
the lessons to be learned, qualities to develop,
problems to be resolved, services to be rendered.
---
Pisces: Accept every invitation that comes your way and network like crazy this week. Have your business cards handy at all times. Don't be shy about presenting your talents and skill. With Venus accompanying Mercury in his transit, this duo brings lively discussions and a possible romance with someone you meet through friends or who is already a friend. With Jupiter retrograde, the expansion the planet usually exhibits is in dormancy and is turned inward. It's as if a bright light is shining within you now and you have an opportunity to take a closer look at who you are and where you fit in the scheme of things. You're moving through your own unconscious with greater ease, clearing away beliefs that no longer serve your best interests and essentially preparing the way for happenings in the new year.
Numerology Report is a personal profile and one year forecast
based on advanced calculations of your name and birth date.
---
For more information about your Horoscope and what the stars have in store for you, order one of our detailed
Astrology Reports for Couples!
Compatibility Report compares your temperaments and personalities.
This information is powerful if you are married or living together.
Love Cards Report will reveal as much information about you
and your partner as possible, using an ancient and
highly accuratesystem called "The Book of Destiny".