Aries, Taurus, Gemini, Cancer, Leo, Virgo, Libra,
Scorpio, Sagittarius, Capricorn, Aquarius, Pisces

Overview of this week
The Center for the New Age is pleased to present your Free Weekly Horoscope for December 21 — December 27, 2014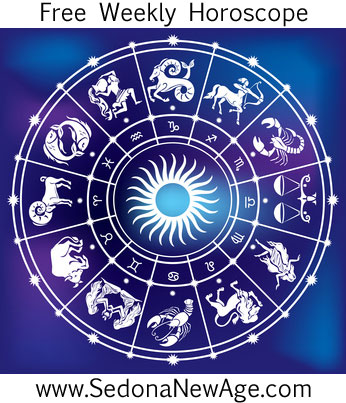 Aries, Taurus, Gemini, Cancer, Leo, Virgo, Libra,
Scorpio, Sagittarius, Capricorn, Aquarius, Pisces
New Moon in Capricorn on December 22 brings down-to-earth determination to our moods. New Moon in Capricorn urges us to create fresh goals and to set new heights for ourselves. The Capricorn Moon brings a powerful defiance in the face of adversity, and we must not let dark feelings affect our sense of pragmatism and dignity. Go easy on people and use your protective emotional shields to combat the harsh attitudes of others. Beware of the tendency for employers and leaders to expect a lot. No matter what –be positive!
December 23 Saturn –the ruler of maturity, growth and challenges –leaves watery Scorpio for fiery Sagittarius where it will stay until December 19, 2017 (except for a three month period –June 14 to September 17, 2015 when it will revisit Scorpio). Disciplined Saturn in worldly Sagittarius pushes us to evolve our beliefs and open our minds, but from a practical point of view. Saturn and Sagittarius are strange bedfellows, because Sagittarius is the sign of optimism and expansion, while Saturn is all about restriction and harsh reality checks. Sagittarius is ruled by Jupiter, mythic god of the feast, quite a contrast to self disinclined Saturn. Our appetites for excess could meet a reality check with Saturn in Sagittarius.
December 25 (until January 5) Mercury in Capricorn conjunct Pluto in Capricorn raises issues of power. The areas of our lives that have required challenge, struggle, sacrifice and transformation now bring us to a place where we can talk about them. A very strong sense of duty is instilled in the delivery of a message. This is a time when people instinctively know their own fate. Mercury conjunct Pluto in Capricorn allows us to voice our hardships, and to contemplate and deliberate over the powerful occurrences that challenge and change our lives. There will be a great deal of intensity in our conversations at this time, especially with regard to the fate of the world and our ongoing efforts to end hardships and suffering.
Aries, Taurus, Gemini, Cancer, Leo, Virgo, Libra,
Scorpio, Sagittarius, Capricorn, Aquarius, Pisces
For more information about your Horoscope and what the stars
have in store for you, order one of our detailed
Astrology Reports!
Free Weekly Horoscope for your Sign
Aries: The New Moon at the top of your chart on December 22 is very auspicious for new beginnings and changes of direction. If you wish to make changes in your professional life, this New Moon will be a significant boon, and you can help the process by being clear about your intentions for your future. It is very important that you release the old so that the new can formulate. The more conscious you are of moving into a new chapter of life, the easier it will be. Enjoy your transformation, take a delight in the new options that are unfolding and be enthusiastic about new paths appearing on the horizon. Try to find a moment –ideally on December 22 –to set your intention to turn over a new leaf or to embrace a new beginning, especially where your direction or purpose in life is concerned.
New Age Natal Report is designed as a guide for
your growth and personal evolution in the New Age.
---
Taurus: Do you have a big idea? A plan? A dream? If so, the New Moon on Monday is a wonderful omen for bringing it to fruition. Use the powerful energies of this New Moon by getting really clear about what you want to be, writing it all down or creating a vision board and then taking the first steps. As Christmas approaches, it may not seem like the ideal time to be pushing forward with plans and ideas, but all you need to do at this stage is have it clear in your mind, and if you're really passionate about what you want, then that in itself will drive you forward. For you, this New Moon contains the message of adventure, so contemplate what adventure means to you and whether it's time now for you to push out of your comfort zone.
Merlin Report could be beneficial in self-help and self-transformation.
---
Gemini: The New Moon on December 22 is a cleansing and healing one for you, and this would be a good day to release the old: old pain, toxic emotions, sorrow, fears or insecurities. At this time, you may get a glimpse or a sense of your inner strength that will carry you through a dark tunnel and back out into the light. Don't allow yourself to stay in your comfort zone, but instead push forward in an adventurous way knowing that there's a big world out there full of possibilities. In addition, you will benefit by releasing any sorrow and focusing on harmony. How can you bring yourself back into balance and what can you do to create greater harmony in your life? The New Moon will assist you in answering these questions.
Indra Report creates a psychological mirror of your life.
---
Cancer: As the New Moon occurs in your relationship zone on Tuesday, your relationships become the big thing. It's time for a new beginning. This is a great opportunity to start afresh to turn over a new leaf, or to adopt a new attitude. "Transformation" is a keyword, so it might help to see what sort of transformation needs to take place. Perhaps it's a transformation of your approach or attitude to the other person, or maybe it's a transformation of a relationship. Either way, big changes are forecast this week. Because of that and because of the time of the year that we're in, the advice would be to slow down and not take it all so seriously. If you can dance, laugh, sing and share your joy with others, you'll be well on track to a happy Christmas –and maybe a romantic one too!
Child Astrology Report is been designed as a guide for parents, to help with
the child's growth and alerting the parents to problems that the child could face in their life.
---
Leo: There's a lot to think about now, but rather than thinking, you might do better by applying courage and just getting on with it. The New Moon on December 22 brings the opportunity to turn over a new leaf with your health and work as the potential for new starts and positive development occurs. Perhaps it's time to transform an unsatisfying situation at work. Maybe your health could do with a boost. Although you may be rather busy to do very much, it will be enough for the time being to jot down your intentions, whether it's renewed health, a new job, or a change in how you spend your days. When you're clear about what you want, you can set about enjoying the festivities, knowing that much needed change is on its way.
Astrological Solar Return Report offers you a practical guide that
helps you analyze this year's prospects and to learn from them.
---
Virgo: A powerful New Moon falls in your zone of creativity and enjoyment on December 22. There are several ways you could look at this. It may be time to begin a new creative project or transform an existing one. It might be time for a new approach to your life in that you could feel it's high time you enjoyed yourself more. Perhaps the main question to ask yourself is how creative are you being with your life? Are you the artist of your existence, creating what you want, or are you going through the motions allowing life to just happen? This New Moon could be a wakeup call in terms of your ability to create your life as you want it rather than waiting for things to change. It also suggests that this is a week in which you won't have to try too hard to find ways to enjoy yourself and is therefore a great omen for a happy Christmas.
Astro Forecast Report gives you actual dates when
the energies influence your life in a given time period.
---
Libra: The New Moon on December 22 turns the spotlight on your home and family, and this would be an opportune time to welcome a new beginning. Alternatively, it may be appropriate to turn over a new leaf in regard to your home or a family member. Either way, domestic transformations are on the way, and this could represent a turning point for you. Therefore, December 22 is a great opportunity to welcome change – if you can just let go of the old. Take a few moments to write down all that you wish to materialize, especially that which is connected to your home and family. If you can create a vision board of your desires on this day, the powerful energies will give your manifesting skills extra potency, and you could see some quite dramatic results in the times to come. Say goodbye to the past and hello to the future.
Cards of Destiny Report is a one year forecast based on Robert Camps
book and age-old "cards of destiny" our ancestors gave us.
---
Scorpio: It is time to change your thinking? The New Moon on December 22 suggests that it is. Given that our thoughts shape our realities, we often underestimate the importance of what goes on in our heads each day. And what goes on in our heads influences what comes out of our mouths, which in turn influences how the world responds to us. This New Moon is a great opportunity to change your life because it will help you to transform or become aware of any negative attitudes. It's also perfect if you want to start a new project that requires mental application or anything connected with writing, teaching, studying or speaking. Communication in general is highly favored by this New Moon, and perhaps the question to ask yourself is, "What do I have to say and how can I best say it?"
Relocation Information Report (3 locations) can
be of great assistance if you are contemplating a move.
---
Sagittarius: The New Moon in your zone of resources supported by Mercury, Pluto and Venus is a powerful testimony that you have the opportunity and the ability to transform your finances or your material life. December 22 brings new energies to this area of your life, so prepare to turn over a new leaf, develop a different attitude or approach to money, or positively go out there to bring about the changes you seek. This could relate to applying for a new job; seeking to raise your income; or setting up, expanding or changing your own business. Ultimately, this is about what you feel you deserve –not just financially but in life –and good questions to ask yourself now are, "How much am I worth, and what do I truly value?"
Cayce Past Life Report describes your character traits,
relationship potentials and challenges as well as career
potentials and even more based on Edgar Casey Readings.
---
Capricorn: Whatever is happening in your life, this is a time of new beginnings. The New Moon in your own sign offers a powerful and very significant turning point. Now is the time when you can start afresh, when you can turn over a new leaf or adopt a new approach to life. Now is also the time to follow your dream or desire with passion and intensity. You might be all fired up and sure about what you want –and there is every indication to suggest you'll be successful –but your chances of success will increase if you blend your passion and drive with a philosophical approach. Take each moment as it comes, knowing that we have to dance with the current of life if we are to reach our destination with our energy and state of mind intact.
Karmic Past Life Report examines possible past life connections using astrological methods.
---
Aquarius: The New Moon on December 22 is your cue to slow down and relax, even though this is the time of year least sympathetic to slowing down. Perhaps once you've made it to Christmas, then you can begin the process of reflection. In the meantime, take a moment, if you can, to contemplate what you need for healing or inspiration. If you have become tired, run down, or otherwise under par, this is a crucial moment at which to stop and consider where you have gone out of balance. You don't have to put everything right all at once. There will be plenty of time for that once you get through Christmas. For now, it's enough to give yourself some time and space to look to what it is that you need for health, inner peace and spiritual well-being.
Karmic Insight Report comes from an esoteric point of view your
birth chart is a portrait of your soul's intention for this lifetime,
the lessons to be learned, qualities to develop,
problems to be resolved, services to be rendered.
---
Pisces: The New Moon on December 22 activates your social life and your hopes and wishes for the future. This, then, is an ideal time to make a wish, write down or visualize your vision for the future, create new contacts, turn over a new leaf with a friendship, or to make a change relating to a group or organization. This is a transformative New Moon, so what happens this week could be quite big, and it might be that you find yourself liberated from something that had become too stifling or restrictive. New pastures await, but you will need a little patience before it all comes to fruition.
Numerology Report is a personal profile and one year forecast
based on advanced calculations of your name and birth date.
---
For more information about your Horoscope and what the stars have in store for you, order one of our detailed
Astrology Reports for Couples!
Compatibility Report compares your temperaments and personalities.
This information is powerful if you are married or living together.
Love Cards Report will reveal as much information about you
and your partner as possible, using an ancient and
highly accuratesystem called "The Book of Destiny".