Aries, Taurus, Gemini, Cancer, Leo, Virgo, Libra,
Scorpio, Sagittarius, Capricorn, Aquarius, Pisces

Overview of this week
The Center for the New Age is pleased to present your Free Weekly Horoscope for December 28, 2014 — January 3, 2015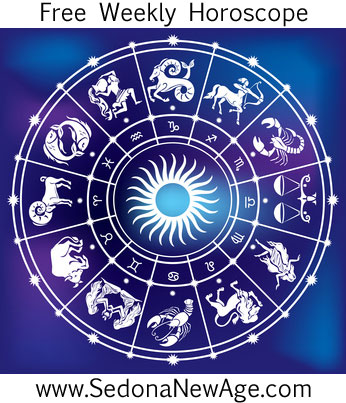 Aries, Taurus, Gemini, Cancer, Leo, Virgo, Libra,
Scorpio, Sagittarius, Capricorn, Aquarius, Pisces
The week begins with the First Quarter Moon in Aries on Sunday December 28th. Waxing Aries Moon energizes our moods and inspires an upbeat, outgoing and forward manner. Aries Moon is a superb time to get in tune with your own personal levels of energy, strength and vitality. The First Quarter Moon is a good time to apply diligence and inspired ability to your work. Aries Moon brings on an expression of courageous vigor, as well as a sense of bold adventure. As a general rule, moods are marked by confidence and sometimes by cantankerous forcefulness and the drive to make a lasting impression.
January 1 the Mars in Aquarius opposition to Jupiter in Leo brings an abrupt awareness of economic oppression and shortcomings, and sometimes the supplier works overtime to supply a sudden overwhelming demand. Fortunes may be mishandled due to abrupt or accidental circumstances. While Mars is opposed to Jupiter, active forces are diametrically opposed to expansive fortitude and our anger may be spurred due to a lack of flow or growth in our economic resources. This is a very busy and often overwhelming time to excel in business endeavors, especially in actively trading markets. While Mars is opposing Jupiter, it is wise to remember that when one is spurred to anger, one must take heed not to "bite the hand that feeds you."
Venus enters Aquarius on Saturday (January 3 –January 26, 2015) creating a fondness for invention, eccentric pleasures and social life. It puts the focus of attraction and adoration on illuminating types of knowledge and on brilliant humanitarian causes and exploits. There is an especially strong attraction to all types of invention and to new technologies. Venus in Aquarius is a prime time to perfect and enhance our love of humanity and to break down the barriers of useless and destructive prejudice and stereotyping.
Aries, Taurus, Gemini, Cancer, Leo, Virgo, Libra,
Scorpio, Sagittarius, Capricorn, Aquarius, Pisces
For more information about your Horoscope and what the stars
have in store for you, order one of our detailed
Astrology Reports!
Free Weekly Horoscope for your Sign
Aries: With Saturn in Sagittarius, the scene is set for lighter times ahead. To make the most of this transit, you should focus on your dream. Everyone starts out with a dream, but over time, it can fade, just like a nighttime dream until you can barely remember the essence of something intangible. Twenty fifteen is the year to get back in touch with your dream: become conscious of it, and bring it into reality. This will, of course, take time, and you will need to remind yourself of the importance of patience and taking things one step at a time. As the year ends and a new one begins, you are in a wonderful position to change your future and to begin planning the outcome you want.
New Age Natal Report is designed as a guide for
your growth and personal evolution in the New Age.
---
Taurus: Over the past two or three years, Saturn has been testing your relationships to see which are worthy of your time and energy. Now that he has moved on, whatever relationships are left standing are worthwhile since they have truly weathered the storm and brought you closer together. Things can move on in an easier fashion. Your main challenge now as you approach the new year is to cease any kind of dependence on other people, especially your partner. This applies especially in financial matters so if you're not already self-sufficient, you might want to make improvements here, because sources of income from other people might not be reliable in the future. It is time to bring together all the different components of your life –work, money, health, relationships, family, home and so on –and get them working in a productive and harmonious fashion so that your life works as a whole, rather than fragmented bits.
Merlin Report could be beneficial in self-help and self-transformation.
---
Gemini: There's a certain intensity to the end of the year, and you may be feeling quite introspective. This is not a bad thing, as time spent contemplating the past year and what you want from the next is important. You may benefit further by releasing any sorrow and focusing on harmony. A key theme now and in 2015 will be your relationships, and this is the area that you may need to address. Saturn's change of signs last week is about to bring into focus at least one important relationship. For example, it might be time to get serious, perhaps by making a commitment, or it might be time to set some boundaries or lay down a few ground rules. Maybe something needs to end so that something new can be created. It's helpful to bear in mind that a good healthy relationship will weather any test set by Saturn and anyone who exits your life probably does so for good reason. For you, the main challenge in 2015 is deciding who is worth your time and effort and making commitments to these people.
Indra Report creates a psychological mirror of your life.
---
Cancer: As the year ends, the key themes for you are your work and your health. The year 2015 will see at least one of these areas getting your attention. It may be that it's time to develop your healing skills and provide a service for others. Or it may be time to get your own health in order. Your work and how you spend your days need to become more fulfilling, or you may need to take on greater responsibility. The challenge from this point on is to create meaningful work, refine your skills, and become better at what you do. If you can be receptive to ideas that the universe sends you, then you can make some subtle but pleasing changes to not just your work and health, but the way you live your life.
Child Astrology Report is been designed as a guide for parents, to help with
the child's growth and alerting the parents to problems that the child could face in their life.
---
Leo: As you approach the end of the year, you may benefit from taking some time to recover –not just from the Christmas festivities, but from all that life has demanded of you these past couple of years. Saturn's change of signs last week is generally good news for you since it shows an improvement in your domestic and family situations. Things can begin to feel more settled from this point on, as family relations and your home life are feeling much lighter. With domestic pressures fading into the background, you can turn your attention to your own healing, since this is an area that could probably be better. You might decide to begin a new health regime, take up a new form of exercise, or feel that it's time to explore more deeply the causes of any problems. You are now in a great position to bring about transformation with your health. Your work is also ripe for change, and you may benefit from changing whatever has become a source of discontent. This health theme continues into the new year, and it may be that as you make changes from your heart, both your health and work will improve during 2015.
Astrological Solar Return Report offers you a practical guide that
helps you analyze this year's prospects and to learn from them.
---
Virgo: We all tend to wear masks to some degree. We may smile when inside we feel anything but happy. It can be easy to fool others into thinking we're something other than what we are, but this leads to a certain amount of sorrow, as we don't feel we can be our true selves. The current planetary positions are highlighting your ability to be you –to take off the mask and be authentic. The more you can do this, the less likely you are to feel down or depressed, which could have been a theme during the past couple of years. If you haven't been at your most cheerful and buoyant in recent years, the good news for the holidays and 2015 is that Saturn's change of signs last week will coincide with a lift in your spirits. 2015 sees you returning to a more positive frame of mind, especially if you can honor your needs and be true to yourself. Then with your optimism restored, the focus will shift from what goes on in your own head to your responsibilities to your family and how you can improve your domestic life. Ultimately, the theme for 2015 is getting your house in order, which could range from moving, dealing with property, or reorganizing your domestic situation right through to resolving issues from the past and being there for people who need you.
Astro Forecast Report gives you actual dates when
the energies influence your life in a given time period.
---
Libra: The focus is still on your home, family and inner self. Consequently this could feel like quite a deep and meaningful holiday season as you find yourself contemplating where you want to be and what is most important to you. Feeling comfortable within your own skin is your goal at present, so no matter where you are or what you're doing, your inner happiness and contentment radiates outward, positively influencing the environment around you. This won't always be easy but you could say it's time to get serious about something, and to make the most of 2015, you should discover what that thing is and make headway with it. Ultimately, it's time to take your ideas more seriously, which might mean taking on a role or project that challenges you mentally or helps to get your message across. Examine your thought patterns, attitudes and beliefs to see whether you can be more conscious of how you're responding to life. Saturn's ultimate challenge and gift to you over the next year will be to help you see where you can improve your general attitude so that your life can improve as a result.
Cards of Destiny Report is a one year forecast based on Robert Camps
book and age-old "cards of destiny" our ancestors gave us.
---
Scorpio: You have extra reason to celebrate this week. Not only do you have the holidays to enjoy, but you've also got the bonus that this is the first week in two years that Saturn will not be in your sign. You can now look forward to lighter times ahead. Well, almost! Saturn will pop back into your sign in 2015 to see how you're getting on, though this will only be for a few months. By then, you should be well on your way to where you want to be. Jupiter at the top of your chart is indicative of a successful year ahead while Saturn's exit from your sign puts the emphasis on your finances and material life. Big improvements can be made in 2015 in your work/vocation/ finances, and material life. To make the most of it, you need to be courageous in your thinking. Maybe you need to bring something to a close so that you can move on. Maybe you need to have the courage of your convictions and go for what you want. Perhaps a new direction is calling. Either way, doors will open if you follow the path that feels right.
Relocation Information Report (3 locations) can
be of great assistance if you are contemplating a move.
---
Sagittarius: To create the kind of New Year you want, you may have to pose two questions: What do I deserve? What do I value? Let your values –love, peace, family, freedom and so on –guide you into creating the perfect festive break. This is a very important time for you and as the end of the year approaches, you may wish to contemplate the changes that you would like to see in your life. It looks as though you are coming to a time of increasing responsibility, but that doesn't have to be dour or heavy. It can mean that you are stepping forward into a more important role, a more mature role –one in which you will gain the rewards of your previous work and effort. If your life is going in the direction you would like it to, Saturn in your sign signals a deepening of your success. On the other hand, if there is room for improvement, the Saturn will help you to knuckle down and do what needs to be done. Perhaps it is fair to say it's time to get your house in order and make changes that are in line with your true self.
Cayce Past Life Report describes your character traits,
relationship potentials and challenges as well as career
potentials and even more based on Edgar Casey Readings.
---
Capricorn: Is there something that needs closure, something maybe that you need to move on from? The universe will help you do this, but at the same time, it will also help you to connect with what's really important as well as helping you to connect more with the wise part of yourself. You may find that from this week throughout 2015, your dreams become the font of wisdom. Or people on a spiritual path might be instrumental in helping you to develop and grow on an inner level. Either way, begin now to turn within to find the answers that you seek.
Karmic Past Life Report examines possible past life connections using astrological methods.
---
Aquarius: There is a very quiet and contemplative theme to your chart for the New Year. It seems something is coming to an end, so you need to get ready to close the door and prepare for new beginnings. One of those new beginnings is likely to involve a relationship. For example, it may be time to end a relationship that has seen its day. Or it could be that you might meet someone who can be a positive influence in your life. This could be romantic, business, or friendship. Much is open to opportunity in 2015, as the people areas of your chart are very active. Therefore, we can conclude that 2015 is going to be a year in which you can expect to meet new people and that there will be at least one significant development in your life due to another person. In the meantime, all you need to do is go with the flow and allow yourself to be gently carried in the direction that is calling to you.
Karmic Insight Report comes from an esoteric point of view your
birth chart is a portrait of your soul's intention for this lifetime,
the lessons to be learned, qualities to develop,
problems to be resolved, services to be rendered.
---
Pisces: You are in a very favorable position as far as the New Year is concerned since the planetary placements for you favor socializing and enjoyment with friends and groups of people. With immodest Jupiter in your health zone, though, you may need to rein yourself in when it comes to eating, drinking and general excess. As the year draws to a close, you may get a sense that big things await. The focus now and throughout 2015 will be on your future in particular, your direction, purpose and professional life. Saturn's moving to the top of your chart signifies a time when you're about to become more noticed, particularly if you've worked hard or learned your craft during the last few years. You can expect extra responsibility and reward for your efforts. You are in a position to make a great impression on the world if you choose to do so, but at the very least, you can look forward to a time of harvest. Use this week to think about how you can expand in your work, what you would love to do, and how you can prepare for success and achievement.
Numerology Report is a personal profile and one year forecast
based on advanced calculations of your name and birth date.
---
For more information about your Horoscope and what the stars have in store for you, order one of our detailed
Astrology Reports for Couples!
Compatibility Report compares your temperaments and personalities.
This information is powerful if you are married or living together.
Love Cards Report will reveal as much information about you
and your partner as possible, using an ancient and
highly accuratesystem called "The Book of Destiny".