Aries, Taurus, Gemini, Cancer, Leo, Virgo, Libra,
Scorpio, Sagittarius, Capricorn, Aquarius, Pisces

Overview of this week
The Center for the New Age is pleased to present your Free Weekly Horoscope for January 4, 2014 — January 10, 2015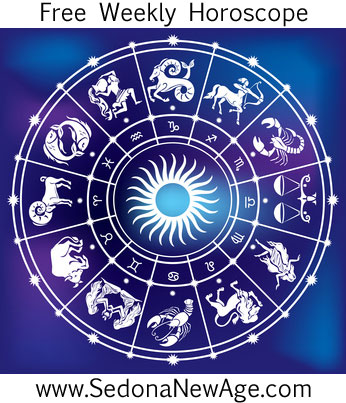 Aries, Taurus, Gemini, Cancer, Leo, Virgo, Libra,
Scorpio, Sagittarius, Capricorn, Aquarius, Pisces
Full Moon in Cancer on January 4 emphasizes Mom and maternal every, and people may be moody or especially preoccupied with their feelings. Nurturing activities and emotional support are the best ways to approach the Full Cancer Moon. Be careful not to overeat, but be sure to enjoy heartwarming , delicious and nourishing foods.
Venus in Aquarius sextile Saturn in Sagittarius (January 4 –January 10) often provides an opportunity to attain desired objects. Venus emphasizes the vibrations of love, magnetism, beauty and also sensuality. Saturn's influence emphasizes the awareness of time, limitations and restrictions. It also harnesses our dedication to responsibility and discipline. There is a passionate drive at this time to protect loved ones and limit their exposure to whatever creates the protective one's concern. The sextile aspect allows for greater opportunity to stand on guard favorably and be protective in a way that will be easily understood. Perfect timing brings pleasure. While hot and heavy aspects stir up activities, this is the time to take the opportunity to protect what we love with guidance and nurturing.
January 5 Mercury enters Aquarius (January 5 –January 20). This is a time when we explore the power of knowledge through our communications. It is a splendid time to communicate idea and investigate the latest in technology, science and the world of invention. It is also a special time to speak out on humanitarian issues and the rights of freedom. Eccentric talk and unusual subjects will fill the airwaves while Mercury is in Aquarius.
Mercury in Aquarius sextile Saturn in Sagittarius gives people an opportunity to learn vital lessons concerning boundaries, limitations and responsibilities. This is a good time to teach people about handling responsibilities and disciplines and tends to be a time when struggles and difficulties are frequently discussed and people collectively draw conclusions concerning how to best handle their problems or responsibilities. This is a good time to discuss where to set up boundaries and how to implement security systems. This is also an opportunistic aspect for setting up guidelines and communicating work skills. Make use of it while the opportunity is here; this aspect is only happening for a few days.
Aries, Taurus, Gemini, Cancer, Leo, Virgo, Libra,
Scorpio, Sagittarius, Capricorn, Aquarius, Pisces
For more information about your Horoscope and what the stars
have in store for you, order one of our detailed
Astrology Reports!
Free Weekly Horoscope for your Sign
Aries: The Full Moon in your domestic zone suggests a little conflict or tension with your home or professional life. Whatever is going on around you seems to be at odds with what you want, and you might need to make this clear to others. In fact, this year is about doing what matters to you and not worrying too much what other people think. Whether you want to travel or quit your job to do something that sings to your heart, such as go back to college, or maybe you'd just like to feel freer, this is the point when you need to be honest with yourself and others.
New Age Natal Report is designed as a guide for
your growth and personal evolution in the New Age.
---
Taurus: As the year gets off to a new start, perhaps the biggest favor you can do for yourself is to change the way you think. A challenging Full Moon in your mind zone suggests that things aren't as bad as they seem, and with a shift in attitude, situations will shift too. This Full Moon is most probably alerting you to the fact that nothing is impossible if you have faith and determination. In order to generate this kind of unswerving faith, you may first need to let go of something from your past: a memory, a habit or a self-defeating pattern of thinking. This can be a very constructive week if you let go of what's no longer serving you and combine it with an adventurous can-do state of mind.
Merlin Report could be beneficial in self-help and self-transformation.
---
Gemini: Much of 2015 will be about commitment and responsibility to other people, so if you're looking to deepen your relationships, this should be a very satisfying year. It is likely that one relationship in particular will be tested to see how worthy it is. It's worth noting that any relationship left standing after Saturn's tests is well worth the effort. The Full Moon could bring up issues of a financial or intimate nature and for some Geminis, this may involve the need to gain clarity on money matters, and for others, issues involving jealousy, power, and control could dominate. Try to get to grips with the darker side of yourself so that you can make the most of what this year has to offer you.
Indra Report creates a psychological mirror of your life.
---
Cancer: This week is the perfect time to take stock to see how far you've come and whether you need to make further changes. One area in particular that looks as if it's in need of attention is your personal life. Relationships could be a minefield now with power struggles, manipulations and complications. If you wish to restore harmony, you will need to do one of two things. Be assertive if you feel as if you're on the receiving end of bad treatment or look to see how you may be projecting something within yourself onto the other person. Quite often, problems in a relationship cannot be blamed entirely on one person, even though it might appear that way. If we trace the history of the relationship back through the years, it's likely that both people had their part to play in the current day struggles, so be gracious in accepting your part of the problem and if it feel appropriate, then extend the olive branch. There isn't a problem in the world that can't be solved with love and forgiveness.
Child Astrology Report is been designed as a guide for parents, to help with
the child's growth and alerting the parents to problems that the child could face in their life.
---
Leo: With Jupiter in your sign, there should be much to look forward to this year, as you effectively enter into a new phase of life. The temptation, though, could be to rest on your laurels since Jupiter tends to lend a feeling of everything being okay. However, this would be a waste of the potential that surrounds you this year, because Jupiter asks you to grow, develop and move out of your comfort zone. Since doors are more likely to open effortlessly this year, it makes sense to knock on a few. This week your thoughts may turn to your health or your work and daily life. Perhaps there is room for improvement here. Leave your old patterns behind, and seek to create a new way of living and working.
Astrological Solar Return Report offers you a practical guide that
helps you analyze this year's prospects and to learn from them.
---
Virgo: This is a year in which you'll benefit from exploring your inner world, as three of the big five planets are residing in your psychological and spiritual zones. This gives you permission to explore the mystical areas of life, come to terms with your past, and deepen your connection with your higher self. The really good news though, is that come August, Jupiter will arrive in your sign for the first time in twelve years, which will bring opportunities for growth and new beginnings. Therefore, it would be very positive for you to use these first six months to discover what it is that you really want and to gently release anything that has outgrown its usefulness. Your thoughts this week may well turn to the need to transform your life into something lighter, more fun and creative and this is perhaps your signpost as to where to direct your energies this year.
Astro Forecast Report gives you actual dates when
the energies influence your life in a given time period.
---
Libra: This week brings to mind a realization about your place in the world. This should be welcome news if you've felt uncertain about where you belong, where you should be, or where you're going. The transformational Full Moon offers the chance to break free from past limited patterns and choose new avenues. This may involve decisions on relationships, home, family and your professional life. Whatever happens this week could be seen as your destiny unfolding. If it all feels a bit heavy at times, lighten the vibe by immersing yourself in fun or creative activities. In fact, you have the universe's permission to focus on enjoyment and a little self-indulgence.
Cards of Destiny Report is a one year forecast based on Robert Camps
book and age-old "cards of destiny" our ancestors gave us.
---
Scorpio: Twenty fifteen is a year that will be full of possibilities for you and during this week, you might begin to realize that anything is possible so long as you believe it is. Jupiter at the top of your chart for much of the year invites you toward success while Saturn makes this the year to become a master of money. Therefore, if you want to improve the material side of your life –from work, money and achievement –and make the most of your gifts and talents, this should be a satisfying year. Use the powerful Full Moon energies to root out any blocks or fears of getting what you want, since that is the only thing that might get in your way.
Relocation Information Report (3 locations) can
be of great assistance if you are contemplating a move.
---
Sagittarius: With Saturn in your sign and a Full Moon entering your zone of joint finances and private affairs, this sets a rather serious tone in which you are being called to a greater responsibility and strength. Perhaps you need to step forward as the strong one who will sort things out. Fortunately, you have Jupiter in your adventure zone reminding you that while you are maturing and need to become more responsible in some way, there is also a lot of fun, optimism and adventure open to you. You should really make the most of the planetary positions for this week. In the year ahead, you'll likely combine optimism with practical realism. This may mean taking a dream you've had and beginning to work steadily toward it. Great things could be achieved this year if you approach life in the right way.
Cayce Past Life Report describes your character traits,
relationship potentials and challenges as well as career
potentials and even more based on Edgar Casey Readings.
---
Capricorn: Sunday's dramatic Full Moon activates the relationship and domestic/family area of your chart. It may be difficult to keep the lid on passions, but any eruptions are a sign that something needs to change. Don't be afraid to break free from old patterns or ways of living, especially where your home and family are concerned and be willing to welcome change. This is a week to channel all that power and intensity into something worthwhile, so find a cause –whether it's a project or a workout at the gym –and put your heart and soul into it.
Karmic Past Life Report examines possible past life connections using astrological methods.
---
Aquarius: This week, it might be a good idea to pause and contemplate your wishes. Saturn's arrival into your hopes and wishes area is a strong testimony that your wishes can be brought to fruition provided you put in the effort. The more seriously you take your hopes and wishes, rather than just letting them idly languish at the back of your mind, the more likely you are able to manifest them, so write out a plan of action that will help your hopes and dreams become real and concrete. Also, this week is the need to direct your attention to your health, well-being, or your work. One of these could be a source of stress but probably only because you need to make a change. The Full Moon asks for transformation and by being open to change and perhaps by breaking free form old mental patterns, things will begin to move forward.
Karmic Insight Report comes from an esoteric point of view your
birth chart is a portrait of your soul's intention for this lifetime,
the lessons to be learned, qualities to develop,
problems to be resolved, services to be rendered.
---
Pisces: You may be feeling a little uncertain of your direction. Saturn sits at the top of your chart beckoning you to bigger and better things, yet Neptune is throwing a wrench in the works, making the path ahead hazy. How are you supposed to get to where you want to be? How do you manifest your hopes and dreams? With application, perseverance and determination, that's how. These are the qualities that we normally need to make something of any consequence happen, but there's something else too. To get to where you want to be to do what you want to be doing, you might need to make a sacrifice. You will have to choose that which is most important to you, and it could come down to a simple choice between your heart's desire versus material security, even a variation on that theme. Since the Full Moon will be in your heart zone, the best idea may be to give your heart precedence over your head. In other words, choose what makes your heart beat with passion and excitement, trusting that the practicalities will all be taken care of.
Numerology Report is a personal profile and one year forecast
based on advanced calculations of your name and birth date.
---
For more information about your Horoscope and what the stars have in store for you, order one of our detailed
Astrology Reports for Couples!
Compatibility Report compares your temperaments and personalities.
This information is powerful if you are married or living together.
Love Cards Report will reveal as much information about you
and your partner as possible, using an ancient and
highly accurate system called "The Book of Destiny".