Aries, Taurus, Gemini, Cancer, Leo, Virgo, Libra, Scorpio, Sagittarius, Capricorn, Aquarius, Pisces
Overview of this week
The Center for the New Age is pleased to present your Free Weekly Horoscope for January 11, 2014 — January 17, 2015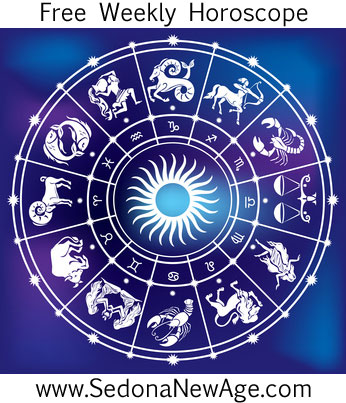 Aries, Taurus, Gemini, Cancer, Leo, Virgo, Libra, Scorpio, Sagittarius, Capricorn, Aquarius, Pisces
Monday, January 12 Mars enters and remains in Pisces until February 19. Mars is hot in terms of forces in our life. Wherever there is force, vitality, energy or action, there is Mars' influence. While Mars goes through Pisces, much activity takes place with regard to music and the arts, not to mention some heated action concerning the politics of our spiritual and religious beliefs. The nature of Pisces is fluid, passive and dreamy, and this is the spiritual realm of the constellations. Mars in Pisces opens the gates of active visions and dreams. Intuitive strength is realized. This is a time to activate our creative senses, and to work out hot feelings such as anger in an artful and healthy manner.
Last Quarter Moon in Libra on January 13 reminds us of the need to continue working on the imbalances in our relationships. This is the time to let emotional pressure be released and to handle matters with friends and loved ones carefully and congenially. The Last Quarter Moon aspect confirms the need to make amends with others and unite peacefully.
Mars in Pisces is square Saturn in Sagittarius (January 15 –February 4). Offensive and defensive forces are likely to be defensive. Bold conflicts may arise in situations where lines are crossed, particularly important defense lines around sensitive areas like family protection. This is not a good time to start a new enterprise and impetuous actions aren't likely to turn out well with this aspect. Make sure you look before you leap in all situations that crop up while Mars squares Saturn. This a time to proceed with extra caution and continue to stay focused at every turn.
Aries, Taurus, Gemini, Cancer, Leo, Virgo, Libra,
Scorpio, Sagittarius, Capricorn, Aquarius, Pisces
For more information about your Horoscope and what the stars
have in store for you, order one of our detailed
Astrology Reports!
Free Weekly Horoscope for your Sign
Aries: It seems that something or someone is blocking your progress. Trying to take matters into your own hands is unlikely to yield any kind of positive result, but handing the problem over to a higher power will. This week, you will experience a test of your will and your patience, and it is likely to leave you feeling rather humbled as you realize you're powerless to change things through your own force. If life feels as if it's out of your hands, call on your guides and helpers. There is a wealth of spiritual power on hand to assist you, but you do have to ask for it. In the meantime, remind yourself of the serenity prayer: "God, grant me the serenity to accept the things I cannot change, the courage to change the things I can, and the wisdom to know the difference."
New Age Natal Report is designed as a guide for your growth and personal evolution in the New Age.
---
Taurus: Stress is often a state of mind. What's stressful for one person is simply a bit of a challenge for another. Try to see any difficulties that you may be undergoing now as an opportunity to be courageous, for in the face of courage, there is little that can't be overcome. Many of the planets are in your future zones, making this a good time to focus on your career, your social life, your community and what you give to it, as well as any plans for travel and adventure. This is an opportune moment to impress others with what you have to offer, especially in terms of your profession. You will most likely create a good impression that in turn could result in people in positions of power and influence saying yes to you.
Merlin Report could be beneficial in self-help and self-transformation.
---
Gemini: The alignment of Venus and Mercury should do much to offset the heaviness of the Sun and Pluto in your zone of transformation. Venus and Mercury encourage you to see the lighter side of life, liberating you from any limiting or claustrophobic situations. Sometimes all that's needed to free ourselves is a change in attitude. For example, gratitude and appreciation can make the world seem like a different place, and when we bless something in our lives that appears to be a source of discontent, it's amazing how we change toward it, or how it changes itself, so it might be good to recognize that many of your problems are self-imposed or that they might not actually be problems at all. By altering the way you see things, you will begin to change them
---
Cancer: This week brings you an opportunity to set yourself free. You most likely liberate yourself from conflict or discontent, so don't look back as you bring completion to something. All of this change and liberation is likely to open up new avenues. Some Cancers will find themselves catapulted toward a new direction in life that should feel refreshing and exciting. Your relationships and your vocation/life direction are the two main areas in which you need not fear change and transformation. Things in these areas of your life are not meant to stay as they are. They need to change in some way, so go with what's happening, trusting that the outcome will open up possibilities for a new way of living.
Child Astrology Report is been designed as a guide for parents, to help with the child's growth and alerting the parents to problems that the child could face in their life.
---
Leo: This is a good week to get organized and make your life work more effectively. Since you stand at the beginning of a new year ripe with potential, your desire to improve your life may lead to some big changes. Ideally, you would aim to integrate all the different parts of your life, work, family, home, hobbies and so forth so that there's a greater feeling of balance and harmony to your days. This is also an opportune time to focus on your relationships and you may find yourself in a mediating or counseling role. You certainly have the ability to smooth ruffled feathers right now, and others are far more likely to listen to what you say, so if there's anything you can do to help another, or if one of your relationships would benefit from a loving conversation, now is the time.
Astrological Solar Return Report offers you a practical guide that helps you analyze this year's prospects and to learn from them.
---
Virgo: Dr. Edward Bach once said that people who are living out their passion don't get ill. It seems when we leap out of bed in the morning gripped with a passion for the day ahead, we are far less likely to succumb to illness than if we feel our lives are meaningless. The Sun currently journeying through your house of fun, passion and creativity, asks you "How much are you enjoying life right now?" If the answer is lots, then great. The forthcoming Mercury retrograde transit probably won't bother you too much, but if there's room for improvement, this would be a good week to begin thinking what changes you could make that would enable you to live more from the heart.
Astro Forecast Report gives you actual dates when the energies influence your life in a given time period.
---
Libra: "Life is to be lived, not controlled; and humanity is won by continuing to play in face of certain defeat." Ralph Ellison's quote is testimony to the power of the human spirit. It might be worth looking at how you are trying to control life instead of living it or whether you feel despondent in the face of certain challenges. Be wary of a "What's the Point?" attitude or a fearful one that tries to build defenses. You do not need defenses now. You need fun, spontaneity, flexibility, and receptivity, so lighten your mind with playful pursuits and creative activities. If your health or your work is getting you down the antidote could be a combination of patience, acceptance and a "what the heck" attitude. We can't always make things turn out the way we want, so when we try something that turns out to be not so terrific, we can either cry about it or laugh and try again.
Cards of Destiny Report is a one year forecast based on Robert Camps book and age-old "cards of destiny" our ancestors gave us.
---
Scorpio: The time has come to liberate yourself from something that has become restrictive. Perhaps when you look closely, you'll see that no one is stopping you from freeing yourself –only your own "ifs" and "buts." If there's somewhere you want to be but you feel blocked from getting there, then again, this is probably another self-imposed limit put in place by your own fears. The only barrier to the you that you are now and the you that you would like to be, is you! The cage that you've been living in was open all along. Now all you have to do is decide whether you want to stay put or get a taste of freedom.
Relocation Information Report (3 locations) can be of great assistance if you are contemplating a move.
---
Sagittarius: As the Sun moves through your money and resources zone, this is a good time to think about money –whether you have enough and whether you're making it in the right way. Could there be a more satisfying way to earn your dollars? Are your skills and gifts being made full use of? Are you getting what you're worth? This is a good time to be assertive while at the same time allowing your talents to shine through. It may be that before things can change, you have to bring something to completion, though.
Cayce Past Life Report describes your character traits, relationship potentials and challenges as well as career potentials and even more based on Edgar Casey Readings.
---
Capricorn: There's nothing wrong with feeling vulnerable. It would be unrealistic to expect to be able to traverse life's journey without ever having a wobble. You may not be very sure of yourself right now, and that's okay. As Saturn journeys through your zone of the soul, the answers won't be found in the material world of work, money, success and accomplishment or in any of its offshoots: security, control and logic. However, you might find solace in the more feminine realm of intuition, faith, imagination and self-discovery. By taking off the mask of control and accomplishment, you are allowing yourself to be your true self and to invite a little mystery, magic and wonder into your world. It may be unrealistic at this point to expect to be on top of things, but if you let go and experience whatever is happening, you might find that there's a certain freedom to be found in surrendering to the unknown.
Karmic Past Life Report examines possible past life connections using astrological methods.
---
Aquarius: You may be feeling rather tight this week. Life is requesting some big things of you right now; perhaps the biggest thing is to let go of that which is no longer serving you. This could be a person, place or situation, or it could be a habit or a belief system or way of approaching life that has become self-defeating. This could also be an unresolved issue from the pat. Whatever it is requires a certain amount of courage, but until you can get to that point, you're likely to feel a little like a pressure cooker. Be vigilant of emotions that want to leak out, as this could be a sign that you're nearing the point where transformation is imperative. Being tired is another clue that all might not be well. Once you have let go of whatever saps your energy, you will find you have new levels of strength and enthusiasm through which to share with the world.
Karmic Insight Report comes from an esoteric point of view your birth chart is a portrait of your soul's intention for this lifetime, the lessons to be learned, qualities to develop, problems to be resolved, services to be rendered.
---
Pisces: The good news this week is that Mars moves into your sign bringing an injection of energy, motivation and enthusiasm. The bad news is that Saturn will be squaring Mars, which could make it difficult to actually get moving, even though you're chomping at the bit. Perhaps it would be a good idea to keep reminding yourself that "There is a time for everything, and a season for every activity under the heavens," so if something appears to be blocking you, it's probably because the time isn't quite right. Instead of becoming frustrated with things you can't change, refine your plans, ask for spiritual assistance or focus on other things until progress can be made. Ultimately, this week is about applying patience and courage in equal measure.
Numerology Report is a personal profile and one year forecast based on advanced calculations of your name and birth date.
---
For more information about your Horoscope and what the stars have in store for you, order one of our detailed
Astrology Reports for Couples!
Compatibility Report compares your temperaments and personalities. This information is powerful if you are married or living together.

Love Cards Report will reveal as much information about you and your partner as possible, using an ancient and highly accurate system called "The Book of Destiny".