Aries, Taurus, Gemini, Cancer, Leo, Virgo, Libra, Scorpio, Sagittarius, Capricorn, Aquarius, Pisces
Overview of this week
The Center for the New Age is pleased to present your Free Weekly Horoscope for February 1 — February 7, 2015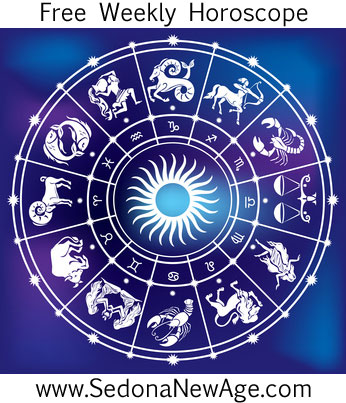 Aries, Taurus, Gemini, Cancer, Leo, Virgo, Libra, Scorpio, Sagittarius, Capricorn, Aquarius, Pisces
Venus and Neptune are conjunct in Pisces (February 1 –February 20). These two very feminine planets are aligned as a higher and lower octave of each other creating a very fluid and open expression of femininity. Venus represents love, magnetism and attraction while Neptune, the higher octave of Venus represents spiritual love, and the melding of spiritual energies. This aspect can be utilized to reach a higher vibration of feminine, spiritual love. It allows beauty, femininity and personal attraction to be connected with the higher spiritual vibrations of the universe. This is an ideal time to connect with one's own guardian angel and spiritual guide. Venus conjunct Neptune, if utilized, can bring great wisdom.
Full Moon in Leo on February 3 captivates our moods with a wild and instinctual push. There may be an opportunity here to enhance and harmonize friendships and family situations in a fulfilling and enriching manner. Moon in Leo brings out the playful, imaginative and creative side of our moods. Most of us are easily drawn towards the need to find warmth and affection, or just plain attention. There may be an opportunity this Tuesday to enhance and harmonize friendships and family situations in a fulfilling and enriching manner.
Mercury in Aquarius sextile Saturn in Sagittarius (February 5 –February 9) gives people an opportunity to learn vital lessons concerning boundaries, limitations and responsibilities. This short period is a good time to teach people about handling responsibilities and disciplines. Mercury sextile Saturn emphasizes favorable news and communications concerning matters of restriction and timely completion. This tends to be a time when struggles and difficulties are frequently discussed, and people collectively draw conclusions concerning how to best handle their problems or responsibilities.
Aries, Taurus, Gemini, Cancer, Leo, Virgo, Libra,
Scorpio, Sagittarius, Capricorn, Aquarius, Pisces
For more information about your Horoscope and what the stars
have in store for you, order one of our detailed
Astrology Reports!
Free Weekly Horoscope for your Sign
Aries: There is a social feeling to the first week in the month; however, the Full Moon may throw a monkey wrench in the works around February 3rd. This may bring up issues connected with friends, groups or social endeavors, but the confusion won't last long and will be replaced by clarity in the days to come. It may be, for example, that something happens that leaves you feeling excluded, but the chances are high that this is simply a projection of your own insecurities. Or it could be that a friend causes a problem or takes up more of your time and thoughts. Perhaps you are being invited to stop resting on your laurels and to see what you can create or give from your heart that will make the situation better.
New Age Natal Report is designed as a guide for your growth and personal evolution in the New Age.
---
Taurus: You may need to adopt a moment to moment philosophy, as trying to control the outcome of situations may be tricky this week. The Full Moon activates your work and home areas and could bring some conflict to light that needs addressing. There could, for example, be problems at work or developments at home that could call on your time and require an adjustment to your course. This is why it's important to just do what you can today without worrying too much about tomorrow, next week, or next month. All will take care of itself if you take care of the here and now.
Merlin Report could be beneficial in self-help and self-transformation.
---
Gemini: With your ruler, Mercury, currently retrograde, this is a week when you will benefit from time alone to sort out your head. Time spent in meditation, quiet contemplation and spiritual thought will lead you to the answers you're searching for. This is a real higher-consciousness transit, so if you make the effort, you will reap the rewards, but this is also a transit of journeys, and you may find yourself on a physical or even an emotional journey, leading you to some interesting places and conclusions. Remember that wherever you go, you should take yourself with you, and your biggest task right now is to be happy in your own company.
---
Cancer: The Full Moon and Mercury retrograde trigger the financial areas of your chart, making money a hot topic right now. Try to see the possibilities within your situation instead of the problems. There are always possibilities, because the power of the human mind has the potential to overcome any adversity. Try to not get caught up in secrets, intrigues, power struggles and fear, but to instead ask yourself, "What is the highest potential of my situation?" and work toward that. You never know –by the end of the week, you might be celebrating!
Child Astrology Report is been designed as a guide for parents, to help with the child's growth and alerting the parents to problems that the child could face in their life.
---
Leo: Sometimes when we're under stress, we become blind to all the good things in our lives and all the possibilities that lay ahead of us. As the Moon grows full in your sign, you may temporarily forget about all your reasons to be cheerful. You may indeed feel that you don't have that many reasons to be cheerful, but look again a little more closely, and then bless everything in your life, even the stuff you don't like. You will find that either your attitude changes or your circumstances shift. And if you do a really good job at blessing, you'll probably find that both your attitude and your circumstances change for the better.
Astrological Solar Return Report offers you a practical guide that helps you analyze this year's prospects and to learn from them.
---
Virgo: Spiritual awakenings aren't always accompanied by fanfares. Sometimes, in fact quite often, they're more of a quiet illumination in which something that was previously unknown suddenly –or gradually –becomes known. This is what you can expect under this week's Full Moon. Perhaps you will deepen your connection to the divine. Perhaps you will have a pleasant, reassuring spiritual experience. Perhaps your intuition will suddenly kick in, showing you what you need to know. Perhaps an answer will come to you in a dream. If life is currently posing a challenge, then this Full Moon should provide the answer.
Astro Forecast Report gives you actual dates when the energies influence your life in a given time period.
---
Libra: It's time to make a decision from the heart. As the Moon grows full and Mercury completes its retrograde motion, you are urged toward greater authenticity: Are you marching to your own drumbeat? Are you being true to yourself and your feelings? Are you living the life you want to live? Are you honoring your creative impulses? Is there enough fun and enjoyment in your life? Any or all of these questions could be relevant now, and they deserve the time to be answered. You may just need to make one or two tweaks in your pledge to honor your heart.
Cards of Destiny Report is a one year forecast based on Robert Camps book and age-old "cards of destiny" our ancestors gave us.
---
Scorpio: Your heart and mind need to be on domestic matters even though the outside world may be making demands on your time. Try to give as much time as you can to matters close to home while balancing the needs of your professional life. Although there may be opportunities in your vocation, these can perhaps wait because something important is happening (or needs to happen) around your home or family life. Mercury retrograde in your domestic area signifies a very important time when you mustn't rush but think carefully about where you want to be. While this is a good time for clearing and sorting at home, it's not so good for trying to move things forward, so decorating, renovations, and house moves are best left until Mercury turns direct next week.
Relocation Information Report (3 locations) can be of great assistance if you are contemplating a move.
---
Sagittarius: As the father of time, Saturn, settles into your sign, it may help to remember that Rome wasn't built in a day. It might seem that there's a lot to do and maybe a long way to go, but you'll achieve more in a happier state of mind if you remind yourself that you have plenty of time. No one's expecting you to produce a miracle instantly. The Full Moon may help you to realize that there's no need to rush, that all the clocks, calendars, computers and phones trick us into thinking we have limited time. Instead, take yourself outside and gaze up at the Full Moon on February 3, and tune into her timelessness. Today she's full, in two weeks she'll be new, and in a month she'll be full again; so the cycle goes. Time isn't linear; it's circular and as such, there's no need to dash to the finishing line, because there isn't one.
Cayce Past Life Report describes your character traits, relationship potentials and challenges as well as career potentials and even more based on Edgar Casey Readings.
---
Capricorn: This week's Full Moon is a liberating one, especially in the area of finance and personal issues. Therefore, if things have been confusing or you've not know what your next stop is, this Full Moon should illuminate matters. You can expect greater clarity in all matters financial and material, but you may feel a growing sense of clarity about what you want in your personal affairs too. The Full Moon is also likely to enhance your awareness of dark emotions that hold you back –emotions such as jealousy, fear, or compulsive or obsessive thoughts or desires. If you've felt in any way out of control, this Full Moon should be a great help in putting you back in the driver's seat.
Karmic Past Life Report examines possible past life connections using astrological methods.
---
Aquarius: With the Full Moon in your opposite sign, the time has come to take off the mask and express your feelings honestly. Most of us aren't very good at being authentic. We say what people want to hear, we hide our true feelings and pretend everything is okay, or we hold back our opinions in case someone disagrees or gets upset. And in some cases, we're not even sure what we think, as we are so influenced by others. This week, try to determine what your true thoughts and feelings are about a certain situation, and then don't be afraid to tell it like it is.
Karmic Insight Report comes from an esoteric point of view your birth chart is a portrait of your soul's intention for this lifetime, the lessons to be learned, qualities to develop, problems to be resolved, services to be rendered.
---
Pisces: We tend to take our health for granted until something goes wrong. This week under the Full Moon, your attention could be drawn to your body: tiredness, aches and pains or illness. It's important, therefore, to rest and to pay attention to any symptoms you have, seeking to determine what it is your body is trying to say, and if your health is generally good, why not enhance it further by improving your diet, exercising and enjoying the occasional spa treatment? Also this week, there is the likelihood of coming to a realization about your daily life; perhaps something needs to change, and as it does so, your physical well being may change for the better too.
Numerology Report is a personal profile and one year forecast based on advanced calculations of your name and birth date.
---
For more information about your Horoscope and what the stars
have in store for you, order one of our detailed
Astrology Reports for Couples!
Compatibility Report compares your temperaments and personalities. This information is powerful if you are married or living together.

Love Cards Report will reveal as much information about you and your partner as possible, using an ancient and highly accurate system called "The Book of Destiny".