Aries, Taurus, Gemini, Cancer, Leo, Virgo, Libra, Scorpio, Sagittarius, Capricorn, Aquarius, Pisces
Overview of this week
The Center for the New Age is pleased to present your Free Weekly Horoscope for February 8 — February 14, 2015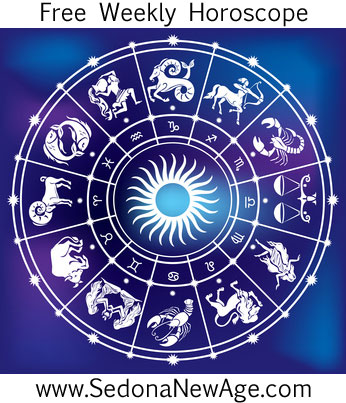 Aries, Taurus, Gemini, Cancer, Leo, Virgo, Libra, Scorpio, Sagittarius, Capricorn, Aquarius, Pisces
Venus in Pisces sextile Pluto in Capricorn (February 8 –February 12) implies that even in the midst of hardship, opportunities are arising with regard to the things we treasure and are attracted to, and also in the matters of love and affection (Venus). These opportunities often are born out of fate or destiny (Pluto), or sometimes are a result of an unpredictable factor. For some, this aspect may be teaching them the lessons of acceptance, of learning to let go of attachments, as well as finding liberation through the transformative process of acceptance, particularly in matters of love.
Since January 21, Mercury has been retrograde in the sign of Aquarius, commonly causing communication mix-ups and confusion when relaying information. In Aquarius, the retrograde Mercury often causes glitches with regard to social engagements, charity efforts and technological events. Now we can breathe a greatly needed sigh of relief as Mercury, the planet governing the realms of communication turns direct on Wednesday in the sign of Aquarius. Very soon our communications will run more smoothly and this will be a good time to begin clearing up various misunderstandings that have occurred over the past few weeks.
The Last Quarter Moon in Scorpio occurs on February 11 focusing our attention on issues of passion and compassion. It is likely the dark secrets of our life will be touched on somehow. This Moon urges us to release stored up tension, and to find release for our emotions without imposing them on others. Physical workouts are excellent for this, provided safety consciousness is maintained. Safety consciousness of any kind is particularly important during Scorpio Moon. Don't forget to keep an eye out for suspicious activity –beware of thieves, smooth talkers and the potential for violent outbreaks.
Aries, Taurus, Gemini, Cancer, Leo, Virgo, Libra,
Scorpio, Sagittarius, Capricorn, Aquarius, Pisces
For more information about your Horoscope and what the stars
have in store for you, order one of our detailed
Astrology Reports!
Free Weekly Horoscope for your Sign
Aries: Mercury turning direct brings an end to problems with friendships, groups and your social life. It also means that you can stop worrying about the future and how you're going to get whatever you need. Progress may have felt slow in recent weeks, but now things can begin to move again, enabling you to find a true sense of where you belong and what you want from the future. This is also a great time to direct your energy and passion into something of a spiritual nature, such as meditation or spiritual development, or to access your inner creator by delving into art or writing in a dream journal. Or you may prefer the benefits of a course connected to healing or counseling. Making time for your inner self will enable you to clear anything that's been holding you back so that you can begin to surge forward with intensity.
New Age Natal Report is designed as a guide for your growth and personal evolution in the New Age.
---
Taurus: "I can see clearly now the rain is gone. I can see all obstacles in my way. Gone are the dark clouds that had me blind. It's gonna be a bright bright sunshiny day." These lines from the Johnny Nash song reflect where you are now as Mercury turns direct at the top of your chart. Any confusion, challenges or problems should soon be dissolving, especially those connected with your direction in life or your work or vocation. It should also be easier to move forward with your aims and ambitions, so put your focus on where you want to head, trusting that the path ahead clears with each step you take.
Merlin Report could be beneficial in self-help and self-transformation.
---
Gemini: As Mercury turns direct, the way forward should begin to clear, allowing you to move forward with a stronger sense of where you're going. At its best, this could result in a rebirth in which you emerge from a difficult time stronger, wiser and lighter, though still perhaps needing an element of courage in order to make progress. Mars at the top of your chart encourages you to take a bold step forward and not be afraid to show the world what you can do.
---
Cancer: Mercury turning direct releases complicated issues, and anything of a personal, intimate or financial nature can begin to move forward, and you can turn your thoughts toward a more abundant life. This would be easier, however, if you could release the guilt. Something, it seems, is eating away at you, so you really need to get a handle on this before you can enjoy what is rightfully yours. We don't always get things right, and we can't be responsible for the well-being and happiness of others. If you feel that you can do no more for a person or situation, you need to release it or hand it over to a higher power.
Child Astrology Report is been designed as a guide for parents, to help with the child's growth and alerting the parents to problems that the child could face in their life.
---
Leo: As Mercury turns direct in your opposite sign, the good news is that the emphasis can begin to move away from relationship matters, freeing you up to focus on other things. It may help, though, before you do move on, to consider that all your interactions with others will benefit from a more mature stance. That may mean, for example, trying not to get embroiled in arguments or petty conflicts. Or it may mean setting boundaries so that you can have a healthier sense of space. Ask yourself in what way could you be more mature and then try to put your findings into place.
Astrological Solar Return Report offers you a practical guide that helps you analyze this year's prospects and to learn from them.
---
Virgo: Mercury resumes forward motion this week, which is good news for you, particularly for your health, your work and your life in general. If you've found it difficult to make progress recently, then this week should find you in much better spirits as all that held you back dissolves into dust. The focus is still on the aforementioned areas, but while before it may have been difficult, now it should feel more positive. You may, therefore, feel that you've got the energy to plough into your work or into your daily affairs perhaps deciding to tackle a difficult job that you've put off. Jobs like clearing our closets and sorting our paperwork are good examples. Organization and efficiency are the keys to your well-being now, so de-cluttering and sorting while streamlining your diet and lifestyle will enable you to function much more effectively.
Astro Forecast Report gives you actual dates when the energies influence your life in a given time period.
---
Libra: As the Sun journeys through your house of creativity, fun and enjoyment, you are asked to let more of your true colors shine. This may mean going against the grain, or it may mean taking more time to do the things you enjoy. You may feel compelled toward more romance or greater creativity. You may wish to spend more time with children or animals. All of these –although seemingly very different –enable the wild self to be expressed. When we pick up a paintbrush or when we dance or sing, we let our spirits out to play. Likewise, when we fall in love or play a silly game with a child, we become more than we were before. The big question for you now is: How can you break down the walls that have built up around you and let your true self out to play?
Cards of Destiny Report is a one year forecast based on Robert Camps book and age-old "cards of destiny" our ancestors gave us.
---
Scorpio: Mercury's return to normality gives you a green light to go in matters of a domestic nature. However, you may not feel like rushing off the starting block, as you may find this to be an emotional time, and you would probably benefit from turning within to identify the root of any emotional discomfort. Once you have released any sorrow or come to grips with any uncomfortable feelings, you will emerge with a spring in your step and a desire to join in the merriment that Venus and Mars are currently creating in your house of fun.
Relocation Information Report (3 locations) can be of great assistance if you are contemplating a move.
---
Sagittarius: Mercury's return to direct motion is good news if you've tied yourself up in knots recently. It's also likely to signify a time when you can begin to get your mojo back. Having Saturn in your sign can be demanding and consequently rather tiring, so if you feel drained or in need of a rest, don't be hard on yourself. Perhaps you feel that if you're not there to see to everything that things will fall apart. It's true that you're a great person to have around, as you get so much done in half the time it takes other people, but if you run yourself into the ground, you won't be much use to anyone, so take heed of your body's warning signals, and remember to rest and play.
Cayce Past Life Report describes your character traits, relationship potentials and challenges as well as career potentials and even more based on Edgar Casey Readings.
---
Capricorn: Mercury turning direct is good news for your financial situation, which should soon start to be less problematic. In fact, now is a good time to start putting plans and ideas into practice, from sorting out financial affairs to implementing ideas to generate more income. You do, however, have the somewhat trying influence of Neptune's square to Saturn to content with, which could result in either a vague sense of unease down to outright stress as things begin to crumble around you. If this is the case, there's probably not a great deal you can do, as Neptune tries to dissolve the structures that you have built up, probably because these structures –safe as they may be –are likely to keep you prisoner. Try to go with whatever happens and remind yourself that you are in a long process of transformation, and the easiest way to deal with this is to willingly shed your old skin.
Karmic Past Life Report examines possible past life connections using astrological methods.
---
Aquarius: Now that Mercury is turning direct in your sign, you can begin to move forward with much greater ease. All the niggling problems and challenges of the past few weeks should be easing now and you should have a clearer sense of what you want and where you're going –and how to get there. In short, life should get easier this week. You could enhance that by kicking off your shoes and getting into playful mode. We often lose sight of the importance of humor and playfulness, but it is essential to our well-being, counteracting stress and creating a more relaxed mind.
Karmic Insight Report comes from an esoteric point of view your birth chart is a portrait of your soul's intention for this lifetime, the lessons to be learned, qualities to develop, problems to be resolved, services to be rendered.
---
Pisces: Mars is currently blazing a trail through your sign, effectively giving you a green light to go. Having Mars in your sign is like having a warrior by your side, making it easier to feel confident and go for what you want. You're also likely to be blessed with greater enthusiasm and motivation, and now that Mercury has turned direct in your zone of endings, you should start to feel more inclined to get things moving. However, it's not all about getting things done, as Venus is also in your sign, inclining you toward periods of indulgence, enjoyment and relaxation. Fell no guilt when you take time out for pleasure. The best advice with this combination would be to work hard and play hard while putting the focus on love and relationships. You should find that you can get a lot done in the most charming way!
Numerology Report is a personal profile and one year forecast based on advanced calculations of your name and birth date.
---
For more information about your Horoscope and what the stars
have in store for you, order one of our detailed
Astrology Reports for Couples!
Compatibility Report compares your temperaments and personalities. This information is powerful if you are married or living together.

Love Cards Report will reveal as much information about you and your partner as possible, using an ancient and highly accurate system called "The Book of Destiny".