Aries, Taurus, Gemini, Cancer, Leo, Virgo, Libra, Scorpio, Sagittarius, Capricorn, Aquarius, Pisces
Overview of this week
The Center for the New Age is pleased to present your Free Weekly Horoscope for February 15 — February 21, 2015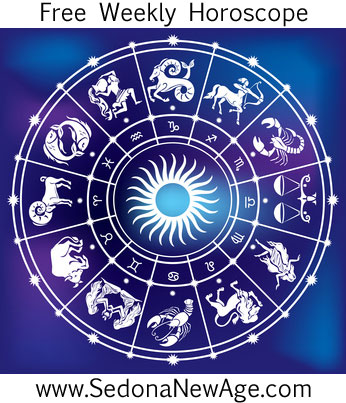 Aries, Taurus, Gemini, Cancer, Leo, Virgo, Libra, Scorpio, Sagittarius, Capricorn, Aquarius, Pisces
New Moon in Aquarius on February 18 is a good time to begin new social and philanthropic endeavors, and to attain new knowledge by learning something new about ourselves or our ever changing world. Moods created by this New Moon may be bold or daring, with a flair for experimenting with life. This is the time to open up to new feelings and greater comprehension of science and technology and of these changing times, adding to our power.
Thursday Mercury in Aquarius sextile Saturn in Sagittarius (February 19 –February 23) gives people the opportunity to learn vital lessons concerning boundaries, limitations, responsibilities and timely completion of tasks. This is a favorable aspect to discuss where to set up boundaries and how to implement security systems, and to teach people about handling responsibilities and disciplines.
Mars enters Aries on Friday (February 20 –March 30). Mars, the planet of action and masculine drive and force, is at home in Aries, the sign it rules, where it initiates activities in the most forward and direct manner possible. Mars is the god of war in mythology; often Mars related experience is generated through our impulses, our anger and rage, our fear and compulsion, our need to confront and bring forth the primal force of energy and zeal that is our ability to take action –it's our spark of life. Mars' influence generates activity and heat which can often appear explosive under pressure. Mars in Aries places an emphasis on the courage, initiative, drive, energy, willpower and strength necessary to take action. A lot goes on with Mars in Aries, so when the strain becomes too absorbing, remember to rest now and them.
Aries, Taurus, Gemini, Cancer, Leo, Virgo, Libra,
Scorpio, Sagittarius, Capricorn, Aquarius, Pisces
For more information about your Horoscope and what the stars
have in store for you, order one of our detailed
Astrology Reports!
Free Weekly Horoscope for your Sign
Aries: The New Moon of February 18 wipes the slate clean as far as the past is concerned, so this is a pivotal point at which to close a door and prepare for new things to enter your life. At the same time, Mercury's retrograde transit will have helped you to get clear about one or two things in terms of who you want in your life, who might be too much trouble, and what groups or organizations you want to belong to. It may also have helped you gain clarity about your vision for the future, and now, as Mars enters your sign on Friday, you can begin to make this a reality. If there's something you want to do, now is the time to do it.
New Age Natal Report is designed as a guide for your growth and personal evolution in the New Age.
---
Taurus: The New Moon invites you to imagine a brighter future and asks you to create a new vision of your life. This may also involve other people, from friends and acquaintances to contacts, groups and organizations. Who do you want in your life to help you manifest your dreams? Who can help you to make a difference in society or your community? Is it time for some new friends of like-minded people who can assist you and who you can assist in return? Wise words to contemplate under this New Moon are these by Walter Winchell: "A real friend is one who walks in when the rest of the world walks out."
Merlin Report could be beneficial in self-help and self-transformation.
---
Gemini: The New Moon sprinkles fairy dust on your path just as Saturn comes along to spoil the party by asking you how much you want the thing in question and how hard you are prepared to work for it. If you currently feel as if you haven't the energy to put into your professional endeavors, goals and ambitions, you would benefit from writing out a plan of action. If, on the other hand, you're up for the challenge, you first need to get clear on what you want to manifest, and then accept that there may be limitations. All writers, for example, dream of being hugely successful novelists, but most have to settle for smaller scale success. There's nothing wrong in aiming high, but you may actually get further in achieving your goals with a degree of realism.
---
Cancer: The New Moon on February 18 invites you to something bigger and better. This is the moment to break out of your comfort zone and set sail for new horizons. This may feel a little scary, especially as Cancers have a tendency to cling on and keep the past alive when it would be better to focus on the present, but for your ultimate well-being, you need to think about adventure and what that means to you. Wise words to bear in mind this week are from Andre Gide: "Man cannot discover new oceans unless he has the courage to lose sight of the shore."
Child Astrology Report is been designed as a guide for parents, to help with the child's growth and alerting the parents to problems that the child could face in their life.
---
Leo: The New Moon on Wednesday invites you to create or welcome new beginnings in the deeply personal or financial areas of life. Here also is an opportunity to cleanse, heal and renew. Over time, toxicity builds up as we go through painful experiences, so when the New Moon ventures down into the deepest, darkest part of our psychics, it brings with it the chance to let go and move on. Jupiter may also ask you to push further out of your comfort zone, which may not initially be greeted with enthusiasm from another person. Or maybe breaking out of your comfort zone involves getting closer to another. Nonetheless, there is a strong theme right now of balancing your needs with the needs of others or with living your own life but making time and space for relationships.
Astrological Solar Return Report offers you a practical guide that helps you analyze this year's prospects and to learn from them.
---
Virgo: With a New Moon in your opposite sign on February 18, you are invited to welcome new beginnings into your personal life or to create opportunities for positive change in this area. This is a golden opportunity to start afresh in an important relationship and to be open to more love and greater compassion in your life –both giving and receiving. As Joseph Joubert said, "A part of kindness consists in loving people more than they deserve." However, there are limits, and if someone has been taking advantage, this would be a suitable time to set some boundaries and to decide where to draw the line. Sometimes you have to put your own health and sanity first before you can be of use to others.
Astro Forecast Report gives you actual dates when the energies influence your life in a given time period.
---
Libra: The courage to be yourself is a tall order. Few people can fully manage it, and the ones who do tend to get funny looks or disparaging remarks. We don't like it when others break rank, stop being sheep, and go to follow their hearts. And it is a fact that so many people find it difficult to follow their own passions. What's your true passion? Take a moment to mull over this because the Sun and Mercury in your creative zone give you permission to take a big step toward it while the New Moon on February 18 provides your cue to embrace a sense of the new in your daily life. Put your focus on your health, your well being, and becoming more organized and efficient so that your life can become a more perfect demonstration of who you truly are.
Cards of Destiny Report is a one year forecast based on Robert Camps book and age-old "cards of destiny" our ancestors gave us.
---
Scorpio: We were all born with an innate faith that our needs will be taken care of and all that we want will magically appear. Then around the age of seven, we begin to doubt the existence of such magical figures as tooth fairies and Father Christmas, and gradually the realism of adult life takes hold and we stop believing. As we do, we also stop believing in ourselves too. Thus, we begin the need to control others, life and situations and all the joy gradually begins to leach out of life. The New Moon on Wednesday is a very special one for you, falling in your house of fun, creativity and childlike naivety. This New Moon asks you to reclaim your faith in the magical, the mysterious and the guiding hand that will help you when you need it. You're not alone, and you don't have to be in control all the time. It's time to release and surrender. In doing so, you will open up a channel of abundance, creativity, synchronicity and divine inspiration that will give you everything you need.
Relocation Information Report (3 locations) can be of great assistance if you are contemplating a move.
---
Sagittarius: In what way are you compromising yourself? Some people compromise themselves by doing a job they don't like because the money is good. Others compromise themselves by staying in an unloving relationship for the sake of the children or the nice lifestyle. But there are smaller ways in which we compromise ourselves, perhaps by not charging enough for the services we offer or by going along with something that we don't actually agree with. With a New Moon in the deepest area of your chart, it's time for a change at a fundamental level –the type of change that, if you make it, will have you singing from the rafters because you'll be honoring yourself. This, therefore, is a week to be very honest with yourself and others.
Cayce Past Life Report describes your character traits, relationship potentials and challenges as well as career potentials and even more based on Edgar Casey Readings.
---
Capricorn: Here comes an opportunity to expand your consciousness. The New Moon in your mind zone is aligned with Neptune and square Saturn. Basically, this means that if you put in the effort, such as through meditation or some other form of spiritual practice, you have the opportunity to transcend the previous levels of your consciousness. Perhaps in its simplest terms, this could lead to a eureka moment, and for other Capricorns, there may be a growing realization about the nature of Spirit being within. In other words, you could get a glimpse of your own divinity around this New Moon. Time spent alone and in deep contemplation will help facilitate this spiritual awareness, and on a more day to day level, you may wish to examine your attitude, since "Your attitude, not your aptitude, will determine your altitude."
Karmic Past Life Report examines possible past life connections using astrological methods.
---
Aquarius: The New Moon in your money zone makes this the perfect time to turn over a new leaf where finances are concerned. It could be the moment to look at where your money goes, how you spend it and whether you are fully respecting the value of your money. Or it may be time to increase your income and work toward generating more abundance in your life. It may just as feasibly be important for you now to question your values – asking what is more important to you and what you truly value –and make these things the cornerstone of your life. In this instance, it may be that you decide to sacrifice financial benefits for greater happiness in other areas –more freedom, creativity, or time with family, for example. Something, it seems, will have to give, so first of all determine what is most important to you and follow that.
Karmic Insight Report comes from an esoteric point of view your birth chart is a portrait of your soul's intention for this lifetime, the lessons to be learned, qualities to develop, problems to be resolved, services to be rendered.
---
Pisces: The New Moon in your own sign gives permission for you to make a change, step out in a new direction, or create a fresh start. This is the time to welcome new beginnings, but with Saturn's square to this New Moon, you may have to be patient and remind yourself that Rome wasn't built in a day. Perhaps you would like to create a new vision of your life, or maybe you'd like to make a change that might meet with some resistance. Or maybe you'd like to change something about yourself that would require a little struggle. It may also help not to beat yourself up about your situation: We don't always get things right the first time nor can we create instant success, so cut yourself some slack and praise yourself for all that you are and all that you've done.
Numerology Report is a personal profile and one year forecast based on advanced calculations of your name and birth date.
---
For more information about your Horoscope and what the stars
have in store for you, order one of our detailed
Astrology Reports for Couples!
Compatibility Report compares your temperaments and personalities. This information is powerful if you are married or living together.

Love Cards Report will reveal as much information about you and your partner as possible, using an ancient and highly accurate system called "The Book of Destiny".