Aries, Taurus, Gemini, Cancer, Leo, Virgo, Libra, Scorpio, Sagittarius, Capricorn, Aquarius, Pisces
Overview of this week
The Center for the New Age is pleased to present your Free Weekly Horoscope for February 22 — February 28, 2015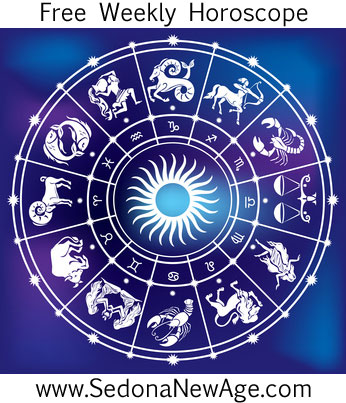 Aries, Taurus, Gemini, Cancer, Leo, Virgo, Libra, Scorpio, Sagittarius, Capricorn, Aquarius, Pisces
On Sunday for only a few days, Venus conjunct Mars in the sign of Aries brings together the feminine and the masculine counterparts in a harmonious way. This conjunction puts us in touch with the power of love in action and active attractions. This may serve as a good time to express love ardently and sincerely, and to receive love just as well.
February 23 Venus in Aries trine Saturn in Sagittarius (February 23 – March 5) brings the timely gift of love. Paradoxically, it also allows for some peace in the closure of a love relationship. Venus trine Saturn brings the gift of responsive and enduring love. This is the aspect to enhance a love vow or oath with the timely application of loving energy, and is also a good aspect to better understand the importance of devotion and responsive caring.
Wednesday Mars in Aries trine Saturn in Sagittarius (February 25 –March 31) brings gifts, provided there is an application of discipline and timing. This may be a time for those who are affected by this aspect to become noticed or actively acknowledged. Offensive and defensive forces tend to work harmoniously with this aspect. For some, though not all, this aspect will be helpful, and this may be just the time to favorably put an end to those factors in life which have held us back from a sense of achievement. A gift of strength of will and the rewards of hard work harmonize to bring positive results. To benefit from this aspect, one must be persistent in taking action regarding important matters. It is the action of doing something with the application of energy (Mars) while applying responsibility and awareness of limitation (Saturn) that allows the perfect timely quality of completion as well as new beginnings to occur with this strong but favorable aspect.
First Quarter Moon in Gemini on February 25 brings the necessity for our moods to be changeable and adaptable. Our moods are easily affected by the busy buzz of intellectual focuses and pursuits, and this may be tiresome to some folks. The emphasis of covering many details at once becomes the primary objective, but not necessarily the answer to our insatiable curiosity. The act of processing information becomes essential. Do not let gossip and idle chatter be the cause of disruption in your day – thoughtlessness is also a symptom of the Gemini Moon atmosphere. The Gemini Moon puts us in touch with how we feel about our thoughts. If you don't like how you feel about your thoughts, endeavor to alter your way of thinking. Omit thoughts which attempt to defeat your sense of purpose; encourage thoughts that uplift and inspire your spirit. Be careful not to overdo the caffeine during this aspect.
Aries, Taurus, Gemini, Cancer, Leo, Virgo, Libra,
Scorpio, Sagittarius, Capricorn, Aquarius, Pisces
For more information about your Horoscope and what the stars
have in store for you, order one of our detailed
Astrology Reports!
Free Weekly Horoscope for your Sign
Aries: The Sun moves into your zone of repose making this a time to get in touch with your soul and to take time out if you need it. This, though, is at odds with dynamic Mars in your sign, so you will need to find a way to balance your desire to make things happen and your soul's need for a quieter time. Striving to balance the yin and yang elements of life will be the goal for this week. It's therefore important to work on your plans and projects and to get things done but also tend to your health and give time to your psyche –perhaps through meditation, prayer, art, dreams and so on. For creative Aries, this is a good time to bring your creative dreams to life. And with Jupiter journeying through your house of creativity for half the year, this is perhaps something to pay particular attention to.
New Age Natal Report is designed as a guide for your growth and personal evolution in the New Age.
---
Taurus: The Sun moving into Pisces is good news for you as it brings a sense of optimism for the future and a desire to join with others, either for pleasure or to make a difference. This, then, is a good week to socialize with friends and acquaintances, to make new contracts, and to move forward toward a happier future. There is, at the same time, a cluster of planets in your zone of the soul, making this an opportune time to take a little more rest and to deepen your connection with the divine or your inner self. Enjoyment of spiritual pursuits could rank highly now, as could taking time to simply be with your thoughts. You could find that your increased connection to the higher realms results in surges of intuition or flashes of inspiration, which could be instrumental in helping you on your journey.
Merlin Report could be beneficial in self-help and self-transformation.
---
Gemini: The current planetary lineup is great for your future and your career, goals and ambitions, particularly for getting your ideas out into the world. The Moon, Mars and Venus join forces to help you make the necessary contacts and to push your vision forward into the world. This is a very sociable time, so you may wish to spend time with friends and within groups, enjoying the feeling that comes from being with like-minded people. Whatever your current state of affairs, it is important that you get out and about as much as possible and be like the butterfly that represents your sign.
---
Cancer: The Sun's change of signs should be a breath of fresh air for you, especially if the last few weeks have been a bit heavy. This is the moment at which you will begin to feel the spring return to your step and the twinkle reappear in your eye. There is perhaps a sense of liberation –perhaps that you've been released or set free from a restrictive or oppressive situation. Not only that, but Mars and Venus dance hand in hand over the top of your chart, instilling a sense that you can achieve far more than you have before and that with a little bit of courage and a dash of charm and self belief, you can go places and achieve things that may previously have seemed a bit unrealistic.
Child Astrology Report is been designed as a guide for parents, to help with the child's growth and alerting the parents to problems that the child could face in their life.
---
Leo: The planets are lining up in the supportive regions of the heavens, enabling you to bring your desires and visions into being or to simply enjoy more good times and less stressful ones. They also call you toward greater authenticity, so now might be a pivotal point at which to examine whether there is any way in which you might be living a lie –any way in which you're not being completely true to yourself, perhaps putting up with something or telling yourself "one day." Well, the one day is here, so you need to get moving. You have the opportunity now to change your life for the better; it simply requires you to be really honest in acknowledging what needs to change. Once you've identified what needs to change, the how will begin to appear.
Astrological Solar Return Report offers you a practical guide that helps you analyze this year's prospects and to learn from them.
---
Virgo: As the Sun moves into Pisces, the focus begins to shift from the minutiae of daily life to your relationships and interactions with others. It is likely, therefore, that other people will begin to take up more of your time and attention. Since Neptune is involved, some sort of sacrifice may be necessary, which could be as simple as giving up a little bit of time for someone. Indeed, you have the capacity to make a big difference to others by small actions. A compassionate hug to someone in need or taking the time to really listen to someone could have more of an effect than you might ever know. As Benjamin Disraeli said, "The greatest thing you can do for another is not just share your riches, but to reveal to him his own."
Astro Forecast Report gives you actual dates when the energies influence your life in a given time period.
---
Libra: How can you bring more soul and spirit to your daily life? Perhaps you could start the day with a few yoga postures or a morning meditation? Perhaps you could choose an angel card for the day and keep in mind its message. Perhaps you could aim to bring a more sacred approach to your work or the jobs that you do around the home. This is certainly a good time to be like the Buddhists and bring mindfulness to your daily chores. Cleaning a room could result in a sense of nirvana! Another question to ask yourself would be what are you putting off –cleaning that room, the morning meditation? Whether it's something that's nagging at the back of your mind or something that you'd enjoy once you're committed to it, now is the time to start, remembering all the while to bring a sense of the sacred into the process.
Cards of Destiny Report is a one year forecast based on Robert Camps book and age-old "cards of destiny" our ancestors gave us.
---
Scorpio: Trust is the cornerstone of life; without it, we don't get very far. We have to trust, for example, that when we go to the doctor, we are given the right medication –or that when we take our car to the garage that the mechanic will fix it or that when we step on a plane the pilot will carry us safely to our destination. Every day we place our trust in people, and the more we do this, the less stressful and worrisome life becomes. This week try to become mindful of when you do trust and when you don't. In those instances when you don't trust, can you find a way to let go of the doubt and fear? Can you dissolve the barrier placed between you and another so that you can trust them? All of this requires great courage, which is what is asked of you this week. On a lighter note, creative and artistic expression could be hugely enjoyable as a beautiful conjunction between the Sun and Neptune occurs in your zone of self-expression so get out the paints, the camera, the guitar, the clay –whatever works for you –and let your creative self run wild.
Relocation Information Report (3 locations) can be of great assistance if you are contemplating a move.
---
Sagittarius: One of the perils of having Saturn in your sign is a tendency toward guilt. Saturn reminds us of all the stuff we haven't done –all the stuff that needs doing and everything we might have gotten wrong in the past. It brings us up sharp and has us confront our failings. This is why it's such a great maturing transit. We grow up fast when Saturn's around. However, feeling bad about things doesn't get us very far, and really, Saturn only wants us to make constructive improvements to our lives, so take a look at what's wrong, by all means, but don't stay in the gloom. Decide to learn from your mistakes and to keep working toward making things better. With a constructive can-do attitude, you will look back a year from now and be pleased with all that you've accomplished.
Cayce Past Life Report describes your character traits, relationship potentials and challenges as well as career potentials and even more based on Edgar Casey Readings.
---
Capricorn: "Cease trying to work everything out with your mind. It will get you nowhere. Live by intuition and inspiration and let your whole life be a revelation." Eileen Caddy of the Findhorn Foundation offers these words of wisdom that are very fitting for you as the Sun aligns with inspirational Neptune in your communication zone. Now is the time to access higher channels of communication, perhaps by listening to music, involving yourself in art, reading poetry or taking the time to mediate or pray. As you raise your mind to a higher level, problems will seem more trivial or easier to solve, and inspiration and intuition will guide you to appropriate actions.
Karmic Past Life Report examines possible past life connections using astrological methods.
---
Aquarius: The purpose of the Uranus-Pluto series of squares over the past few years is tremendous change and transformation. Given that Uranus is your planetary ruler, it would be reasonable to expect that this planetary combination pushes you toward some sort of major life change or personal transformation. Now that the last of the seven squares is almost exact, it may be that you're nearing the end of an ongoing process of change. Examine where in your life you need to be more authentic. What makes you unhappy? Where are you simply playing a role rather than coming from your heart. As the answers emerge, you'll know what you need to do.
Karmic Insight Report comes from an esoteric point of view your birth chart is a portrait of your soul's intention for this lifetime, the lessons to be learned, qualities to develop, problems to be resolved, services to be rendered.
---
Pisces: The Sun in your sign marks a new phase in your life, along with opportunities for celebration and enjoyment. Think of it as your own personal new year, when you can look back and see how far you've come and where you want to go next. Throw out whatever isn't working for you and embrace that which enhances your vision of a wonderful life. A group of planets enter your house of money at the beginning of the week making you more magnetic but also more determined and enthusiastic to manifest more of whatever you need. This is a great week for enjoying life, focusing on what is important to you, taking time to focus on your needs, and enjoying more of life's pleasures.
Numerology Report is a personal profile and one year forecast based on advanced calculations of your name and birth date.
---
For more information about your Horoscope and what the stars
have in store for you, order one of our detailed
Astrology Reports for Couples!
Compatibility Report compares your temperaments and personalities. This information is powerful if you are married or living together.

Love Cards Report will reveal as much information about you and your partner as possible, using an ancient and highly accurate system called "The Book of Destiny".