Aries, Taurus, Gemini, Cancer, Leo, Virgo, Libra, Scorpio, Sagittarius, Capricorn, Aquarius, Pisces
Overview of this week
The Center for the New Age is pleased to present your Free Weekly Horoscope for March 1 — March 7, 2015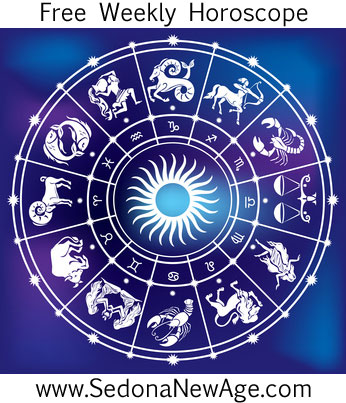 Aries, Taurus, Gemini, Cancer, Leo, Virgo, Libra, Scorpio, Sagittarius, Capricorn, Aquarius, Pisces
Mercury in Aquarius is opposite Jupiter in Leo (March 1 –March 6). We may find ourselves bartering for things that cannot be sold. This aspect also focuses news on the opulent life styles of the rich and famous, as people find themselves unable to stop talking about their financial situation or their need for advancement, a raise or an income. Wealth is highlighted, and there is considerable debate as to what wealth really represents. Most of the time wealth is an illusion, and people really don't know what they're talking about when they make assumptions about the apparent well being of others.
Venus in Aries trine Jupiter in Leo (March 4 –March 12) brings valuable and inspiring gifts of love and affection. Love (Venus) is harmoniously placed with prosperity and opportunity (Jupiter). This is a great time to give gifts of love, and for many, it offers an expansive outlook of love's power. Getting ahead in life, in this case, has everything to do with appreciating and loving those area of life in which we want to expand and prosper. A positive outlook can indeed help make this happen.
Venus in Aries is square to Pluto in Capricorn (March 5 –March 17). The energetic, swift and intrepid qualities of our affections are likely to take a pretty good beating. Our concepts of beauty may be challenged as the corruption of superpowers prompts action which threatens or alters the beauty and pleasure in our lives. Venus square Pluto often involves such difficulties as loss or death of a loved one, the obstacles of rejection and general oppression for those aspects of life to which we are undeniably attached and which we hold dear. If something of this nature is occurring for you, it is best to recognize that love will triumph in every dimension, despite the pain of separation or the disease and strife of the beloved. While Pluto is in Capricorn, the square of Venus in Aries may create the sense that loving efforts are unreciprocated. Some people may feel used, unappreciated or disadvantaged. Be both strong and gentle in matters of love. Let the obstacles of love's pain become the building blocks of a better outlook, and a stronger love will supersede these current trials of the heart.
The Full Moon in Virgo on Thursday reminds us of the need to organize, analyze and constructively criticize our health practices and our cleanliness practices. Virgo also puts the focus on organization, filing, accounting preparing taxes and handling all of life's mundane necessities. Virgo Moon energy purges and purifies our surroundings with sound resourcefulness and simple logic. Virgo rules the intestines of the body and represents the process of elimination. Now is an excellent time to focus on eliminating toxins and purifying the body. This is also a good time to purge the useless, destructive, or outmoded habits of our life. Celebrate your existing health and do something good for your body on this Full Virgo Moon.
Aries, Taurus, Gemini, Cancer, Leo, Virgo, Libra,
Scorpio, Sagittarius, Capricorn, Aquarius, Pisces
For more information about your Horoscope and what the stars
have in store for you, order one of our detailed
Astrology Reports!
Free Weekly Horoscope for your Sign
Aries: We tend to take our health for granted until it goes wrong. As the Moon grows full in your house of health, it is calling you to examine how your physical well-being could be enhanced. This is especially important at the moment because Mars is joining Uranus in your sign, which will be rather electrifying, to say the least. You may feel like you're here, there and everywhere, and although you'll have masses of energy and dynamic enthusiasm, it could all begin to take its toll on your health by the end of the month. By taking preventative action now, you should end the month hale and hearty. Balance your desire to make changes, and get things done with plenty of rest, play, nourishing food, and time for quiet contemplation.
New Age Natal Report is designed as a guide for your growth and personal evolution in the New Age.
---
Taurus: As the Moon grows full in your creative zone, it might be timely to consider how much of yourself you are putting out into the world. Is it enough? Or is it too much? Somehow, there needs to be a balance between what you're doing out there in the world and what you give to yourself. To be creative, we have to nourish ourselves, to give ourselves "soul food." What nourishes your soul? Perhaps it's nature or music; or maybe it's art or time spent playing with your children. Maybe it's a hearty meal cooked with love and shared with your family. Or maybe it's time out alone. Don't be reluctant to give yourself what you need, because as you do so, you'll be able to generate more that others can benefit from.
Merlin Report could be beneficial in self-help and self-transformation.
---
Gemini: As the Moon grows full in your domestic zone, this is an opportune moment to contemplate your place in the world. Where do you feel you belong? Are you happy at home? Are you happy with your domestic situation, or is there room for improvement? Unless we're happy at home, it's difficult to feel happy and fulfilled in other areas of life. Our foundation is everything so take a moment to think about your foundation –is it solid, secure and nurturing? And is your life everything you want it to be? Once you feel "right" where you are, it will become easier to forge a path in the external world.
---
Cancer: The image we present to the world is not always the truth. Sometimes we put on a smile when inside we're crying or angry. Sometimes we hide our vulnerability and present an image of strength. The Full Moon on March 5 may highlight your authenticity of expression: do people really know what's going on inside, and if they did, how would they react? Perhaps there's a change that you would secretly like to make; if so, this week is the time to let it be known. Embracing adventure or stepping out in a new direction is what is being asked of you right now, and honesty and equality in your relationships are the ideals to aim for.
Child Astrology Report is been designed as a guide for parents, to help with the child's growth and alerting the parents to problems that the child could face in their life.
---
Leo: With a Full Moon in your financial zone, it may be time to see whether this side of life is working well for you or whether there's room for improvement. It can be helpful to look back and see how far you're come with regard to your money and work and to see whether you are receiving what feels right and healthy. For example, do you get back what you put out? Or could you do more to receive more? If you're in business, does your income reflect the quality of your services? If you are in debt or responsible for another, is this comfortable and manageable or is it time for change? Or if it's you that's in any way dependent, has the time come to become more empowered? The Full Moon will help you to reach an important realization that could in turn alter the course of your prosperity.
Astrological Solar Return Report offers you a practical guide that helps you analyze this year's prospects and to learn from them.
---
Virgo: The Full Moon on March 5 is your cue to stop and take stock of your life. How far have you progressed since last year? We often fail to look back to see how far we've come. Instead we compare ourselves to others and find ourselves wanting. The feeling of not being good enough emerges as we expect more of ourselves so take a look at where you were twelve months ago to see whether there's been any progress. Even if it's only been small steps, it's something to acknowledge. Try not to compare yourself to others; the chances are that they're busy comparing themselves to others too and wishing that things in their own lives were different. Give thanks for what you have, knowing that a kind and compassionate attitude toward yourself as well as others will get better results.
Astro Forecast Report gives you actual dates when the energies influence your life in a given time period.
---
Libra: The Full Moon on March 5 represents a closing of a cycle in your daily life and your work or health, so it may be helpful to pause and look at how far you've come in these areas. This could be a time of illumination for you as you get glimpses of what you need to do in order to make more of your possibilities. Your personal life looks interesting, and you need to take care that this doesn't take over or derail your good intentions in other areas of your life. Try to strike a balance between relationship dramas and the need to focus on your daily affairs, whether it's taking time to nurture your health or taking the time to become more organized in your work or general affairs. When your life works more efficiently, so will your mind and body.
Cards of Destiny Report is a one year forecast based on Robert Camps book and age-old "cards of destiny" our ancestors gave us.
---
Scorpio: The Full Moon on March 5 is your cue to think about your future. Perhaps there is something in your present situation that you could do without. Maybe there's a way in which you could be more yourself. Have a look at your life as it stands now, and consider whether it truly reflects who you are. Ask yourself what needs to change so that you can be more authentic. As Pluto makes its final square to Uranus, this is your last chance for quite some time to create profound and lasting change.
Relocation Information Report (3 locations) can be of great assistance if you are contemplating a move.
---
Sagittarius: It could be time to reflect on your direction in life and where you belong. What and where feels like home to you? If you can answer this question, then the Full Moon on Thursday shouldn't prove to be too much of a problem. If you're not sure of the answer, this would be an appropriate time to get to know yourself a little better. Write a list of who you feel at home with, places that feel like home, and events and activities that feel like the foundation of who you are. Currently those foundations may feel a little wobbly, so this is why it's important to take stock. Sometimes we wake up and realize that what once made us happy or felt right no longer does. And then it's time to discover new aspects of life that can support your next level of growth.
Cayce Past Life Report describes your character traits, relationship potentials and challenges as well as career potentials and even more based on Edgar Casey Readings.
---
Capricorn: You're not normally prone to foolish thoughts or actions, but Saturn's difficult aspect to delusional Neptune could put you in an odd frame of mind, potentially inclining you toward strange flights and fancies so be sure that whatever you're thinking of will be worth the effort. That's not to say that there aren't possibilities; indeed there are. It's just a matter of separating the wheat from the chaff, the false options or dead end roads from the real and true opportunities that could lead to something good. By taking your time to consider what feels right, you'll make the right choices.
Karmic Past Life Report examines possible past life connections using astrological methods.
---
Aquarius: Full Moons tend to bring illumination, and since this one falls in the deepest, darkest area of your chart, you can expect to see some aspect of yourself or your life much more clearly than before. It may be that this Full Moon illuminates something that holds you back. For example, you may become aware of a tendency to compare yourself to others and find yourself wanting. Or you could become aware of something painful that you'd buried. Or it might be that you have a "eureka" moment where money is concerned, or it might be in the realm of sex or death that some sort of illumination occurs. Either way, a psychological fear is likely to be brought to the surface so that you can heal it and move on.
Karmic Insight Report comes from an esoteric point of view your birth chart is a portrait of your soul's intention for this lifetime, the lessons to be learned, qualities to develop, problems to be resolved, services to be rendered.
---
Pisces: With a Full Moon falling in your opposite sign on March 5, now is an opportune moment to pause for thought and consider the state of play in your relationships. Is there room for improvement? Are you feeling like an outsider, and if so, how can you change this? Can you take a step toward someone instead of waiting for him or her to come to you? The more compassionate you can be, the more likely your relationships are to blossom.
Numerology Report is a personal profile and one year forecast based on advanced calculations of your name and birth date.
---
For more information about your Horoscope and what the stars
have in store for you, order one of our detailed
Astrology Reports for Couples!
Compatibility Report compares your temperaments and personalities. This information is powerful if you are married or living together.

Love Cards Report will reveal as much information about you and your partner as possible, using an ancient and highly accurate system called "The Book of Destiny".