Aries, Taurus, Gemini, Cancer, Leo, Virgo, Libra, Scorpio, Sagittarius, Capricorn, Aquarius, Pisces
Overview of this week
The Center for the New Age is pleased to present your Free Weekly Horoscope for March 8 — March 14, 2015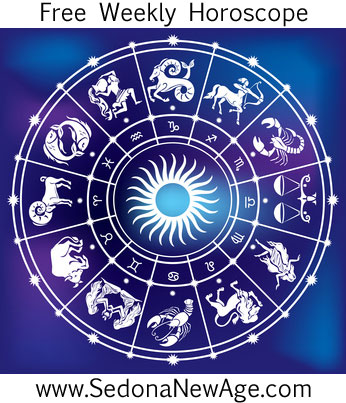 Aries, Taurus, Gemini, Cancer, Leo, Virgo, Libra, Scorpio, Sagittarius, Capricorn, Aquarius, Pisces
Mars in Aries trine Jupiter in Leo (March 10 –March 25, 2015) is a favorable aspect and may present the time to act on opportunities as they arise and to set one's visions and dreams into a feasible plan that holds the potential for favorable actions to occur regarding the expansion of our livelihood and our awareness. Mars activates and stirs action while Jupiter represents not only our sense of economy and how to advance, but our sense of philosophic and visionary awareness as well, allowing us to realize new talents and new means of livelihood, the intake of wealth and well being. Mars trine Jupiter allows us to activate a stronger grasp of our domains and gives some people the extra energy to push past obstacles that have challenged their sense of advancement.
Mars in Aries is square Pluto in Capricorn (March 11 –March 23). Mars emphasizes all forms of action while Pluto represents the transformational powers of destiny. These two planets in the square position spell out the potential for trouble with regard to our actions. Strong disputes and war related action between generations, and among those of different cultures are likely to occur. This may be a particularly difficult time to fight addiction disease and war related stress. It is also the most crucial time not to give up the fight.
Mercury enters Pisces on Friday (March 13 –March 30) bringing out the mystic in all of us and adds quite a bit of color and flair to the imagination in relayed messages. This is a good time to immerse oneself in creative writing and music or to open up the channels to the spirit world allowing for messages from the other side to penetrate our psyches. Listen and learn from the priests, holy teachers, loved ones and spirit guides of your choosing. Sometimes the voice of sense and reason needs to surrender to the simplicity of just listening in silence.
Last Quarter Moon in Sagittarius on March 13 is a good time to internalize your new wishes and thoughts about the upcoming season. At the same time, focus on healing disruptive feelings and make a sporting effort to let go of unsatisfactory habits. Sagittarius Moon focuses our attention on such things as fitness, philosophy and travel. This is the time to broaden the mind and allow yourself to go further than anticipated in realizing your vision for the future.
Saturn retrogrades Saturday March 14 until August 1, 2015. Saturn turning retrograde will slow down the normal rate of activity so that better methods and strategies can be developed. Saturn rules the physical and psychological supports, structures and armatures in our life. It produces the rules and regulations by which we guide our lives, our sense of responsibility and our limitations. It allows us to define boundaries for ourselves by saying No! When Saturn is retrograde, this capacity does not function properly, making us insecure and unable to accurately assess what can realistically be expected in any situation. The most common flaw is the tendency to say Yes when we should say No especially in various activities and relationships ruled by Saturn in a particular house.
Aries, Taurus, Gemini, Cancer, Leo, Virgo, Libra,
Scorpio, Sagittarius, Capricorn, Aquarius, Pisces
For more information about your Horoscope and what the stars
have in store for you, order one of our detailed
Astrology Reports!
Free Weekly Horoscope for your Sign
Aries: This is likely to be a big week for you Aries. Something may draw to a close or exit your life with a bang. Perhaps destiny will step in and alter your direction in life. Maybe you will make the changes consciously by deciding that you've had enough of one thing and want to experience something different. Either way, it is likely that you feel a certain amount of stress as the planets push and pull you toward revitalizing change. Don't resist whatever is taking place, but do try to drop any unnecessary burdens, commitments or jobs. You can only juggle so much, and by being selective, you will free up time, energy and space in your life. When you're clear about your purpose and your priorities, you can painlessly discard whatever does not support these, whether it's clutter in your cabinets or commitments on your calendar.
New Age Natal Report is designed as a guide for your growth and personal evolution in the New Age.
---
Taurus: It is said that each of us has a skeleton in the closet. Well, this week you might get to meet yours! As Mars and Uranus rattle around in your zone of the unconscious, be prepared for the odd surprise. It might be an uncharacteristic outburst of anger, or it may be an outpouring of emotion. Or something could come to light that takes you by surprise. Whatever makes its way up to the surface this week could be seen as a gift because it will liberate you from the past. This is the week when patterns can be broken, when glimmers of illuminating consciousness emerge, and when you can change a lifelong habit. To make this process easier, take time out to meditate or contemplate or to discuss deep issues with a therapist. The more conscious you can be of what's going on and of what you're feeling and how you're reacting, the more amazingly profound this week will be.
Merlin Report could be beneficial in self-help and self-transformation.
---
Gemini: Do you have the courage to stand up and be counted or to dare to do things differently? Do you dare to speak your mind and risk ruffling a few feathers? Mars and Uranus in your social zone might bring conflict to your attention but at the same time bless you with the drive, courage, and rebellious energy that are needed to make an important change or to take a risk. As far as your future is concerned, what you're not supposed to be doing is what you've always done. Don't be afraid to change course, to stand out from the crowd, and to march to your own drumbeat.
---
Cancer: Mars and Uranus at the top of your chart are asking you to follow your own path to success and achievement. It's highly likely that change and upheaval will occur or already are occurring in your professional life. Perhaps these changes are being thrust on you, and you are having to rapidly adjust. Or maybe you are instigating change that will enable you to achieve bigger and better things. Trying to stick with the status quo in your work will be counterproductive, and the more you can dare to be different in your vocation or your ambitions, the more successful you can be.
Child Astrology Report is been designed as a guide for parents, to help with the child's growth and alerting the parents to problems that the child could face in their life.
---
Leo: Many of the planets are occupying the adventurous, creative and personal areas of your chart, making this the time to focus on your own needs. That's not to say it's not appropriate to consider others, and indeed, with Mercury in your relationship one, this is actually a good time to discuss and communicate your feelings with others. However, it's still important that you prioritize your needs and get your life working how you want it, and if that means going off somewhere exotic or ditching your safe-but-soulless job in favor of going to college and doing something that makes your heart sing, then so be it. The most important thing to remember at this juncture is that it's your life and you have to live it in your own way.
Astrological Solar Return Report offers you a practical guide that helps you analyze this year's prospects and to learn from them.
---
Virgo: There appears to be quite a lot of activity going on in your psychological basement. Lots of things are being moved about and unearthed. This is great, because when we carry baggage from the past, it weighs us down and prevents us from being all we can be. The more you can rid yourself of your emotional baggage, the lighter and more creative you'll become. Cast off your burdens, clear your clutter, and let go of any old resentments, and you'll find the creative juices stirring within, leading you toward a more colorful and enjoyable life.
Astro Forecast Report gives you actual dates when the energies influence your life in a given time period.
---
Libra: Pluto's final square to Uranus in your relationship zone means that either you're approaching the end of a difficult time in your personal life or you need to manifest the courage to break free from a restrictive situation. It certainly seems to be the case that something needs to change, and you probably need to shake things up a bit and break old patterns so that you can breathe new life into your relationships, perhaps taking a relationship to a new level or casting off a partnership that has become more burdensome than supportive. Events this week could be dramatic, but remember that whatever happens is probably exactly what needs to happen. Letting go of the past so that you can emerge into the new is where your focus needs to be.
Cards of Destiny Report is a one year forecast based on Robert Camps book and age-old "cards of destiny" our ancestors gave us.
---
Scorpio: If you want to change your life, you first have to change yourself or at least the way you see yourself or the world. Perhaps you've come to want more from life: maybe more excitement, a more stimulating job, or a new environment to explore. All of this would be a healthy and natural expression of the Mars-Uranus conjunction in Aries, which is asking you to take a chance and step out of your comfort zone. Do something bold and daring or controversial and exciting. Perhaps all that you need to tell yourself this week is that you don't have to put up with things the way they are and that success is beckoning so long as you're prepared to meet it halfway.
Relocation Information Report (3 locations) can be of great assistance if you are contemplating a move.
---
Sagittarius: It takes courage to be yourself. It is much easier by far to fit in with everyone else and to not ruffle feathers or disturb apple carts, but something, it seems, is stirring inside you. It may be a feeling of discontent with the way things are. It may be a feeling of restriction –and Sagittarians don't do well feeling trapped. Now is the time to ask the question, "Who am I and what do I really want?" Allow the answers to unfold and direct your next steps. You may need to give yourself permission to march to your own drumbeat and not be afraid to be a bit rebellious or even selfish if you feel it's necessary.
Cayce Past Life Report describes your character traits, relationship potentials and challenges as well as career potentials and even more based on Edgar Casey Readings.
---
Capricorn: Pluto in your sign makes its final square to Uranus this week. On the one hand, this could mean that life is due to settle down soon. On the other hand, it could mean that there is one big transformational shift that needs to happen. Personal changes are likely to affect your home and family life, but it seems that whatever is happening needs to, and this is very much a time for allowing old structures to break down. Whatever is happening in your life, it is all leading up to a time of celebration so embrace the changes and make it your mission to find your true place in the world.
Karmic Past Life Report examines possible past life connections using astrological methods.
---
Aquarius: As your ruler Uranus makes its final square to powerful Pluto, you are being asked quite firmly to stop clinging to the past. It's time to move on so try not to allow your doubts and insecurities to keep you stuck in your present circumstances. Opportunities for change don't come along that often and this is about the biggest one you'll get. Be honest with yourself, and if something isn't working, be open to change. If you're clinging on to a memory or a way of being, remind yourself that nothing new can grow under such mental conditions, and if you're clinging onto physical stuff (possessions, finances, property and so on), you'll be blocking new things that might be better for you. Be honest about how you're holding on and effectively preventing new growth, and then summon your courage and take a leap of faith into the new.
Karmic Insight Report comes from an esoteric point of view your birth chart is a portrait of your soul's intention for this lifetime, the lessons to be learned, qualities to develop, problems to be resolved, services to be rendered.
---
Pisces: In times of stress, change or upheaval, all we can do is take life one step at a time. Trying to foresee outcomes or worrying about how we're going to get everything done is counterproductive. Staying present will be the biggest gift you can give yourself this week, and refraining from passing judgment will be the next best thing you can do. Be like a Buddhist monk this week: Stay detached from outcomes and desires, do not judge others or situations, and have conscious mindfulness of whatever it is you're doing at the moment.
Numerology Report is a personal profile and one year forecast based on advanced calculations of your name and birth date.
---
For more information about your Horoscope and what the stars
have in store for you, order one of our detailed
Astrology Reports for Couples!
Compatibility Report compares your temperaments and personalities. This information is powerful if you are married or living together.

Love Cards Report will reveal as much information about you and your partner as possible, using an ancient and highly accurate system called "The Book of Destiny".