Aries, Taurus, Gemini, Cancer, Leo, Virgo, Libra, Scorpio, Sagittarius, Capricorn, Aquarius, Pisces
Overview of this week
The Center for the New Age is pleased to present your Free Weekly Horoscope for March 15 — March 21, 2015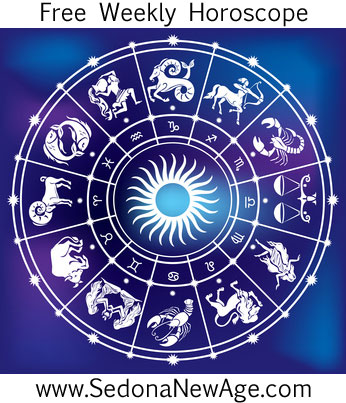 Aries, Taurus, Gemini, Cancer, Leo, Virgo, Libra, Scorpio, Sagittarius, Capricorn, Aquarius, Pisces
Mercury in Pisces square Saturn in Sagittarius (March 16 –March 21) creates tension in communications. Under the influence of this aspect, the battle to maintain accurate or precise information may be strongly evident. There may also be a tendency for "foot-in-mouth disease" as people may say the wrong things at the wrong time. It is wise to use caution when attempting communications during Mercury square Saturn, especially concerning matters of time and timing. It is also wise to be careful not to misinterpret health related information. While Mercury is square to Saturn, beware of the tendency for people to make uninformed assumptions about the conclusion or outcome of important matters.
Venus enters Taurus on Tuesday (March 17 – April 10). Venus in Taurus is at home nurturing us with sensual pleasure and enhancing our appreciation of nature and earthly bounty, as well as our appreciation for quality and specialty craftsmanship. This is the time of an extraordinary attraction to beauty. This aspect brings out aesthetic awareness, and places a greater emphasis on the love of having valuable items, wealth and abundance. Venus attracts and draws and Taurus emphasizes the need for material acquisition, attainment and beauty. Now is the time to acquire polish and clean and beautify things that give a sense of truly having something. To create beauty around oneself is to enhance one's sense of well-being.
March 18 Mercury and Neptune conjunct in Pisces (March 18 –March 23) inspires communications on the hypersensitive issues of peoples' belief systems. With this conjunction, we strive to believe in ourselves and our own capabilities in order to survive spiritually. We must endeavor to communicate our beliefs, not prove them, or to prove them wrong, but to establish our beliefs in those areas of life where we need to have faith in the face of the unknown. Mercury in Pisces focuses news, talk and discussion on our intuitive sensibilities as well as our understanding of religions and the necessity to be tolerant of and sensitive to the beliefs of others. This conjunction also presents a good time to learn from news and talk with regard to issues of belief, and to pray, meditate on and connect with that higher spirit that dwells within.
New Moon in Pisces on March 20 focuses our attention on the need to get in touch with our own beliefs and to inspire those beliefs with devotion and renewed faith. Tendencies towards escapism may be strong particularly for those who are unwilling to let go of the past. This is a time of both emotional as well as spiritual purging and the spirit of what is now emerging and showing through our moods is a sense of renewed faith in something divine and omnipotent.
An eclipse of the Sun can only occur at a New Moon. On March 20, a total solar eclipse occurs – the biggest solar eclipse since 1999 with the Moon lining up right in front of the Sun, obscuring it completely. However, this phenomenon will not be able to be seen in the western hemisphere but the solar eclipse will still have an influence on the signs of the Zodiac .
Aries, Taurus, Gemini, Cancer, Leo, Virgo, Libra,
Scorpio, Sagittarius, Capricorn, Aquarius, Pisces
For more information about your Horoscope and what the stars
have in store for you, order one of our detailed
Astrology Reports!
Free Weekly Horoscope for your Sign
Aries: The solar eclipse falls in your zone of endings on Friday making this a time when a chapter of life may come to a close or a door may shut in a particular sphere. It's very important to pay attention to these closing doors and not to hurl yourself against them; they are closing for a reason. Anything that happens under a solar eclipse happens for a reason, but it may take time to recognize what it is. For now, allow closure to occur, knowing that as one door closes another one opens. Don't hold on in fear, but let go of everything, knowing that whatever is right for you will come back. Life is trying to take you in a new direction, so go with it and be open to the wonders that are preparing themselves for you.
New Age Natal Report is designed as a guide for your growth and personal evolution in the New Age.
---
Taurus: The future may not be quite what you had in mind. A solar eclipse marks the end of some aspect of your future –what you thought was going to happen doesn't or vice versa. Or your participation with a group, a friend, or an organization may come to an end. It's not all about endings, though –since solar eclipses mark turning points –so you can expect change of some sort, and it may be a change that involves sharing. Perhaps this is a good point at which to assess the whole area of participation and sharing. Are you participating fully in life? Are you sharing yourself and your gifts with others? Can you give more? Can you do more for society or your community? The planets are leaning toward compassion, to charity and helping out. At the same time, things are rumbling in your unconscious that you need to bring into the light. Perhaps as you do so, it will free up more energy to direct into your future and the future of others.
Merlin Report could be beneficial in self-help and self-transformation.
---
Gemini: Your life and direction are ripe with potential as the solar eclipse on Friday suggests a realization and new beginnings for where you're going in life. However, something may need to end before can step out in a new direction. Use the power of this eclipse to clear the cobwebs and to contemplate what a successful life means to you. Maybe you could use Bob Dylan's approach as a guide: "A man is a success if he gets up in the morning and goes to bed at night and in between he does what he wants to do."
---
Cancer: "Life is either a daring adventure, or nothing." These words by Helen Keller reflect your theme set by the solar eclipse on Friday and call you toward something bigger and better. Questions to think about are: How can you break out of your comfort zone? How can you manifest a big idea or impossible dream? How can you live life in a more adventurous way? Sometimes it's a case of taking small steps, such as visiting somewhere new or shifting the furniture around. Remember to apply patience, as long-term change can take time.
Child Astrology Report is been designed as a guide for parents, to help with the child's growth and alerting the parents to problems that the child could face in their life.
---
Leo: The powerful solar eclipse on Friday is a very cleansing one for you, and this really is the time to let go of all the past pain so that you can emerge reborn like the phoenix from the flames. Take the thing that has been the most toxic for you –a relationship, a memory, or an experience –and let it go. To support the healing and cleansing process, you might want to have a full body massage that will help you to cleanse and rid yourself of toxins. Drinking plenty of water and eating pure healthy foods around the time of this eclipse will help your body and mind to eliminate all that is unnecessary. Clear your clutter –be it physical, emotional or psychological and you'll put yourself in position to experience a rebirth.
Astrological Solar Return Report offers you a practical guide that helps you analyze this year's prospects and to learn from them.
---
Virgo: The solar eclipse on Friday brings the chance for a turning point in an important relationship. Both ending and new beginnings could be relevant right now, and if you do witness a big change in a relationship, it's very important that you go with it since eclipses are often associated with destiny unfolding. Communication is heightened around this time, and you should find it easy to convey what you feel without even using words. Still, if you decide to be verbal, you're more likely to find a poetic way to express yourself. You just need to be aware of volatile emotions that could signal the need for an emotional cleaning. Let go of old wounds and move on.
Astro Forecast Report gives you actual dates when the energies influence your life in a given time period.
---
Libra: Getting your life how you want it is no mean feat, but the eclipse on March 20 will help enormously in bringing about constructive changes. First though, you may need to let go of something. It might be a way of working, a habit, or something that you routinely do that isn't really working for you anymore. This eclipse is very much a case of "out with the old, in with the new," and this applies to your health too. Once you've cleared a space, something new will appear, so be honest with yourself about what's working and where there's room for improvement. What would you like to see in your day-to-day life? Would you like to work more or fewer hours? Would you love to be more creative, or do you want to bring in a spiritual aspect to your daily life, perhaps starting your day with a meditation or some yoga stretches? Creating a vision board of how you envisage your life will enable you to get a clearer idea of what you want while tuning in to the eclipse will generate the power to achieve it.
Cards of Destiny Report is a one year forecast based on Robert Camps book and age-old "cards of destiny" our ancestors gave us.
---
Scorpio: The solar eclipse on Friday occurs in your house of fun, which is about the best place to have an eclipse! This could be a turning point in terms of how much enjoyment you decide you're worth, or it could mark the beginning of a new creative project or a love affair. Equally possible is an ending in one of these areas since the eclipse falls at the very end of Pisces, suggesting that before new things can be put into place, something has to go first. The most important thing to focus on right now is participation in life. Could you participate more? Is there a contribution you could make to society or your community? It may also be important to observe your health, as this could be prone to ups and downs right now. Take care not to burn the candle at both ends while trying to kick bad habits and welcome healthy new regimes.
Relocation Information Report (3 locations) can be of great assistance if you are contemplating a move.
---
Sagittarius: Your home and domestic life could be a source of stress right now. Whether it's a family member or challenges with where you're living, patience could be the antidote to your current dilemma. The passage of time will gradually right things so for now don't rush, force or worry unduly. The solar eclipse on Friday is likely to bring about a turning point along with opportunities for new beginnings. If you can bide your time until then, things should begin to move forward in a more satisfactory manner.
Cayce Past Life Report describes your character traits, relationship potentials and challenges as well as career potentials and even more based on Edgar Casey Readings.
---
Capricorn: There is a transformative feel to your outlook, and this is probably because you are changing. The solar eclipse on March 20 brings to an end a particular attitude. Maybe you used to see life a certain way, and now that's changing. Or maybe your beliefs about what's possible are changing, opening up new avenues of possibility. It's certainly time to break old patterns and structures that may have held your life together, but now may feel restrictive. Embrace new ideas, new attitudes and new beliefs. The result will be that you start to create a more empowered and authentic life.
Karmic Past Life Report examines possible past life connections using astrological methods.
---
Aquarius: The solar eclipse on Friday falls in your money zone, bringing a turning point with your finances and material world. Now is the time to create new beginnings in your material situation, perhaps by changing the way you've done things before or changing your ideas and beliefs so that you can generate more abundance. Before you can get to this point, though, something in your material world needs to be brought to a close. Once you've done that, it should be relatively easy to start afresh and to welcome new ways of earning, doing business, sharing and so on. Ultimately this eclipse shines a spotlight on your values, so what you choose to do next will reflect where you put the most importance. Make sure it's in alignment with your heart.
Karmic Insight Report comes from an esoteric point of view your birth chart is a portrait of your soul's intention for this lifetime, the lessons to be learned, qualities to develop, problems to be resolved, services to be rendered.
---
Pisces: A solar eclipse in your sign on Friday is likely to bring about a turning point in your life, and it could be a case of "out with the old, in with the new." This is a hugely important moment in your life, one that would benefit from some time to contemplate what you want next. A little courage may go a long way to bringing about the changes you seek, whereas a calm, centered attitude will help with any financial upheavals. Now could be the time to do things differently, especially where money is concerned.
Numerology Report is a personal profile and one year forecast based on advanced calculations of your name and birth date.
---
For more information about your Horoscope and what the stars
have in store for you, order one of our detailed
Astrology Reports for Couples!
Compatibility Report compares your temperaments and personalities. This information is powerful if you are married or living together.

Love Cards Report will reveal as much information about you and your partner as possible, using an ancient and highly accurate system called "The Book of Destiny".