Aries, Taurus, Gemini, Cancer, Leo, Virgo, Libra, Scorpio, Sagittarius, Capricorn, Aquarius, Pisces
Overview of this week
The Center for the New Age is pleased to present your Free Weekly Horoscope for March 22 — March 28, 2015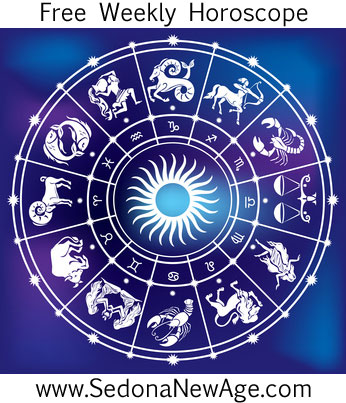 Aries, Taurus, Gemini, Cancer, Leo, Virgo, Libra, Scorpio, Sagittarius, Capricorn, Aquarius, Pisces
Mercury in Pisces sextile Pluto in Capricorn (March 22 –March 25) facilitates communications with an opportunity to get your message across in negotiations with those in positions of power. Mercury in Pisces ensures the strong belief behind our topics of communication, while Pluto in Capricorn is forcing us to acknowledge our resources and to use them wisely. Vital information regarding treatments for illness or disease may frequent the news, and news in general may well have some critical impact. This is a good time to reach out to those of another generation and make an attempt to communicate something essential.
Venus in Taurus sextile Neptune in Pisces (March 24 –March 30) brings earthy and pleasurable love to the art of spirituality. The sextile of Venus to Neptune brings the opportunity for us to find spiritual enhancement in the adventure of love, and to spread its healing power around for all to share. This serves as an excellent time to reach out spiritually to those we love as well as to our spirit guides.
Mar 27 Venus in Taurus is square Jupiter in Leo (March 27 –April 7). This aspect brings love and attraction (Venus) into difficulty or hard work (the square aspect) over the need for prosperity, growth and jubilation (Jupiter).Our experience of beauty and affection is challenged and tested with the difficulty of attracting or acquiring prosperity. Some might say that the act of appreciating beauty is a form of prosperity in itself, but at times like this, a great deal more effort and support is required. This aspect may create an obstacle to acknowledging the expenses incurred by our attractions and love-needs. It reminds us that something more than love's blindness is required in order for us to fully realize our riches and the value of what we are about most.
March 27 the First Quarter Moon in Cancer urges us to share our feelings and take care of our emotional needs, particularly in the light of our own home. Home focused activities bring warm expressions of contentment. Whatever else is going on at this time, with First Quarter Cancer Moon, the emotional current tends to be magnified. Nurturing foods and trustworthy company are important components of today's activities. Treating ourselves and others in a nurturing way becomes the key to enhancing or cleansing our emotional perspective. Be careful not to push the buttons of sensitive people and use words wisely while considering the feelings of yourself and others.
Aries, Taurus, Gemini, Cancer, Leo, Virgo, Libra,
Scorpio, Sagittarius, Capricorn, Aquarius, Pisces
For more information about your Horoscope and what the stars
have in store for you, order one of our detailed
Astrology Reports!
Free Weekly Horoscope for your Sign
Aries: The Sun joins Mars and Uranus in your sign, making this the time to think about what you want and to begin taking action. This is very much a time for letting go of the past and daring to do things differently –perhaps even to live your life differently. You are being called on to be a little more rebellious and to take a stand against that which doesn't feel right or to break free from restrictions and limitations. You have a very dynamic combination of planets in your sign right now. Use them wisely, for you could achieve a great deal that is in alignment with your true self.
New Age Natal Report is designed as a guide for your growth and personal evolution in the New Age.
---
Taurus: Venus's journey through your sign gives you permission to consider your own needs, to give yourself some loving care and attention, and to welcome it from others. On a mundane level, this could mean a trip to the hairdresser's or to enjoy a massage. It could mean treating yourself to a fine box of chocolates or a piece of clothing that feels great or really flatters you. When Venus comes to pay a visit, we would do well to make her feel at home by opening ourselves up to love, beauty, art, music and all the pleasures that this world has to offer.
Merlin Report could be beneficial in self-help and self-transformation.
---
Gemini: Your future goals and dreams are the focal point this week, and the cosmos is giving you permission to follow the path that feels right for you, regardless of what others might think. The planetary energies are rather liberating for you now, so if a door opens offering you freedom, it would be counterproductive to stay right where you are. Something bigger and brighter is beckoning you now: freedom, liberation and a vast expanse of possibilities await you. Don't hesitate; take full advantage of the gifts of the universe and enjoy them without questioning.
---
Cancer: The planets are lining up in a very supportive way for you, encouraging success, adventure, prosperity and celebration. If life is currently flowing and abundant, give thanks, for it looks as if you are truly blessed. To make the most of what's on offer, you would contemplate your vocation or life direction and ask what success means to you. Your social life is also favorable while Jupiter is lending a protective hand to your financial situation and Saturn is helping you to sort out your life in a way that will work best for you.
Child Astrology Report is been designed as a guide for parents, to help with the child's growth and alerting the parents to problems that the child could face in their life.
---
Leo: Once again the planets are aligning themselves in a way that will support and encourage you to follow your heart and push out of your comfort zone. With the Sun, Mars and Uranus in your zone of adventure, you're being called to experience more than you have previously allowed for yourself. This may mean seeing the bigger picture of your life, or it may mean setting off on a physical adventure, ideally to somewhere you've never been before. Or it could mean letting your wild self out to play. This wild self is probably chomping at the bit and while parties, holidays and nights out can answer the need to a degree, what's more import is that you find a way to honor this wild self on a daily basis.
Astrological Solar Return Report offers you a practical guide that helps you analyze this year's prospects and to learn from them.
---
Virgo: Guilt is a fairly pointless emotion, other than to show us where we've gone wrong. If we can learn from our mistakes, then that's great, but oftentimes we carry on berating ourselves, which only keeps us trapped in our own suffering. You have a chance now to heal a wound, and the more you can talk about it, the better. Relationships with others can be healed by offering love and compassion and by freeing both yourself and the other person from guilt. It may also be important to accept something you can't change and to neither blame yourself nor anyone for the situation, but to acknowledge that it is as it is and that somewhere in there is an important lesson.
Astro Forecast Report gives you actual dates when the energies influence your life in a given time period.
---
Libra: "Being deeply loved by someone gives you strength, while loving someone deeply gives you courage." Lao Tzu reminds you of the importance of love. Libras can get lost in the fluffy pink clouds of romance and sometimes place more importance on this than practical demonstrations of love. It may be time to consider the importance of real love in your life. Are you loving deeply? And are you being loved deeply? If the answer to either of these questions is "no," you have some thinking to do. Mars and Uranus and the Sun in your partnership zone, suggest that it's time for change in the way you relate. Maybe you need to be more authentic. Maybe a relationship needs to be explored or dissected and then put back together in a new way. Maybe you need to prioritize living your own life over going along with the life of another. Spend some time finding your own answers to the subject of love and relationships, knowing that at the end of it all you'll remember not what someone said or did but how they made you feel.
Cards of Destiny Report is a one year forecast based on Robert Camps book and age-old "cards of destiny" our ancestors gave us.
---
Scorpio: "Never hurry. Take plenty of exercise. Always be cheerful. Take all the sleep you need. You may expect to be well." This quote on health needs pinning up where you can be reminded of its wisdom every day. It's hard enough not to get embroiled in the frantic pace of modern life, but when the Sun, Mars and Uranus are all gathered in your health zone, it would be easier than normal to rush around like an idiot and trip yourself up through accident, mishap or illness. If you feel stressed, stop and take a deep breath. Survey for a second the abundance you have in your world and really focus on all that you already have. Much of our rushing and striving is born from a need to have more, do more, or be more. If you can be content with things as they are right now, the sense of urgency should dissipate and your health and sanity will be preserved.
Relocation Information Report (3 locations) can be of great assistance if you are contemplating a move.
---
Sagittarius: The planets are aligning in such a way as to bring out a selfish or rebellious streak. In some cases, this may not be such a bad thing, particularly if you feel that you're being taken advantage of or have been caught up in a life that tends to other people's needs rather than your own. If that is the case, there is no need to feel guilty. Sometimes we need to strike back and assert our right to live life on our own terms and this is what is being asked of you right now.
Cayce Past Life Report describes your character traits, relationship potentials and challenges as well as career potentials and even more based on Edgar Casey Readings.
---
Capricorn: We can't always be moving forward and making progress. Sometimes the tide rolls out. With Saturn retrograde, you are enmeshed in a phase that is more reflective than productive. To make the most of this, you could try not to take on too much or to hope to make big progress on projects or with your life in general. It might be timely to take a look at your situation to see whether you're trying to cope with too much. Perhaps you could let one or two things go. The best use of your Saturn retrograde transit would be to simplify your life. As Confucius said, "Life is really simple, but we insist on making it complicated." Try to determine where you complicate things to see whether you can simplify any part of your life.
Karmic Past Life Report examines possible past life connections using astrological methods.
---
Aquarius: Our attitude determines whether life is a celebration or a prison sentence. Of course, these are extremes, but we've all come across someone for whom life is a trial and who spends his or her days complaining. The more he or she complains, the more there is to complain about. We have also come across people who greet each new day with hope and enthusiasm. When challenges appear, they're met with grace and equanimity, knowing that this will soon pass. For such people, life is a near constant state of joy. Which camp are you closest to right now? This is one of those times in life when your attitude determines your results. Life could either be a celebration or an endurance test, depending on how you choose to see your situation. You are being given a wonderful opportunity to change your outlook, which in turn will lead to riches beyond compare.
Karmic Insight Report comes from an esoteric point of view your birth chart is a portrait of your soul's intention for this lifetime, the lessons to be learned, qualities to develop, problems to be resolved, services to be rendered.
---
Pisces: As the Sun joins Mars and Uranus in your house of money, it will probably be prudent to consider how this area of life can be improved. Is there a pattern that would be good to break? Can you be innovative or take a risk that would be financially empowering? Do you need to be a rebel in some way, perhaps daring to do things differently? It may also be appropriate to look at what you value the most in life and begin to make these a priority if you haven't already done so. We can get caught up in living in ways that don't truly honor our values as we try to fit in or play it safe. If you have sacrificed your freedom or creativity for security, then now would be a good time to begin making changes.
Numerology Report is a personal profile and one year forecast based on advanced calculations of your name and birth date.
---
For more information about your Horoscope and what the stars
have in store for you, order one of our detailed
Astrology Reports for Couples!
Compatibility Report compares your temperaments and personalities. This information is powerful if you are married or living together.

Love Cards Report will reveal as much information about you and your partner as possible, using an ancient and highly accurate system called "The Book of Destiny".