Aries, Taurus, Gemini, Cancer, Leo, Virgo, Libra, Scorpio, Sagittarius, Capricorn, Aquarius, Pisces
Overview of this week
The Center for the New Age is pleased to present your Free Weekly Horoscope for March 29 — April 4, 2015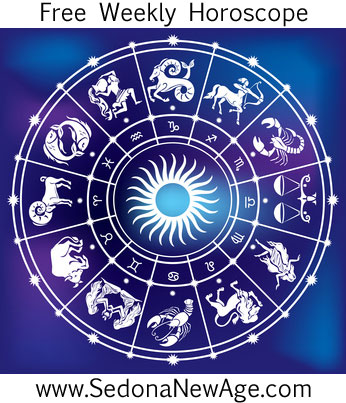 Aries, Taurus, Gemini, Cancer, Leo, Virgo, Libra, Scorpio, Sagittarius, Capricorn, Aquarius, Pisces
Venus in Taurus is trine Pluto in Capricorn (March 30 –April 7). Practical beauty, the value of nature and efforts to make the planet greener are enhanced and made stronger as we wade through the hardships of a vast landscape of irreversible change and transformation. Now is the time to let our ecological wishes be known, as those who are in positions of power are a little more likely to acknowledge the value of land preservation for the sake of delicate ecosystems. This aspect often allows a breakthrough to occur for those who are under stress from hardship. This is also an aspect that allows for adoration and loving energy to flow more easily between generations, despite all the differences that have separated us in these fast changing times.
Mercury enters Aries on March 31 until April 14 bringing a focus of communications on selfhood, initiation, new projects and new ways of seeing and experiencing life. Mercury in Aries brings some lively heat to our communications and discussions. Mercury is the messenger, activating information and Aries is the warrior and the force of nature that takes on life with fearless vigor and aggression. While Mercury is in Aries, talk, news and discussions will be actively focused on the challenging and demanding enterprises and battles that await us.
March 31 Mars enters Taurus until May 12. Mars represents all modes of action. In the fixed earth sign of Taurus, Mars' action is particularly worked out through the physical realm, making this a primary time to elicit active energy through the body, or to take affirmative action in the physical world, moving or activating it to change. This is a time when many of us will take strong actions with our financial and material welfare. This aspect enlivens Taurus related activities such as bargain hunting, buying and selling, investing, decorating and creating a practical work space.
Mercury in Aries trine Saturn in Sagittarius (April 2 –April 8) brings favorable dialog concerning where to draw the line. This is a good time to make an impression, to teach and to communicate to others those important matters that must be clarified. Timely information and news represents a gift or blessing. Important news comes with this aspect and news concerning the end of a long and arduous task brings relief.
The Full Moon in Libra on April 4 is an important time to just let go of those unsettled feelings about your friendships. Enduring the hardship of relationships is a balancing act. Friends will share their strengths as well as their weaknesses so work towards creating a balance for the sake of harmony in friendships. Troubled times can strengthen even the weakest links in friendships. Use this Full Libra Moon energy to empower your relationships. Diplomacy, peace and goodwill can be achieved among loved ones, but a definite effort is required.
Aries, Taurus, Gemini, Cancer, Leo, Virgo, Libra,
Scorpio, Sagittarius, Capricorn, Aquarius, Pisces
For more information about your Horoscope and what the stars
have in store for you, order one of our detailed
Astrology Reports!
Free Weekly Horoscope for your Sign
Aries: As the Sun aligns with Uranus in your sign and the Moon grows full in your opposite sign, it is time to embrace change. Perhaps it would be timely to break a pattern, or a rut that you've gotten into. Maybe you need to see a relationship in a different light. Pluto is on hand to usher you through a transformation that needs to happen which will in turn facilitate a new vision of your life. Take a moment around April 4th to contemplate what changes would serve you best. By embracing freedom and authenticity, your relationships can become healthier.
New Age Natal Report is designed as a guide for your growth and personal evolution in the New Age.
---
Taurus: It is important that you stay true to your Taurean aversion to rushing especially as Mars moves into your sign. It would be all too easy for you to get caught up in busyness, projects and jobs to do. You can achieve a lot when Mars is in your sign, but make sure it's what you want to achieve and not just what a little voice in your head is saying to pressure you to be perfect. The Full Moon encourages you to rest if you need to and focus on helping your body to perform at its optimum by giving it everything it needs.
Merlin Report could be beneficial in self-help and self-transformation.
---
Gemini: Socially and creatively, this could be an electrifying week, so prepare for a flurry of invites and opportunities to expand your circle and make new friends and acquaintances. What you say yes to, and perhaps more important, what you're willing to change, will set the tone for your future. Watch out for guilt, though –that little voice that says, "Who are you to have a wonderful, happy life?" Nip that in the bud! Declare your right to happiness, and it shall be yours.
---
Cancer: Matters regarding your home and family may come to fruition this week under the Full Moon, but this is a dramatic and unstable Full Moon that demands change, so you might consider how you can improve and transform this area of life. It's not an isolated issue, though, since your direction in life and your relationships will also come into play; changes in your professional life could impact your home life or a relationship could trigger changes. Either way, it's time to look at your home, your relationships and your life direction to see how they all fit together. Don't feel guilty if you come to the realization that you need to put your home and family first.
Child Astrology Report is been designed as a guide for parents, to help with the child's growth and alerting the parents to problems that the child could face in their life.
---
Leo: For many Leos this is a time of healing, so look at whatever needs mending –yourself, a relationship, or a situation –and commit to its healing. Many of the problems you feel are real may actually be in your mind. To quote Shakespeare, "There is nothing either good or bad but thinking makes it so." Under the Full Moon on Saturday, you may want to consider what you make real with your thinking to see whether changing your mind changes the situation.
Astrological Solar Return Report offers you a practical guide that helps you analyze this year's prospects and to learn from them.
---
Virgo: The body, as we understand it in astrology, is a dynamic energy system. It responds to and obeys the laws of energy. Because this is so, the energy changes caused by the movement of the planets affect the body either positively or negatively. When the cosmic energy is lower than usual we just need more rest. The cosmos forces us to make tough decisions –to focus on the things that are really important and to let lesser things go. The idea is to maximize your energy and not fritter it away on inessentials like remorse. The Full Mon on Saturday brings changes or a realization with financial and material matters, and it would be in your favor to be open to changes in this department. If you find yourself up against a challenge, think outside the box. With support from Jupiter and Saturn, whatever the Full Moon brings can only end up as good news, and by embracing a positive mindset and an attitude of growth and expansion, this should end up being a good week for you.
Astro Forecast Report gives you actual dates when the energies influence your life in a given time period.
---
Libra: The Full Moon on April 4 is your moment to take stock of your life and see where you need to give yourself a pat on the back and where there is room for improvement. Your personal and professional lives may come into focus this week, and it's important to try to create balance in both. Your own needs and requirements must be balanced with the needs of your relationships and your direction in life. Be open to change in any of these areas, because if you keep doing what you've always done, then you will keep getting what you've always gotten. By being willing to approach things differently, success is likely to be the end result.
Cards of Destiny Report is a one year forecast based on Robert Camps book and age-old "cards of destiny" our ancestors gave us.
---
Scorpio: It's time to slow down. Even a Scorpio has limits. If you've been overdoing it, the Full Moon on Saturday will remind you that you're only human and that you need to rest and take good care of yourself. Any illness or fatigue is a sign that you've been pushing yourself too much and that you need to come back to your center. Examine whether you could become more organized and efficient in your daily life. Are you, for example, making the best use of your time? Do the rewards equal the amount of effort you put in? It may be time to change one or two things so that your day-to-day life works better. And your health will thank you for it too!
Relocation Information Report (3 locations) can be of great assistance if you are contemplating a move.
---
Sagittarius: With Saturn in your sign for most of the year except for a short period from June 15 to September 18, happy-go-lucky Sagittarian is now in a more serious period. Not knowing who you are or where you are going can be disorientating and scary. When you have no sense of direction and no idea what possibilities lie ahead, life can seem empty, but that state of pure potential is what the universe was born from. As the Moon grows full in the zone of your future, you may not yet have a clear idea of where you're going or what's going to happen, but before this week is out the chances are high that you'll witness something new appearing on the horizon.
Cayce Past Life Report describes your character traits, relationship potentials and challenges as well as career potentials and even more based on Edgar Casey Readings.
---
Capricorn: Two powerful planets (Pluto and Uranus) in stressful aspect is a major problem as your vulnerability is much increased. Courage will lead you to the path of success, so remember that you will emerge triumphant in whatever is challenging or inspiring you when you push against adversity. Aside from courage, you may need to apply patience especially in your domestic life, as this looks anything but stable right now. From awkward or unpredictable family members to bumpy domestic matters, you will need to count to ten and remind yourself that Rome wasn't built in a day. Channel your energy into creative or physical activities, as this will provide an outlet for any stress or tension.
Karmic Past Life Report examines possible past life connections using astrological methods.
---
Aquarius: "If you want small changes in your life, work on your attitude, but if you want big and primary changes, work on your paradigm." This sums up the message of the Full Moon for you. A good starting point is to consider what sort of changes you want – big or small? Then decide how you're going to go about making that happen. Are you going to make little shifts in your attitude that enable change to build over time, or will you challenge the way you see life, which could lead you to a eureka moment? The planets are asking you to not be complacent in your thinking but to instead think outside the box and look for new solutions to old problems.
Karmic Insight Report comes from an esoteric point of view your birth chart is a portrait of your soul's intention for this lifetime, the lessons to be learned, qualities to develop, problems to be resolved, services to be rendered.
---
Pisces: Full Moons tend to illuminate a particular situation, so prepare to have a spotlight shone on a dark spot in your psyche. Although this might sound uncomfortable, it will actually be a relief as you become aware of something that might previously have been awkward or painful. What comes to light during the course of the week will enable you to make changes that lead to a sense of greater empowerment. By summoning the courage to face up to matters of a financial or deeply personal nature, these things will cease to have power over you.
Numerology Report is a personal profile and one year forecast based on advanced calculations of your name and birth date.
---
For more information about your Horoscope and what the stars
have in store for you, order one of our detailed
Astrology Reports for Couples!
Compatibility Report compares your temperaments and personalities. This information is powerful if you are married or living together.

Love Cards Report will reveal as much information about you and your partner as possible, using an ancient and highly accurate system called "The Book of Destiny".