Aries, Taurus, Gemini, Cancer, Leo, Virgo, Libra, Scorpio, Sagittarius, Capricorn, Aquarius, Pisces
Overview of this week
The Center for the New Age is pleased to present your Free Weekly Horoscope for April 5 — April 11, 2015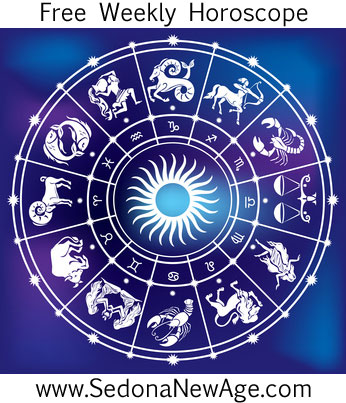 Aries, Taurus, Gemini, Cancer, Leo, Virgo, Libra, Scorpio, Sagittarius, Capricorn, Aquarius, Pisces
Mercury in Aries trine Jupiter in Leo (April 6 –April 12) is a most favorable aspect that brings good news of expansion and prosperity to those who are open to broadening their awareness. Mercury brings news, while Jupiter brings wealth and prosperous change. This serves as a good time to advertise and put information out there concerning one's business endeavors. For some folks, Mercury trine Jupiter serves as an advantageous time to ask for a job or a loan, or a good time to provide a service which may have a bearing on a potential promotion. This is an especially good time to look openly for opportunity when sharing information, and to promote oneself and one's capabilities.
Mercury in Aries is square to Pluto in Capricorn (April 7 –April 11). Selfishness will make it difficult to communicate with those of another generation. This is a particularly difficult time to deal with burdensome issues and discuss them in a manner that relieves tension. Mercury square Pluto often brings harsh and sometimes fatal news. Talk revolves around the corruption of superpowers and the setbacks caused by this corruption. This may be an especially awkward time to discuss matters involving permanent change.
Venus, the influence of love, magnetism and attraction enters Gemini on Saturday (April 11 – May 6, 2015). There is an attraction towards the need for variety and more than one avenue of expression with regard to affections. Subtle and playful love comes with words. Love matters are submerged in thoughts and mindful observations. Venus in Gemini will create an attraction to writing, speaking on and recording extraordinary love experiences. For some folks, the love nature may vacillate between the giving and the taking process of fulfilling relationships. Gossip and talk concerning love matters may be especially prevalent at this time.
Last Quarter Moon in Capricorn on Saturday emphasizes the need to take control as well as let go of control wherever it is needed. Capricorn Moon connects our moods with a serious undertone of needing and wanting to take hold of our goals and summon results. The Saturn-ruled Capricorn emphasizes time and the timeliness of important events. This may be a time of addressing the importance of pending deadlines. Is it time to proceed or is it time to let go? Certain quests in life may not be meeting personal needs. Is something which lacks substance taking up too much time in your life? Life is so serious with Capricorn Moon, and in its last quarter waning state it reminds us that in order to be in control, we must let go of what we can't control.
Aries, Taurus, Gemini, Cancer, Leo, Virgo, Libra,
Scorpio, Sagittarius, Capricorn, Aquarius, Pisces
For more information about your Horoscope and what the stars
have in store for you, order one of our detailed
Astrology Reports!
Free Weekly Horoscope for your Sign
Aries: With a cluster of planets in your sign, the cosmos is giving you reasons to be cheerful, so if life isn't a bowl of cherries right now, it's probably because you're resisting changes that would make you happier. Are you having enough fun? Are you expressing yourself creatively? Are you free to be yourself? Now is the time to communicate how you feel and what you want: after all, this is the time of year when the planets give you permission to put yourself first, so think about what you need for your happiness, and set about making it happen.
New Age Natal Report is designed as a guide for your growth and personal evolution in the New Age.
---
Taurus: With Mars in your sign, you can move mountains. Or you could settle for molehills. It doesn't really matter how big your goal is. What matters is that it's important to you, so before you make haste, you might want to make sure your goal or dream is absolutely what you want by meditating on it. When you're clear about what you want to achieve, you need to place your trust in the universe, knowing that as you take bold steps toward your mission, unseen hands will appear to help smooth the way, so get moving, but remember to allow for divine assistance.
Merlin Report could be beneficial in self-help and self-transformation.
---
Gemini: Mars journeying through your house brings to light all things buried, making this a good time to get to the bottom of any anger, frustration or irritability. Anger can be a helpful friend that shows us what isn't working or where we are being compromised. Whether you anger comes in the form of a snappy remark or a dream about an angry tiger chasing you, know that there is a message in there for you that, if you heed, could become a powerful force for transformation. Also this week, remind yourself that there is no rush and that by taking a philosophical moment to moment approach, all will happen when it's meant to be.
---
Cancer: With the bulk of planets at the top of your chart, your attention is bound to be on your social and professional life, and you can certainly make good progress in these areas now if you put your mind to it. Your ideas are more likely to be noticed by those in power, so don't hide your light under a bushel if you want to further your ambitions. At the same time, Venus and Mars are igniting your social zone, making this a perfect time to arrange or accept invitations and to enjoy the social whirl. However, it might be time to wake up in one of these two areas to an illusion you may have resided under for some time. There is a growing clarity about your life that should make it easier for you to see what you need to do next.
Child Astrology Report is been designed as a guide for parents, to help with the child's growth and alerting the parents to problems that the child could face in their life.
---
Leo: With Mars at the top of your chart, you are well placed to make progress with your aims and ambitions. It's also a good time to focus on your direction in general, asking yourself, "Where am I going, and is it the direction I want to be going in?" If you wish to alter your course, Mars will help you do so with minimum fuss. It's also hugely important while Jupiter is in your sign to really focus on your own needs and to make your well-being a priority. Look for the situations that will facilitate growth, adventure and prosperity, and turn away from lack, restriction, and comfort, especially if adventure is beckoning.
Astrological Solar Return Report offers you a practical guide that helps you analyze this year's prospects and to learn from them.
---
Virgo: How integrated are all the different components of your life? Is life a well-oiled machine, does your life move harmoniously and function effectively? Or are there some areas that are decidedly squeaky? It's natural to focus on some areas and be remiss about others; getting everything balanced is a constant work in motion, but as Mercury and the Sun plumb the depths of your inner psyche, it may be time to see whether you have everything under control or not. If a person or a situation has knocked you out of kilter, ask yourself whether you should give your power away so easily and see whether you are strong enough and wise enough to rise about it.
Astro Forecast Report gives you actual dates when the energies influence your life in a given time period.
---
Libra: "Life is a series of natural and spontaneous changes. Don't resist them –that only creates sorrow. Let reality be reality. Let things flow naturally forward in whatever way they like." This quote often attributed to Lao Tzu reminds us that sometimes things just can't stay the same. Maybe life throws you a curve ball, or maybe you want to shake things up a bit because you're tired of the same old ways. Whether someone around you is seeking change or whether the universe has offered you the chance to change, embrace it with open arms, for the planets insist that things can't stay as they have been. Give those you love permission to change, and see how that in turn enables you to break out of your own stultifying patterns.
Cards of Destiny Report is a one year forecast based on Robert Camps book and age-old "cards of destiny" our ancestors gave us.
---
Scorpio: "Never hurry. Take plenty of exercise. Always be cheerful. Take all the sleep you need. You may expect to be well." This reminds you that there's no need to rush or take life so seriously. That can be difficult in a world that constantly pressures us to be someone, achieve big things, and subtly (or not so subtly) reminds us that at any moment the rug could be ripped from beneath our feet. Don't allow anxiety to snap at your heel. Trust instead in a higher power to take care of your needs and to nudge you in the right direction whenever you're unsure what to do. The Scorpio intuition is second to none, and you can always rely on it to successfully guide you to where you need to be, doing precisely what you need to do and when you tune into it, there's no need to rush, flap or worry.
Relocation Information Report (3 locations) can be of great assistance if you are contemplating a move.
---
Sagittarius: This should be a fun week for you, provided you can shift the focus from work and duty to enjoyment, playfulness and creativity. Don't forget the importance of romance either, especially if life has become heavy with responsibilities. This is your chance to liven things up a bit and reconnect with that fun-loving person you were before life got so serious, if in fact, you can remember who you were before the world told you who you should be!
Cayce Past Life Report describes your character traits, relationship potentials and challenges as well as career potentials and even more based on Edgar Casey Readings.
---
Capricorn: If the outer reflects the inner, what does your home currently say about you? Are you happy with your bricks and mortar, or are there areas of discontent? As the Sun travels with Mercury and Uranus through your domestic zone, it is a good time to pay attention to your home, making any necessary changes. You might feel a spring cleaning is necessary, which would certainly be a good move as these planets urge you to clear out old energies and create fresh changes. Look at the feng shui of your home and seek to remedy any problem areas in life by creating cures and enhancements that you feel could help. At this point in time, keep this quote at the back of your mind: "If you're not happy at home, you're not happy anywhere else." Get your foundations right, and everything else will follow.
Karmic Past Life Report examines possible past life connections using astrological methods.
---
Aquarius: Although other people can help us on our journeys, in the end we are responsible for our own solutions, which quite often can only be found within ourselves. With Mercury, Uranus and the Sun in your mind zone, you have the potential now to tune into some quite dazzling insights and revelations. Your thinking is likely to be more astute than normal, so use this opportunity to find out what you need to know. If you are at all creative, be aware that your ability to tune into inspiration is much higher than normal, so "make hay while the sun shines" where ideas and self-expression are concerned. This is also likely to be a busy, perhaps even hectic, week so you will need to pace yourself or schedule some time later in the month for relaxation and enjoyment.
Karmic Insight Report comes from an esoteric point of view your birth chart is a portrait of your soul's intention for this lifetime, the lessons to be learned, qualities to develop, problems to be resolved, services to be rendered.
---
Pisces: It's time for a new vision, especially in terms of your material life. Whether you need to find new ways of increasing your income, look for a new role in work, or be more organized with your finances, it's very much a time for breaking old patterns. Try to see the material world as an adventure. With that being the case, is your material journey arduous and fraught with peril, or is it exciting and full of potential? Everyone has a pot of gold at the end of his or her own rainbow; your challenge now is to work out your best path to find yours. Clue: What are you best at, and what comes easiest?
Numerology Report is a personal profile and one year forecast based on advanced calculations of your name and birth date.
---
For more information about your Horoscope and what the stars
have in store for you, order one of our detailed
Astrology Reports for Couples!
Compatibility Report compares your temperaments and personalities. This information is powerful if you are married or living together.

Love Cards Report will reveal as much information about you and your partner as possible, using an ancient and highly accurate system called "The Book of Destiny".