Aries, Taurus, Gemini, Cancer, Leo, Virgo, Libra, Scorpio, Sagittarius, Capricorn, Aquarius, Pisces
Overview of this week
The Center for the New Age is pleased to present your Free Weekly Horoscope for April 12 — April 18, 2015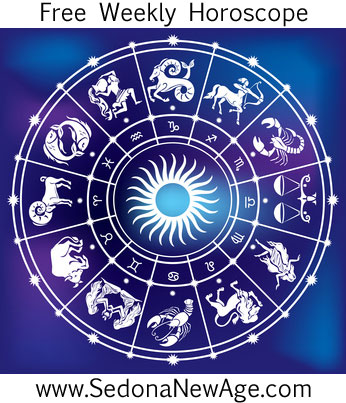 Aries, Taurus, Gemini, Cancer, Leo, Virgo, Libra, Scorpio, Sagittarius, Capricorn, Aquarius, Pisces
On Tuesday Mercury enters Taurus (April 14 –April 30). It is a good time to clarify matters involving valuables, and to focus on documents, contracts, speeches and business procedures. In the fixed earth sign of Taurus, Mercury inspires the inclination to buy, sell, trade and barter. Resourceful thinking, advertising and information processing can lead to the extra buck. This is a time to accurately record practical matters and events, and to communicate about finances.
Venus in Gemini is opposite Saturn in Sagittarius (April 15 –April 25). Love, beauty and magnetism are opposed to restrictive discipline. While the need is very strong to attain a sense of beauty, to stop and smell the roses, there is a constantly compelling and obsessive awareness to press on with work and vital responsibilities. Love matters and concerns are subjected to unavoidable trials and restrictions. Love is opposed to and estranged by restrictive limitations and covenants. We must be careful how our passions are stirred or handled. To stir up such passion at this time one is likely to be all too quickly confronted by his or her own personal demons. Be careful not to bite off more than you can chew, especially concerning irresistible attractions.
Thursday Pluto turns retrograde (April 17 –September 25). Pluto deals with the changes that occur in attitude according to the overall group consciousness of each of the generations. This is a time to make life better by consciously transforming fear into determination and despair into belief in oneself, no matter what condition of fate surrounds you. Pluto retrograde forces us to look within; this is a good time to confirm our greatest strengths by directing abusive patterns into constructive and useful disciplines and ways of thinking which will reshape and bring hope to the emerging outlook on life.
Mars in Taurus square Jupiter in Leo (April 18 –April 29) is a very difficult time to excel in business endeavors, especially in actively trading markets. This aspect warns us that there will be trouble when approaching the job market aggressively. Trying to make progress using headstrong attitudes and unwarranted self-confidence might impede progress. This aspect also brings no-nonsense demands or increases in our workload. Mars in Taurus suggests the need for aggressive business tactics and banking adjustments which are likely to become expensive while Mars is square to Jupiter.
New Moon in Aries on Saturday is a good time to start something new not only because the Moon has reached this new mark and our moods are geared in this way, but especially so because the Aries Moon invokes the powers of initiation and newness as an essential part of the regenerative force. This is a time to generate and promote inspiration and happiness. Aries is the sign of the warrior. The fight to sustain love on planet Earth calls for many courageous battles, and now is an excellent time to actively initiate new projects and endeavors that will help serve one's sense of well-being. Spring is truly here and new projects abound. Activate now!
Aries, Taurus, Gemini, Cancer, Leo, Virgo, Libra,
Scorpio, Sagittarius, Capricorn, Aquarius, Pisces
For more information about your Horoscope and what the stars
have in store for you, order one of our detailed
Astrology Reports!
Free Weekly Horoscope for your Sign
Aries: The New Moon falls in your sign this month, making this week and April 18 in particular the perfect time to turn over a new leaf. Think of it as your own personal New Year; consequently this is a great time to start making changes, especially those that have a positive, empowering feel about them. Clear out the old and remove clutter. Simplify your life by removing negative situations, releasing unhealthy habits. Even unnecessary commitments on your calendar are a form of clutter and distraction. Clear the desk so that a new you can begin to take shape.
New Age Natal Report is designed as a guide for your growth and personal evolution in the New Age.
---
Taurus: With Mars and Mercury in your sign, you should be blessed with ideas and energy to get moving. If only it were that simple! The New Moon on April 18 in your zone of the unconscious suggests that before you can get moving, you need to find closure with something. It's difficult to really move forward when we're carrying a load of baggage, so pause under this New Moon to consider what you're dragging along with you and whether it's helping your cause.
Merlin Report could be beneficial in self-help and self-transformation.
---
Gemini: To have Venus in one's sign brings many gifts, the first being that Venus is in no rush –ever. She knows that she has all the time in the world, and her main priority is to enjoy the exquisite pleasure in the present moment. The second gift she brings is love, both of self and others. There is never a shortage of love in Venus's world, and she lives by the philosophy that the more love you give to the world (with a true and happy heart), the more love that will come back to you.
---
Cancer: The New Moon at the top of your chart makes this the perfect time to focus on where you want to be going. Clear away that which holds you back, and set your intention for a new direction so if you have an ambition, want to progress in your existing line of work, or seek a change, April 18 is a great day to set your intention. Don't forget to make use of your contacts, since it looks as though there are helpful people around you who will gladly lend a hand if you ask them.
Child Astrology Report is been designed as a guide for parents, to help with the child's growth and alerting the parents to problems that the child could face in their life.
---
Leo: The New Moon on Saturday speaks of hope and optimism, so if life hasn't been great, this is the date to pencil in your diary to focus on better things to come. It will help to use this New Moon as a point of change. Don't be in a rush, but allow the days around April 18 to let you see the way forward and then to become clear in your intent as to what needs to be done. If you can begin to put one or two changes in place, the uplifting energies of the New Moon in your zone of adventure combined with your determination to steer your life where you want it to go will do much to lift you to a lighter, brighter place.
Astrological Solar Return Report offers you a practical guide that helps you analyze this year's prospects and to learn from them.
---
Virgo: The New Moon on April 18 offers you the opportunity to cleanse or heal yourself or to delve deep to find an important truth. It is, therefore, a great time for an emotional detox –or even a physical one, since physical toxicity leads to stagnation on an emotional level. Your inner voice will be strong now, so trust it, and if it tells you that you need to let go of something, then it's probably worth taking notice. Under this New Moon, you can begin to leave a painful aspect of the past behind and become aware of something you no longer wish to carry.
Astro Forecast Report gives you actual dates when the energies influence your life in a given time period.
---
Libra: The New Moon on Saturday is a good day for a new beginning in matters of the heart. This is the time to turn over a new leaf and embark on a new way of loving. New relationships can be formed at this time, and existing ones can benefit from a willingness to break old patterns and see others with fresh eyes. Look at where you have allowed things to become stale and stagnant- where you've allowed conditioning to dictate your roles and attitudes. Change things around a bit, experiment, or try a new role on for size. When you and your partner can learn, grow and change together, the relationship will become enlivened and as fresh and exciting as it was in the beginning.
Cards of Destiny Report is a one year forecast based on Robert Camps book and age-old "cards of destiny" our ancestors gave us.
---
Scorpio: The New Moon on Saturday is your chance to kick-start your health or to begin a new regime in your daily life. Your work may also benefit from this New Moon, as it will inspire you to make changes that will enable you to be more efficient and organized or to generate new ideas that will lead to positive developments. If your health is in need of repair, see this day as a time to start over –to begin a new dietary or exercise regime or to break old destructive patterns. The days just before and on the New Moon are perfect for eliminating bad habits and for detoxing.
Relocation Information Report (3 locations) can be of great assistance if you are contemplating a move.
---
Sagittarius: The New Moon on April 18 is your cue to break out of your chains and begin to express your radiant true self. Life only gets complicated when we forget who we are. In that state, we're easy to fool and dupe; we're easy targets for those who peddle anxiety and fear, and slowly but surely, we start to blend in with the herd. What would it take for you to break free from a situation that isn't really where you belong anymore? Probably just courage, but the planets are very clear in their message to you: It's time to be yourself and follow your heart.
Cayce Past Life Report describes your character traits, relationship potentials and challenges as well as career potentials and even more based on Edgar Casey Readings.
---
Capricorn: Much of what was said for the previous week is applicable for this week too, so if you didn't get around to spring cleaning or feng-shui-ing your home, now is the time. The New Moon in your domestic area on April 18 will help you clear out the old energies and welcome the new. Think of it as a detox for your home and family, so aside from clearing out and fixing things, this is also a good time to focus on your familial relationships and aim to dissipate any negative feelings there.
Karmic Past Life Report examines possible past life connections using astrological methods.
---
Aquarius: As we become older, we tend to become set in our ways. We have certain ways of doing things, approaching life and thinking. Our beliefs and attitudes become set like hardening jellies in molds, and as our thinking become crystallized, so too does our behavior. Periodically it can be healthy –not to mention refreshing –to challenge our old ways of thinking, doing and believing and the best time to do that is when you have a New Moon joined by Uranus in your zone of the mind. That time for you is now –April 18 to be precise!
Karmic Insight Report comes from an esoteric point of view your birth chart is a portrait of your soul's intention for this lifetime, the lessons to be learned, qualities to develop, problems to be resolved, services to be rendered.
---
Pisces: If your finances and material world have room for improvement, then the New Moon on Saturday brings opportunities to change things for the better. Perhaps you simply need to break an old pattern and honor yourself and your services more by rebelling against caring so much what others think about you. Maybe you need to let go of what isn't working or what you're tired of so that you can put your energy into that which you feel enthusiastic about. "Out with the old, in with the new" should be your mantra now.
Numerology Report is a personal profile and one year forecast based on advanced calculations of your name and birth date.
---
For more information about your Horoscope and what the stars
have in store for you, order one of our detailed
Astrology Reports for Couples!
Compatibility Report compares your temperaments and personalities. This information is powerful if you are married or living together.

Love Cards Report will reveal as much information about you and your partner as possible, using an ancient and highly accurate system called "The Book of Destiny".