Aries, Taurus, Gemini, Cancer, Leo, Virgo, Libra, Scorpio, Sagittarius, Capricorn, Aquarius, Pisces
Overview of this week
The Center for the New Age is pleased to present
your Free Weekly Horoscope for April 19 — April 25, 2015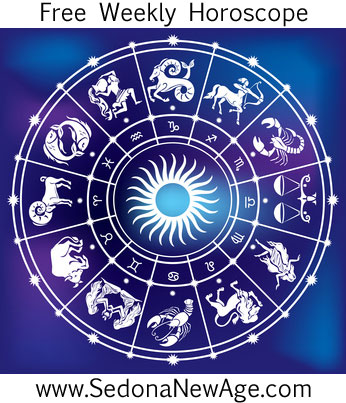 Aries, Taurus, Gemini, Cancer, Leo, Virgo, Libra, Scorpio, Sagittarius, Capricorn, Aquarius, Pisces
Mercury in Taurus square Jupiter in Leo (April 21 –April 30) is a time to be particularly cautious when looking for a job or changing jobs, asking for a raise, or signing any binding contracts concerning long term investment and payment schedules. This aspect has a tendency to create expensive misunderstandings concerning real estate and other large-scale investments. Bank loans are most likely a large hassle at this time. Dig harder to clarify the details of investigating a long term investment.
Venus in Gemini sextile Jupiter in Leo (April 22 –April 30) leads matters concerning love and attraction to a favorable opportunity for allowing advancement to more prosperous realms. This serves as an excellent time to shower loved ones with gifts and compliments. This is the time to allow expansion to occur in love matters, and to take the next step towards enlivening and enhancing a love relationship. A greater opportunity for advancement at work, or towards increasing your skills or enhancing your livelihood is available, especially if you focus on doing what you love.
On Wednesday, Mars and Mercury are conjunct in the sign of Taurus for almost two weeks and trine Pluto in Capricorn. This conjunction brings the forces of communication (Mercury) together with the forces of action (Mars). This is not a very good time to bluff, especially with regard to banking or sentimental subjects while these two planets are in Taurus. This conjunction brings words and deeds together, and in this case, the greatest action occurs with honest toil and is empowered in the expression of the message. This is an excellent time to get others motivated through speech, but this may be a time of angry words being spoken. Some might say the best way to win an argument is to begin by being right; taking this approach now is likely to win you favors but not friendship. Take caution with your words; if they are intended to incite a battle, this is the time to put on your boxing gloves.
Discerning, cautious, and practical action leads to positive, monumental, and powerful transformations when Mars is trine Pluto (April 22 –May 4). This is a good time to resolve personal aggression directed towards the view and differences of another generation or established powers. Mars trine Pluto brings opportunity for favorable, direct action that may well make a powerful and impressionable impact.
When Mercury is trine Pluto (April 22 –April 28), resourceful thoughts and communications that will have powerful results is at the forefront. This aspect brings hope like a gift, and the myth of Pandora's Box shows us that hope regenerates our senses and fills us with the potential for triumph over difficulties. This would be a good time to share tales of triumph, spreading those miraculous stories that remind us of the great potential of winning against all odds.
First Quarter Moon in Cancer on Saturday urges us to share our feelings and take care of emotional needs, particularly in our home. Home focused activities bring warm expressions of contentment. With First Quarter Cancer Moon, the emotional current tends to be magnified.
Aries, Taurus, Gemini, Cancer, Leo, Virgo, Libra,
Scorpio, Sagittarius, Capricorn, Aquarius, Pisces
For more information about your Horoscope and what the stars
have in store for you, order one of our detailed
Astrology Reports!
Compatibility Report compares your temperaments and personalities. This information is powerful if you are married or living together.

Love Cards Report will reveal as much information about you and your partner as possible, using an ancient and highly accurate system called "The Book of Destiny".
Free Weekly Horoscope for your Sign
Aries: Mercury and Mars are currently joining forces in your money zone, making this a very favorable time to not just think about money, but to put your energy into improving your financial situation. Trust your money making ideas, and direct energy into going after what you want. This is a good time to work toward creating more abundance and prosperity, and with the Sun adding to the planetary power of Mercury and Mars, this really is a time to "make hay while the Sun shines."
Numerology Report is a personal profile and one year forecast based on advanced calculations of your name and birth date.
---
Taurus: This week take time to examine aspects of your life that may be holding you back. Perhaps you need to forgive someone in your past. You may need to release an emotional wound or stop dwelling on something that happened a long time ago. Or you may need to physically clear the decks; are you carrying too much weight, or do you need to de-clutter your home or your office? Make a real attempt to release the past as the Sun moves into your sign on Monday bringing a welcome boost of energy, enthusiasm, motivation and optimism. This is the time when you're likely to feel that anything is possible, but to make the most of your solar return, you need to take some time to think about what is important to you and what you need for the next stage of your happiness and well-being.
New Age Natal Report is designed as a guide for your growth and personal evolution in the New Age.
---
Gemini: Your 12th house of spirituality is very powerful this month –especially after the 20th. Half of the planets are either there or moving through there. This is a month for spiritual growth, interior growth. Geminis are rational people, but during this period you will learn that there is more to life than what the intellect can explain. You will have hunches and intuitions and they will turn out to be right. You have the benefits of Venus in your sign –Venus that is never in a position of representing lack because she's so full inside. Tune into the vibe of the goddess of love and beauty and all will be well this week.
Merlin Report could be beneficial in self-help and self-transformation.
---
Cancer: You need to be patient this week since new beginnings implemented by last week's New Moon take time to develop. Treat any idea that comes to mind like a new seedling. Water it, let it bask in the Sun and talk to it encouragingly every day. Financial drama and change are in the works. There can be sudden expenses or obligations arising, but sudden and unexpected money can also come in. Your overall prosperity is not really affected. The changes will only enhance it. You have every reason to feel optimistic for your future; just relax.
---
Leo: Your health needs more attention this week. Overall, your health is good, but this is not one of your better periods. Make sure to get enough rest as you have two long-term, powerful planets stressing you. Furthermore, Saturn, which was in harmonious aspect with you for the past two years is moving away from this aspect so you have to take steps to assure your being able to deal with the difficult influence of Uranus and Pluto. The heart is always important for a Leo, so eat heart healthy foods, exercise, and above all, avoid worry and anxiety, the two emotions that stress the heart.
Child Astrology Report is been designed as a guide for parents, to help with the child's growth and alerting the parents to problems that the child could face in their life.
---
Virgo: This is the perfect week for a transformation. To get the most from this event, make time for meditation or quiet contemplation and allow desired answers to rise from within. It is also important to maintain energy levels. The body is a dynamic energy system and the energy changes caused by the movement of the planets affect the body either positively or negatively. You will have to focus on the things that are really important and let lesser things go. The idea is to make sure you are eating well and getting enough sleep to maximize your energy and not fritter it away on inessentials.
Astrological Solar Return Report offers you a practical guide that helps you analyze this year's prospects and to learn from them.
---
Libra: Your spouse, partner or current love is in a yearly financial peak and seems generous with you. However, Venus squares Neptune on Sunday which can bring financial disagreements between the two of you. Major purchases or investments need more homework then. Things are not what they seem and you should be open to exploring the ramifications of financial deals. You have two long-term planets in stressful alignment, but the short term planets are helping you. Love is still complicated and being tested, but things go easier as the week progresses.
Astro Forecast Report gives you actual dates when the energies influence your life in a given time period.
---
Scorpio: Be adaptable if things should suddenly change: your daily life looks somewhat unpredictable this week, but sometimes deviation from the routine can result in positive opportunities. The planetary power shifts indicate a psychological shift for you. You are getting ready for your major career push that seems to be positive, but the circumstances that bring this about may be dramatic and somewhat disturbing. Right now, it is time to let go –temporarily at least –of home and domestic concerns and focus on your outer goals. If you do right, you will feel right and you will serve yourself and your family by being successful in the world.
Cards of Destiny Report is a one year forecast based on Robert Camps book and age-old "cards of destiny" our ancestors gave us.
---
Sagittarius: Siblings and sibling figures in your life are experiencing dramatic, life changing events that most probably will affect your own outlook and perspective. The impact from Pluto which rules your 12th house of transformation, shows changes in your spiritual life –in your practice, attitudes and teachings that you follow. This week it may very well reflect a shake-up in a spiritual or charitable organization that you are involved with. And – it may enhance your dreams reminding you to get more serious about life and to focus on the really important things –your true purpose.
Relocation Information Report (3 locations) can be of great assistance if you are contemplating a move.
---
Capricorn: Break old patterns of behavior where family relations are concerned, and be prepared to see things in a new light. Wake up from the old illusions that might have kept you stuck –although we might be used to blaming our parents or childhood for the way we are now, the truth is that no one has the power to keep us trapped in a bubble of negativity. It's time to relax and enjoy yourself, especially if the past few weeks have been tiring. Use this week to replenish your spirits with enjoyable and nourishing activities: trips to the cinema or the art gallery, meals out with friends or family, a trip to the coast, time out in nature, or a visit to the city –if that's what will revive you.
Cayce Past Life Report describes your character traits, relationship potentials and challenges as well as career potentials and even more based on Edgar Casey Readings.
---
Aquarius: Opportunities to radically alter our perceptions and to spring clean our minds don't come along that often, but whether something happens to challenge your preconceived ideas or whether you just wake up knowing that it's time for change, there's a window of opportunity appearing that will enable you to see life differently. And when you see life differently, anything could happen. There may be career changes coming about although it is too early just yet to see the eventual impact that will unfold in the coming months,. There are shake-ups and unrest in your industry and important policy changes are happening. Be open to whatever takes place and think positively about your future right now.
Karmic Past Life Report examines possible past life connections using astrological methods.
---
Pisces: As the planets shuffle along, the emphasis for you shifts from money and material matters to ideas and information. This is a great time to begin putting your ideas out into the world and to forge links with others to get your message across, whether it's something simple or profound. You may also want to consider putting down the burdens you've been carrying to make your journey easier. Your personal solar cycle is waxing. Most of the planets are moving forward. You are in the optimum period for starting new activities or launching a new product into the world.
Karmic Insight Report comes from an esoteric point of view your birth chart is a portrait of your soul's intention for this lifetime, the lessons to be learned, qualities to develop, problems to be resolved, services to be rendered.
---
For more information about your Horoscope and what the stars
have in store for you, order one of our detailed
Astrology Reports for Couples!
Compatibility Report compares your temperaments and personalities. This information is powerful if you are married or living together.

Love Cards Report will reveal as much information about you and your partner as possible, using an ancient and highly accurate system called "The Book of Destiny".