Aries, Taurus, Gemini, Cancer, Leo, Virgo, Libra, Scorpio, Sagittarius, Capricorn, Aquarius, Pisces
Overview of this week
The Center for the New Age is pleased to present
your Free Weekly Horoscope for May 3 — May 9, 2015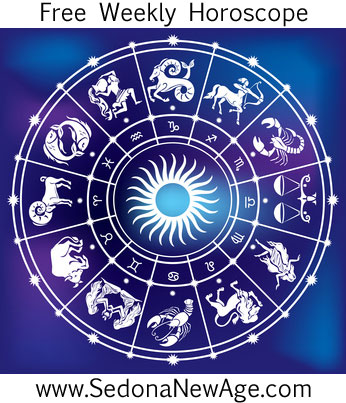 Aries, Taurus, Gemini, Cancer, Leo, Virgo, Libra, Scorpio, Sagittarius, Capricorn, Aquarius, Pisces
The Full Moon in Scorpio (May 4) accentuates sexual urges and activities. A number of energies are all coming to the brink of fruition. Work off the built up energy in a safe, positive and productive way. Scorpio emphasizes passion and doesn't waste an ounce of strength taking any part of life for granted. Now is the time to use your passion for the good of the earth and to revitalize the energy of the people around you who mean so much. Be careful not to overdo it, but let yourself live life to the fullest. Scorpio energy would like us to live life like this all the time, so now it's important to acknowledge the precious sense of being here now.
May 3 to May 8 Mercury in Gemini opposes Saturn in Sagittarius. This aspect brings a very strong awareness of the need to speak out on serious and important subjects. This aspect may have an especially strong quality under the influence of a Full Scorpio Moon. There may be an overwhelming tone of command or restriction in some of the more serious subjects being communicated. While Mercury opposes Saturn, be careful where you choose to draw the lines and what you agree to when negotiating. We may be especially aware of the delicate subject of how rules and laws are affecting our well-being.
On Thursday May 7th, Venus enters the nurturing sign of Cancer and the expression of love, magnetism and attraction shifts towards a focus on feelings and intuitive understanding. It invites those with rocky love relationships to patch things up and to do so with more heart and less uncertainty. Venus will be in Cancer through June 5, encouraging our affections and affinities to be carefully placed and nurtured. When attractions occur, they will have a lasting impression and will seem very strong and emotionally sound.
May 9 to May 13 Mercury in Gemini is square to Neptune in Pisces. This aspect often brings difficulty in understanding and accepting spirituality and beliefs. As a result, talk and discussion concerning what we believe in may be greatly misunderstood. Neptune is in Pisces stirring up the issue of spiritual divinity. Deep subjects must not be treated lightly while Mercury squares Neptune. The square represents struggle and difficulty, so whatever sort of trouble you may be having with regard to the relaying of spiritual messages, this is the time to work through it with a thorough effort, and to be patient and considerate of the hypersensitivity levels of others. Anticipate the possibility of religion related arguments and disputes.
Aries, Taurus, Gemini, Cancer, Leo, Virgo, Libra,
Scorpio, Sagittarius, Capricorn, Aquarius, Pisces
For more information about your Horoscope and what the stars
have in store for you, order one of our detailed
Astrology Reports!
Compatibility Report compares your temperaments and personalities. This information is powerful if you are married or living together.

Love Cards Report will reveal as much information about you and your partner as possible, using an ancient and highly accurate system called "The Book of Destiny".
Free Weekly Horoscope for your Sign
Aries: This week you may have to remind yourself that Rome wasn't built in a day and that patience will be the antidote to your problems. Allow things to unfold in their own time especially where financial and material matters are concerned and you will put yourself in the best position. Perhaps the answer to any financial problems is to adopt a more creative approach. In other words, what can you do to create more of what you want? Sometimes it's all too easy to focus on what we don't have and on what we need, resulting in a sense of lack, fear and insecurity, but when we empower ourselves by taking charge and looking at what we can do and also the riches we already have, we put ourselves into a position of being able to change things for the better.
Numerology Report is a personal profile and one year forecast based on advanced calculations of your name and birth date.
---
Taurus: With the Full Moon in your opposite sign, it's a good opportunity to consider your relationships and whether you have the balance right between your personal needs and the needs of others. Mars in your sign is saying that it's okay to do what you want from time to time. Indeed, when we devote ourselves to others all the time, constantly giving, we become empty, and then the quality of our giving becomes diminished. The cosmos gives you permission to nurture yourself, follow your passion and do what interests and motivates you. That way, when you come back to your work, family and relationships, your quality of giving will be so much more pure.
New Age Natal Report is designed as a guide for your growth and personal evolution in the New Age.
---
Gemini: This week's Full Moon on Monday is likely to bring a realization about the way you live your life. This may include your health, your work, or just the way in which you spend your days and the type of activities you engage in. Since this Full Moon triggers the solitude angle of your chart, consider spending some time alone so that you can listen to the quiet voice that can point you in the right direction. This is especially important if you're currently unsure or confused about something. The answer is unlikely to be found in busyness and distraction but in quiet time alone.
Merlin Report could be beneficial in self-help and self-transformation.
---
Cancer: This could be an auspicious week if you're prepared to put your focus on sharing your creativity with others. This could mean offering your gifts and talents to the world. Monday's Full Moon encourages you to not hide your light under a bushel but to be proud of what you have to offer and let the world know about it. The more you are able to share your gifts and your love with others, the more opportunities are likely to be forthcoming.
---
Leo: We all procrastinate from time to time, but the problem comes when we keep putting off something that we really need to do. Perhaps you've put off changing your career, having an especially important conversation, starting a new healthy regime, or clearing your house of clutter. Whatever it is that you're delaying, it looks as though you have also delayed moving into a more positive state of affairs. With the Full Moon, it's time to take action and do what needs to be done.
Child Astrology Report is been designed as a guide for parents, to help with the child's growth and alerting the parents to problems that the child could face in their life.
---
Virgo: "There is nothing either good or bad, but thinking makes it so." This quote by Shakespeare warns you against becoming embroiled in a judgmental state of mine. We are often too quick to judge something as good or bad and right or wrong and that can create a restrictive, narrow state of mind. The Full Moon on Monday challenges you to believe in what you would like to happen and to strive to see the positive in a potentially negative situation. It also challenges you to not take umbrage over something that happens or what someone might say or do. It would be all too easy this week to exclude yourself and indulge in feeling like an outsider, but it would be more productive for you to engage with others and to feel comfortable wherever you are with whomever you're around.
Astrological Solar Return Report offers you a practical guide that helps you analyze this year's prospects and to learn from them.
---
Libra: Monday's Full Moon shines the spotlight on your finances, and initially things may feel a little uncomfortable. Feeling angry, frustrated or insecure won't help the situation. Perhaps the answer lies in being more creative or adventurous. Try pushing out of your comfort zone, and attempt something new. You could try creating more of what you want rather than focusing on what you don't have. Seize your opportunities, and if there aren't any, then make some. "Do not go where the path may lead; go instead where there is no path and leave a trail" as Ralph Waldo Emerson wrote.
Astro Forecast Report gives you actual dates when the energies influence your life in a given time period.
---
Scorpio: The Full Moon in your own sign is your cue to pause for a moment and take stock. How far have you come? Are you on the right path? Do you need to make any changes? This Full Moon may bring forth the realization that you need to carefully balance your own needs with the needs of others and to try to balance both of those with where you are going. Jupiter at the top of your chart calls you to bigger and better things, so it's really important that you move in alignment with your needs while still taking others into account. If it feels a bit complicated, turn into your inner voice and listen to the prompting s of your heart. Scorpios who trust their intuition will never go far wrong.
Cards of Destiny Report is a one year forecast based on Robert Camps book and age-old "cards of destiny" our ancestors gave us.
---
Sagittarius: Monday's Full Moon may trigger some sadness. If so, don't try to suppress it, but allow it to flow, as doing so will have a positive effect on your health. If you've been feeling tired or run down, you might have some sorrow that needs releasing. Tiredness could also be due to doing too much or at least working too hard and having too many responsibilities and not having enough fun. Try to balance your work and play, sadness and laughter. Allow all states –happy or sad, playful or responsible –to flow through you, judging none as either good or bad. Life is calling you toward greater responsibility and status, which isn't a bad thing; you just need to balance it with faith and fun while looking after your heath in the process.
Relocation Information Report (3 locations) can be of great assistance if you are contemplating a move.
---
Capricorn: The healing power of laughter is well documented. A good laugh can boost the immune system and kick-start the healing process, so as the Sun journeys through your house of fun, why not capitalize on this opportunity for light hearted enjoyment and spend time with people and entertainment that make you laugh? Creativity is also high-lighted, making this the perfect time to enjoy your hobbies, spend more time in recreation, and express your creative gifts. This solar transit encourages you to be more childlike, and as you do so, cast off burdens and begin to take life much less seriously.
Cayce Past Life Report describes your character traits, relationship potentials and challenges as well as career potentials and even more based on Edgar Casey Readings.
---
Aquarius: The Full Moon highlights your home life, work and relationships, making this the week to work toward balancing these areas of your life. And around the time of the Full Moon, you're likely to have some sort of realization that should then make things easier. Perhaps you will come to realize that despite fulfilling your ambitions, the real key to your growth and happiness lies in your relationships with other people. It's easy to get caught up in the false belief that success, achievements and possessions are necessary when really as C.S. Lewis points out, "Affection is responsible for nine-tenths of whatever solid and durable happiness there is in our lives."
Karmic Past Life Report examines possible past life connections using astrological methods.
---
Pisces: Can you do it? Of course you can! Or at least, you can if you think you can. Sometimes, though, achieving goals isn't an easy process. Sometimes we meet with challenges along the way that test our resolve. And Pisceans have the added challenge of feeling guilty about being successful. If you're currently seeing the fruits of your labors, enjoy it; there's no need to feel guilty or awkward. And if you're on your way up but doubting the effect of Saturn sitting at the top of your chart for the foreseeable future, request your rightful position and enjoy your new role of responsibility, authority and success.
Karmic Insight Report comes from an esoteric point of view your birth chart is a portrait of your soul's intention for this lifetime, the lessons to be learned, qualities to develop, problems to be resolved, services to be rendered.
---
For more information about your Horoscope and what the stars
have in store for you, order one of our detailed
Astrology Reports for Couples!
Compatibility Report compares your temperaments and personalities. This information is powerful if you are married or living together.

Love Cards Report will reveal as much information about you and your partner as possible, using an ancient and highly accurate system called "The Book of Destiny".